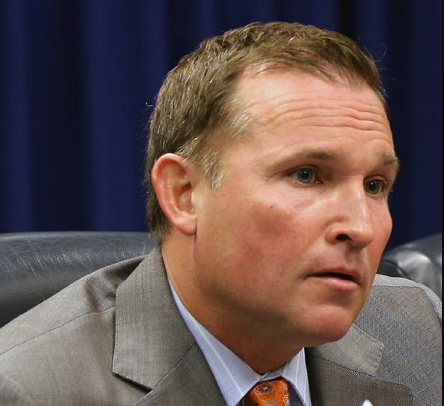 A little over two weeks ago, Jacksonville Mayor Lenny Curry and a number of City Council members called a presser to announce a stopgap resolution of a problem months in the making: insufficient funding for summer camps.
The Jacksonville Children's Commission, which greenlighted the process, was trying to privilege quality over quantity. Yet, as camp sites closed and children were on the verge of being shut out, it was clear there were problems with the approach hammered out by the JCC over a course of months.
The money was found to close a lot of the gap: 24 more sites were funded (bringing the total to 72 citywide, down from 98 previously), $958,000 more being allocated, and 1,700 more kids being served than would have previously been possible.
But the more enduring takeaway, as revealed by Curry's quotes, was a process that had gone sideways.
Curry was "frustrated" and  "surprised to learn of significant cuts" to per-capita camp allocations.
While the $958,000 was a "band aid," Curry said that he would introduce reforms to ensure that this doesn't happen again, including ensuring alignment between the Jacksonville Children's Commission and the Jax Journey — his administration's key anti-crime initiative.
When asked if the two overlapping programs could be merged, Curry said "all options are on the table," depending on the "best interest of kids."
Last week, Mayor Curry spoke to these themes again, noting the disconnect between intention and realization in these programs, and how that disconnect undermines public safety itself.
"No, I'm not happy with where we are on public safety right now. That's an across-the-board statement. I'm going to continue to provide the resources that I deem necessary, and work every day to tweak things to where we get the best results."
And the Jacksonville Journey and the Jacksonville Children's Commission are headed for "big reforms." Decisions will be made in a matter of weeks, he said.
"We are beyond tweaking when it comes to these programs we deliver to children, and big reforms are coming," Curry emphasized.
"We're working through exactly what those reforms are going to look like. I will have reached a decision inside of two weeks."
Some have said Curry seeks to roll the Jacksonville Children's Commission up into Jacksonville Journey, a concept that seemed to be suggested in Thursday's budget meeting for the Journey.
Curry dismissed that, at least as being more than an option.
"Nobody knows what I'm looking at. I'm working inside a very small group — anything you're hearing is pure speculation."
"I'm looking at making sure that we have programs that are very clear and meeting the needs of specific 'at-hope youth' that are the solution to prevention and intervention," Curry said, using a phrase he first used two weeks prior when announcing $988,000 of new money available for youth summer camps.
"We've got to be very clear about how we deliver those services and make sure we're getting results, and make sure that the management team is aggressive in terms of pursuing those goals, and that the whole governance structure is aggressive as well, and hold them accountable," Curry said.
As was demonstrated Thursday in the Jax Journey budget meeting, plans for the future of the program are in limbo, at least in terms of structural organization, given the looming specter of major reforms.
Thursday saw Journey director Debbie Verges note that Journey and the JCC were increasingly aligned — and that she sees the Journey as a $9M program rather than a $5M program, with the JCC administering "Journey programs."
Meanwhile, the Jacksonville Children's Commission budget hearing Friday afternoon had its own opacity, given that any requests were to be theoretical until Curry made his call.
CAO Sam Mousa listened to the proposed enhancements from JCC CEO Jon Heymann, including the $958,000 summer camp money mentioned above that turned into a sum just over $1M after what was called "marathon mathematics" at Tuesday's shambolic Jacksonville City Council meeting.
The total camp request: just over $2M.
"You made the decision to enhance the program. Why did you not look at other programs," Mousa asked, and move money over based on adjusted "priorities."
Short answer: JCC lacked the authority to move funds without Council authority. And the board chose not to shift money from other priorities.
JCC's Board Chair also critiqued media for not pointing out that some kids would get extra weeks of summer camp based on the formula the board chose to work.
As well, it was pointed out that there was a "political need", on the part of the City Council, to expand camp availability, with those who lost in rebidding framing it as "the greatest atrocity that ever happened," according to Board Chair Matt Kane.
"As that boils up into an article in the paper, they talk about the number of kids," Kane said.
Some camps, it was revealed, hadn't been rebid for a decade.
"For ten years, the same entities got the monies," Mousa said. "The commission did nothing for ten years–"
Kane amended it to three years, then another explanation was advanced about "grassroots money pots."
As the pitches continued, a look of skepticism was unmistakable on Mousa's face.
Kane noted that JCC is the "child-serving organization," and that Journey camps were more expensive, per capita, than JCC's.
"We're accepting your budget today as information," Mousa said. "We're going to wait and see what the mayor wants to do."
____
The Curry Administration has not been averse to re-org projects: for a recent example, consider the reconstitution of the Neighborhoods Department.
Even before taking office, Curry's transition team was mulling over how to bring back a department downshifted during the Alvin Brown administration, as a dubious director lost the confidence of others in city government.
Curry's first Chief of Staff, Kerri Stewart, ran Neighborhoods previously when John Peyton was Jacksonville Mayor.
Soon enough, the department was re-instituted, with key city processes moved under that umbrella.
There are, to be sure, caveats: it is too early still to point to a real success the Neighborhoods Department has had – it's more a function of reorganization than something that has shown results that translate into eye-popping headlines.
Ultimately, though, city government functions best when mistakes and errors in judgment and execution are not "in the headlines," and when departments have clear lines of communication to the public and the legislative and executive branches.
That's a lesson taught — yet again — by the need to do 11th hour make-up work to restore summer camp funding.
And a lesson that Lenny Curry does not want to deal with again, which means that structural reform is absolutely necessary — and a big story of this budget process.