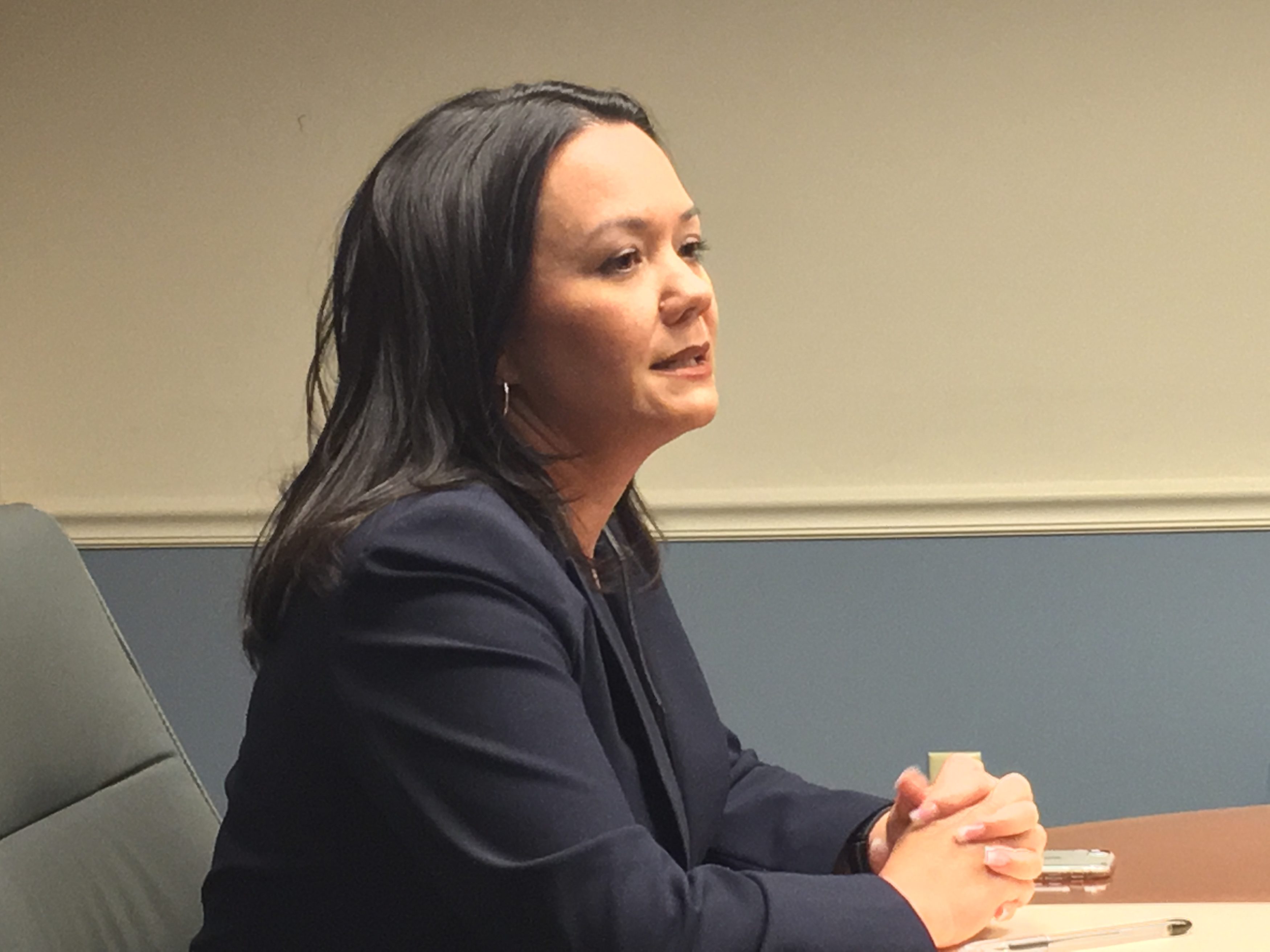 The question as of Friday morning in Jacksonville: will "stronger together" work better for the new City Council President than for Hillary Clinton?
Anna Brosche was elected Jacksonville City Council President weeks back. On Thursday night she assumed the role officially.
The installation ceremony sprawled out over two hours, and included a selection from an opera about political intrigue and betrayal.
A cynic would say that, given the shambolic, chaotic, and pitched race for Council President, that such was appropriate.
The smooth jazz song? Well, Chris Hong of the Florida Times-Union noted the lyrics: "The things we do to make each other feel bad … taking up time with the silly games we play … sometimes I feel we try to make each other sad."
As a rule, smooth jazz signals my time to step into the lobby — and so it was in this case. But, as luck had it, I caught enough of the song to know that there was a jarring pathos in the lyrics, an attempt to bridge a gap of disharmony and rediscover a common mission — that ol' One City One Jacksonville magic.
Outgoing Council President Lori Boyer's remarks touched on something each of her colleagues accomplished in the previous year, but really boiled down to one wistful sentiment: "Despite occasional personal conflicts … we accomplished so much together."
Those conflicts simmered through the first part of Boyer's year, with a familiar hierarchy of council members on the prime-time committees and what Bill Gulliford candidly dubbed the "lesser committees." That same Bill Gulliford, it turned out, flipped the script without acknowledging it in January.
First, Gulliford said to John Crescimbeni that he needed to close the deal quickly — which didn't happen, not at all, as all but two of his pledges were there at the kickoff.
Then, in a spectacular moment of hubris, Gulliford said that he would not serve in a standing committee in the Brosche administration. And that, despite his attempt to walk it back, came to pass.
Gulliford got dealt out. Also moved off the hot stove: another big Crescimbeni backer, Tommy Hazouri. Gulliford got no committee slots; Hazouri got one, and it's not exactly marquee. That's the way it goes when you go all in for a losing cause.
The balance of the votes went to Brosche. And though there are those on the fourth floor who maintain — persuasively — that there is a vast difference between cobbling together 11 votes and building real policy consensus, the reality was that the Mayor's Office wanted one outcome, put its thumb on the scale, and it went the other way.
Whether one believes that the past is prologue, or per William Faulkner, it ain't even past, it was up to Brosche to provide a unity message during her speech — which was deep into the program, an installation ceremony that ran half an hour longer than did the inauguration of Mayor Lenny Curry and Sheriff Mike Williams two years prior.
The "stronger together" theme permeated the remarks, with Brosche making the case that the Council's strength was in its diversity and multiplicity of perspectives. In that, her remarks echoed those made when she won the vote on Council.
"We each see the world differently and are stronger together," Brosche said during that portion of her remarks.
Brosche also extended encomium to Mayor Curry, thanking him for showing up (which, well, it would have been news if he and his senior staff hadn't).  And she lauded Curry's commitment to downtown development: ""Downtown represents economic vitality … Jacksonville is fortunate to have a mayor who understands importance of downtown development."
Indeed, Brosche's boosterism for downtown was another purposeful, Chamber-friendly theme of the speech; downtown's density, she contended, boosted the tax rolls, and if the impact of that is maximized, a thriving downtown could be the rising tide that lifts all boats — specifically, the neighborhoods of the city, some of which are "safe and healthy" while others experience "distress."
The root causes of such distress, of course, take many forms — and Brosche, as is the case with every other person in elected office in Jacksonville, didn't address the disproportionate impact of aggressive policing in certain areas, the gaping maw the prison-police-industrial complex has left in African-American family structures for generations now, or the realities of educational feeder systems that fail in perpetuity.
People don't vote on those issues anyway. The public discourse is sclerotic; this is, at its heart, a red meat town.
Brosche's remarks, as are always the case with Jacksonville leaders, had more modest aims — consensus aims that suit everyone from GOP gadfly Danny Becton to the "pack" of African-American Democrats that secured Brosche's winning margin and will join Becton on Finance next year.
One of those Democrats — Reggie Brown — will chair a special committee on "safe and healthy neighborhoods." A Republican who supported Crescimbeni, the universally-liked Scott Wilson, will chair a special committee on parks; Jacksonville's park system, like so many other aspects of its infrastructure, fell into disrepair over years and decades of millage rollbacks designed to secure the political futures of a previous generation's best and brightest.
Brosche's vision?
"To make Jacksonville the best city in the world for a child to grow up in," she said.
As is this writer's habit, he beat a retreat for the door of the auditorium before the closing benediction. And he wasn't alone.
Staffers from the Mayor's Office also found their way to the door, beating the crowd — understandably given that many of them have been mired in the Mayor's Budget Review Committee all month, which — though not as taxing as the Great Council Office Swap of 2017 — has its own attendant pressures. And it was a school night.
So, "stronger together"?
That formulation blew up in Hillary Clinton's case, as Donald Trump bet on the obvious reality that once one gets outside the boardrooms and the country clubs, what coalescence might have existed decades back, when unions weren't just for the government sector, when churches were thriving hubs of community, when Jacksonville's core neighborhoods had more homes with edged lawns and tidy streets than investment grade properties, simply doesn't exist anymore.
But that message wasn't for the people: 30 percent of them, maybe less, will vote — this is a transient town, one in which the supervoters and the 50+ crowd hold disproportionate sway over the renters from elsewhere, the corporate transfers, and the Navy folks who liked the climate and affordable housing and decided to retire here.
The message, ultimately, was for the people on Council who didn't vote for her. For those "influencers" who may have had those quiet conversations with generally malleable Council members.
For all the strum und drang ahead of the vote, for all the tales told out of school in its aftermath, the "stronger together" message boiled down, as it did for Clinton, to a simple, familiar concept of collaboration: "business as usual."
The first test of that: July 17, when the Mayor drops his budget on Council.
While some key crowd-pleasing initiatives almost certainly will be leaked to friendly reporters between now and then, the rubber will hit the road during the budget process — especially in August, when a radically reconstituted Finance Committee gets to test the limits of one of the bigger cliches in Jacksonville politics: that "Council is the policy-making body."
Council can do a lot of things, definitely; but in terms of the game of retail politics, no one on the body has demonstrated the ability to craft the narrative like the political side of the Lenny Curry operation — a big-city shop that has, since its inception, outclassed the parochialism of virtually every political operator it saw as an obstacle.