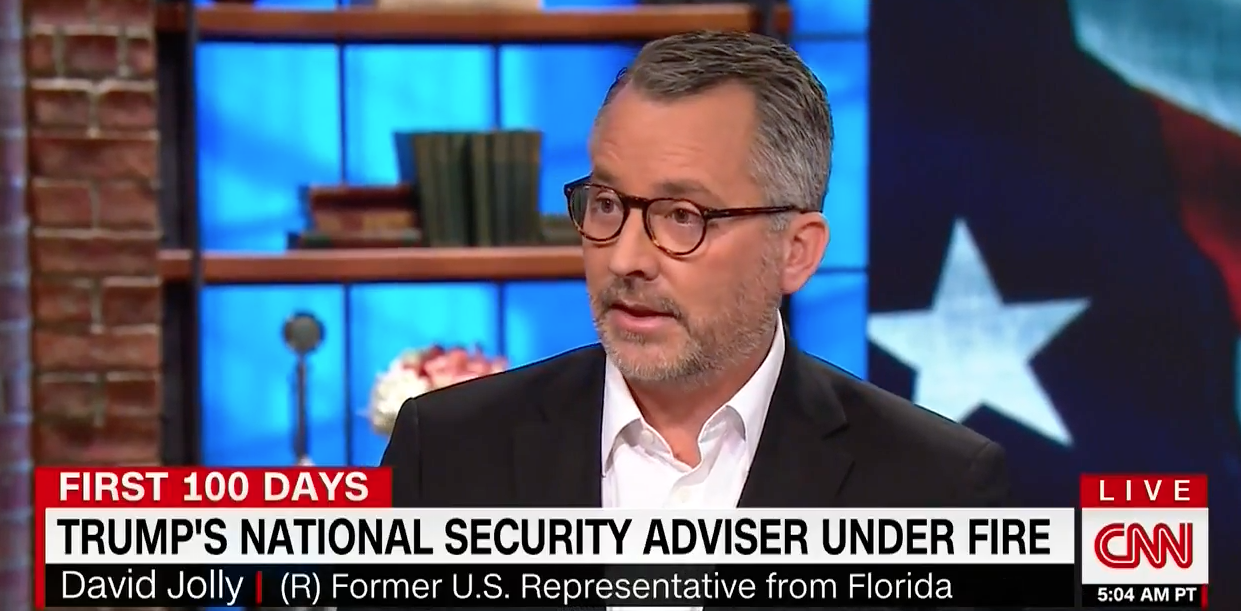 David Jolly offers some advice for his former GOP colleagues when called upon to comment on President Donald Trump's more egregious tweets: Just ignore him.
"No more trips to the White House. No more flights on Air Force One. No more accepting his gratuitous offers of signing ceremonies, White House cocktails, or meetings with his children. No more asking the White House for permission, for policy advice, or for the President's priorities," the former Pinellas County congressman writes in an op-ed on CNN's website.
"Honor your oath as a fiduciary of Article I, who holds the public trust. Strike out with your own bold agenda that wins the hearts and minds of the American people. And leave this President behind. Leave him to his Twitter account and to placating his base with disgusting tweets."
New polling suggests that it's not just media elite and/or Democrats who have grown weary of some of Trump's outlandish Twitter comments, such as his broadside against MSNBC "Morning Joe" co-host Mika Brzezinski, who he said last week was "bleeding badly from a face-lift" when he saw her a few months ago.
According to a poll conducted by Morning Consult in partnership with POLITICO published Wednesday, 65 percent of those surveyed said it was "unacceptable" for Trump to attack Brzezinski as he did.
Even among Republicans, more people called it unacceptable (46 percent) than acceptable (28 percent) for the president to say such things. Both men and women agreed the tweets were unacceptable, though more men (22 percent) than women (12 percent) found the comments acceptable.
As a prolific commentator on CNN and MSNBC since Trump's inauguration in January, Jolly has been mostly critical of the president's policies and performance in office. While that makes him an outlier among Republicans currently in office, he's hardly the only conservative on cable airwaves taking issue with Trump, joining Ana Navarro, Jennifer Rubin, George Will and others on the right to criticize the president.
"You see, when members of Congress condemn a tweet and then fall in line with the President's awkward leadership of domestic and foreign policy — such as when they race to be his guest at a South Lawn ceremony celebrating passage of a flawed health care bill that even the President himself now disowns — all their condemnation, and congressional resolve itself, is exposed as meritless," Jolly writes.
Trump's tweet against Brzezinski was certainly one of the most flagrant comments since using Twitter as president, earning a flood criticism from Democrats and even some Republicans in the immediate aftermath last week.
"President is a poor role model for America's children, all of us," Tampa Congresswoman Kathy Castor tweeted last week. "His tweets, actions are far beneath the dignity required of the office."
One Democrat deciding not to comment on the latest social media messages from the president: Florida Sen. Bill Nelson.
Speaking with reporters in Tampa earlier this week, Nelson was asked (by this reporter) if he was bothered by Trump's tweets on Brzezinski, as well as another featuring a mock video showing him body-slamming WWE promoter Vince McMahon, whose face was covered by a CNN logo.
"The essence of your question is — you'd like me to jump all over the president, and I'll tell you what my answer is — I can't do anything about how he conducts himself, but I can do something about how I conduct myself," Nelson responded. "And it is my responsibility to conduct myself as a gentleman, to respect others, to try to be bipartisan, to try to bring people together and build bipartisan consensus."
"That is my responsibility and my obligation, and I tried to do that, and I will continue to try to do that," he concluded.