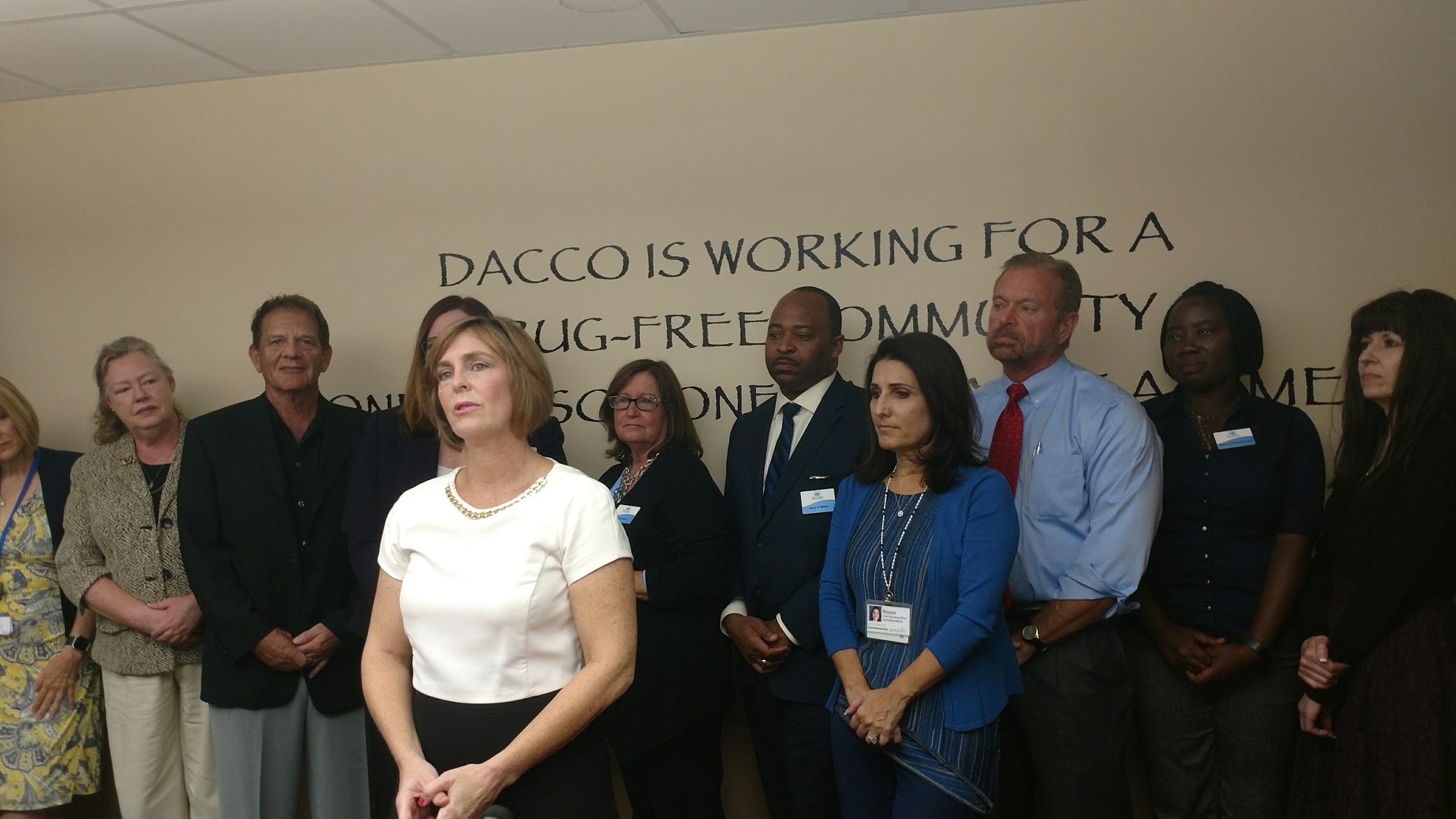 A health official in Tampa on Monday said he hopes lawmakers don't cut state funding just because the feds kicked in $1 billion to fight the opioid epidemic gripping the country.
Congress passed the 21st Century Cures Act during its lame duck session, which includes the billion dollars toward anti-opioid efforts.
In the state budget that started July 1, "Florida actually reduced by $11 million for what is spent on mental health and substance abuse funding," said Joseph Rutherford, the CEO of Gracepoint, a nonprofit behavioral health organization in the Tampa Bay-area.
Rutherford was one of more than a dozen local health care officials who met with U.S. Representative Kathy Castor at the offices of DACCO (Drug Abuse Comprehensive Coordinating Office) in East Tampa. They were there to discuss the opioid epidemic, which is responsible for more than 33,000 deaths nationally and nearly 3,900 in Florida in 2015.
In May, Gov. Rick Scott declared the opioid epidemic a statewide public health emergency, allowing Florida to tap into $27 million in federal funds immediately to address the crisis.
Noting how Florida ranks virtually last in the nation in spending on mental health and substance abuse, Rutherford said those on the ground fighting the epidemic needs more help from the Legislature.
"What's important about that is that, even though we have these dollars designated for the opioid crisis, all those other ancillary services — the residential, the outpatient services that are so important as a follow-up continuation — funding for mental health and substance abuse was reduced by an additional $11 million for a state that's already at the bottom of all 50 states. So we're hopeful that moving forward, as we receive dollars for this, it's not used by the state as an offset for other critical community services."
Castor said she was "flabbergasted" by the news.
"We fought hard on a bipartisan basis in Washington thru the 21st Century Cures Law to provide extra dollars for states and communities to fight the opioid epidemic," the Tampa Democrat told reporters. "It never would have crossed my mind that the state of Florida, that is last in funding substance abuse and mental health, would take that as a cue to reduce their state commitment, so we need to look for ways to make sure that doesn't happen when the federal dollars flow back home."
Other officials at the news conference said the public needs to be made aware that addiction to opioids is a lifetime disease requiring extensive treatment from the start, and that takes dedicated and sustained funding.
"This is a disease like any other physical disease that affects the brain and the way the brain works, which in turn, changes how the mind works," says Dr. Larry Wilson, the associate medical director at DACCO.
"So the treatment for this disease is not only tackling the brain, but changing how the mind works and that's a process, and that process takes time and the money that is coming in needs to be directed to treating the whole being, and by doing that, we need to allocate funds to get people into treatment programs for 30-60 days — specifically residential programs — where they can totally engage and delve into their disease," Wilson said, and that he believes the success rate for treating those with this disease will increase "exponentially if we have the funds to treat the disease like we know we need to."
Officials on hand offered suggestions to help those addicted to opioids or know people who are coping with the problem.
Cindy Grant, executive director of the Hillsborough County Anti-Drug Alliance, said that teenagers and young adults sometimes get access to medications from home medicine cabinets.
Because some addicts will do anything to get high, throwing old drugs into the garbage doesn't mean that they won't still be consumed. Grant showed reporters a Deterra Drug Deactivation bag, where people can put their unused or expired medications in a bag containing a carbon that bonds to pharmaceutical compounds when water is added. The person adds water and shakes it up to neutralize the active ingredient in the drug.
Castor is returning back to Washington after the 4th of July recess, where she will be participating in a congressional oversight & investigations hearing regarding the opioid epidemic in the states in the House Energy and Commerce Oversight Committee.
Last month, GOP senators agreed to provide up to $45 billion to deal with the opioid crisis, up from $2 billion in their current health care proposal. Castor said it was still insufficient.