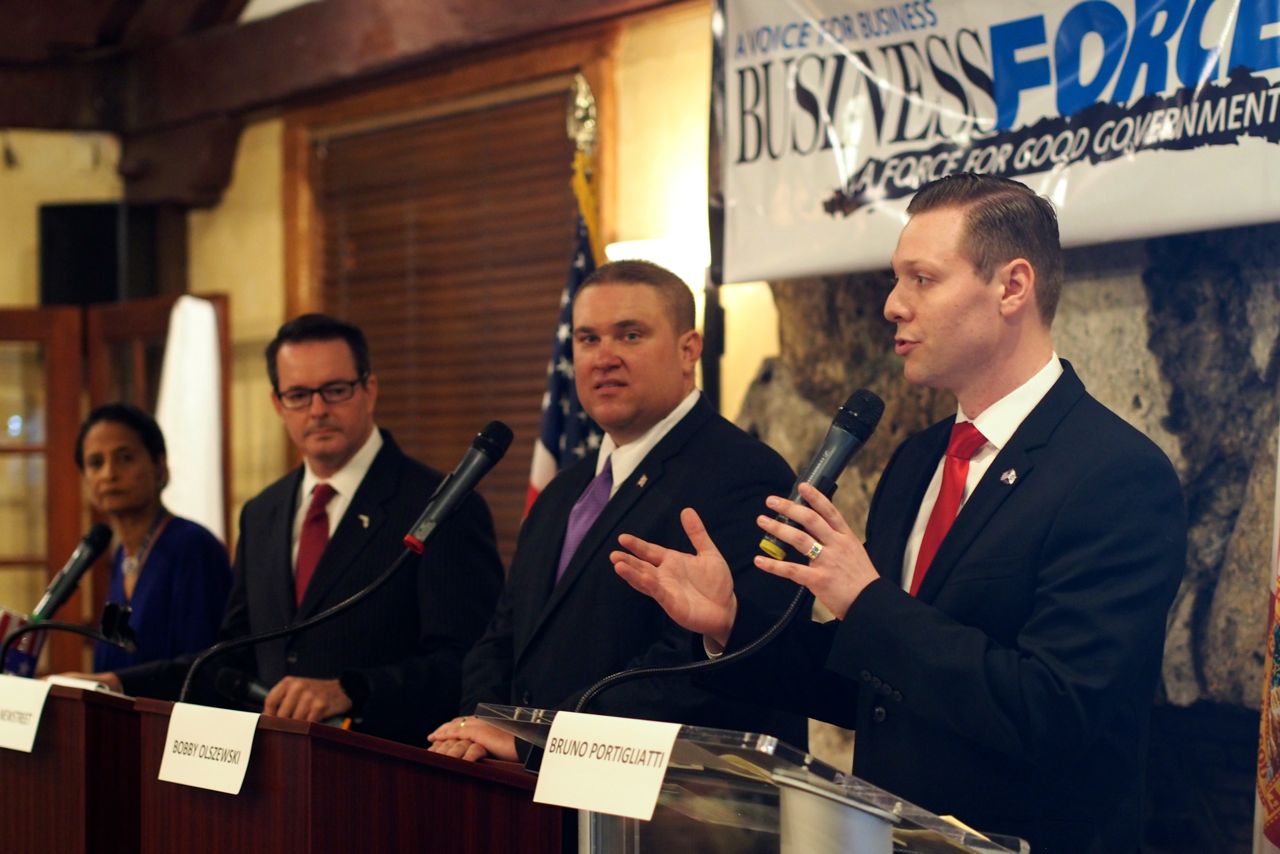 The four Republicans fighting to win the Aug. 15 primary for the empty seat in Florida's House District 44 began defining their differences in their second major debate, Wednesday night.
In a forum cosponsored by the Tiger Bay Club of Central Florida and Business Force, Bruno Portigliatti, Bobby Olszewski, John Newstreet, and Dr. Usha Jain expressed largely shared positions on big-picture issues ranging from state tax money for charter schools, economic development, support for businesses, and the need for more affordable housing.
And much like the first debate last month at the West Orange County Chamber of Commerce, at times they appeared to try to outdo one another when it came to questions of who has more business experience, who is more committed to the community, and who is most likely to push for education and health care improvements.
But differences emerged from their emphases and self-definitions.
Newstreet, the Coast Guard veteran who went on to work for three Florida Republican U.S. senators and then take leadership positions with the American Legion and now the Kissimmee/Osceola County Chamber of Commerce, defined himself as the candidate who dedicated his whole career to public service, and nows how to serve veterans and businesses.
Olszewski, the businessman and former Winter Garden city commissioner who's spent his whole life in west Orange County serving in sports, entertainment, school, and civic organizations, portrayed himself as the hometown guy, the local businessman and family man who knows and loves the HD 44 community more than anyone.
Portigliatti, the lawyer, businessman and educator who also grew up there, portrayed himself as the fresh face with the most hands-on business experience, yet still with a long record of service, with Orlando city and other appointments. A top executive at a Christian university in Orlando, he also pushed himself as someone who could go to Tallahassee with both brains and heart.
Jain, the urgent and emergency care physician, is the one who's mad as heck and not going to take it anymore, the target of too many lawsuits she said were frivolous that she battled and defeated. And now she wants to go to Tallahassee to do something about it.
"If John Morgan would get punished, we'd be fine," she said, drawing the biggest laugh of the night, with her reference to the Orlando's famous personal injury lawyer who is also one of the biggest political rainmakers in the state.
On other issues, Jain often found herself outmatched by the other candidates, as she declined to answer a couple of questions, saying that wasn't her area, and on a couple of other occasions gave answers that seemed to be irrelevant to the actual questions. She also staked out some unique positions among the four, declaring that all judges should be appointed, not elected, and that it's OK with her if hospitals get hit with some Medicaid cuts.
Newstreet, by contrast, came well prepared. The chamber executive who has racked up numerous endorsements from business groups and sitting state lawmakers, delved deep into issues such as workers compensation, assistance for Hispanic business development, the newly-passed House Bill 7069 education bill, and growth policies.
He sometimes lacked Olszewski's natural ability to bring the issues home directly to southwest Orange County, often talking in broader, state terms, or referencing Pinellas County when talking about charter schools, but Newstreet managed that local angle as well as anyone when he declared "smart growth" as an issue he'd like to take to Tallahassee.
"What's happening in southwest Orange County is a story of growth. You look at Horizon West, and you look at the addition of residential properties and tourist properties, it has contributed traffic, it has contributed growth. So my aim would be to bring the stakeholders together, as I've done in the past. To figure out exactly what's best for the quality of life in southwest Orange County. We need the visitors. We need the tourist economy. It's important to not just southwest Orange County, but to all of Orange County and all of Florida. So we need to figure out how to have that and how do we make sure it's still a great place to live."
Olszewski, who runs a dental lab business and who has won the endorsements of mayors and city commissioners from almost all the suburbs in southwest Orange County, was not to be outdone in expressing understanding of the district, including its economically distressed areas, and spoke specifically about its schools and hospitals
"I have worked in the sports and entertainment communities in this community, in District 44, throughout my entire career. I have a unique understanding of what our community is all about, what makes it tick. And I have the business experience, and the academic experience," he said. "And I have had the honor of already having to make a vote under stressful circumstances, working across the aisle, working with all people, constituents, as well as other elected officials, to get things done for our community."
In addition to getting elected to the Winter Garden Olszewski ran for the Orange County Commission last year in a district very similar in territory to HD 44.
"There is not one inch of this district I have not walked multiple times," Olszewski said.
Portigliatti, a Brazilian-American, missed the first debate. In this one, he came prepared, often citing numbers and other references. He stressed his hands-on career in business, with a law firm, with a real estate company, with a company developing and running luxury senior living centers, and with Florida Christian University, founded by his father.
Yet it was his discussions of people issues that gave him some distinction, as he spoke of his work with homeless people and affordable housing, and his work with an Orlando city board assisting minority- and women-owned businesses.
"We need someone with character who not only has the intellectual intelligence but the emotional intelligence to not only get to Tallahassee, but to be effective in Tallahassee, to get along with people, to pass legislation," Portigliatti said.
Jain, an immigrant from India, described herself as a life-long learner, board-certified in three medical specialities, who loved the opportunities America gave her. She said education and hard work paid off.
"And I have experienced some injustice and I have defended many frivolous legal claims myself. It's all business. If I can do this, I can do politics. I promise you I can do politics with hard work," she said.
The Republican winner in August will have to take on Democrat Paul Chandler. The general election is Oct. 10.