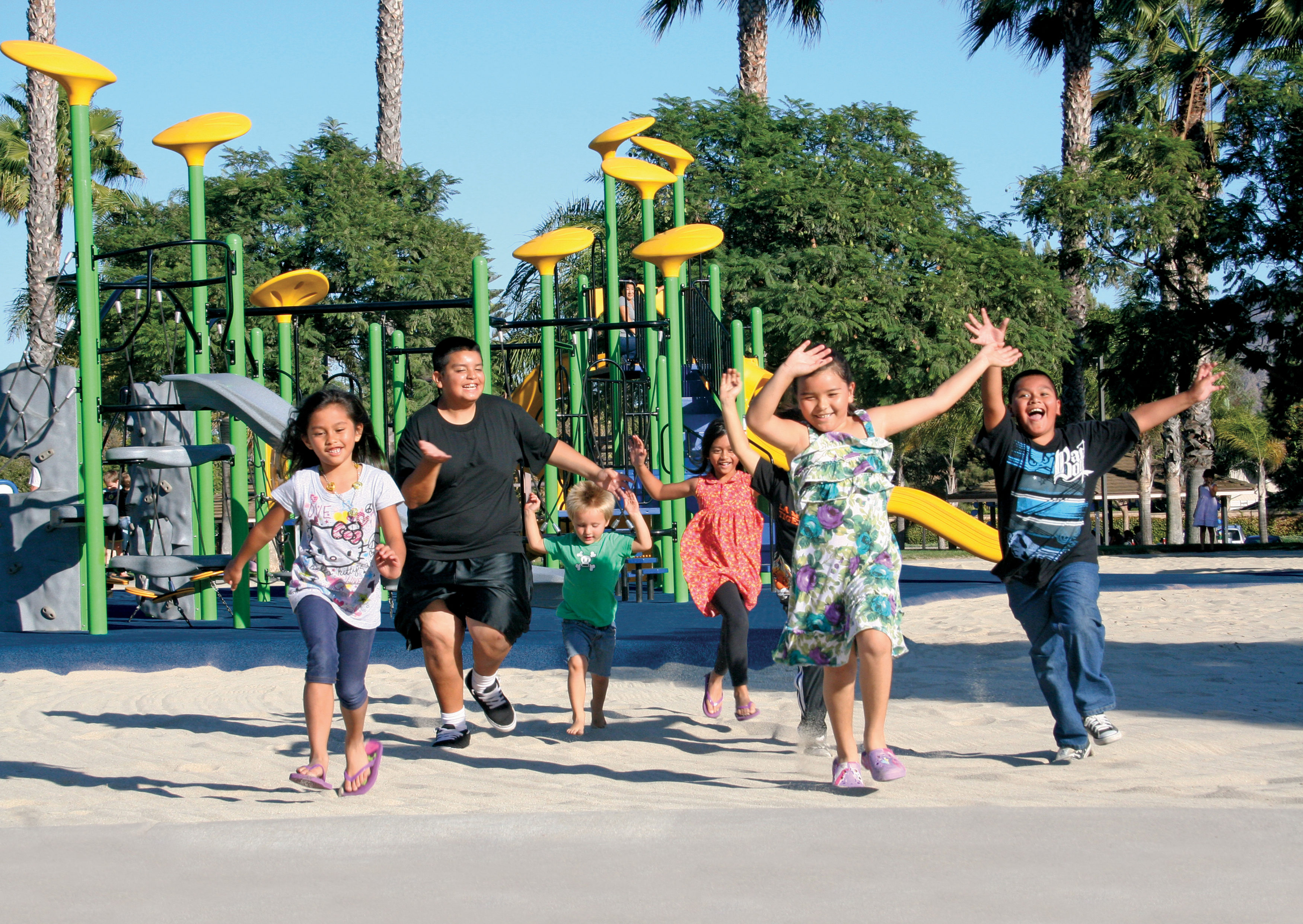 As the Jacksonville City Council wraps up its two-week break, Councilmembers will get a first peek at Mayor Lenny Curry's budget Monday.
They already know at least some of what to expect: a $100 million capital improvement budget and $8.4 million for Edward Waters College.
Now the question is: Will everyone play ball?
A.G. Gancarski has written extensively about the changing dynamics between the Mayor's Office and Council leadership: Will there be a resolution of schismatic thinking by Monday? Or will it be by August, when the reconfigured Finance Committee mulls that budget?
Open questions — but not the only ones in Northeast Florida politics.
Two incumbent Republican congressmen have drawn Democratic challenges: one, an ambassador; another, a transgender author of vampire novels. Both teach at the University of North Florida — go Ospreys!
Business development continues, with massive interest ramping up for working with a big company in Jacksonville.
And, oh yeah, a City Councilman called the Pope a Communist. In other "What was he smoking?" news, a medical cannabis dispensary finally opened in Jacksonville.
All this (and more) in this week's Bold.
The moral of the story:  Even in a policy pause, during a week where everyone who mattered was on vacation, Jacksonville and Northeast Florida still manage to bring the news.
CD 6 Shuffle
You may need a scorecard to keep up with the changes in Florida's Congressional District 6, where Ron DeSantis holds the seat … for now.
Consider that DeSantis' camp is still floating the narrative that he may run for Florida Governor — setting up an interesting contrast between DeSantis' clipped cadence and the down-home Old Florida style of Adam Putnam.
DeSantis may not be gone yet — but this week one Democrat with a serious pedigree filed to run.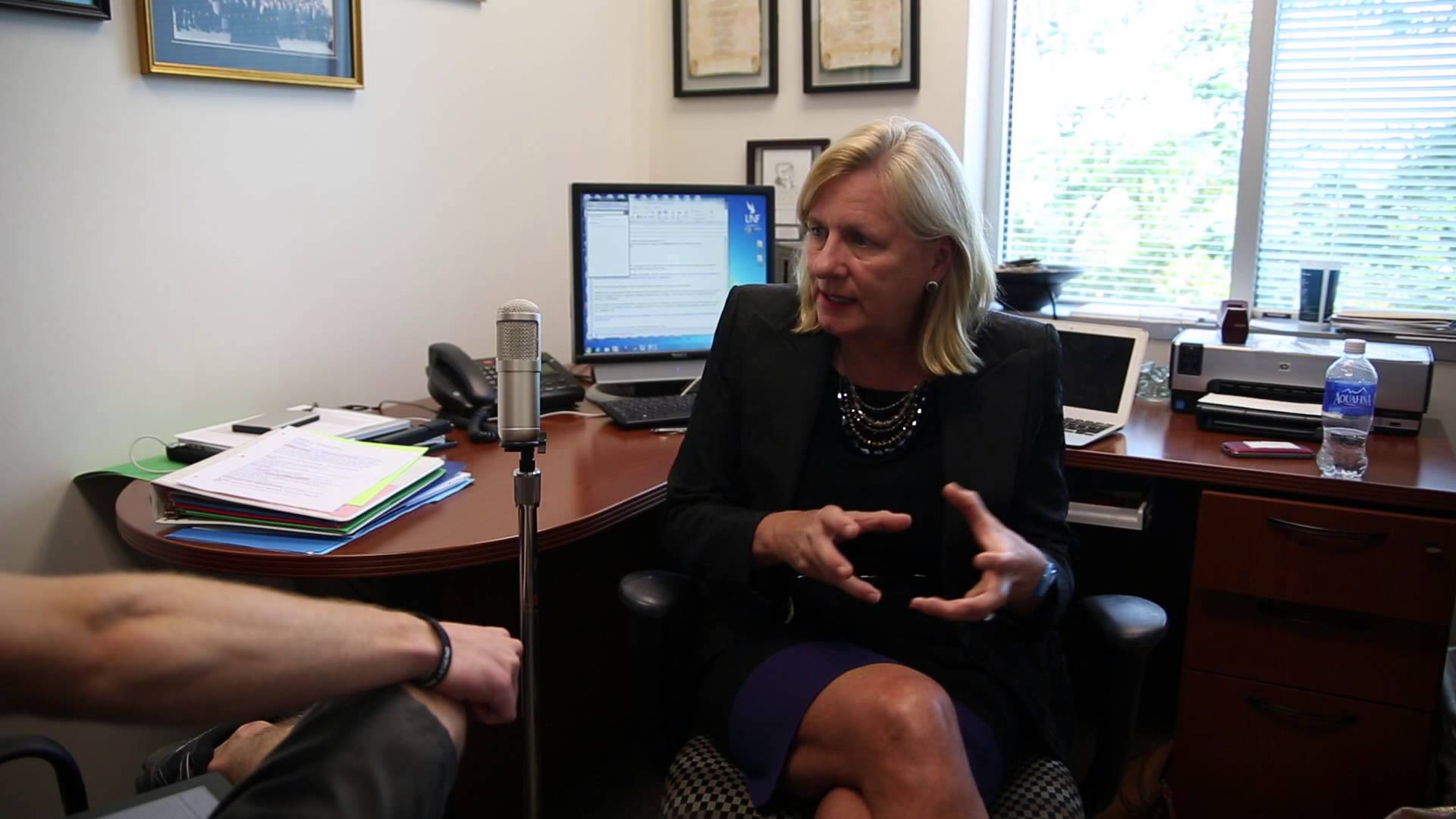 Ambassador Nancy Soderberg, a University of North Florida professor who earned her bona fides in the Bill Clinton administration, is in.
By Thursday morning, the Federal Elections Commission website listed a Soderberg for Congress campaign committee.
Democrats hoped for the benefits of a wave election, and assuming the White House dumpster fire continues, they may just have one.
The district was reliably GOP in 2016; both Donald Trump and Marco Rubio carried the area by over 15 points.
Al Lawson talks health
Rep. Lawson, in Jacksonville during the Congressional recess, spoke to the Florida Times-Union — and health care was on his mind.
"The Affordable Care Act is not a perfect law and there certainly is a lot of room for improvement," Lawson asserted. "But let's work together to figure out ways to bring down health care costs."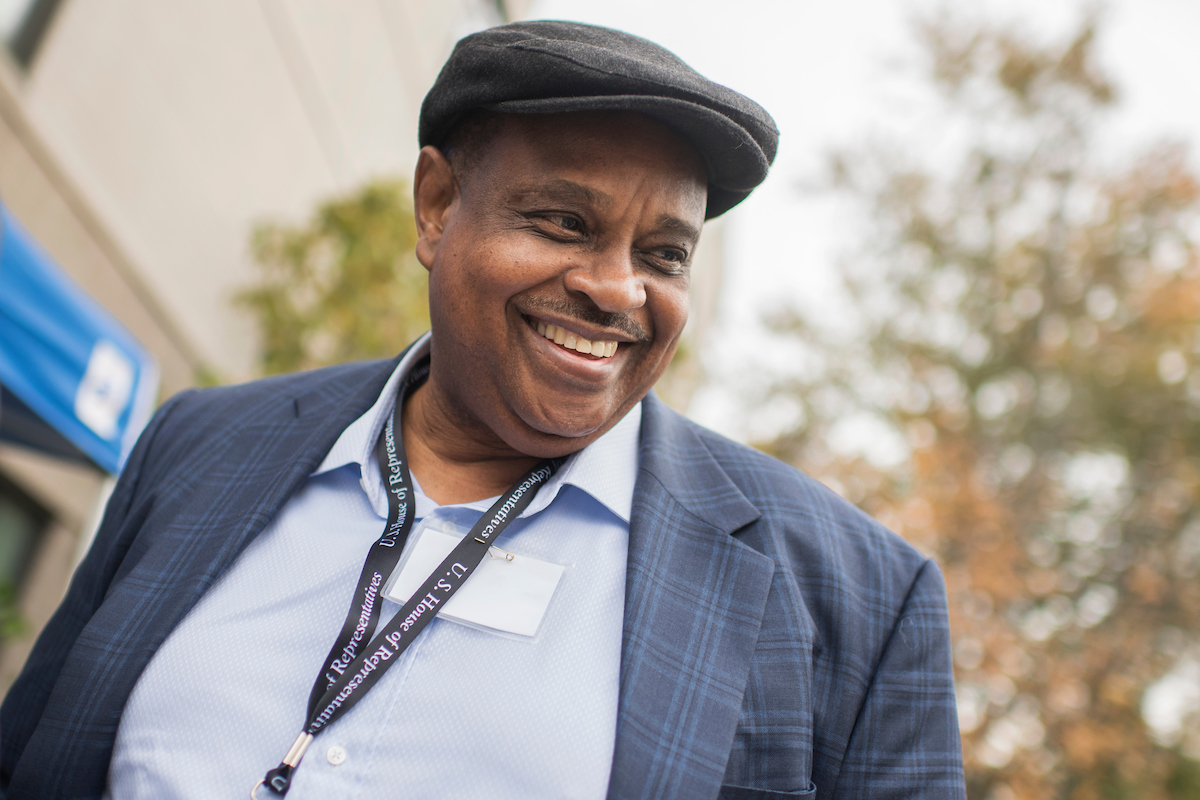 Lawson "doesn't care whose name" is on health care reform, he said, alluding to the differences between "Obamacare" and the self-styled "Trumpcare."
Lawson suggests taxing people with so-called "Cadillac" insurance plans.
In an interesting bit of news from the interview, Lawson is working with Jacksonville Republican John Rutherford on a mental health bill. The two first year congressmen held an event Thursday afternoon in D.C., where experts discussed mental health challenges for veterans.
New subcommittee for Rutherford
On Wednesday, Rutherford announced his appointment to the House Judiciary Committee's Subcommittee on Crime, Terrorism, Homeland Security and Investigations.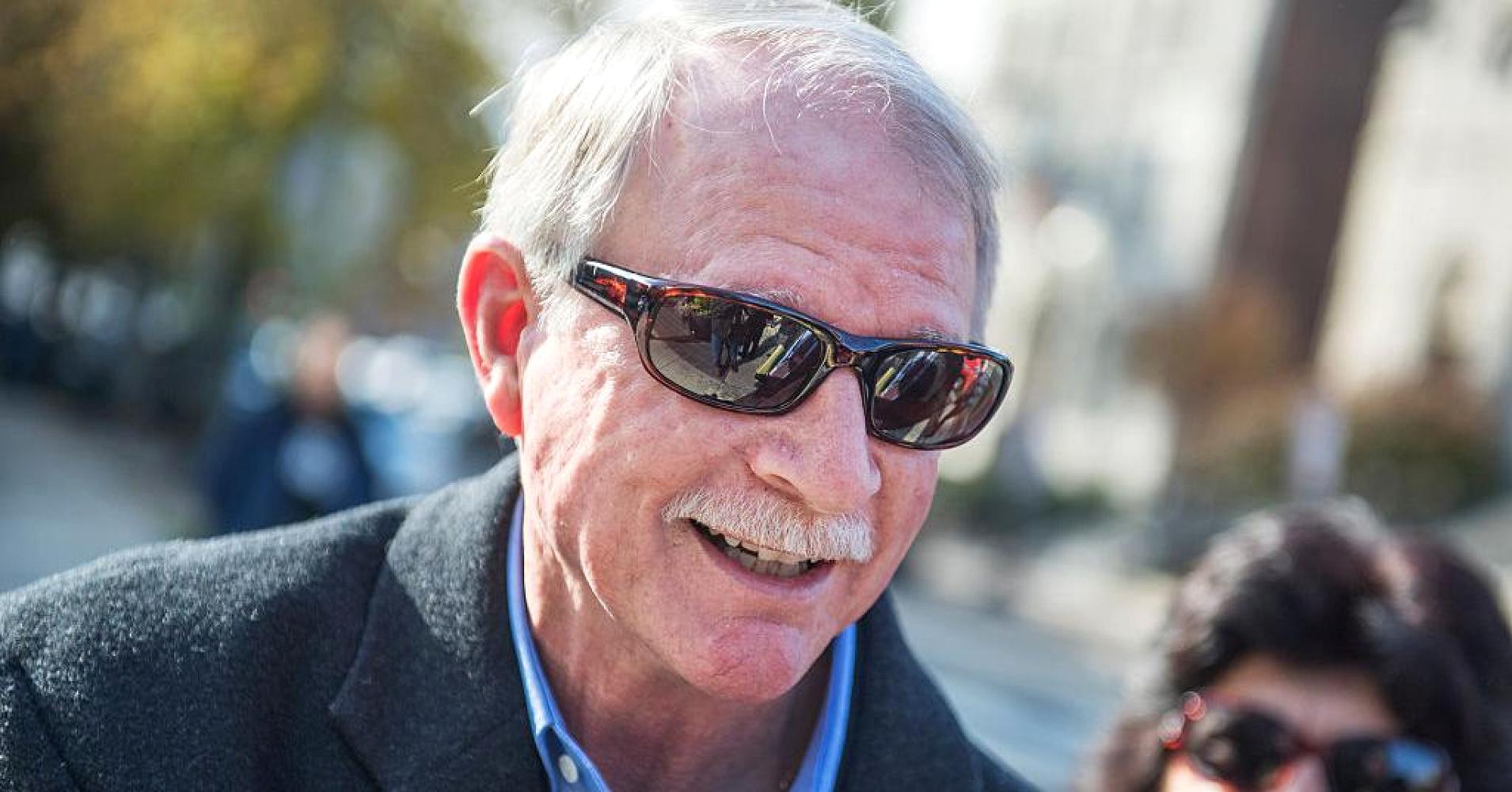 "Looking forward to using my background to support the rule of law across our nation," the Jacksonville Republican and former Sheriff said.
Wisconsin's Jim Sensenbrenner is chair; Louie Gohmert of Texas serves as vice-chair.
New challenger for Rutherford
Action News Jax introduced Jacksonville viewers to Monica Paige DePaul, a University of North Florida adjunct professor who writes novels, is transgender, and is running to replace Rutherford in CD 4.
DePaul has brought her politics to her vampire novels, she told reporter Jenna Bourne.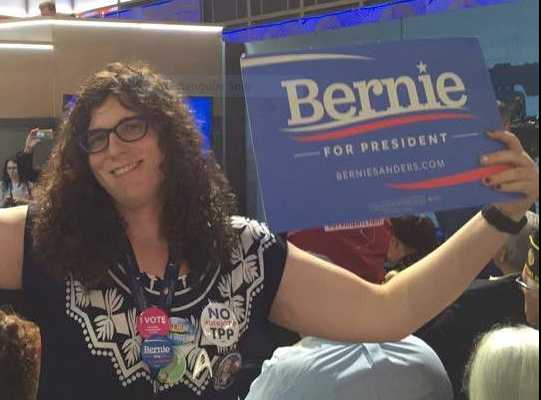 "So that actually started way back in 2009 when Twilight came out and I was like, this is garbage. And I wanted to write something better," said DePaul. "In my second book, Blood on the Rocks, there's pretty obvious jabs at [Florida Governor] Rick Scott."
DePaul, who was a Bernie Sanders delegate at the 2016 Democratic National Convention, is the sole Democrat in the field. With Rutherford not having filed for re-election yet, the sole Republican in the field is Palatka petition collector Rob Ficker — who we profiled previously.
Is Paul Renner a Jacksonville guy?
Such was the provocative question posed by Tia Mitchell recently in the Florida Times-Union.
Mitchell's take?
The veteran reporter notes Renner's local roots run deep: "He grew up in Arlington and graduated from Terry Parker High School … a shareholder at the Milam Howard Nicandri Gillam and Renner law firm in the heart of downtown."
Mitchell also points out that The Fiorentino Group and Ambassador John Rood were among the early supporters.
Absent from Mitchell's piece: Mayor Curry, instrumental in a fundraiser that brought in over $250,000. Curry told us at the time he and his team are "engaged" fully in the fight to get Renner over the hump. Indeed, there are those saying Brian Hughes and Tim Baker brought home four of the 16 pledges Renner needed to win.
The point? Victory, as ever, has many fathers.
Money-Go-Round
Who's up? Who's down? In Northeast Florida politics, campaign finance reports tell the tale.
Among those who should be exultant: Curry; Sen. Rob Bradley; Jacksonville City Council President Matt Carlucci.
"Build Something That Lasts," Curry's committee, brought in $110,000 in June, and now has $242,456 on hand.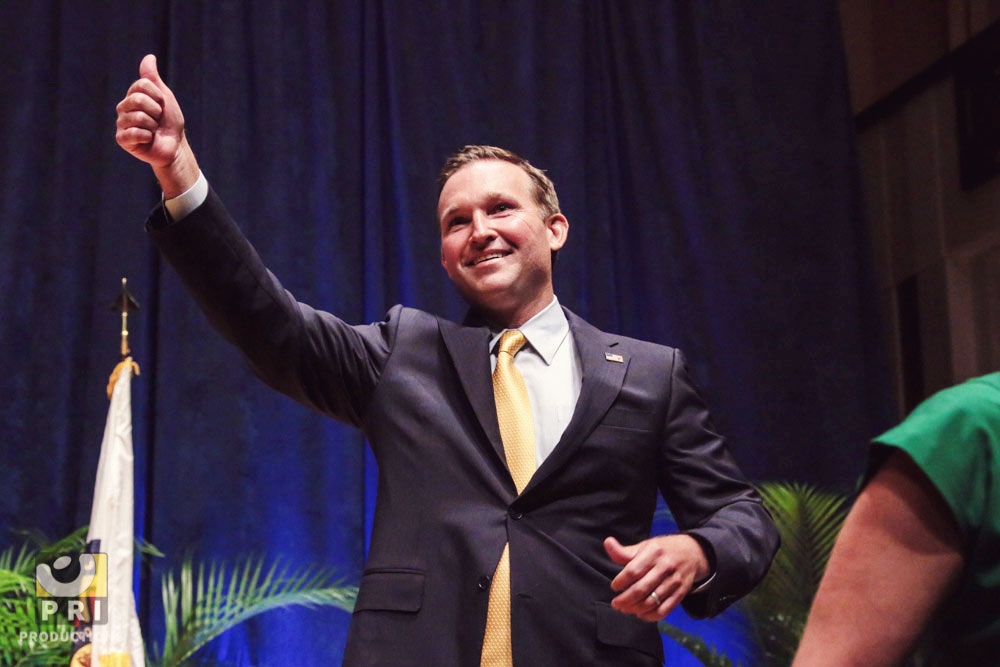 And "Working for Florida's Families," the committee associated with Sen. Rob Bradley, brought in $59,500. That committee now has $390,000 on hand.
Meanwhile, Carlucci brought in $60,000 in his first month as a candidate for a 2019 at-large seat.
Two strong performances in the House came from freshmen Jason Fischer (who had a better than $50,000 month) and Clay Yarborough (over $22,000 in June).
Gasping for air: Rep. Jay Fant, who brought in roughly $70,000 between his committee and campaign account … way below his opponent in the GOP Attorney General primary, Ashley Moody, who brought in $603,000 total.
One of Moody's donors: the right-hand man of local State Attorney Melissa Nelson.
Moody has the backing of the entire Tampa area legal community, it seems.
Meanwhile, while Fant has lacked that backing until now, the Thursday endorsement of future Speaker Renner — a Jacksonville lawyer himself — may be a positive augury.
Smile, you're on candid camera
The wait is over — the body camera pilot program for Jacksonville Sheriff's Office members is finally underway, reports WJXT.
Officers are testing one of three brands of body cameras, with 30 spread out through the city.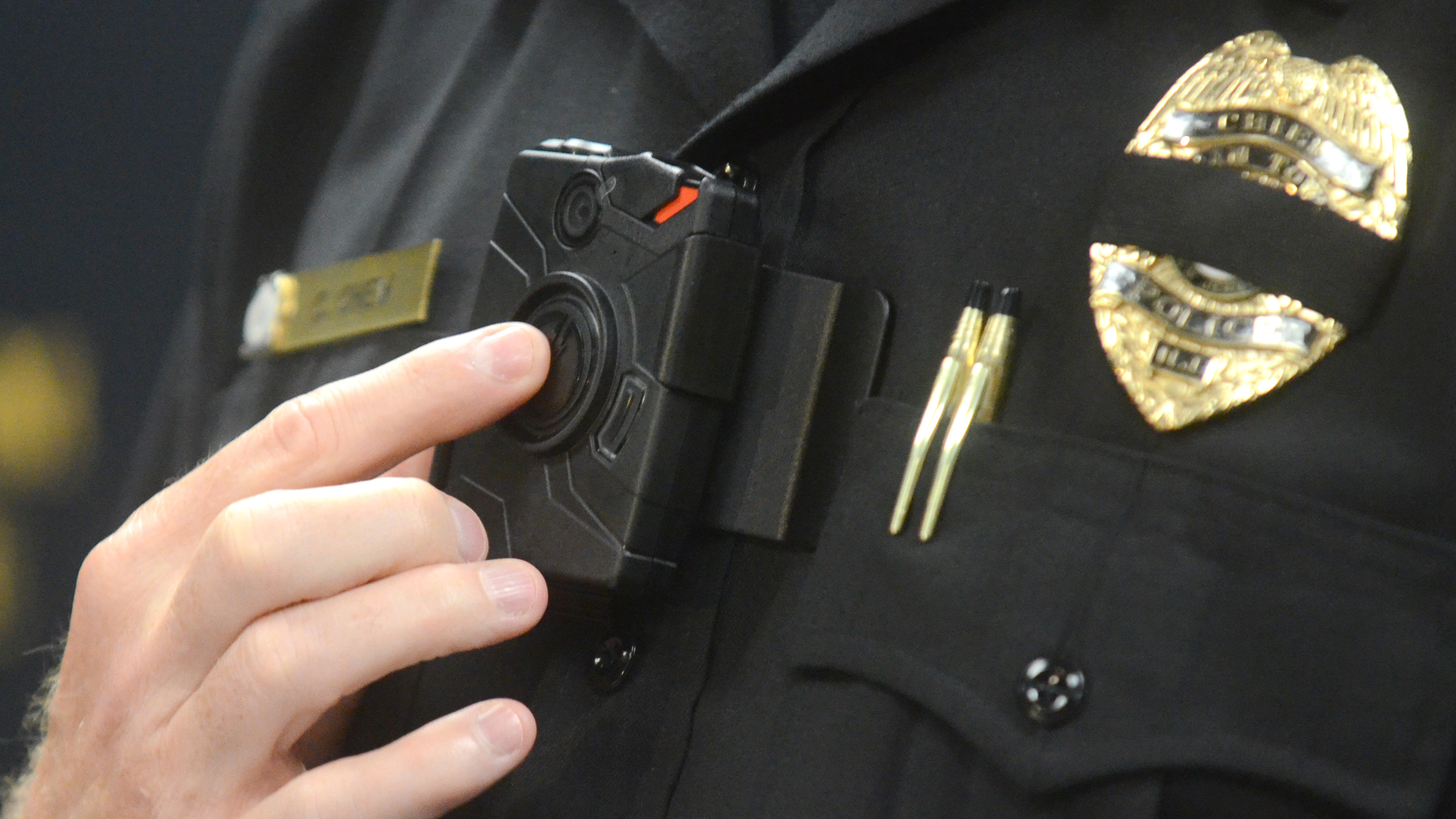 The goal — body cameras for all uniformed officers — should be subject to collective bargaining, the local police union contends.
JSO's budget puts $1.3M to begin the program; however, costs will escalate once the trial programs wrap up, when the cameras become part of the uniform for all field officers.
MMJ in the 904
For those with medical marijuana cards, the drought is over as Trulieve opened its Jacksonville dispensary this week — the eighth in the state.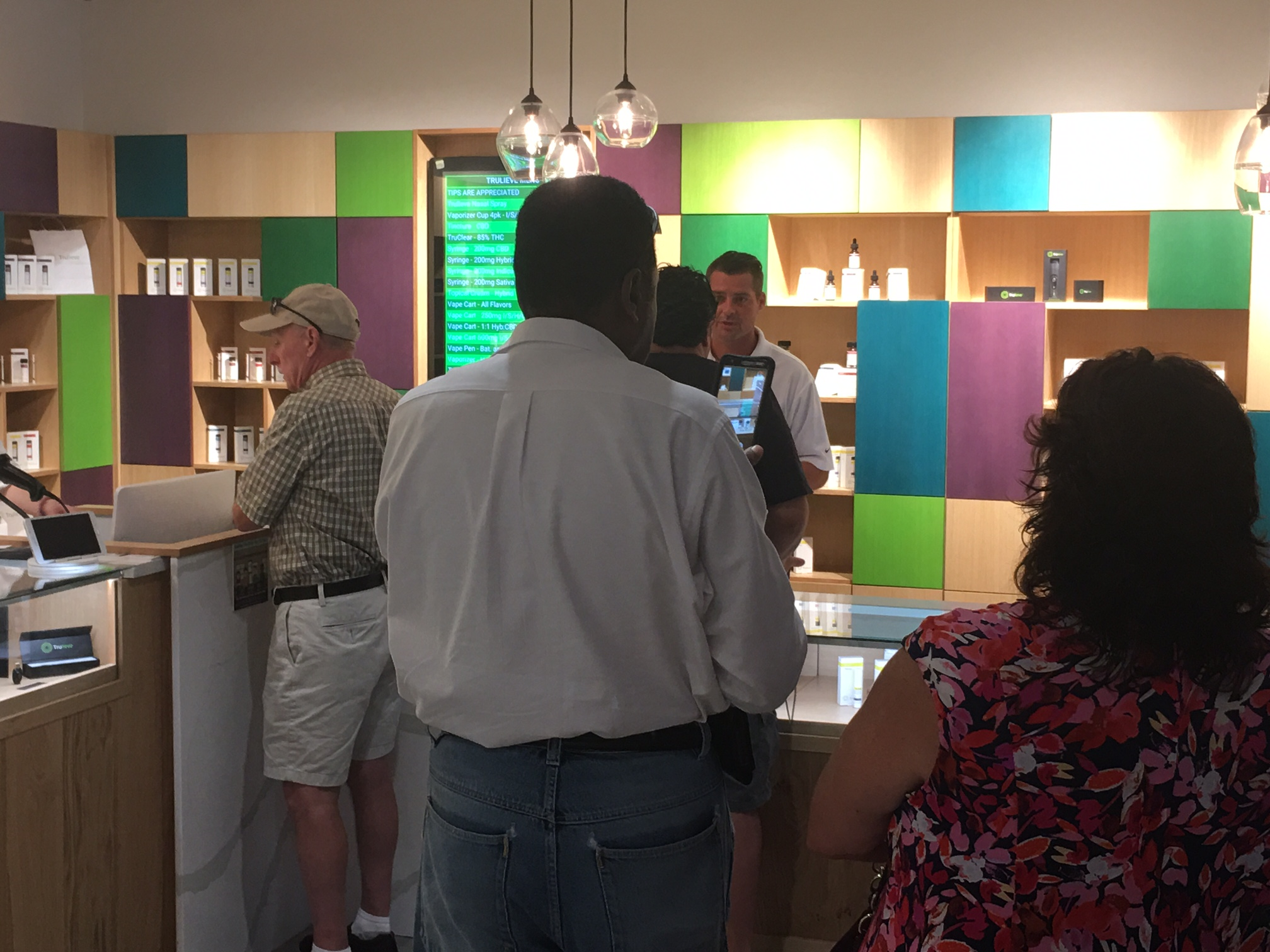 And this one represents progress: it was just two years ago that Jacksonville policy makers were paralyzed over the dread specter of Charlotte's Web.
After two "moratoriums" on growing and dispensing, the city worked out some sensible zoning rules, allowing one dispensary in each zoning district.
Knox Medical will, at some point, open in Mandarin. In the meantime, expect Trulieve — which has a proven model at this point — to reassure local policy makers that medical cannabis is just another business.
Is the Pope communist?
Is Pope Francis a commie? Early Thursday, Jacksonville City Councilman Bill Gulliford said "yes."
"I am a Catholic and he is a Communist," Gulliford said of the pontiff.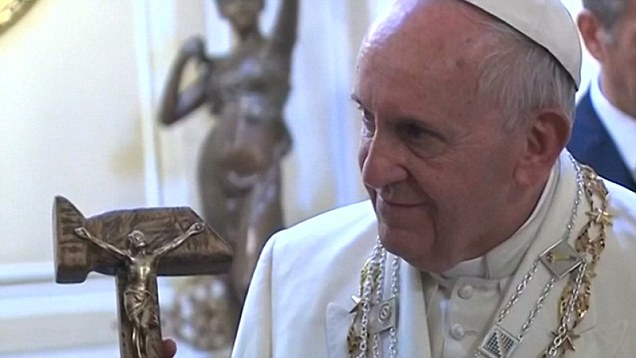 What spawned that?
An article in an online publication (M2 Voice) said the Pope asserted that "world government must rule the United States 'for their own good.'"
"I am afraid there are very dangerous alliances between powers who have a distorted view of the world: America and Russia, China and North Korea, Russia and Assad in the war in Syria," the Pope observed in the same interview.
Alas, in the M2 Voice article, the "for their own good" line was not given in context, raising questions as to the veracity of the quote — especially given the translation from the original Italian.
Amazin' queue for Amazon jobs
Economic development often sounds abstract. But for real life examples of what it means, consider the lines that snaked around Northwest Jacksonville's Legends Center — those lines, with hundreds and hundreds of people, brimmed with job seekers this week.
The Jax Daily Record notes that a year ago, "Amazon announced it would create more than 1,500 jobs in Jacksonville at the first fulfillment center in the city, at 12900 Pecan Park Road in Northwest Jacksonville."
"I think it's going to have a really big impact here," one applicant told the Record's David Cawton. "You see all the people waiting in line, they're all looking for work so, I think Amazon found the right place to land."
Green light for Black Creek
Good news for the folks near the parched Keystone Lakes may be on its way soon, reports WOKV.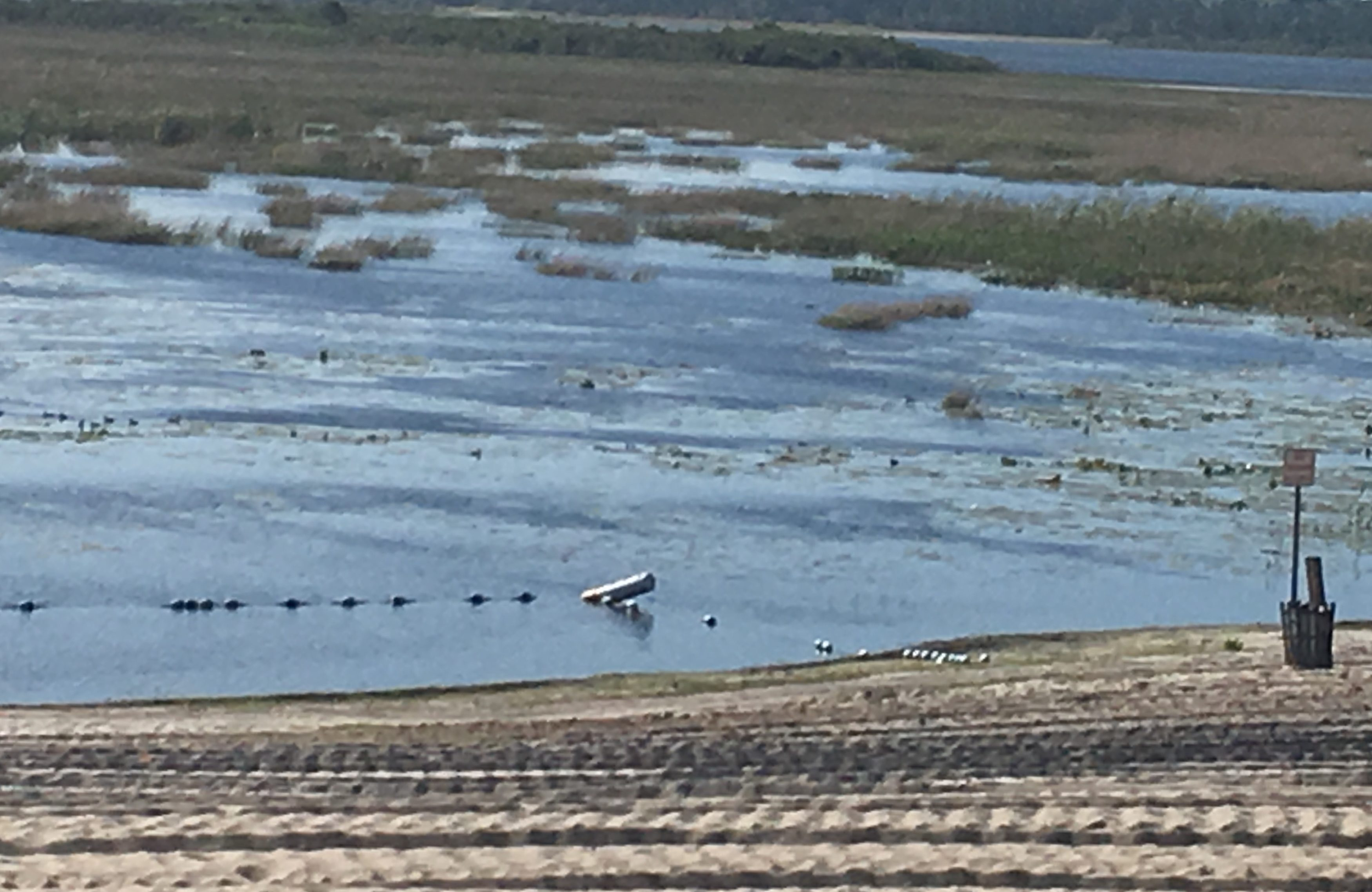 The St. Johns River Water Management Board this week approved a "recharge" plan that will route water from Black Creek.
The first design and construction of the plan carried by Sen. Rob Bradley of Orange Park and Rep. Bobby Payne of Palatka: $13M.
The "Black Creek Water Resource Development Plan": a five-year, $41 million plan to capture excess water from Clay County's flood-prone Black Creek and pipe it into the Keystone Lakes, via a discharge at Camp Blanding, where a spreader field would disperse the water to Alligator Creek.
Hopes are to wrap the project by 2023, WOKV reported.
Bradley told us in April the project "helps all of Florida" by providing an "aquifer recharge area" for the Suwannee and St. Johns River basins.
Elections matter
Perhaps no politician this century in Northeast Florida did a worse job managing media relationships than Angela Corey.
And, against that dismal backdrop, the Koch-friendly reform agenda of Melissa Nelson looks pretty good … with regular plaudits in the press.
The latest accolade: Harvard University's Fair Punishment Project, written by Florida Times-Union alum Larry Hannan.
Hannan contrasted Corey's "draconian views" on criminal justice with Nelson having "cleared the low bar set by her predecessor."
This, said Hannan "offers another clear reminder that the most powerful actor in the justice system — the elected prosecutor — can and should remain accountable to her constituents."
World Cup to Jacksonville?
FIFA World Cup 2026 action in Jacksonville? Don't rule it out, as the city was deemed a "strong candidate" and invited to bid.
Canada, Mexico, and the United States will co-host the World Cup that year.
As correspondence from U.S. Soccer Federation President Sunil Gulati to Mayor Curry reveals, Jacksonville is in the mix to host World Cup action … which will involve a whopping 80 matches over a 30-day period in 2026.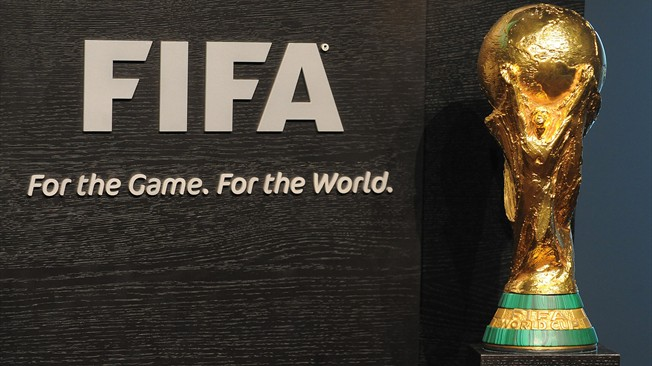 "Jacksonville is a strong candidate for participation in this process, given your support of soccer, stadium facilities, and the related tourism infrastructure you already have in place. As such, we will be making informal contact with the stadium and sports commission contacts in your city in the coming days, but we wanted first to make you aware of this significant opportunity, so Jacksonville can best present itself as a participant in this process," Gulati remarked.
Curry's office says that no decision has been made on a bid — but it's hard to imagine him passing up on an opportunity to put Jacksonville on a global stage.
Riverkeeper disses dredging … again
The St. Johns Riverkeeper continues in its efforts to stop the seemingly inevitable JAXPORT dredge, with its latest gambit being a consultant saying that it won't pay off.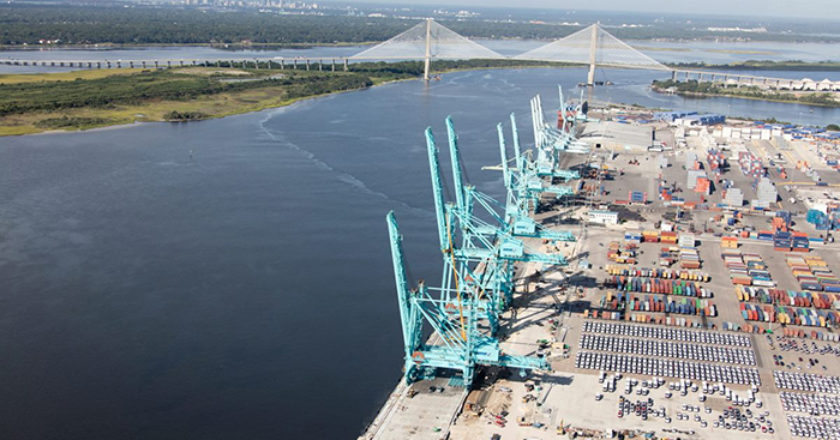 The latest blast Tuesday: a report from New Orleans-based "port and shipping expert" Dr. Asaf Ashar, which deems the deep dredge is economically infeasible.
Ashar contends (contrary to optimistic U.S. Army Corps of Engineers estimates) that there is a good chance that total costs of the project could outweigh benefits.
As well, Ashar asserts that JAXPORT will likely remain a secondary port compared to Savannah and Charleston, two regional competitors, dredging notwithstanding. Ashar notes both ports have channels that are not even 47 feet deep.
Jacksonville Zoo begins major remodel, adds African Forest
Jacksonville Zoo and Gardens is beginning a $9 million construction on the African Forest, a major remodeling initiative of the Great Apes Loop to include gorillas, bonobos, mandrills, and lemurs.
African Forest will incorporate "wellness-inspired design" in choices, challenges and variation to stimulate the animals. The new exhibit will replace the current Great Apes Loop, which opened in 1998.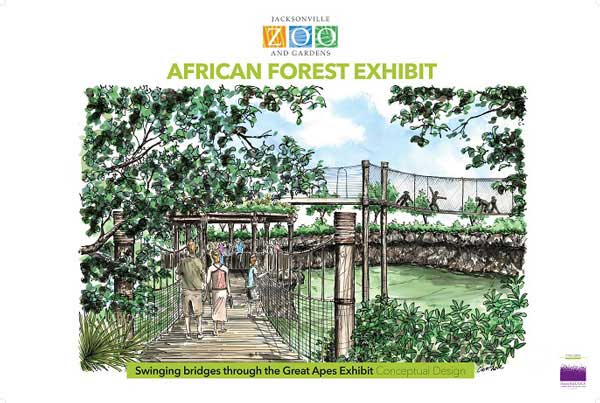 "With The Land of The Tiger and The Range of The Jaguar winning national recognition as being among the best zoo exhibits in the country, the bar has been raised. Our members and visitors now expect everything we do at the Zoo to be at a standard that will make our community proud to say Jacksonville has one of the very best zoos in the country," said JZG Executive Director Tony Vecchio. "The new African Forest will continue that legacy. Rather than just spruce up what is now one of the Zoo's oldest exhibits, our board of directors and staff have taken on the challenge of making the Great Apes area an experience that will be special for our visitors, and, for our animals."
Demolition began July 5, with partial or full closings of the Great Apes Loop until completion in 2018. Because some of the residents may not be within public view, the Zoo recognizes that guests may miss seeing the animals in the Great Apes Loop and plans to take video and share pictures of them playing often. Even though only a few of the animals, such as the lemurs and siamangs will be relocated to other parts of the Zoo where they can be visited, all the primates will still have access to outdoor areas during renovations.