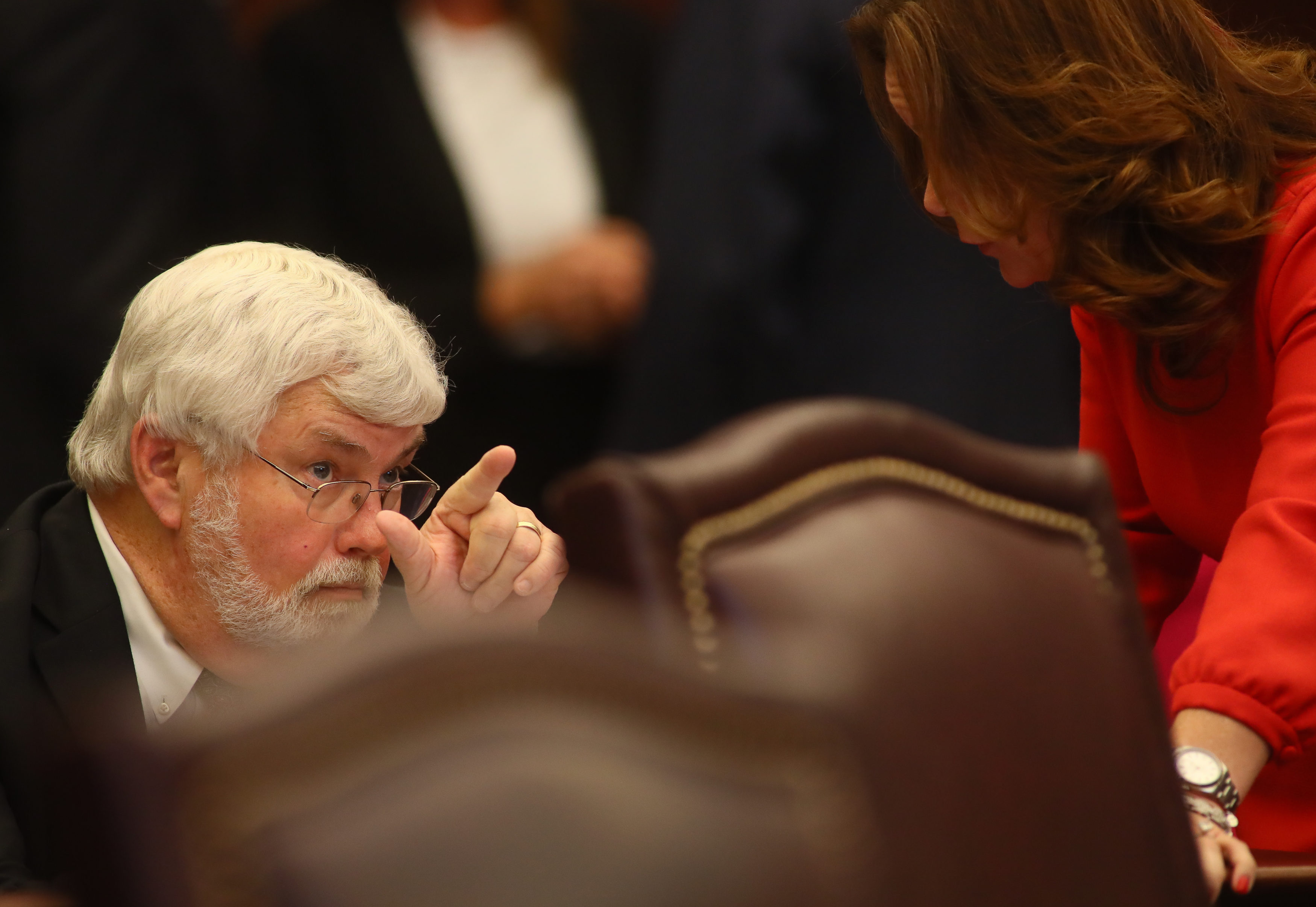 Sunburn – The morning read of what's hot in Florida politics.
By Peter Schorsch, Phil Ammann, Jenna Buzzacco-Foerster, Mitch Perry and Jim Rosica.
La Fête Nationale. Joyeux Quatorze Juillet. More than 50 cities in the United States will celebrate France's national holiday, Bastille Day. But there's no such thing as Bastille Day in France. Why not? Because in France, July 14th is simply known as la fête du 14-juillet (the July 14th holiday) or more officially, la fête nationale (the National Holiday).
So if you happen to run into any French natives this year during your July 14th celebrations, don't wish them a "Happy Bastille Day"—chances are you'll be met with the same reaction as if someone wished you a "Happy Declaration of Independence Day" on July 4th.
 — LATVALA'S MAINE EVENT —
Lobsters and Latvalas.
For some in Florida politics (we're looking at you Pete Dunbar, Lisa Hurley and Alan Suskey) that's all they may ever need.
Today these folks will be in beautiful Boothbay Harbor, Maine for an old fashioned pig roast (we're not sure if there will be delicious Maine lobsters on the menu) and to raise money for state Sen. Jack Latvala's main political committee, the Florida Leadership Committee.
The gathering in Maine has become an annual tradition, where those close to the Chairman of the Senate Appropriations Committee gather for a couple of days to enjoy each other's camaraderie — and hear Latvala's plans for the year ahead.
In years past, those in attendance discussed the Pinellas Republican's efforts to win the Senate presidency.
What Latvala has to say this year is especially important. He's expected to share with his closest political friends and supporters his plans for 2018.
For months, speculation has pointed to Latvala announcing a maverick's run for Governor. In February, Latvala told Steve Bousquet of the Tampa Bay Times that he would not be making a decision about 2018 until the Legislative Session was over.
Well, Session has come and gone. There even was a Special Session. So is Latvala ready to throw his hat into the ring and challenge Adam Putnam (and probably Richard Corcoran) for the GOP nomination?
Latvala might be ready to run. And today he might tell his friends and supporters he intends to run. But don't expect him to launch a campaign officially before September 1.
This is because Latvala is counting on public campaign finance to bolster his war chest and any money raised before that date does not count towards the figure that can be matched.
Florida's public financing law was established in the 1980s as a way to help overcome the rising cost of running statewide.
Payments are doled out under Florida law that allows gubernatorial candidates to seek public financing for their campaign. If candidates agree to limit their spending, the state matches contributions up to $250. Contributions above that amount also receive a $250 match.
Because he's running against a candidate (Putnam) with nearly a $10 million head start, Latvala will likely rely on public financing to level the field.
And, to be frank, there's not much Putnam can say about that.
This is because, while running for re-election as Commissioner of Agriculture in 2014, Putnam took more than $400,000 from the state in public financing even though he was running against a tomato can.
Why a fiscal conservative like Putnam who was facing no threat of being defeated would accept public campaign financing — even if he was entitled to it — is a good question.
Putnam's spokesman told Matt Dixon that Putnam doesn't support the taxpayer-financing policy, but it would have been "absurd" to turn down the money.
It's unclear if Putnam will accept public financing — and the cap that comes with it — in 2018. His campaign and committee have raised a combined $13.4 million through May 31.
Although Latvala is himself a prolific fundraiser, he probably doesn't have the capacity or time (he won't be able to fundraise during the 2018 Legislative Session) to raise Putnam-esque money. And to be honest, if Latvala is to pull off an upset and defeat Putnam, Corcoran, etc., he will have to catch fire with the Republican grassroots to do so. A couple of million dollars on top of the $25 million limit won't make a difference towards that.
So while much of the Florida political universe is eager to see Jack Latvala on the campaign trail, they're probably going to have to wait a little longer.
In the meantime, enjoy the lobster rolls.
"State GOP's use of Richard Corcoran pollster draws Latvala's ire" via Matt Dixon of POLITICO Florida – The newly hired pollster for House Speaker and likely gubernatorial candidate Corcoran did work for the Florida GOP last quarter, a move that's sparking tension with at least one of his potential 2018 rivals. "I didn't know about the polls. I'll probably call [Republican Party of Florida Chairman] Blaise [Ingoglia] about it," said state Senate budget chief Latvala, who is considering a run for governor. Latvala has been involved with the party since the 1970s and this week pledged to donate $50,000 over the next two quarters to RPOF, which has recently struggled to raise money. His comment came after POLITICO Florida asked him about the nearly $50,000 RPOF paid last quarter to Tony Fabrizio, whose firm was recently hired by Corcoran through his political committee, Watchdog PAC. "As far as Jack is concerned … my response is #LiberalLatvala," Fabrizio said in a text message when asked about Latvala's criticisms.
***Today's SUNBURN is brought to you by Spectrum Reach, the marketing platform of choice, connecting you to your target audience on TV, digital and mobile. With access to our powerful data and insights, solutions for every screen, and the best programming content on the top 50+ networks, we'll help you reach the right customers for your business. SpectrumReach.com #NeverStopReaching***
— BLAISE INGOGLIA EXPLAINS Q2 FUNDRAISING NUMBERS —
Blaise Ingoglia wants to put the Florida GOP's second quarter fundraising numbers into context, telling state Republicans that a number of factors, including the possibility of special sessions, contributed to the mediocre haul.
Ingoglia, the chairman of the Republican Party of Florida and a Spring Hill state Representative, acknowledged that second quarter fundraising numbers "were not great," but told committee members that those numbers were "not inconsistent with what has been raised in similar situations."
"What was completely glossed over in media reports (as well as detractors of our Party) is that in addition to legislative session, there was the prospect of AT LEAST one elongated special session this reporting period," said Ingoglia in a July 12 email to state committee members obtained by FloridaPolitics.com. "Therefore, fundraisers weren't scheduled during the second quarter for fear of the events having to ultimately be canceled and then losing deposits. It was simply not good fiscal policy to risk canceling events and then lose money."
State records show the Florida GOP raised $338,942 between April 1 and June 30. Ingoglia said the prospect of multiple sessions didn't just have an impact on the state party, but also the Florida Republican Senatorial Committee, which raises money for state Senate races. That committee raised $720,000, down from $1.4 million in the first three months of the year.
Ingoglia also warned that comparisons to the Florida Democratic Party's reported $3.5 million haul are not accurate, since those comparisons compare a quarter to "their year-to-date number."
"The bottom line is this … as of yesterday the Republican Party of Florida has more than $4 million cash-on-hand between both its federal and state accounts, and fundraising is starting to ramp up.  By comparison, it has been reported that the Florida Dems are low on cash, as evidenced by them having to take out a $200K line of credit to make ends meet," wrote Ingoglia, before telling members it was unfortunate that people within the party appear to be rooting for failure by spreading "erroneous information on social media and via email."
"Last election cycle, we ignored all the noise, completed the task at hand, and finished the election with millions left in the bank," he continued. "This election cycle will be no different!"
— NOTES FROM THE CAMPAIGN TRAIL —
"Brian Mast campaign says it raised more than $700K in Q2" via Florida Politics — The Mast campaign said Thursday it raised $733,964 between April 1 and June 30. That three-month fundraising haul brings his total raised to more than $1.12 million this cycle, according to the campaign. "While national Democrats desperately dump money into the 18th District with lies to undermine Brian Mast's service to our country, people obviously aren't buying it," said Brad Stewart, a spokesman for Mast, in a statement. "With 92% of all donations being small dollar and a median donation of $25, it's clearer than ever that there is broad grassroots enthusiasm for Brian's agenda to upend the status quo in Washington and restore fiscal sanity to our country." … Mast is one of 59 Republicans the Democratic Congressional Campaign Committee identified earlier this year as incumbents the group will try to oust in 2018.
Save the date: Linda Jack will kick off her House District 36 campaign with an event at 7 p.m., Aug. 8 at Rose's Bistro, 6238 Grand Blvd. in New Port Richey. The campaign kick-off is hosted by Rep. Sean Shaw, New Port Richey Mayor Rob Marlowe, former Rep. Amanda Murphy, and Frank Starkey of People Places LLC.
"HD 44 Republicans offer differing views on Obamacare" via Scott Powers of Orlando Rising — The four Republicans seeking to win the Aug. 15 primary for the open Florida House District 44 seat in Orange County differed sharply on their views of the Affordable Care Act and what, if anything from it should be salvaged. In a debate sponsored by the West Orange Republican Women's Club Thursday, John Newstreet declared that about 80 percent of it was good, but the rest was so bad that it was like sugar and manure. His allowance for good parts in the deal Republicans typically deride as Obamacare drew sharp contrasts with the other candidates, as Bobby Olszewski and Bruno Portigliatti declared the whole law to be bad, while acknowledging a couple of positives; and Dr. Usha Jain, an urgent care physician, replied, "Obamacare is not for me. I never accepted Obamacare."
"Bobby Olszewski calls political flyer 'slanderous'" via Terry Roen of Orlando Rising – Olszewski said he has hired a lawyer to address "a slanderous mailer" that slams his involvement in a felon reform program. The two-page flyer, paid for by the Small Business Advisory Council in Tallahassee, urges voters to "contact Olszewski and tell him his scheme to fleece the taxpayers is wrong and not fiscally conservative." Ironically, the flyer says the Republican is "caught in a Democratic for-profit tax scheme." The flyer criticizes Olszewski's work with Certified Second Chance Inc. (CSL), a corporation formed in February with Apopka Mayor Joe Kilsheimer and a third partner, Allan Chernoff, CEO of the City of Life Foundation. The corporation requested state funding to help felons get jobs. The corporation was formed just days before State Sen. Randolph Bracy, who represents Apopka, requested $500,000 in the state budget for CSL, a for-profit social purpose corporation.
— ENDORSEMENT WATCH —
Paul Renner, Clay Yarborough back Jay Fant for AG — Reps. Paul Renner and Clay Yarborough have endorsed Jay Fant for Attorney General. The two join a growing list of House members from Northeast Florida and across the state who have thrown their support behind Fant. "I'm honored to have the support of strong conservatives like Paul Renner and Clay Yarborough," said Fant. "Their effective leadership in Tallahassee serves their constituents and our entire state well. I look forward to continuing to work with them to limit government and increase opportunity for hardworking Floridians."
Scott Fuhrman backs David Richardson in CD 27 — Scott Fuhrman announced he was endorsing state Rep. David Richardson in his race to replace Republican Ileana Ros-Lehtinen in Florida's 27th Congressional District. "David is the kind of Democratic standard-bearer we need in the race right now. I know that we can count on him to fight for progressive and responsible solutions to the problems we face as a nation, as well as to stand up to the Trump administration's harmful policies and alarming rhetoric," said Fuhrman in a statement. "In Tallahassee, David has been on the right side of everything from equal rights to prison reform to gun safety to the environment. I'm excited to see him take a courageous stand for single-payer health care on day one. David gets thing done." Fuhrman challenged Ros-Lehtinen in 2016, and gained national attention by running an extremely competitive campaign. "When Scott ran for this seat in 2016, he took on the daunting task of challenging a well-funded, long-entrenched incumbent," said Richardson. 
"Berny Jacques picks up endorsement from Seminole Vice Mayor Chris Burke in HD 66 race" via Allison Nielsen of Sunshine State News – "As a Law Enforcement professional, I fully support Berny Jacques to represent District 66 in the Florida House of Representatives," Burke said. "Berny spent years at the State Attorney's Office protecting innocent victims and prosecuting some of Pinellas County's worst criminal offenders. Who better to protect the interests of our residents and represent us than someone with a solid foundation in protecting the community and his commitment to public service!" Jacques said he was "honored" to pick up Burke's support. Jacques is currently the only candidate in the HD66 race — for now.
— D.C. MATTERS —
Assignment editors – U.S. Labor Secretary Alexander Acosta, the former law school dean at Florida International University, will visit Florida Polytechnic University, 4700 Research Way in Lakeland. Tour begins at 10:30 a.m. at the school's Innovation, Science and Technology Building, after which he will having lunch with Poly's President Randy Avent and Frank Martin, chair of the University's board of trustees, during which there will be a discussion of the school's SunTrax facility, a joint project between the University and the Florida Department of Transportation to research innovation in tolling and autonomous driving.
"Marco Rubio will vote yes on motion to proceed with Obamacare repeal bill" via Alex Daugherty of the Miami Herald – The bill … was satisfactory to Rubio after he tweeted three provisions as conditions for his support … The provisions included more Medicaid payments to hospitals that serve a large number of low-income people, an option to choose catastrophic coverage plans with low monthly payments but high deductibles and flexible Medicaid caps for public health emergencies like Zika. Rubio said that despite his support on the motion to proceed with the bill, he will introduce an amendment that ensures Florida, which chose not to expand Medicaid, isn't locked into a baseline "that puts us at a disadvantageous position." "It depends what the final bill looks like, if Florida's not treated fairly it'll be a problem," Rubio said. "But ultimately, I campaigned to repeal and replace Obamacare and that's what I want to but I want to do it in a way that's positive for the country and fair for Florida."
"Bill Nelson tries to raise money off Trump's controversial 'voter fraud commission'" via Alex Leary of the Tampa Bay Times – "This is downright ridiculous," reads the subject of a Nelson fundraising email. "President Trump's so-called voter fraud commission has requested that states turn over the names, addresses, birth dates, voting history and, in some cases, even partial Social Security numbers of every voter in the country. Not only is it an invasion of privacy, but putting all that information in one centralized location is an open invitation for hackers to come in and steal it. That's why dozens of states have already refused to fully comply. But Florida's governor, Rick Scott – whom Trump has personally recruited to run for Senate against me – hasn't said a peep, while his appointed Secretary of State has already agreed to send the info." Separately, Charlie Crist issued a fundraising appeal touting his efforts as governor to restore voting rights for felons who paid their debt to society.
"Conservative group targets Nelson and Carlos Curbelo in tax reform ads" via Amy Sherman of the Miami Herald – Freedom Partners Chamber of Commerce, a conservative group, is targeting Nelson and Curbelo in digital ads urging them to support tax reform. The ads target House Ways and Means lawmakers who have expressed support for comprehensive tax reform, but who have yet to take a stand against the Border Adjustment Tax on imported goods, according to Freedom Partners. The ads, which also target key Senate members, target members from both parties and in Florida also includes U.S. Rep. Vern Buchanan. Freedom Partners supports a series of changes to taxes including lowering individual and corporate rates, eliminating most tax credits and deductions and the estate tax and taxes on gifts.
Assignment editors: Sen. Nelson will hold a round table discussion with local graduates about legislation to cut student loan interest rates at 3 p.m. at his office in the U.S. Court House Annex, 111 North Adams Street, Suite 208.
"Another flood insurance crisis? Washington rancor threatens progress" via Alex Leary of the Tampa Bay Times – Despite the rancor consuming Washington, bipartisan work is happening on an issue that affects Florida more than any other state: flood insurance. But the fight over health care and controversy over Russian interference in the election — not to mention an August recess of some length — threaten to impede that work, stoking renewed fears of uncertainty in the real estate market. "It's not exactly been the most productive Congress," said Steve Ellis, vice president of Taxpayers for Common Sense, a group that is part of a broad coalition working on flood insurance. "It's getting closer and closer to the deadline." The decades-old, debt-plagued National Flood Insurance Program expires at the end of September. It covers about 5 million homes and businesses, 1.8 million of those in Florida. If the program lapses, the policies would remain but new ones could not be sold, potentially disrupting sales of homes that carry federally backed mortgages requiring flood insurance.
"Ted Deutch: The House must take up Russian sanctions, put Trump to the test" via Alex Leary of the Tampa Bay Times – "That's a policy matter that will put the president to the test of whether or not he's willing, as he says, to be tough with Russia or whether he's really the president that we saw during the campaign as the candidate who kept talking about wanting to be friends with Russia," Deutch said on CNN. "This is a serious matter. Russia interfered with our election. Congress is trying to toughen sanctions. That's what the American people want and expect. That's what the Speaker ought to allow us to vote on so the president has a chance to sign it."
"Mario Diaz-Balart made backroom deal in favor of horse slaughter, insiders say" via Allison Nielsen of the Sunshine State News – Diaz-Balart turned heads when he voted in favor of allowing horse slaughter in the United States, voting against his fellow Florida congressmen in what appears to have been a vote deal made behind closed doors with several southern Republican lawmakers. Diaz-Balart's vote was one of two to sway the measure in the opposite direction in the Appropriations Committee vote. Every vote mattered in the end, with the bill passing with 25 voting against repealing the ban and 27 in favor. Horse slaughter hasn't always been permitted in the U.S. In fact, it was banned in 2007 when Congress eliminated the funding for inspection of facilities carrying out horse slaughter. The issue has repeatedly come up for votes and Diaz-Balart raised eyebrows … since he was initially against horse slaughter, voting for the ban in 2014. Diaz-Balart then began to vote in favor of horse slaughter in 2015, but some say he was swayed by other enticements this vote.
Spotted in a piece by Mark Leibovich on his impressions of a post-Trump D.C. for the Sunday New York Times Magazine: #FloridaMen Tom Rooney and Rick Wilson.
– STATEWIDE –
"Florida's response to Trump voter fraud commission remains on hold" via Amy Sherman of the Miami Herald – … due to litigation … July 10, the commission asked states to hold off due to litigation in Washington D.C. Florida Secretary of State Ken Detzner's spokeswoman Sarah Revell told the Miami Herald that the state's plan to provide data is  on hold. "The commission that made the public records request asked the department not to submit the requested information," she said in an email July 12. "As with any public records request, if the requester indicates they no longer wish to receive the information, we do not process their request." On July 10, the ACLU of Florida along with other plaintiffs filed a federal lawsuit in Miami seeking to stop the work of the commission and to prevent Detzner from handing over data. The ACLU filed an updated motion seeking a temporary restraining order.
"Squeezed: Supreme Court denies challenge of citrus veto" via Florida Politics – The Florida Supreme Court Thursday dismissed a challenge of Gov. Scott's veto of reimbursements to homeowners whose healthy citrus trees were torn down by the state. The homeowners had asked the court to undo Scott's veto of more than $37 million. In a 6-1 decision, the court declined … Justice Barbara Pariente "reluctantly" agreed, saying … undoing a veto "is not legally permissible" (but) Justice R. Fred Lewis dissented: "(F)ull and complete compensation when private property is taken by a government is a foundational cornerstone of this democracy … This is not a game and our citizens should not be toyed with as if a yo-yo, and yet that is exactly what this veto accomplishes," he wrote.
"Appeals court officially puts Lottery case on hold" via Florida Politics – The 1st District Court of Appeal Thursday agreed to a 30-day stay in an appeal of a lower-court decision in favor of House Speaker Richard Corcoran. He had won a challenge of the Florida Lottery's $700 million contract for new equipment, saying the agency went on an illegal spending spree when it inked the deal last year. "If the case has not been dismissed in the interim, the parties shall file a status report no later than August 31, 2017, advising the Court of the need for any further proceedings," the court's order says. Both sides have agreed to work on an out-of-court resolution.
"Review of horse park highlights issues" via Carlos Medina of Ocala.com – The new leadership at the Florida Agricultural Center and Horse Park conducted a detailed review of the facility and uncovered issues that need immediate attention. Among the issues presented to the board during their meeting were an enormous stockpile of horse muck — manure and urine-soaked shavings — and an occupancy designation that renders the covered arena unusable. The review came after a majority of the board fired executive director Shawn Doherty at the behest of the Florida Department of Agriculture and Consumer Services, which oversees the horse park. In the wake of Doherty's firing, several board members resigned, including the board chairman and its two vice chairman. After the resignations, the board elected longtime board member Carol Dover as chairwoman.
"Public Service Commissioners exempt FPL from seeking alternatives for Broward facility" – The PSC approved a proposal exempting Florida Power & Light from issuing a request for proposal, a large step in advancing a new 1,163-megawatt plant two replace older generating facilities in Dania Beach. While the utility still needs other approvals, including a crucial "determination of need," the decision offers an exemption for "requests for proposals," or RFPs, that would determine cost-effective alternatives "This request, if granted, will enable us to expedite a great project," attorney Will Cox, who represents FPL, told regulators. "It will bring cost savings to our customers, result in lower emissions and lower, on a systemwide basis, our natural-gas usage." In a letter to the PSC, the Sierra Club called for commissioners to reject the exemption, saying it "effectively asks for permission to ignore other options," such as solar and other renewables.
"Parent company of All Aboard Florida announces train-oriented housing towers" via Scott Powers of Orlando Rising – Florida East Coast Industries, parent company to the All Aboard Florida company … is developing two luxury housing towers in West Palm Beach and Miami adjacent to its train stations. The projects, being developed with the big Miami developer Lincoln Property Co. under the brand, "Park-Line," gives Florida East Coast Industries a significant revenue opportunity, perhaps one answer to a question long raised by critics of the planned, private Brightline train service: how will it ever make money? The projects would be consisted with what urban planners have long preached, development of city centers around transit corridors. But the bigger problem for All Aboard Florida and Florida East Coast Industries, which also owns Florida East Coast Railway, may involve the company's attempts to find about $1 billion in financing for the northern route. All Aboard Florida has suspended its timetable for construction and operation of the project.
"Report: Broward Health overpaid marketing firm by $1.7M" via Christine Sexton of POLITICO Florida – A top executive at Broward Health helped orchestrate nearly $1.7 million in overpayments to a public relations and marketing firm that was founded by a Republican operative with family ties to the health system, findings that could trigger more charges of health care fraud against the beleaguered South Florida health care system. According to a 63-page independent report … Broward Health's senior vice president for marketing and communications, Doris Peek, and Outside Eyes founder Ben Porritt spent three weeks in the spring of 2015 devising a "scheme" to execute a marketing contract along with a "secret side agreement" that the marketing firm would later bill the health system for additional services. In all, the firm — which is now named BHP Jumpstart — was paid more than $1.9 million for a $246,000 contract, submitting 77 invoices for payment, many of which were duplicative … more than $500,000 in payments were made to the marketing firm after the contract expired and that Peek sought the assistance of several Broward Health executives, including interim CEO Pauline Grant, to pressure staff into continuing to pay the marketing firm, according to the "independent review organization," or IRO, that was contracted to monitor the health system.
"SFWMD: Farmers achieve 70 percent phosphorus reduction in Everglades Agricultural Area" – A program to improve Everglades water quality by ensuring the water flowing from farmlands in the Everglades Agricultural Area has far outperformed its state-mandated goals. Through improved farming techniques, known as Best Management Practices (BMPs), produced a 70 percent phosphorus reduction in the 470,000-acre EAA farming region south of Lake Okeechobee for the Water Year ending April 30. "No matter the challenges we face – whether it's historically high levels of rainfall, drought or even hurricanes – farmers have more than met the stringent water quality standards required under the 1994 Everglades Forever Act," said Carl Perry, owner of Perry Farms. "Our efforts are making a big difference in cleaner water for the Everglades."
"How Julie Jones got it completely wrong with GEO Group 'Continuum of Care"' via Florida Politics – Florida Department of Corrections Secretary Jones recounted a visit to Graceville Correctional Facility two years earlier; Graceville is a North Florida correctional facility operated by Geo Group … the Secretary describes seeing a paperweight with the words "Continuum of Care" with a Geo Group logo. "Continuum of Care?" Jones thought, a bit angrily. "You SOB's … we thought of that first!" (Or something similar to that.) Jones' anecdote referred to the Geo Continuum of Care Training Institute, an enhanced, in-prison training program to reduce inmate recidivism. While it may be certainly noble to think that Jones and the Florida DoC alone innovated a structured pre- and post-release program, that's simply not the case. Geo had been using "Continuum of Care" as far back as 2010. In Dec. 21, 2010, a news release announcing the acquisition of electronic monitoring services company B.I. Incorporated said the purchase makes Geo "uniquely positioned to deliver full continuum of care for correctional, detention and behavioral health clients." If just using the words "continuum of care" of wasn't convincing enough for Jones, Geo Group had also trademarked "Geo Continuum of Care"— filed with the U.S. Patent and Trademark Office Oct. 5, 2011, with a final registration of Jan. 21, 2014, … it is disingenuous for Jones to think that the Florida DoC was first (or only ones) to come up with the idea of "Continuum of Care"— a structured program years in the making — to help prison inmates transition successfully into the outside world.
— MOVEMENTS —
"Rick Scott names Tom Grady to constitutional review panel" via Florida Politics – Former state Rep. Grady will take Jimmy Patronis' place on the Constitution Revision Commission (CRC), Gov. Scott announced Thursday evening. In picking Grady, a Naples attorney and a friend of Scott's, the governor passed over the three alternates he previously selected to fill an empty seat on the commission, which will review the state's governing document for possible changes. "As a former member of the Florida House of Representatives and a member of the State Board of Education, Tom understands the importance of fighting for Florida families and students," Scott said in a statement.
New and renewed lobby registrations
Brian Ballard, Ballard Partners: TrueCore Behavioral Solutions, LLC.
Gregory Black, Gunster Yoakley & Stewart PA: South Florida Museum
Matt Bryan, David Daniel, Thomas Griffin, Jeff Hartley, Lisa Hurley, Andrea Reilly, Smith, Bryan & Myers: Employer Direct Healthcare
Robert Schenck, The Legis Group: The Dan Marino Foundation
— WEEKEND TV —
Black Almanac with Dr. Ed James on WWSB, ABC 7 in Sarasota: Dr. James will discuss "Greatness Beyond Measure – ninth annual summer Teen Empowerment Program" with executive director Melanie Thomas.
Facing South Florida with Jim DeFede on CBS 4 in Miami: The Sunday show provides viewers with an in-depth look at politics in South Florida, along with other issues that affect the area's citizens.
Florida This Week  on Tampa Bay's WEDU: Panelists include Manatee County Democratic Party chair Sheryl Wilson, WTSP investigative reporting Noah Pransky, Clearwater Mayor George Cretekos an independent journalist Joe Brown.
In Focus with Allison Walker-Torres on Bay News 9: A discussion about scams that target senior citizens. Guests include Brandon Republican state Sen. Tom Lee; Iara Norwood, who was targeted by scammers; Tasha Carter, Division Director of the Department of Consumer Services & Operation S.A.F.E., Be Scam Smart and Allison Bryant, Statewide Elder Abuse Prevention Coordinator for the Florida Department of Elder Affairs.
Political Connections on CF 13 in Orlando and Bay News 9 in Tampa/St. Pete: U.S. Rep. Val Demings of Florida's 10th Congressional District will discuss her first six months in office, as well as several bills she introduced, including a counter-terrorism bill. PolitiFact's Truth-O-Meter rates a claim about NAFTA.
The Usual Suspects on WCTV-Tallahassee/Thomasville (CBS) and WJHG-Panama City (NBC): Host Gary Yordon will speak with Chuck Mitchell on animal therapy legislation.
This Week in Jacksonville with Kent Justice on Channel 4 WJXT: This week, Justice will host three segments: State Rep. Paul Renner; philosophy and English teacher Dr. Nicolaus Michaud of Florida State College Jacksonville; Bobby Farah, son of 1974 murder victim Freddie Farah, who will speak about the arrest of the man charged in the 43-year-old case, joined by Ryan Backman, founder of "Project Cold Case, Inc.," which Bobby Farah credits for helping find his father's killer.
— ALOE — 
"DraftKings, FanDuel call off daily fantasy sports merger" via Philip Marcelo of The Associated Press –… about a month after federal regulators sued to block it. The two companies said they were moving forward separately in the best interests of their customers, employees and investors. Neither directly addressed the federal government's concerns with the deal. FanDuel CEO Nigel Eccles said in his statement that his company still believes the deal would have increased investment and product development, benefiting consumers and the broader industry. But DraftKings CEO Jason Robins in a separate statement touted his company's rapid growth, a possible signal that the once-bitter rivalry between the two companies has resumed. "We have a growing customer base of nearly 8 million, our revenue is growing over 30 percent year-over-year, and we are only just beginning to take our product overseas," he said.
"Men and Republicans are the best tippers" via Polly Mosendz of Bloomberg — Hoping to get a good tip? Seek out the table with the most conservative men from New England. A new survey finds men, Republicans, and residents of the northeast are the best tippers. Women tip a median of 16 percent, while Democrats and southerners leave a median 15 percent at a restaurant, according to a new survey of more than 1,000 American adults conducted by Princeton Survey Research Associates International on behalf of CreditCards.com. That's compared with the median 20 percent that men, Republicans, and northeasterners leave. Those who pay with plastic leave a median 20 percent, compared with 15 percent for those who pay in cash.  … "I was definitely surprised by how many people tip over 15 percent, but I was also surprised by how many people never tip at all at a restaurant," Matt Schulz, CreditCards.com's senior industry analyst, said in a statement. "I'm guessing they don't get very good service on their next visit."
"Raccoon breaks into car to give birth" via Ryan Callihan of the Sarasota Herald-Tribune — On Wednesday morning, a pregnant raccoon crawled into a car in Manatee County and gave birth to two cubs in the backseat. Devon Straight, who works with Wildlife Inc., a non-profit rescue and rehabilitation organization based in Manatee, was called out to rescue the raccoon and her newborns from the vehicle. He said the experience was an unusual twist on his other daily rescues. "It was quite an interesting and challenging rescue," said Straight. "It's just one of those calls that's different and stands out." The babies' birthplace was an automotive detailing shop. Seeking refuge, the mother raccoon entered through a plastic cover on the car's window.
"The world's biggest super soaker is powerful enough to shatter windows" via Andrew Liszewski of Gizmodo – Last summer, Mark Rober built the world's largest Nerf dart gun, capable of blasting foam at 40 mph …  it doesn't even come close to Rober's latest bonkers creation: a giant Super Soaker that fires water at 243 mph. At 7 feet long, Rober's super-sized Super Soaker officially holds the Guinness World Record, but you'll never, ever, want to find yourself caught in a water fight with it. The water gun's giant green reservoir can be pressurized to 2,400 PSI, producing a stream of water that blasts out of the barrel with enough pressure to shatter windows—and take down anyone who dares reach for the garden hose.
Happy birthday to Melanie Bostick of Liberty Partners of Tallahassee, Justin Homburg, Holly Tomlin, and Mike Vasilinda. Celebrating this weekend are Reps. Mike Grant and Ross Spano.
— COUNTDOWN TO GAME OF THRONES PREMIERE —
"George R. R. Martin on the one Game of thrones change he 'argued against'" via Daniel D'Addario of Time magazine – What was the hardest moment to write in the series? "The Red Wedding, without a doubt. I knew the Red Wedding was coming and I'd been planning it all along, but when I came to that chapter, which occurs two-thirds of the way through A Storm of Swords, I found I couldn't write that chapter. I skipped over that chapter and wrote the hundreds of pages that followed. The entire book was done, except for the scene with the Red Wedding, and even all the aftermath of the Red Wedding, It was just so hard to write that scene, because I'd been inhabiting Catelyn for so long, and of course I have a lot of affection for Robb, too, although he was never a viewpoint character, and even for some of the minor characters. They're minor characters but you develop a relationship to them too, and I knew they all were going to die. It was some of the hardest writing I've ever done, but it's also one of the most powerful scenes I've ever done."
– "Game of Thrones: The 10 burning questions that must be answered" via Paul MacInnes of the Guardian
– "'Game of Thrones': The forces of House Stark, ranked"
"Why 'Game of Thrones' has no Emmy nominations this year" via Kelly Lawler of USA TODAY – This year not a single member of the team was listed when the nominations were announced … It's not because of a drop in quality or hate for the show amongst the TV Academy, but rather the rulebook. In order to qualify for this year's race, a show must have premiered between June 1, 2016, and May 31, 2017. Thrones' seventh season won't hit HBO until Sunday, July 16. It will be eligible for the 2018 Emmys.