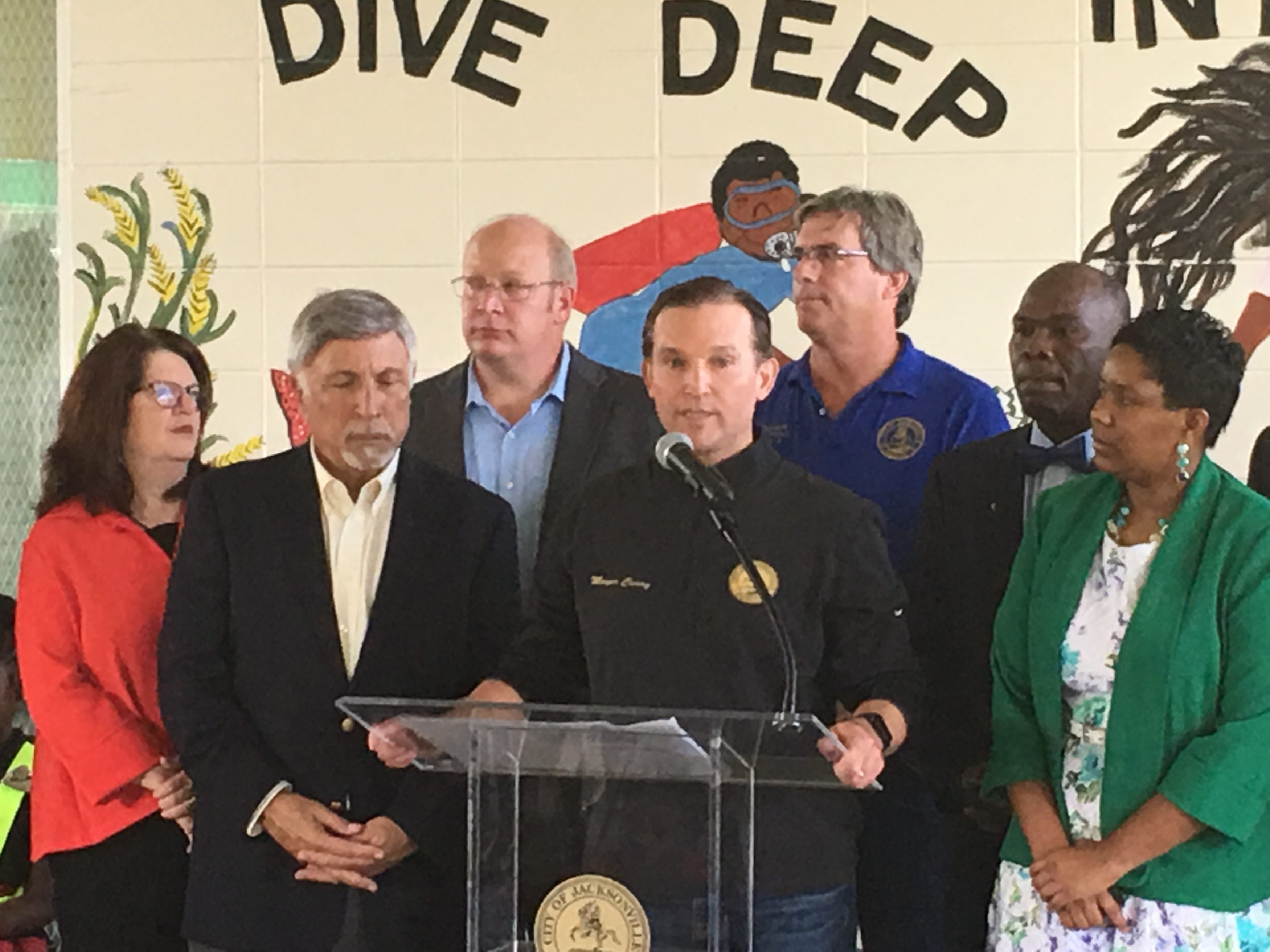 After months of deliberation, Jacksonville Mayor Lenny Curry rolled out long-promised reforms of the Jacksonville Children's Commission and Jacksonville Journey this week.
After a summer of bumpy news cycles for the JCC, in which summer camp funding issues were revealed, followed by after-school program funding issues, with an exasperated email from Curry's chief administrative officer saying that he had "another mess" to clean up after a botched appropriation from an organization whose oversight he questioned, the case for reform was made, over and over, via a spotlight on the beleaguered organization's problems.
Curry hinted at what the reform might look like in recent weeks: programs with clear, defined services and benchmarks, with an "aggressive" management structure that demanded results for the allocations. Deliverables, in the business sense.
On Tuesday afternoon, ahead of a Wednesday morning rollout, Curry discussed what reform will look like.
Those reforms: major — a comprehensive re-organization going far beyond simple tweaks of extant structures.
Curry will roll the JCC and the Jacksonville Journey into one new structure: the Kids' Hope Alliance (the Jacksonville Partnership for Children, Youth, and Families).
The group will have a seven-person board, comprised of mayoral appointees that must be approved by the City Council; as with Curry's reformation of the JEA Board earlier in his term, the goal is to move the organization toward linear accountability. In this case, accountability regarding helping "at-hope kids."
"Hope was a really important word given the feedback I've gotten," Curry said Tuesday.
The transition period will take six months: the first three months, starting in October, will allow the Journey and the JCC to finish its business; by January, a board should be seated to carry on the KHA's mission. If that doesn't happen, Plan B is to run JCC and Jax Journey out of the Mayor's Office, until the board is approved by City Council.
The strong indication is that the board will be in place by the end of the year, however.
Curry is prioritizing business-minded people with big picture visions and strong resumes for board inclusion, similar again to his reformation of the JEA Board. Board members will understand finance and org structure, Curry said, and would understand the necessity of hiring management and staff that understands the mechanics of the services offered.
"A board structure with strong oversight that's empowered to hire management, one with a focused mission — that's going to work," Curry said.
There will be an interim executive director appointed for the six-month period, and one can expect him or her to be a truly transitional, yet respected, figure with experience in these matters; from there, the board of directors will hire someone permanent.
The organization will focus on four strategic elements, that are intended to facilitate long-term transformation and accountability every step of the way.
One such element: early learning and childhood development, with a focus on school readiness and literacy. The goal here is to stop the skills gap that can emerge from rearing its head.
Another element: preteen and teen programming, intended to continue the trajectory of earlier programming.
A third element: juvenile justice programming, including intervention programs much like those found in the Jax Journey.
And the fourth element: out of school programs, including summer camps and after school programs.
As is always the case when introducing reforms, Curry worked overtime to introduce the package to members of the Jacksonville City Council, via individual meetings designed to acquaint the legislators with the Mayor's vision.
Curry realized that he had to make the sale to the Council. He spent the first two days of the week in the suite of Council offices, selling the changes to Council members on their own turf. In the end, the changes require a unified vision, and the Mayor became an evangelist, as he has so often when reform has needed to be sold.
The stakes are high, Curry said. With roughly $100M invested into city summer camp programs and after-school programs over the last decade, there are many unanswered questions as to the ultimate outcomes for those who have been in the programs.
"We have to have measurements and outcomes," Curry said — and those have been lacking, until now.
The goal: to be able to track a child over the course of years, to understand what's working and what isn't, so finite resources can be marshaled effectively — which hasn't always been the case under the current schematic.
Administrative issues, like money sitting in subfunds not being used, are also a concern — and also drive the need for reform.
"If you look at some of the administrative issues you've seen play out," Curry said regarding the summer camp and after-school program funding issues mentioned above, "if your administration's not organized and right, you're going to have the same culture serving kids."
The goal: focus.
"We need a radical shift in culture. The only way you shift a culture radically," Curry said, "is to upend the whole thing."
And to that end, a refashioned board will lead to a more "focused mission," one that also incorporates what is working from JCC and Jax Journey programs, such as tracking children as they utilize services.
Some veterans of Journey 1.0, such as City Hall veteran Susie Wiles, have had considerable input into this process.
As well, research is being conducted on other models working throughout the country, as Jacksonville reconfigures its services to accord with national best practices.
"This is organizational change," Curry said, "to identify the right kids, delivering the best service to them, and following through over a period of time."
"I know when this is done right, it works," Curry added. "If you stick with the right programs, if you follow through, if you care for the kids, it works."
____
Wednesday morning's press conference confirmed the above, and added new details regarding the "real reform" Curry was bringing to the city's children's programs.
Curry said that "government has a role in making sure at-hope kids don't fall through the cracks,"
And, fortuitously for the proposal, Curry had 14 Council members show — a measure of his use of political capital to introduce the measure.
Though Council President Anna Brosche and Finance Chair Garrett Dennis were notable in their absences, most everyone else (save Doyle Carter, Greg Anderson, and Joyce Morgan) were in attendance.
Dennis had a meeting scheduled, as did Brosche — a partner meeting at her CPA firm that had been scheduled before the presser was.
When asked if they were willing to co-sponsor the legislation, 14 Councilors' hands went up. However, Council President Brosche (a former JCC Board member) is less enthusiastic.
"I've been so tied up that I haven't heard or (read; sorry) all of the proposal details. As for co-sponsoring, I'm a details kind of person and will need to read before I sign on, or comment further on your questions."
"We have to get this right. Not an easy road, but we have to get this right," Curry added.
Republican Councilman Jim Love welcomed the reforms, saying they would be a welcome reprieve from the "panic attacks" created by the kinds of funding emergencies that necessitated the reform package to being with.
The bill will be filed Wednesday afternoon; expect another update to this piece when it happens.