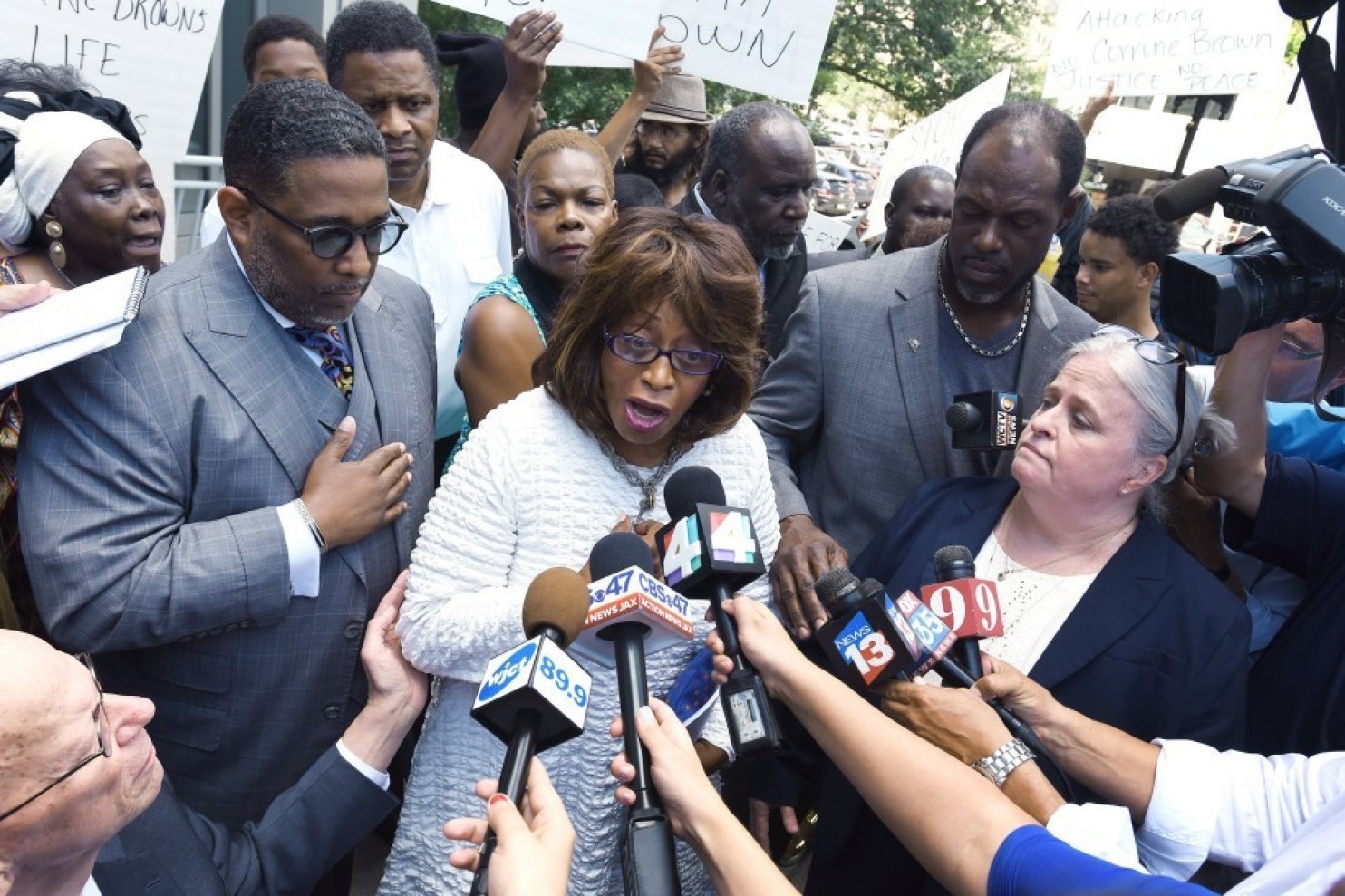 On Monday afternoon, in Jacksonville's federal courthouse, Corrine Brown came one step closer to learning whether or not she can avoid time in prison.
But she did not get a definitive answer in court.
Convicted of 18 counts in a federal fraud trial regarding "One Door for Education," a sham educational charity Brown and her cohorts raised money for and extracted money from between 2012 and 2015, Brown has continued to maintain her innocence despite the guilty verdicts and the preponderance of facts supporting them.
Monday saw Brown's lawyer, James Smith, present motions for a new trial and for acquittal. Judge Timothy Corrigan noted he was not inclined to rule from the bench Monday on those motions, which were presented at great length anyway.
The motion for a new trial was predicated on an interesting concept: Is the Holy Spirit an external force?
Brown posits that the jury was corrupted because a juror was removed for deeply held religious convictions that told him Brown was innocent, and that the Holy Spirit guiding someone does not disqualify that person from jury service.
The acquittal motion was much more quotidian, contending that the government did not prove its case, as some One Door money went toward charity, and there was no hard evidence that Brown conspired to defraud donors.
Ahead of the hearing, we caught up with Rev. Jesse Jackson, who told us why he stands with Brown.
"Corrine delivers," Jackson said.
We asked Jackson to weigh in on the charges, and he was more circumspect.
"I came as a friend," Jackson said, "not as a lawyer."
_____
Judge Timothy Corrigan noted that typically there is not oral argument on these motions; however, by special request from Brown's attorney, he granted it.
"My purpose today is to listen to counsel's arguments," Corrigan said, noting he was "unlikely to rule from the bench" on these matters.
___
Acquittal was the first motion to be considered.
Brown's attorney contended that there was not "one fundamental piece of evidence" presented in the trial that established Brown's guilt conclusively, despite the length of the trial.
The conspiracy charge — unproven, beyond the testimony of former chief-of-staff and co-conspirator Ronnie Simmons, Brown's defense said.
"There may have been an occasional use of the shorthand, 'One Door Is my charity,'" Brown's lawyer said. But that didn't add up to conspiracy.
Brown's lawyer also contended that there were no claims that the money would "solely be used for scholarships" in pitches to donors.
Regarding the lack of scholarships given out by One Door, Brown's attorney said "that's not a crime." Nor was there a contention that she would give out the scholarships, he said.
Evidence presented, meanwhile, was "circumstantial," because the government lacked direct evidence of conspiracy.  And as a result, the government's case rested in "myth", such as portraying One Door as "Brown's charity."
Circumstantial evidence, Brown's attorney said, led to Brown being convicted via "guilt by association."
While Brown was associated with One Door and did solicit money and did derive benefit, the defense contends that doesn't prove criminal intent.
Similar defenestrations of the government's case on financial disclosures and fictional tax returns followed, with the case boiling down to Brown not being aware of the forms that were submitted over the course of years, as her crowded schedule precluded attention to those matters.
While these forms were "not done in a way befitting a person of her position," and her financial affairs were a "mess," that is not evidence of guilt.
The prosecution, via U.S. Attorney Michael Coolican, noted that "we had the facts on our side, and now we have the law on our side as well."
"The defense is not saying anything different today than it did [during] the proceedings," Coolican continued, hammering in on repeated instances of "fraudulent omissions" regarding pitches to donors, statements on tax returns, and so on — with Brown's word being the only evidence to the contrary.
Evidentiary points, such as Brown holding blank checks from One Door, loomed large as evidence of Brown's involvement.
"She had hijacked the charity, had her chief of staff take control of the finances, and was bleeding it dry," Coolican said.
Brown's attorney countered that the elderly Brown was taken advantage of by "thieves in her office," and the fundraising events promoted by One Door in fact took place — even though the money did not make it to student scholarships.
____
The motion for a new trial proceeded much along the same lines, with Brown's attorney contending that the claim of the booted juror that he was getting insight on Brown's innocence from "higher beings" did not disrupt the "deliberative process."
"There was not sufficient evidence in the record to support the court's conclusion," the defense attorney said, given that the discharged juror never said he would ignore tangible evidence in favor of guidance from "the Holy Spirit."
"Simply seeking guidance from a higher power is not a sufficient basis for a juror to be dismissed," the defense attorney continued.
While Brown's attorney believes his client got a "fair trial," on this matter an error was made.
"Ultimately, we believe the court made a mistake here," he said, because the conclusion was "not supported by facts."
"Is it proper for a person of faith to be dismissed from a jury … we're dealing with someone who said that faith motivated and provided guidance on the issues," the barrister continued.
The upshot of the argument: sending the juror home deprived Brown of her right to a fair trial.
The prosecution, via U.S. Attorney Eric Olsham, countered that the juror said he "was told by his Father in Heaven that the defendant was not guilty on all counts."
He claimed to have had "received … this mandate from a Higher Power," and such reception rendered the juror unfit for deliberation.
A "more searching inquiry" was not required in that context, the state contended.
On the matter of the discharged juror, Corrigan noted that the matter today boiled down to "did I do the right thing" or not.
The government noted a preponderance of evidence that he did, based on repeated claims of having "received information" from said Higher Power.
Brown's attorney was more bearish, saying that no evidence was provided that the juror couldn't evaluate the case independently of his input from the Christian conception of the supreme deity.
"He was kicked off, and that violated Congresswoman's right to a fair trial."
This "mistake," however, could be "corrected," the defense attorney said.
____
After the hearing, we attempted to get answers as to the status of Brown's "legal defense trust fund," which suffered a setback this week when a concert by gospel act Shirley Caesar was cancelled due to "inclement weather."
We asked about the state of the fund, and about Brown's ability to pay her attorney; for his part, he didn't seem concerned about how much of the money owed to him will ever be paid.
As Brown's supporters yelled messages of acclamation and affirmation behind her, and as Rev. Jesse Jackson stood nearby, Brown was silent.