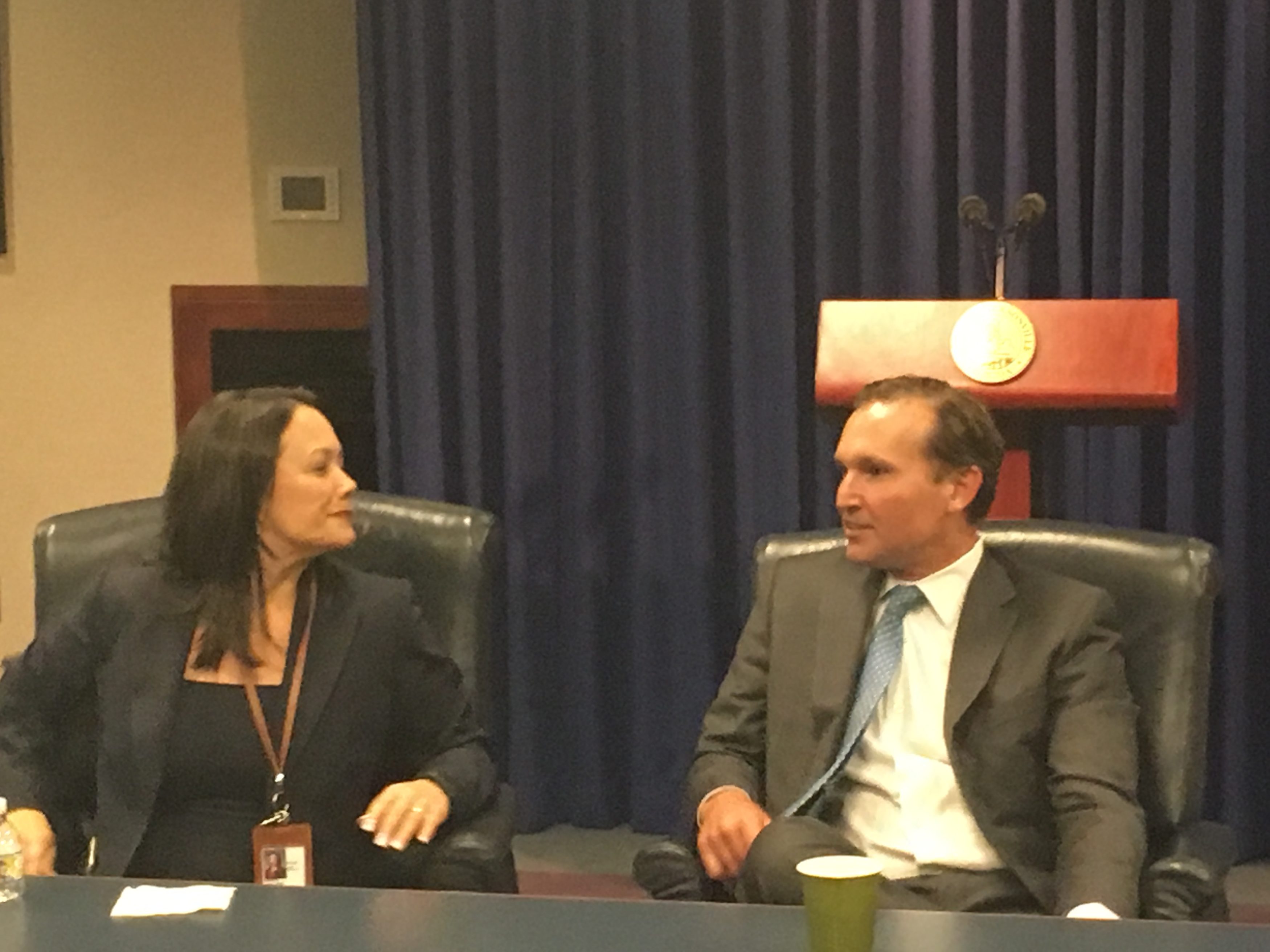 Jacksonville City Councilors made the long walk from the Council suite to the Mayor's Office Wednesday afternoon, for promised "refreshments" with Lenny Curry.
In a period of transition for the Council, the public notice meeting was worthy of notice; it was a conscious forging of camaraderie and unity, and one well-timed, with the Finance Committee taking up the city's budget Thursday.
The mood was jolly — one reporter wondered if there was Xanax in the coffee. The meeting was all velvet glove and no iron fist.
In a sense, the meeting was a Halftime Show — midway through the term, a check-in point and an opportunity for policy and conceptual alignment between the executive and legislative branches.
In the house: most of the Council, including Council President Anna Brosche and Finance Chair Garrett Dennis, two Councilors who have broken with Curry on various policy issues in recent weeks.
Curry noted that when the group came together two years ago, the topic was pension reform.
"While we haven't agreed on every path, we do agree on the destination," Curry said, reminding Councilman Tommy Hazouri of the time Curry dissed him with a Jay-Z line.
"I said you wouldn't bust a grape in a fruit fight," Curry said. "Boy, I got that wrong."
This very much was a One City One Jacksonville meeting — unity was the watchword.
Councilwoman Katrina Brown lauded Curry for his honesty, calling him "very forward" and extolling his "taking on the tough challenges."
Councilman Reggie Gaffney likewise extolled Curry, celebrating the Mayor's strong team.
Councilman Tommy Hazouri was happy about the "major issues," like the HRO, "put behind us."
Curry quickly chimed in with "absolutely."
"The next Council, the next Mayor," Curry said, "will have a foundation … that was built by us."
Councilman Reggie Brown took the long view, saying he'd "like to get back to a place where partisanship doesn't have a place."
"Absolutely," said Curry.
"I like the way that we're gelling. I like the direction," Brown said, noting that he's learned the priorities of the whole city as part of the "real holistic approach" taken by the Council.
"The public sees this," Curry said. "They tell me 'keep going.' People believe in our city, believe we're getting things done."
Council President Anna Brosche suggested that "we can get together [socially] if we have a meeting that ends before 11:00."
"The Mayor can stop watching us on TV and join us," Brosche added.
Curry, discussing Bill Gulliford, noted that "his hip hop name is Billy G — he's got it going on."
On the matter of policy, Curry said priorities were education, public safety, and children's issues.
"Education isn't under our purview," Curry said, but he is looking to influence the process going forward, and follow on the reform vision of Nikolai Vitti.
Curry also pitched his "100 new cops" proposal.
"It's not about having 1,800 cops to go out and arrest people," Curry said, noting it's "about being able to go in the community and build relationships."
Curry also discussed the Kids Hope Alliance reforms, saying the re-org is about accountability.
"We are going to fundamentally change the way we serve kids," Curry said.
Curry also addressed downtown, noting the Laura Street Trio is in progress, and his downtown development trip.
"It's about tying the riverfront into sports and entertainment … getting ideas and getting it right," Curry said, citing transportation and other factors.
Residential development, Curry said, ties into retail and other development downtown.
"As we've done for two years, any deal we bring to you," Curry said, "has got to be a win for everybody."
Retail development, said Curry, can drive sales tax revenues in sports districts.
However, "for the record … I'm not proposing any new tax," Curry said.
After the event wrapped, we asked Curry what he hoped to accomplish — especially regarding healing the rifts that have seemingly emerged on Council.
"When we had lunch together two years ago," Curry said, "it was a statement to ourselves and to the public that the executive branch and the legislative branch were going to communicate and work together for the people of Jacksonville."
"We haven't agreed [sometimes]. There's been a lot of one-on-one discussions with Council members about how we get to a certain goal. We've figured out how to get there," Curry added.
The conversation Wednesday, Curry said, was a "feel good discussion," to remind all parties of "where we've been and keep moving forward."
Curry expressed confidence also in the current Council Finance committee's ability to grasp the budget.
"They have a role. Their job — I respect their job and their role, and the budget process will have to play itself out," Curry said.
"The budget I presented is thoughtful. It's a clear statement of priorities. We'll just have to get through the process. I stand by what I presented. It says a lot and means a lot to the people of Jacksonville."