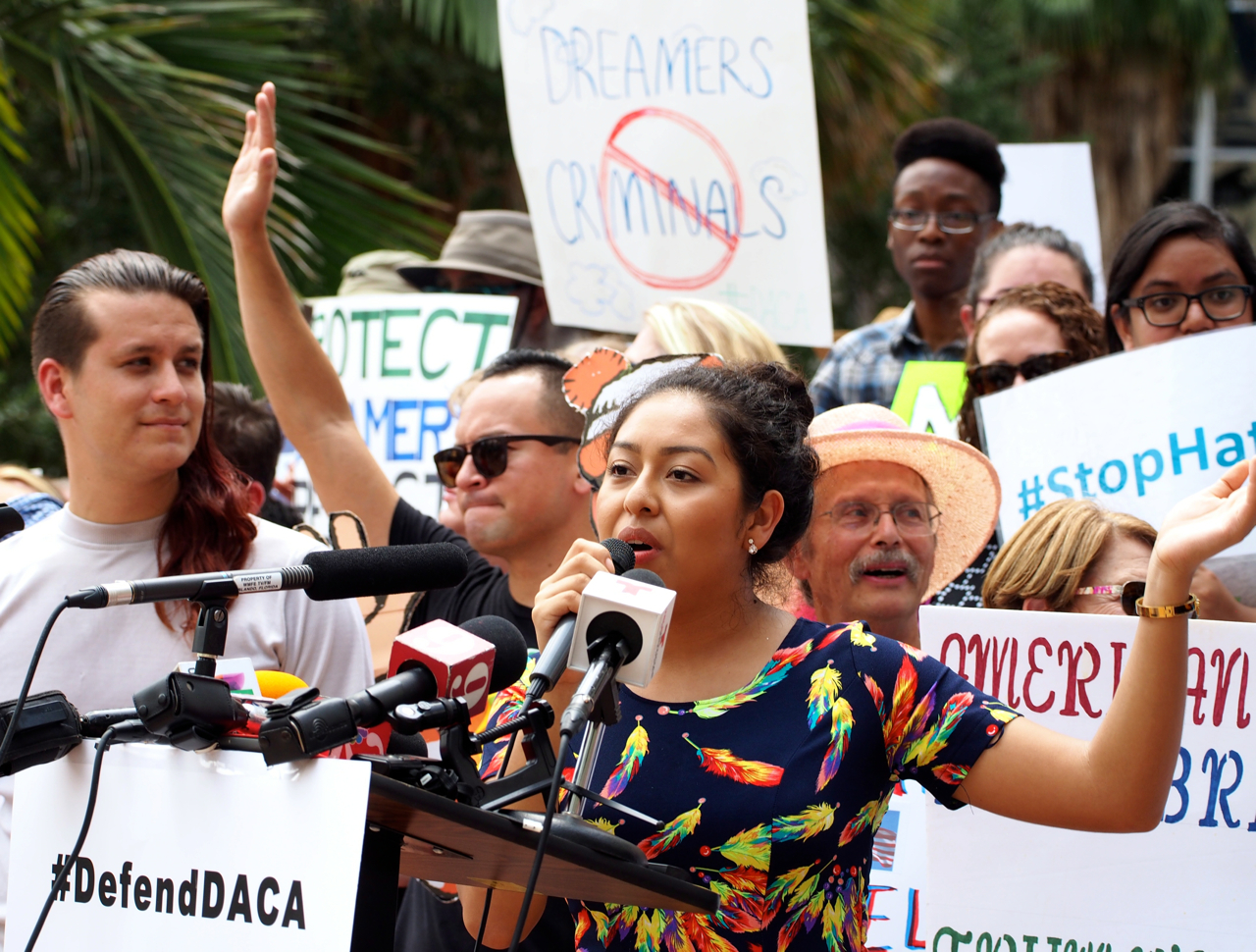 With DACA recipients pleading, sometimes in tears, for the right to stay in the United States where they grew up, a coalition of pro-immigration groups and Democratic lawmakers gathered on Orlando City Hall's front steps Tuesday to denounce President Donald Trump's phased-out repeal of the Deferred Action for Childhood Arrivals program.
At the same time, the groups and the young, undocumented immigrants called for the widespread immigration reform that Trump demanded Congress pursue with the end of DACA in sight.
The differences could be in the details, of course, as the DACA rally sought new immigration laws that not only would extend indefinitely the legal status of the 800,000 young, undocumented adults who had protected status under former President Barack Obama's DACA program, but also for the extension of temporary protected status for refugees from Haiti and elsewhere, and for help for the DACA recipients' families to also legally stay in the United States.
They reacted to Attorney General Jeff Sessions' announcement Tuesday that the White House was ending enrollments in DACA immediately and those currently enrolled would have six months, with the challenge that Congress would pass immigration reform in that period.
While Sessions and Trump essentially set the table for full immigration reform, those gathered in Orlando offered no trust offered for them or their intentions.
"Since the administration came into office, the immigration rhetoric has been hateful. It has been divisive. And we don't stand for it," said Isabel Sousa-Rodriguez, lead organizer and membership coordinator for the Florida Immigration Coalition.
The gathering at Orlando City Hall Wednesday, organized by the Florida Immigrant Coalition, included scores of representatives of immigration groups, labor unions, Hispanic groups, the Council on American Islamic Relations in Florida, progressive groups, and Democratic state Sens. Victor Torres and Linda Stewart of Orlando, state Rep. Carlos Guillermo Smith of Orlando, and a representative of U.S. Rep. Darren Soto.
But it was the pleas from the DACA recipients – dubbed DREAMers, as identified in the "DREAM Act" that immigration proponents had pushed, unsuccessfully for years in Congress – who brought heart to the rally. Several were in near tears as they spoke of their families coming to the United States looking for the American dream, and bringing them and their brothers and sisters as young children. One, Hugo Lara, spoke of spending four days crossing the desert as a small boy with his family. Now 15, 20, or more years have passed, and many of those families have seen success in America, yet now face deportation.
Ahtziry Barrera said she has been in the United States since she was four years old, grew up, went to Valencia College, became her class's valedictorian, spoke to her commencement at the Amway Center, enrolled in Rollins College, and started a business.
"The only country I ever remember pledging allegiance to is the United States," she said. "DACA has not only allowed us to live lives here, but it has allowed us to give back. I'm one of the five percent of DACA recipients who have started a business. It has not only allowed me to start a business, but to employ citizens.
"There are many stereotypes about us here today," she continued. "I've been called a criminal. I've been called a million things. I have had eggs thrown at me. But that's not going to stop us."
She and all the others spoke of strong desires to fight for their chance to remain Americans.
"This is the only country I know. I have been here for too many years… I had to fight for my rights. I stood up and said, yes, I'm undocumented," said Alejandra Salinas. "Now with DACA ending, we will continue to fight. We will continue to be together. Congress, we are not going to stop. This will not end today. Number 45: you are messing with my heart. You are messing with my life. This is not a game."