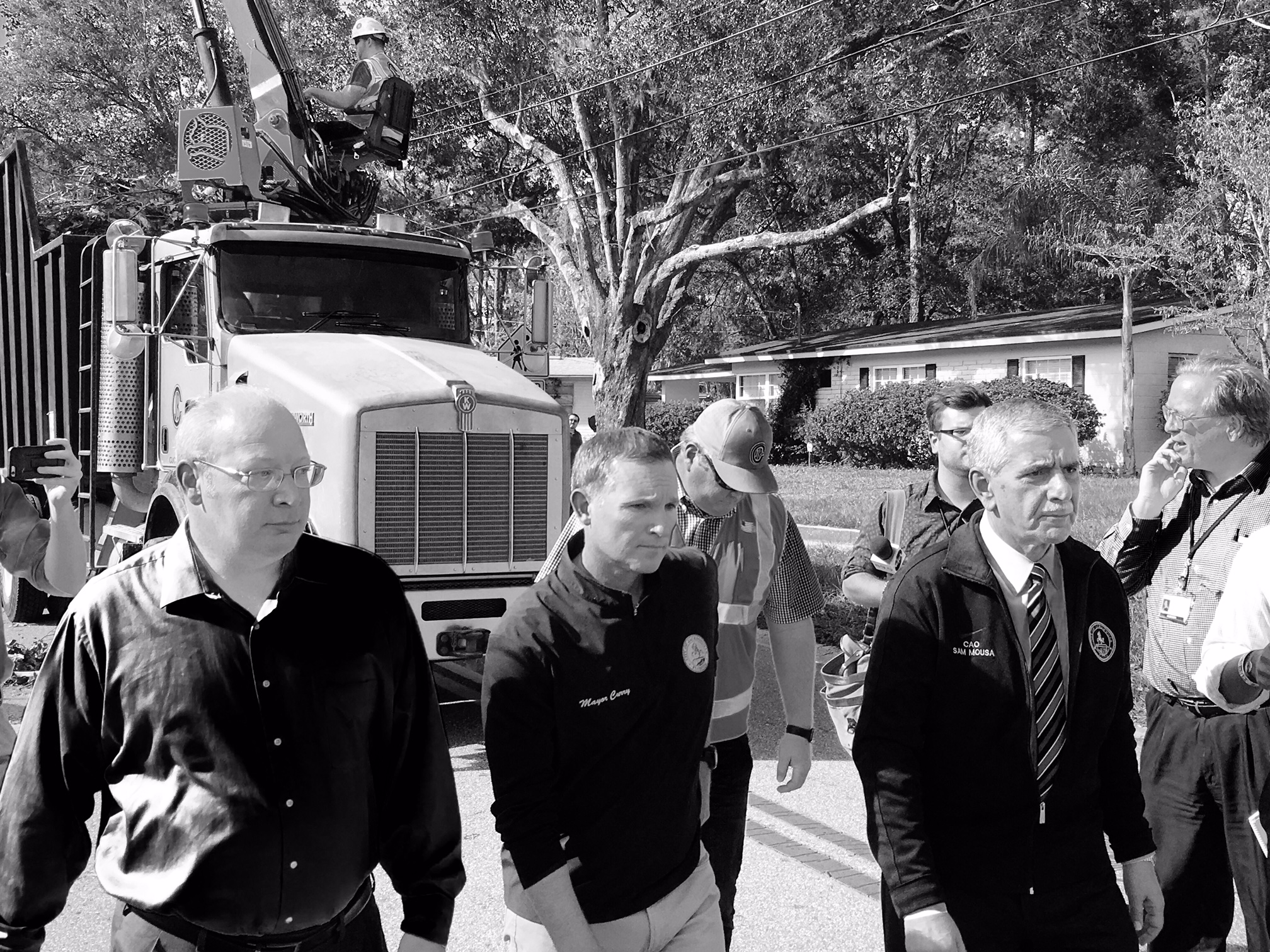 As Irma bears down on Florida, Jacksonville still awaits monies from FEMA for Hurricane Matthew recovery. That money isn't coming anytime soon.
An internal email from Jacksonville Fire and Rescue Assistant Chief Todd Smith reveals that the cash-strapped federal relief agency has a priority list — and the roughly $26 million Jacksonville awaits is not at the top … especially given the fund is down to $541 million.
While raising the debt ceiling will increase FEMA's capacity to act, absent a radical cash infusion, city policy makers shouldn't expect FEMA money soon.
"Bottom line is that we will likely see impacts to some of our long term recovery projects from Hurricane Matthew," Smith wrote to Mayor Lenny Curry's senior staff.
"When the [Designated Relief Fund] balance is within the range of $800 million to $1 billion, they initiate a fiscal strategy called 'Immediate Needs Funding' — which prioritizes the immediate needs of disaster survivors, states/tribes/territories, and communities during disasters," Smith wrote.
Jacksonville's needs, in other words, fall behind Hurricane Harvey impacts.
The formula, Smith adds, "prioritizes funding for current disasters, so that FEMA can continue its focus on response and urgent recovery efforts without any interruption."
"Longer-term recovery projects will be temporarily impacted by INF.  This includes the rebuilding of public infrastructure — schools, roads, bridges, and libraries. Funding is not being eliminated for projects in the restricted categories, but merely delayed until additional appropriations are available," Smith adds.
This email circulated to Curry's senior staff two days before he expressed confidence that FEMA would make good on its obligation from 2016.
"I am in touch with the right people in the White House and around the White House to get our FEMA reimbursements," Curry said. "We're going to get what's owed to us."
—
Curry discussed delayed FEMA payouts Wednesday in a gaggle.
"We know we'll be reimbursed. We'd like that to be sooner rather than later. But this isn't a time to squabble about timing; this is a time to care for each other," Curry said.
We asked Curry if FEMA needs more funding — which would require Congress to raise the debt ceiling.
"I'd ask Congress to do whatever they have to do to … make sure we have the resources to make sure people are safe, and their needs are taken care of," Curry said.
"Right now, the first priority is the safety of the people in my city — and for Congress, anyone who has been impacted or could be impacted by a storm," Curry added.
This was the second straight day of FEMA questions for the mayor.
—
On Tuesday, Curry addressed some FEMA-related questions from the local press corps.
Curry is confident that, even with delayed reimbursements, the city can weather financial impacts from Matthew until federal money comes through … a key factor with Cat 5 Irma looming in the Caribbean, with eventual impact on Northeast Florida unknown at least for now.
Between cash and reserve levels (which, between the operating and emergency reserve, will be somewhere between $135 and $165M at the end of the fiscal year), Curry is confident the city is ready financially for Irma impacts.
And, as Tuesday's mayoral briefing at the city's Emergency Operations Center reveals, that readiness will be tested in the days and weeks ahead.
When asked if the city had sufficient resources for a major storm, in its roughly $150 million of reserve monies, Curry's answer was an interesting one.
The city has "adequate reserves" for an impact created by a storm like Matthew, Curry said. However, a bigger impact — such as this year's Harvey — would create decisions for policy makers.
"In the event of another Matthew, we have adequate reserves," Curry said. "In the event of a — of a catastrophic event, we've got a budget; we've got priorities. Safety comes first, so if we ever had to realign priorities in an emergency situation, we would do just that."
If Jacksonville is indeed going to be stranded without federal money, then budget priorities almost certainly will be realigned. Even if the debt ceiling is raised, expect finite federal resources to be diverted to bigger, more immediate priorities.