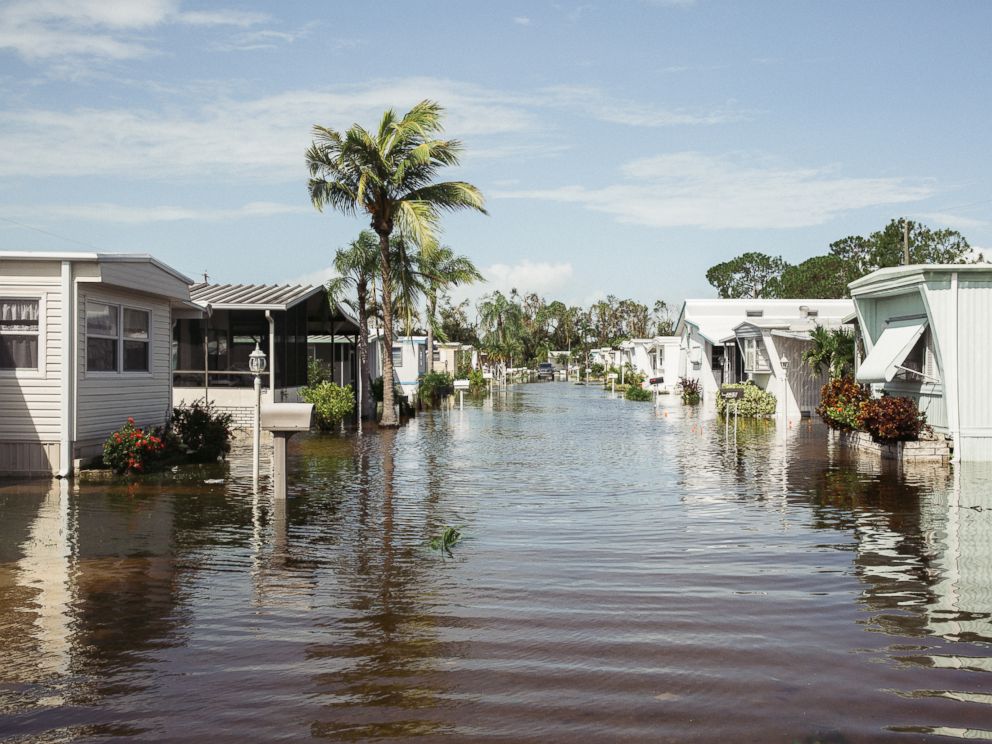 Lt. Gov. Carlos Lopez-Cantera wants to "help you." With what exactly, we don't know.
Lopez-Cantera filed papers with the state on Sept. 5 forming a new political committee called "Helping You."
The paperwork was sparing in detail, listing the committee's statement of purpose as "political" and saying "none at this time" for any candidates or individuals the committee supports.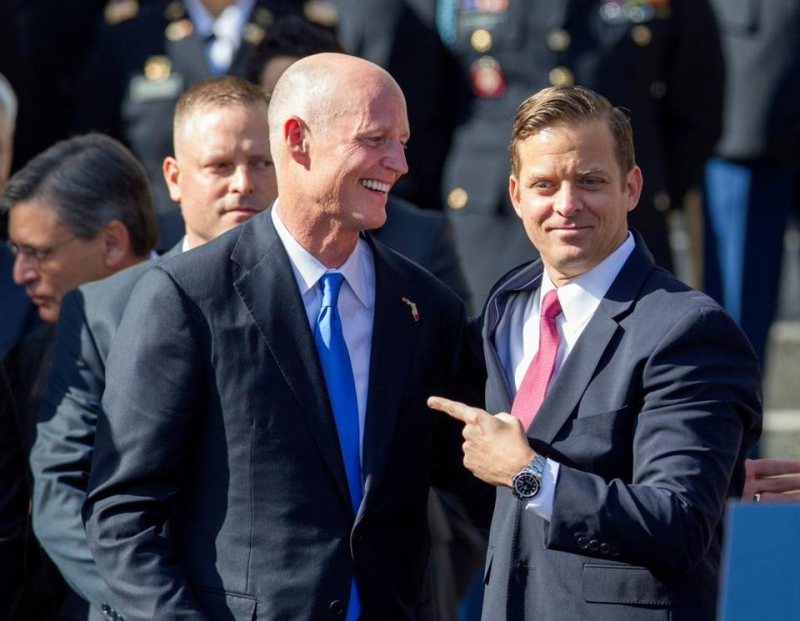 Its first campaign finance report isn't due till Oct. 10. Tampa's powerhouse accounting team of Nancy and Robert Watkins is serving as treasurer/deputy treasurer.
A request for comment was pending with Lopez-Cantera's office Friday.
The 43-year-old Republican Lieutenant Governor most recently ran for office last year, when he sought a U.S. Senate seat. He dropped out when incumbent U.S. Sen. Marco Rubio ended his presidential campaign and said he would run for re-election instead.
Lopez-Cantera first became LieutenantGgovernor by appointment in January 2014, after the resignation of former Lt. Gov. Jennifer Carroll.
She stepped down after a multistate illegal gambling investigation resulted in dozens of arrests. Before her 2010 election, Carroll had provided public-relations representation to the company at the center of the probe. She was not accused of wrongdoing.
Before serving as Lieutenant Governor, Lopez-Cantera was elected in 2012 to be Miami-Dade County Property Appraiser.
He also previously served in the House 2004-12, including stints as Republican Whip in 2009-10 and Republican Leader in 2010-12.
Coming up, the usual assortment of tidbits, leftovers and not-ready-for-prime-time moments by Jim Rosica, Peter Schorsch, Scott Powers and Andrew Wilson. But first, the "Takeaway 5" — the Top 5 stories from the week that was:
Picking up the pieces — Nearly a week after Hurricane Irma walloped Florida, the recovery mission picked up momentum as more people had electricity and schools made plans to reopen. Still, the dangers lingered, mostly in the form of noxious gas from generators serving those who still don't have power. In Palm Beach County, carbon monoxide from a generator seeped into a home, killing a woman and leaving three men in critical condition. Near Miami, a family of four was treated Friday for exposure to the fumes from a generator outside their apartment. At least 34 people have died in the U.S. under Irma-related circumstances, most in Florida.
Keys left in tatters — The Florida Keys were hammered in special ways by Hurricane Irma and remain closed to residents and visitors. Even more volunteer cleanup workers are needed as authorities try to get the islands livable. An estimated 65 percent of the housing was damaged to the point of being uninhabitable, according to authorities, but residents will not be allowed to cross the bridges to get back in to find out for themselves for the time being. Water, sewer, electricity and housing stock are in short supply throughout the Keys, particularly in the lower Keys. The main port is closed, and numerous boats and other vessels are adrift, clogging channels.
Elderly remain most vulnerable — Commercial power had not been restored by Friday to 50 nursing homes after getting knocked out by Hurricane Irma, according to the Florida Health Care Association, an industry group. The issue of nursing homes without electricity has drawn national attention since eight residents of a Broward County facility died Wednesday. The air conditioning system at the facility, The Rehabilitation Center at Hollywood Hills, went out Sunday.
Irma clears the coffers — The Legislature's chief economist told lawmakers that next year's relatively tiny budget surplus will be erased because of costs from Hurricane Irma. Amy Baker, director of the Office of Economic and Demographic Research, presented a working version of the state's long-range financial outlook Friday to the Joint Legislative Budget Commission. She explained that extra costs to the state from last year's hurricanes, Hermine and Matthew, cost $76.2 million, meaning a projected $52 million surplus for fiscal year 2018-19 is "gone." When Rep. Bill Hager, a Delray Beach Republican, asked Baker for a 1-sentence summary on Irma's effect on Florida's finances, she answered: "It's going to make fiscal year 2018-19, which was bearable, much worse."
Irma could boost Scott — Standing tall in a NAVY cap, Gov. Rick Scott will be an enduring image from Hurricane Irma. Seemingly everywhere but the eye of the storm, he was there on social media urging millions to evacuate, calmly taking charge at emergency briefings, even delivering early word of devastation in the Keys after a much-publicized flyover. Politically, that image of calm before the storm couldn't come at a better time for Scott. Nearing the end of his second term, the conservative Republican has some of his highest approval ratings as he contemplates challenging Democratic U.S. Sen. Bill Nelson in next year's election.
—
Karlinsky: Insurers are human too
Go ahead and get emotional with the person on the other end of your insurance company's claims hotline. They'll understand.
"The insurance companies want you to be happy after any type of event," said Fred Karlinsky, co-chairman of the insurance regulatory and transactions practice at Greenberg Traurig.
"But let's face it — you're not calling the insurance companies in a happy time; you're calling them after some tragedy. That creates a whole set of emotional and other issues. We get that. It's human. But, at the end of the day, the insurance companies are there to help you."
He cautioned against signing an assignment of benefits agreement. They're anathema to insurance companies, which blame them for inflating claims.
"Call your insurance company and take the time to let them come out and to work with you and assess the damage and come up with a fair number and a fair settlement," Karlinsky said. "If they have a managed repair program, I would seriously consider having them do that repair. So that burden is taken off you."
—
Patronis on patrol
Florida CFO Jimmy Patronis this week toured damages in Hillsborough County from Hurricane Irma with a knowledgeable guide: Hillsborough County Fire Rescue Chief Dennis Jones.
Patronis and Jones rode with Station 16 as they continued to survey damage and conduct urban search and rescue efforts.
As he has all week, Patronis offered insurance resources to residents affected by the storm.
Any Florida resident who needs assistance with insurance-related issues after Irma is asked to call the Insurance Consumer Helpline at 1-877-693-5236. They can also find Hurricane Irma insurance resources on myfloridacfo.com.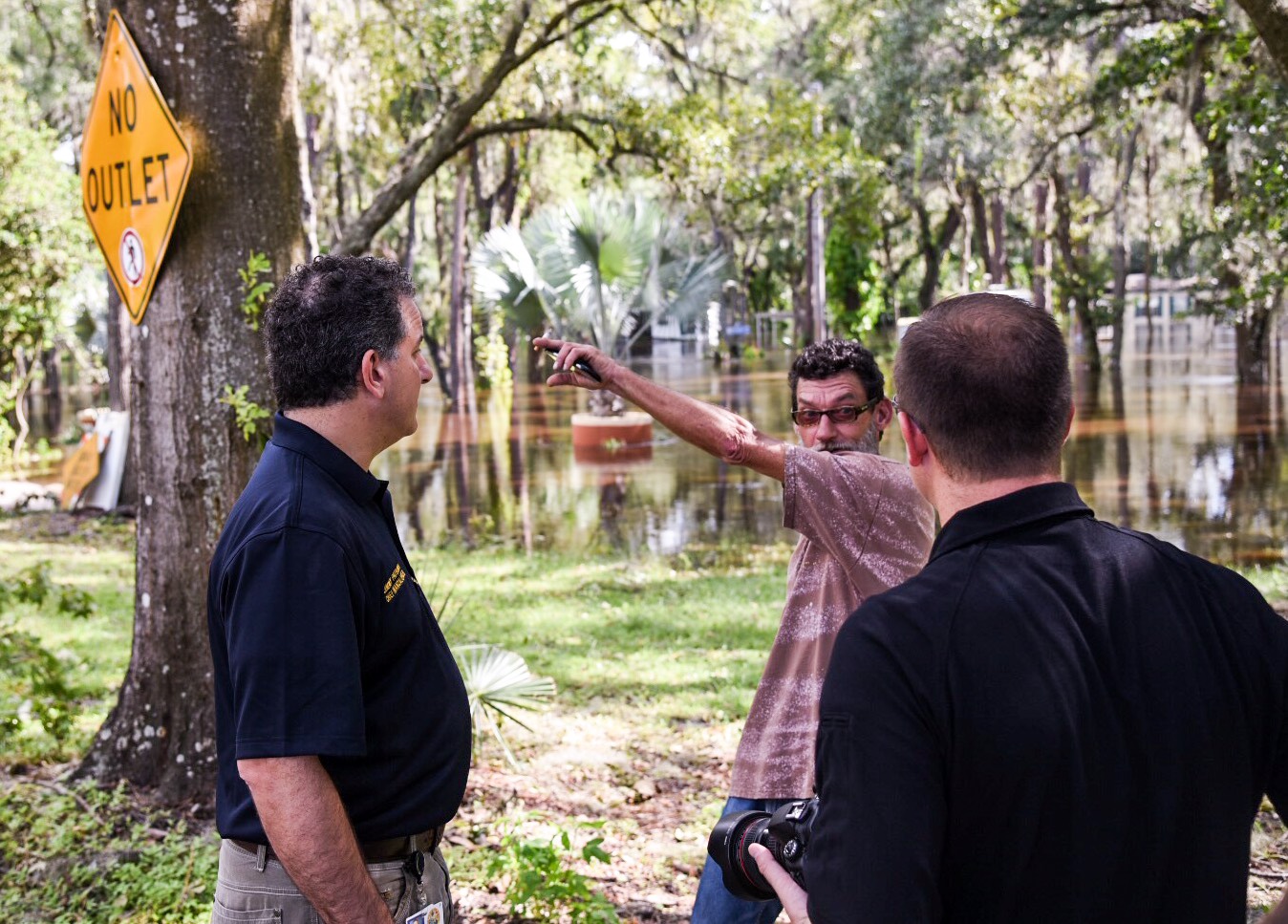 —
'Insurance villages' opening around state
Patronis also announced that, in partnership with U.S. Sen. Marco Rubio, "insurance villages" and disaster recovery centers will be opening next week in areas heavily affected by Hurricane Irma.
"Local, state and federal partners will be in attendance to offer Floridians a wide array of relief assistance in one centralized location," a news release said. "To my fellow Floridians recovering from Irma's wrath, help is on the way," Patronis added.
Insurance experts will be on hand to answer insurance-related questions and concerns, and several insurance companies will be on hand to help with filing post-storm claims. Consumers are encouraged to bring copies of all insurance policies with them to these events. A list of participating insurance companies is available here.
The confirmed schedule of days and locations is:
St. Augustine — Monday, Sept. 18 — 8 a.m.-6 p.m. — St. Johns County Administration Building, 500 San Sebastian View, St. Augustine, FL 32804;
Jacksonville — Tuesday, Sept. 19 — 8 a.m.-6 p.m. — Prime F. Osborn III Convention Center, 1000 Water Street, Jacksonville, FL 32204;
Naples — Wednesday, Sept. 20 — 8 a.m.-6 p.m. — New Hope Ministries, 7675 Davis Blvd, Naples, FL 34104
Ft. Myers — Thursday, Sept. 21 — 8 a.m.-6 p.m. — Lee County Veterans Park Recreation Center, 55 Homestead Road South, Lehigh Acres, FL 33936
—
Citizens opens catastrophe response centers
Citizens Property Insurance Corp. is opening Catastrophe Response Centers (CRCs) in Florida City, Key Largo and Naples to assist customers recovering from Hurricane Irma. Citizens representatives and claims handling specialists are now available at three separate sites from 7 a.m. to 7 p.m., curfew permitting.
CRCs provide in-person service to policyholders who may be cut off from their usual means of communication. CRC staff can answer questions and help policyholders report a catastrophe claim. They also can issue advanced payments for additional living expenses, if appropriate.
Locations are:
Murray Nelson Government Center — 102050 Overseas Hwy., Key Largo, FL 33037, Daily 7 a.m. to 7 p.m., curfew permitting;
Kings Court Key E. Palm Drive, Florida City, FL 33034, Daily 7 a.m. to 7 p.m., curfew permitting;
Walmart (parking lot) 11225 N. Tamiami Trail, Naples, FL 34110, Daily from 7 a.m. to 7 p.m., curfew permitting.
To make your CRC visit more efficient, please bring the following information, if available. CRC volunteers can assist you in locating this information if you have a Photo ID and insured property address: Policy information; current contact information; date of loss; description and photos of damage (if possible).
Additional CRC information is available on the Citizens website. Citizens representatives also are available 24/7 to handle claims calls at (866) 411-2742.
—
DHSMV allows fee waivers
The Florida Department of Highway Safety and Motor Vehicles (DHSMV) is waiving certain driver's license and motor vehicle service fees for individuals affected by Hurricane Irma.
"Many Floridians have felt the effect of Hurricane Irma and DHSMV understands the impacts to our customers," DHSMV Executive Director Terry L. Rhodes said. "To aid in the recovery effort, DHSMV is committed to providing all possible assistance to Florida residents. We are proud to serve as a resource in this time of need."
The following DHSMV driver's license and motor vehicle fees are currently waived through Oct. 9, 2017:
— Delinquent fee for a late renewal of a driver's license or vehicle registration that resulted from severe weather or office closure during Hurricane Irma;
— Fee to replace a driver's license or ID card if severe weather caused the loss of a credential;
— Fee for a duplicate title certificate or vehicle registration if severe weather caused the loss of a title or vehicle registration;
— The $10 expedited title print-on-demand fee for total loss vehicle title related to damage from Hurricane Irma (if liens have been satisfied). This waiver has no end date.
Individuals that qualify must visit a service center to receive the fee waiver. For a listing of all driver's license and motor vehicle service centers, visit www.flhsmv.gov/locations. Individuals should also check to see if the service center they plan to visit is open by visiting the emergency office closures webpage.
—
Putnam waives concealed weapon, security guard license fees
Agriculture Commissioner Adam Putnam issued an emergency order to waive the fees to replace Florida concealed weapon licenses and security guard licenses that were lost or destroyed during the hurricane, he said.
"Hurricane Irma devastated Florida, and the last thing someone needs to worry about is paying a fee to have their concealed weapon license or security guard license replaced," he said in a statement.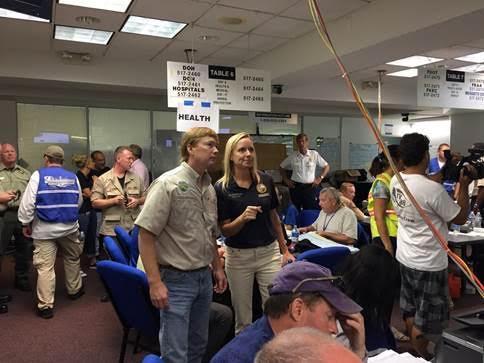 Those who wish to request a replacement concealed weapon or security guard license must submit a statement to the department explaining that their license was lost, damaged or stolen. The statement must be notarized.
— Requests for replacement concealed weapon licenses should be mailed to: The Division of Licensing, P.O. Box 6387, Tallahassee, FL 32314-6387
— Requests for replacement security guard licenses should be mailed to The Division of Licensing, P.O. Box 5767, Tallahassee, FL 32314-5767
For more information, go to FreshFromFlorida.com/CWL.
—
Disaster assistance slated for Greenacres
There's help for Palm Beach County residents: They can now apply for assistance from the Federal Emergency Management Agency (FEMA) at a Disaster Assistance Sign-Up Event today (Saturday), 10 a.m.-1 p.m., at the Palm Beach County Library-Greenacres Branch, 3750 Jog Road in Greenacres.
"Sponsored by local, state and federally elected officials, this event will provide an opportunity for residents to utilize computers at the library to sign up for assistance and also receive help from volunteers on hand to assist with the process," a release said. "Also, please bring your DCF case number if you currently receive food stamps."
Residents who are unable to attend the event can register online at www.DisasterAssistance.gov. You can also download the FEMA app to begin the registration process. If you do not have access to the internet, you can register by calling (800) 621-3362 (FEMA) or (800) 462-7585 (TTY); if you use 711 Relay or Video Relay Service call (800) 621-3362. The toll-free telephone numbers will operate from 7 a.m. to 10 p.m. (local time), seven days a week until further notice.
The event is open to the public. Volunteers who are able to assist residents with the online application process are still needed, especially those who are bilingual. Please call Rep. Lori Berman's office at 561-374-7850 for more information.
—
Bobby DuBose brings the power
"After ongoing conversations between Rep. Bobby DuBose and Florida Power and Light, power was restored to the Village Place Apartments Senior Community" Friday, a House Democratic Office news release says.
"Earlier in the day, DuBose had visited the facility to distribute food, water, and other supplies to residents of the senior living complex, some of whom had been trapped on upper floors due to the lack of a working elevator," it adds.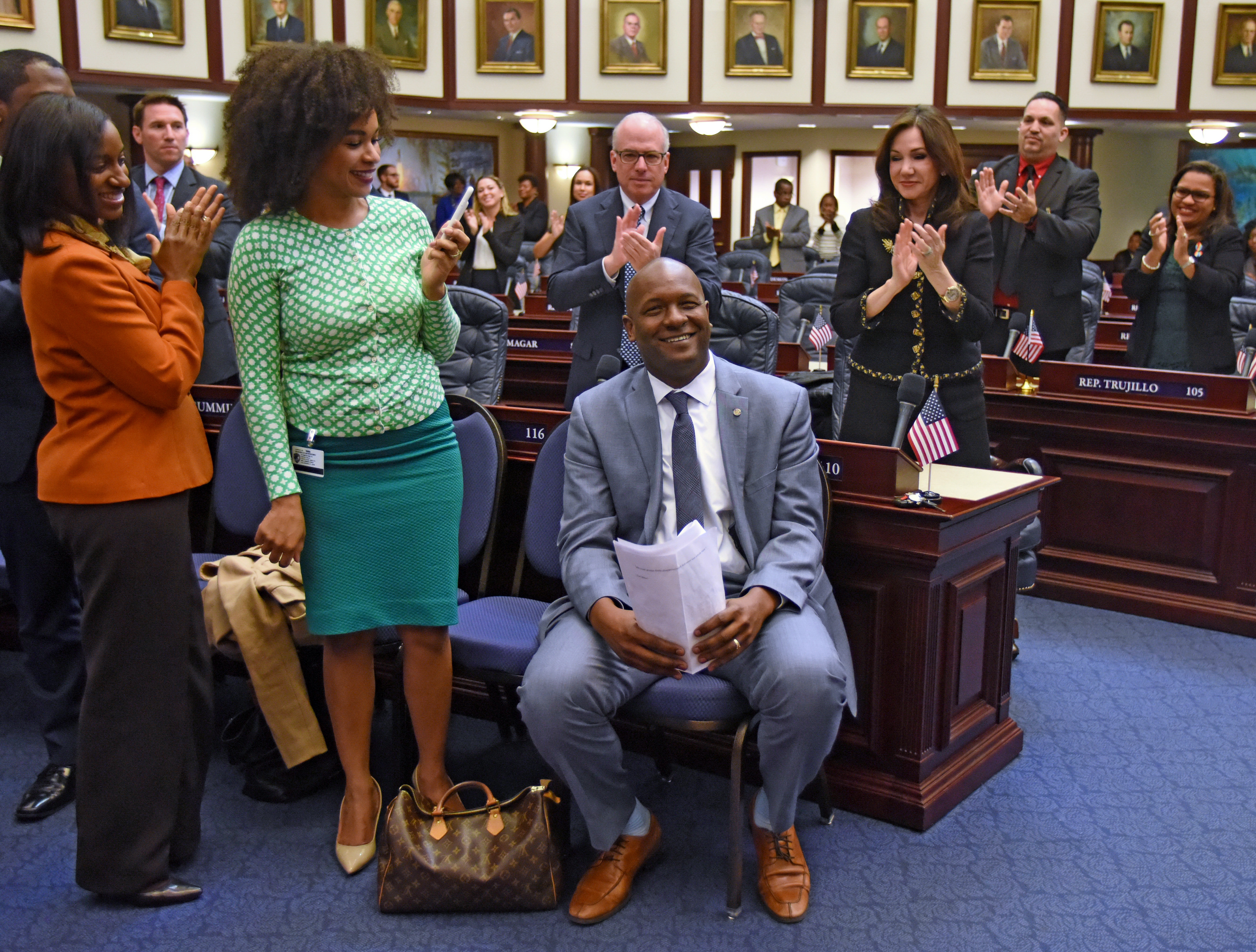 "The restoration of power at the Village Place Apartments Senior Community was a vital course of action as we seek to prevent further tragedies at senior living complexes in the wake of Hurricane Irma," DuBose, a Fort Lauderdale Democrat, said in a statement.
"I urge utilities throughout the state to prioritize centers like these, and other housing areas for those with special needs or in an at-risk community, as they continue the work of getting power back to all Floridians.
"I also want to give a special thanks to The Restaurant Group, and especially YOLO restaurant, for donating the food we distributed yesterday. I am also glad Florida Power and Light heeded my warnings and got this facility back up and running in a timely manner."
—
Free water distribution in Palm Beach County
Rep. Al Jacquet, a Lantana Democrat, and Sen. Bobby Powell, a West Palm Beach Democrat, will be helping to hand out over 700 cases of water, at Jacquet's district office.
The event is Tuesday, noon to 6 p.m., 314 11th St. in West Palm Beach.
"As our community continues to recover, nothing is more important than ensuring our residents access to clean drinking water for themselves and their families," Jacquet said in a statement.
"I could not be more proud to partner with Senator Powell and the great people at Green Roads to offer this free distribution of water to those in need. We are all in this together as Floridians and as we have always done in the past, we will rebuild to a place of even greater strength."
—
Instagram of the Week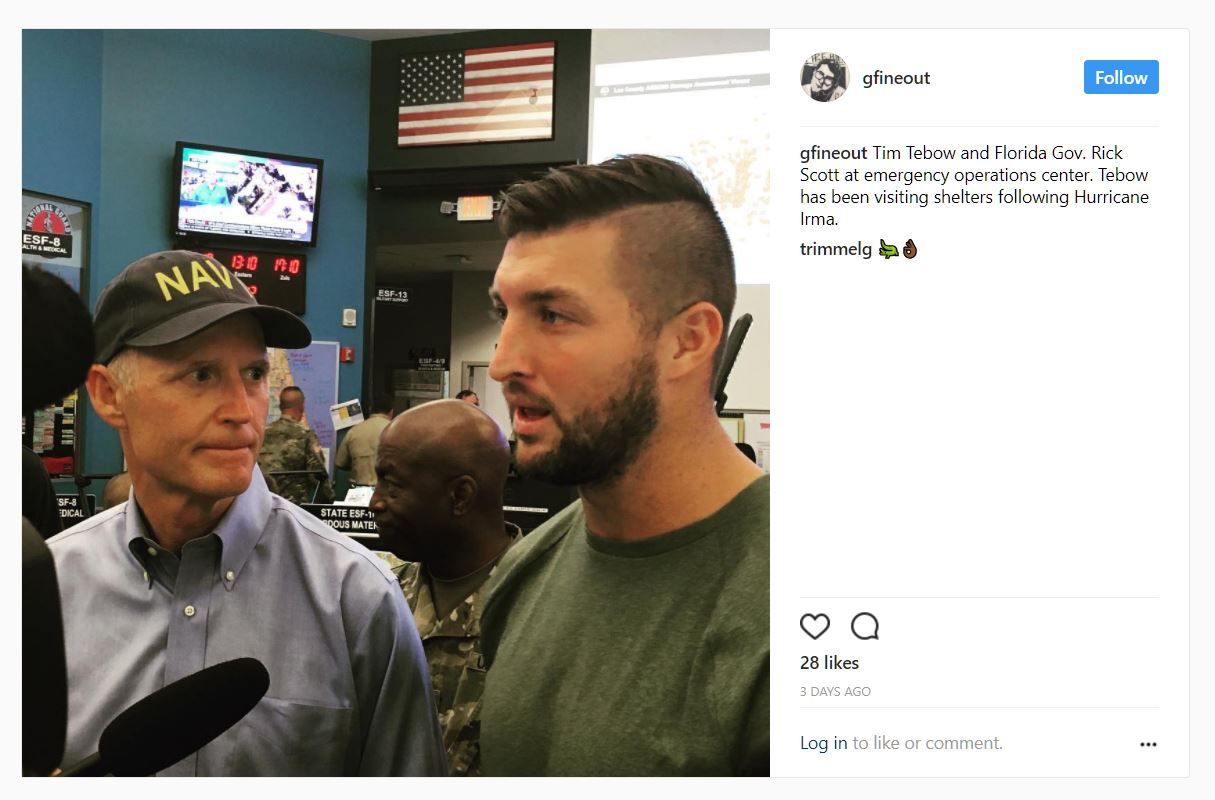 —
Aetna Foundation gives to Disaster Fun
The Aetna Foundation this week gave $50,000 to the Florida Disaster Fund, activated by Gov. Scott to aid those affected by Hurricane Irma.
The Fund, administered by the Volunteer Florida Foundation, is the state's official private fund established to assist Florida's communities in times of disaster.
"Hurricane Irma will leave a devastating and lasting impact on Florida," said Dr. Garth Graham, president of the Aetna Foundation. "The Aetna Foundation is glad to contribute to relief efforts and hopes other companies will join us to aid disaster relief organizations as they work to get Floridians back on their feet as quickly as possible after the storm."
Added Volunteer Florida CEO Vivian Myrtetus: "We are proud of our disaster relief organizations that are serving Florida families, businesses and communities following Hurricane Irma. The Aetna Foundation's generous contribution will be used to support these organizations as they continue to serve Florida."
Donations to the Florida Disaster Fund are made to the Volunteer Florida Foundation and are tax deductible. Donations may be made by credit card on the secure website www.floridadisasterfund.org or by check to the below address:
Volunteer Florida Foundation; Attention: Florida Disaster Fund; 3800 Esplanade Way, Suite 180, Tallahassee, FL 32311
Checks should be made payable to the Volunteer Florida Foundation and should include "Florida Disaster Fund" in the memo line.
—
Actress cuts PSA for relief fund
Sofia Vergara, known for her role in ABC's "Modern Family," now is supporting the Florida Disaster Fund with a public service announcement that will be aired statewide by Comcast and others.
"We are grateful for Sofia's commitment to the countless families and communities in Florida that have been impacted by Hurricane Irma," Gov. Scott said in a statement. "We encourage Floridians and people across the nation to give to the Florida Disaster Fund. It is the best way to support Florida."
"Vergara is not only committed to raise funds for disaster victims, but she has also worked with partners Rooms to Go, Head & Shoulders, EBY, Ninja Coffee Bar, and RAZE to donate needed products," a news release said. "Her office also served as an information hub last week to help Floridians get out of the storm safely."
To see the video, click here.
—
Medical marijuana company chips in
Surterra Wellness is going to donate 10 percent of all sales of the Surterra Relief product line throughout the month of September toward hurricane relief in Florida, the company announced this week.
"In the aftermath of Hurricane Irma, we want to give some relief with Surterra's Relief products," said Jake Bergmann, CEO of Surterra Wellness. "Surterra wants to help more people every day with the highest quality cannabis, and this hurricane served as a great reminder that we must continue to strive for advancements in cannabis options so Floridians never have to go without their medical marijuana treatments."
All Surterra Wellness Centers are fully-operational and deliveries have resumed statewide, the company added.
—
FWC asks for $1.3M to cover Hurricane Harvey recovery efforts
Florida's Fish and Wildlife Commission has asked lawmakers for $1.3 million in next year's budget to help cover the agency's assistance for Hurricane Harvey.
After the Texas Gulf Coast was inundated with record rainfall and flooding, the FWC sent 129 officers to help in post-storm recovery.
This week, the commission asked lawmakers in the Joint Legislative Budget Commission to approve a budget amendment of $1.3 million for unexpected expenses. Members of both the House and Senate make up the commission, which must approve any changes to the state budget during periods when the Legislature is not in session.
—
Press Corps legend honored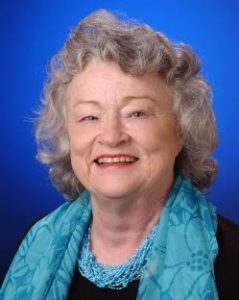 The First Amendment Foundation will honor Pulitzer Prize winner and retired St. Petersburg Times Tallahassee bureau chief Lucy Morgan with the creation of the "Lucy Morgan Award for Open Government Reporting."
The open-government watchdog announced the award this week, with a reception to be held 6 p.m. Nov. 15 at Tallahassee's Governors Club.
That event will feature keynote speaker Gilbert King, author of "Devil in the Grove." The book, which also won the Pulitzer Prize, brought attention to the case of the Groveland Four, four black men wrongly accused of raping a white teenager in 1949. This year, Florida lawmakers issued a formal apology to their family members.
Tickets can be purchased online here, and sponsorships are available by emailing [email protected].
—
Chamber Foundation asks: 'Is Florida ready?'
The Florida Chamber Foundation holds its 2017 Future of Florida Forum this Sept. 27-28 in Orlando, "where Florida's business community will gather elected officials, legislators, and industry leaders to discuss the issues that matter most to Florida's long-term future," according to a release.
"Topics span from Florida's cradle to career continuum, Hurricane Irma recovery efforts, the latest on the Florida 2030 Initiative, a special Florida Women's Hall of Fame presentation, the Constitution Revision Commission and more," it said.
Key speakers will include:
— Chief Financial Officer Jimmy Patronis
— Commissioner of Agriculture Adam Putnam
— Pete Antonacci, President & CEO, Enterprise Florida
— Ken Lawson, President & CEO, VISIT FLORIDA
— Cissy Proctor, Executive Director, Florida Department of Economic Opportunity
— Florida Commissioner of Education Pam Stewart
The event will be at the JW Marriott Orlando Grande Lakes, 4040 Central Florida Pkwy., Orlando. For more information, email Kat Bustamante at [email protected]
—
Now for this week's edition of Capitol Directions:

—
Material from The Associated Press and the News Service of Florida was used in this edition, republished with permission.