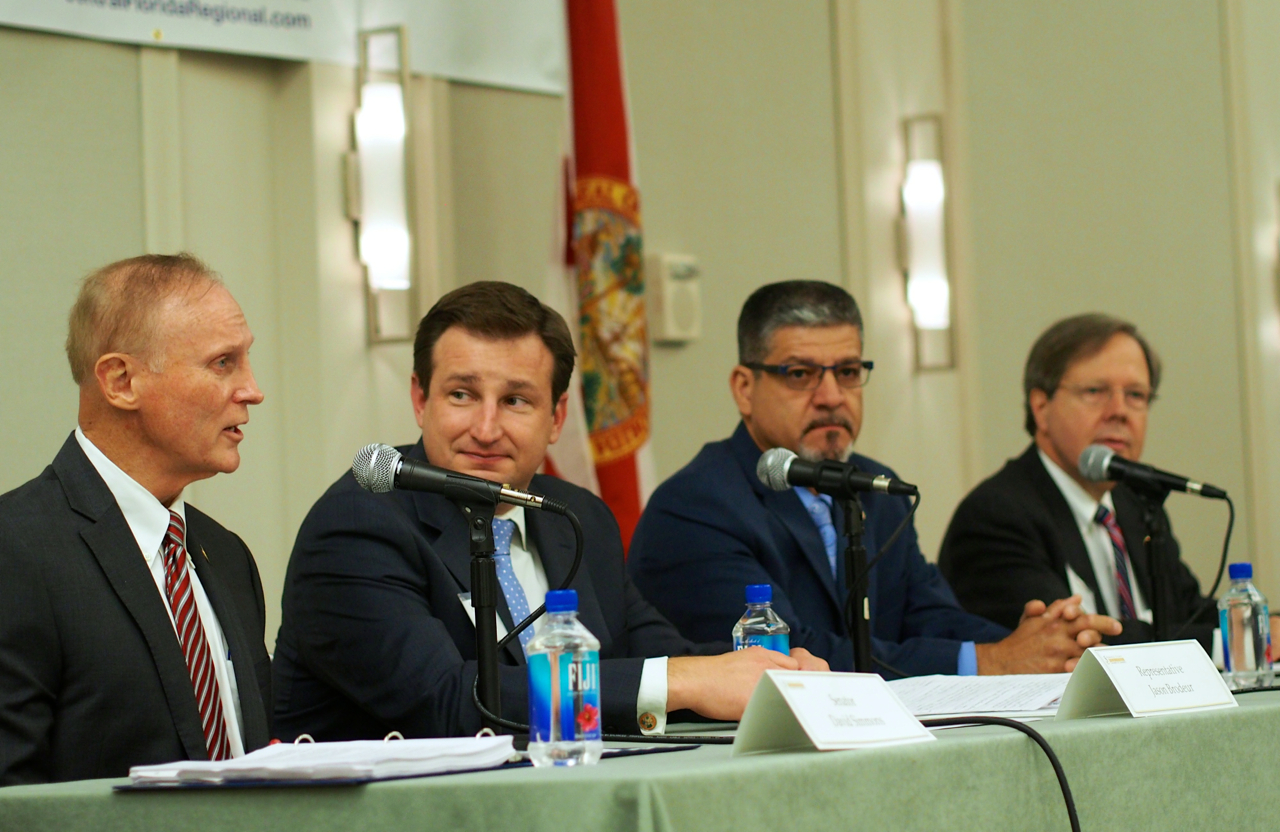 Seminole County Florida lawmakers have sent a protest letter to Duke Energy for not meeting its electricity restoration goals and state Rep. Bob Cortes has asked Duke officials to attend a county delegation meeting Tuesday to look into delays.
"Eight days after Hurricane Irma blew through our districts, the struggle for residents and businesses to get back to normal continues to be painfully exasperated by the lack of power. We are disappointed that Duke Energy has not made good on its promise to be fully restored by Sunday night, and we are concerned that sufficient progress has not been made toward its new goal of Monday night," opens the letter written by state Rep. Bob Cortes of Altamonte Springs as the Seminole County delegation chair and also representing state Sen. David Simmons of Altamonte Springs, and state Reps. Scott Plakon of Longwood and Jason Brodeur of Sanford.
And they're not alone. In neighboring Orange County, Reps. Bruce Antone, Kamia Brown and Carlos Guillermo Smith of Orlando are gathering information on the recovery of neighborhoods on Orange County's east and west sides, and trying to get people in touch with Duke, especially in critical cases. And state Sen. Randolph Bracy of Oakland said he's contemplating legislation that would require upgrades and underground wiring for older neighborhoods like Lake Jewell in Apopka that still are without power.
Bracy said he is concerned that the lengthier outages seem to affect the most vulnerable communities in his district, covering western Orange County, and he suspects it's because of lack of investment in infrastructure upgrades..
"It's just really disturbing," Bracy said.
Smith said it is "not acceptable" that Duke has missed its goals, but said he was focusing on helping people get in touch with the company.
Antone and Brown were doing the same, with some successes, such as Tangelo Park, where Antone said about 24 hours after he called, about 20 trucks showed up and got the neighborhood turned back on.
"I've reached out to Duke several times. They've been fairly responsive. For whatever reason, the trucks show up in the areas I ask about. I want to say that they're doing everything they can, but it's a killer not to have power," Antone said. "I didn't get mine back until late Saturday."
As of 3 p.m. Monday, 15,000 Seminole County homes and businesses and 19,000 in Orange County still were without power. Almost all of them are Duke customers, as other utilities have just about fully restored full service. Outside of South and Southwest Florida, and Highlands County, which has unique problems, those are among the largest outages left in Florida.
After Irma blew through the night of Sept 10 and 11, more than 300,000 customers in Orange and more than 100,000 in Seminole had lost power. Duke initially promised power back to all by Sunday, but has revised that target.
Cortes also has been raising questions about Duke's responsiveness to individual residents and businesses that try to contact Duke, and who have reported receiving faulty information.
"We understand that power restoration after a natural disaster of this magnitude is a herculean task, but Duke Energy's lack of transparency and effective communication about the situation and IT issues is trying its customers' patience and eroding their confidence in Duke's operation," Cortes' letter states.
Duke officials are being invited to Tuesday's meeting in Seminole County to explain the delay of restoration of services there.
Smith also said he hopes House Speaker Richard Corcoran will at least assemble a special committee to examine ramifications of hurricane preparation.