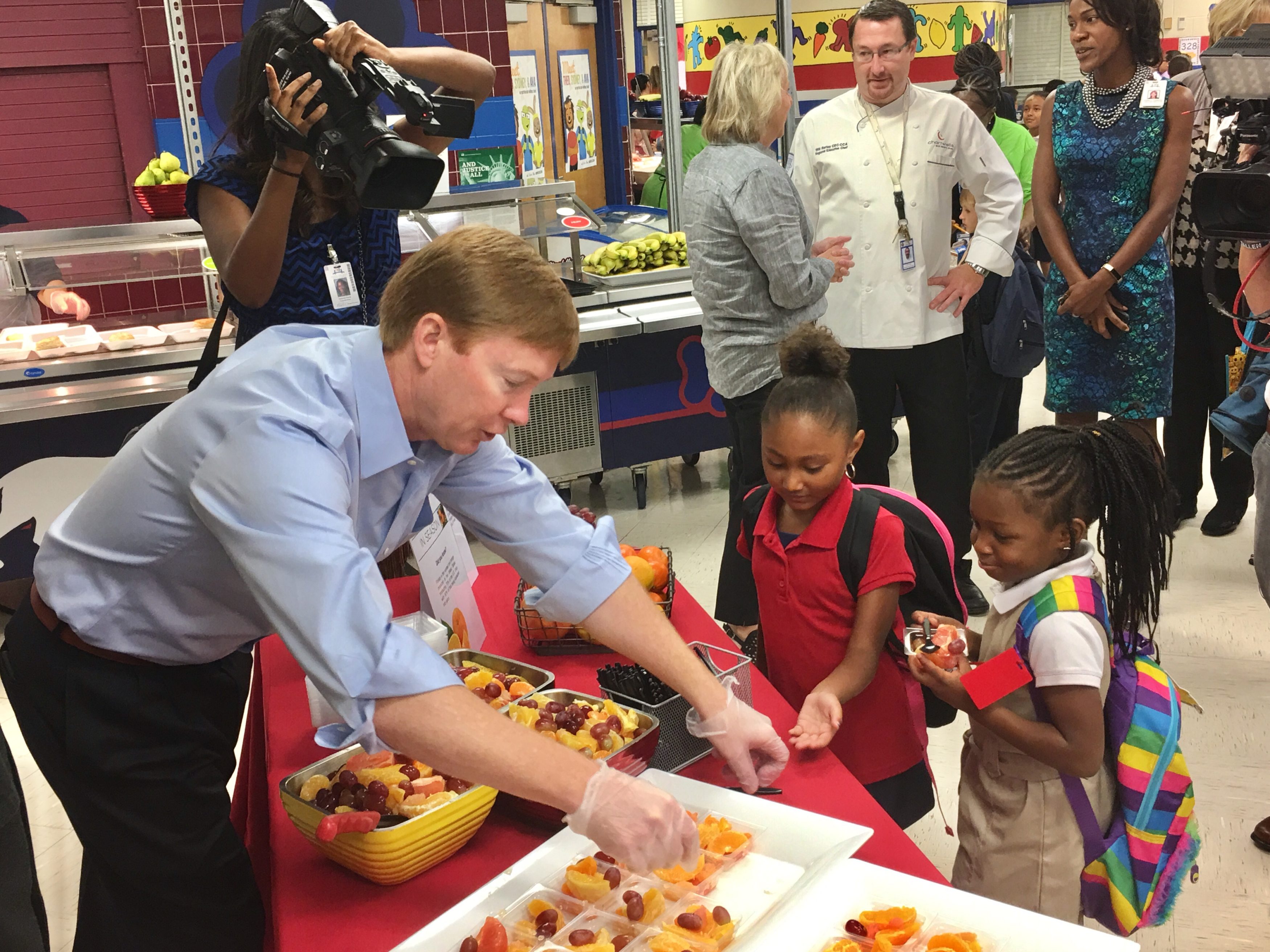 Florida Commissioner of Agriculture Adam Putnam was at Beauclerc Elementary in Jacksonville Thursday morning, serving breakfast to students.
The appearance at the Southside school underscored his office's announcement this week that students in 48 Florida counties under FEMA's major disaster declaration could eat free at school until October 20.
Putnam noted that this declaration allows 2.5M students at 3,000 schools in the counties to eat.
Beauclerc Elementary has been around for a few decades, but has changed along with the West Baymeadows neighborhood.
Beauclerc is now a dual-language school, the Principal told us, with a full third of the population receiving Spanish and English instruction.
During his visit, Putnam noted with delight that Chartwells — the food vendor — has increased its use of Florida grown produce 75 percent in the last two years.
However, that comes with caveats; as he served fruit cups to some of Beauclerc's youngest students Thursday morning, the Ag Commissioner noted that much of this year's citrus crop is "on the ground" — a consequence of Hurricane Irma.
Putnam asserted that serving breakfast was aligned with some larger parts of his mission as Agriculture Commissioner, noting that a healthy breakfast corresponds with "kids missing fewer days of school," as well as being focused in the classroom.
This, along with other factors, has helped Beauclerc boost its test scores 15 points in the last year — no small feat.
The Jacksonville area has been a focus of political visits and efforts since Hurricane Irma's epic storm surge, with both Florida Senators frequent fixtures in Jacksonville, and even a visit on Wednesday from U.S. Speaker of the House Paul Ryan.
Putnam, who faces a competitive primary for the Republican nomination for Florida Governor in 2018, is uniquely positioned to capitalize on storm relief to garner earned media; opponents such as Sen. Jack Latvala and House Speaker Richard Corcoran will have no such analogous recourse.
We asked Putnam if the event could be constituted as earned media; he rejected the proposition.
"I'm just doing my job," Putnam said.
If Putnam does not become Governor next year, he suggested that elementary school food service may be an option for a future gig.
"Always need a Plan B in this business," Putnam quipped, as he sold kids on the singular wonders of Florida produce.
This is Putnam's first school cafeteria visit in the state, but it won't be the last, he said.
Expect him to incorporate such visits in other major media markets in the months ahead.