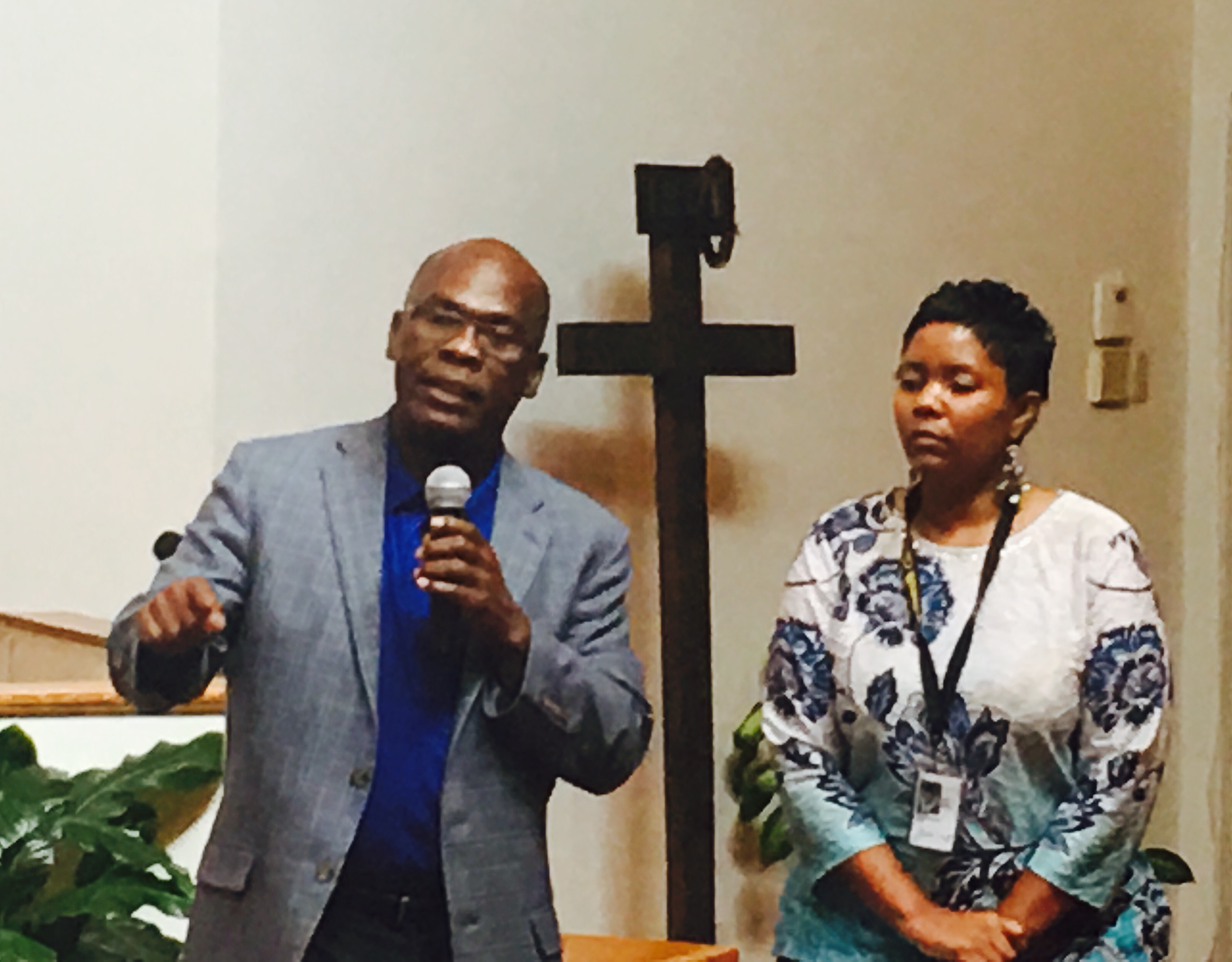 Just days before the Jacksonville City Council is set to approve a budget giving the city 100 new police officers, two Councilors are in the news for an altercation with current cops.
As WJXT first reported, Councilman Reggie Gaffney was pulled over Monday night for driving with a tag that he'd reported stolen a year before.
Gaffney said he couldn't recall reporting the tag stolen, after attempting to play the "Do you know who I am?" card with police.
Then Councilwoman Katrina Brown, who more often than not is by Gaffney's side (and who said she felt "targeted" by a poll saying people wanted more cops), providentially pulled up and accused officers of racially profiling by running tags.
"I think she said she noticed they were following me, because we all live on the north side of town," Gaffney told WJXT Friday.
Tempers were pitched in the video, and with Gaffney and Brown both levying accusations of racial profiling, the head of the local police union has a binary choice for the confrontational Councilors.

Apologize to the officers. Or vote yes on the budget, then resign.
"Personally I think they should vote to approve the budget then publicly apologize to those police officers. If not, they should resign immediately following the meeting," affirmed Steve Zona, president of the local Fraternal Order of Police.
Zona summed up the situation this way: "According to Councilwoman Katrina Brown, the 100 new police officers are going to be used to target a certain segment of the community, the biggest concern in the community is the prosecution of police officers and now she has witnessed racial profiling after Councilman Reggie Gaffney was stopped because the tag attached to his vehicle was reported stolen."
Zona also vowed to "file an official complaint with the Jacksonville Sheriff's Office Integrity Unit" if no one else does.
The complaint would be "to investigate Councilman Gaffney reporting his tag stolen after it was captured by red light cameras running red lights. Then somehow that kind thief returned the tag to Councilman Gaffney's car."
Gaffney has had other legal issues of recent vintage, including what the Florida Times-Union called a "double dip" homestead exemption in 2015, and Medicaid overbilling in 2013.
The Medicaid overbilling issue became a talking point in a 2015 debate, in which opponent George Spencer pilloried Gaffney with zingers about the overbilling, to the point where a flustered Gaffney exited the room with a line rare even in political debate in Jacksonville: "Father, I ask you to remove Satan from this room."
With that said, Gaffney and consultant Ken Adkins — the former preacher currently imprisoned for life in Georgia  — exited the building.
Gaffney's reputation for probity was such that the prosecution didn't want to use him on the stand in the trial of Corrine Brown.
This, despite him being on the witness list, as his "Community Rehabilitation Center" and "CRC Transportation" were used to funnel "gift" funds to Brown, and inflate donations, as was the fashion among her inner circle.
"Staff saw her bring stuff," Gaffney contended.
Additionally, Gaffney's CRC faces a whistleblower lawsuit from a former employee who alleges that she was not given state-mandated Ryan White training before working with HIV-positive patients.
Gaffney, pulling down $90,000 a year as executive director, said he was "too busy" with his job as a Jacksonville City Councilman to pay any attention to training.
When we asked Gaffney how it was that he was able to spend his "time being a City Councilman," while pulling down $90,000 a year for a 50 hour work week, Gaffney offered a "no comment" before asserting that he works "80 hours a week, 7 days a week."
Meanwhile, Brown's family business has been embroiled in a legal action with the City of Jacksonville, which, in 2011, loaned and granted $640,000 to the LLCs to start a BBQ sauce plant that would create at least 56 jobs.
The plant created no jobs. And Brown, despite questions over the course of months, offered no meaningful comment.
The city managed to win a default judgement of $222,000 against the Brown companies, but the city has a secondary position to a $2.65M SBA loan — and liquidation of property and other assets won't satisfy that obligation.
The city's latest recourse: forensic accounting of the company's financial records, meeting minutes, and so on.
Thus far, the Council has been unwilling to address the legal imbroglios of Brown or Gaffney. And this doesn't sit well with the head of the police union.
"Embarrassing," Zona said. "They cry and scream about accountability of police officers from the dais yet turn a blind eye when one of their own become a routine embarrassment to their great body. I would hope some of them have had enough of her behavior."
With a budget vote looming, it will be interesting to see if all this drama factors in.
Gaffney and Brown failed to respond to texts sent Friday evening, requesting comment.