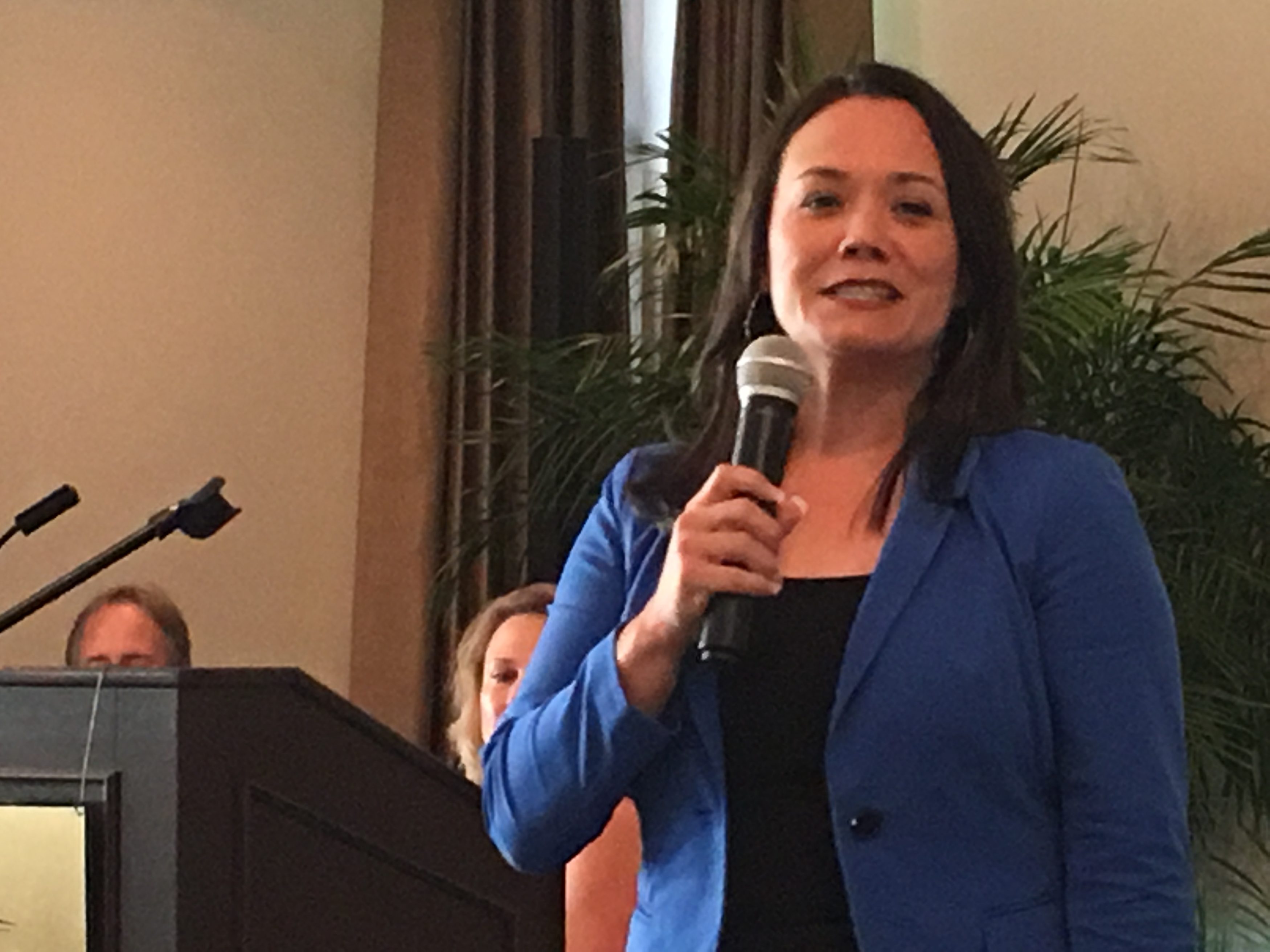 Tuesday night was rough for Jacksonville City Council President Anna Brosche.
Her attempts to stall out a vote on Mayor Lenny Curry's children's program reform, the Kids Hope Alliance, failed. And her allegations of Curry Administration attempts to keep the bill from public view, by having a Councilman introduce a substitute in committee earned a sharp rebuke from the Mayor.
Brosche didn't address this Tuesday night. And in the end, Brosche ended up voting for the bill.
Despite what many in City Hall perceive as a political setback, Brosche is still Council President — and in that capacity, she addressed the Southside Business Man's Club's weekly luncheon Wednesday.
She was surprisingly upbeat after a marathon Council meeting. Brosche described it as a "long night" and a "challenging process," but "we made it through."
____
Brosche took questions from the crowd — and the first was about Confederate memorials, along the lines of "where does monument removal stop."
Brosche noted that she is focused on "monuments and markers on city property."
"I appreciate the question where it ends — I know where mine ends," Brosche said, noting that the most prominent local monument is the statue in Hemming Park.
A legal review from the city's lawyers is being conducted, and Brosche expects a report soon.
Additionally, Brosche noted 500 emails and 93 public comments, as well as 50 letters and phone calls.
The feedback is split, Brosche said, and "the version of history I've received in all those communications runs the gamut." As do suggestions — which include private purchase.
"It's about what they mean to the entire community, not just one section of the community," Brosche said, though she doesn't "personally favor" a referendum.
"I've studied what it is we've taken to the voters in the past, and I personally have a hard time putting a vote to the majority, to decide [for the minority]," Brosche said, occasioning murmurs from the crowd.
____
Brosche was also compelled to discuss the confrontation between Councilors Reggie Gaffney and Katrina Brown and police officers after a Council meeting last month.
Gaffney has issued the expected mea culpa statements for attempting to leverage his power as a Councilman to check the officers who pulled him over. However, Brown — who accused officers of racial profiling — has yet to apologize.
That point was not lost on the Fraternal Order of Police, which saw its national and state presidents in Jacksonville Tuesday night to condemn Councilwoman Brown's accusations and unwillingness to walk them back.
"The ultimate repercussion is going to be leveled by their districts … if there is any," Brosche said.
Brosche has requested "options" from the General Counsel, including what authority Council has, and expects them at the next Council meeting.
"The question is around censure — is it an option for Council," Brosche said.