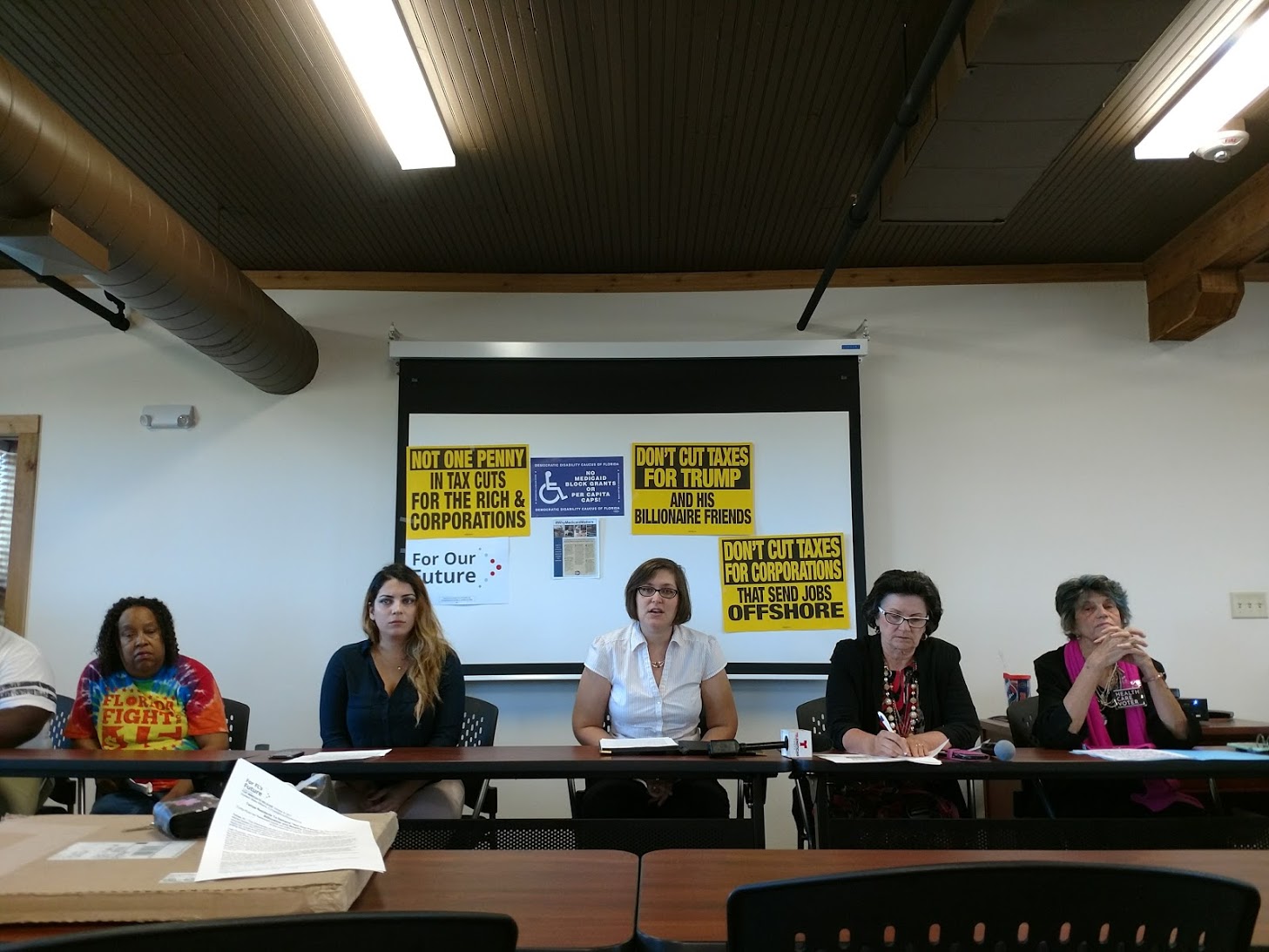 For a scheduled speech in Harrisburg, Pennsylvania, Wednesday evening, President Donald Trump is expected to say that truckers and other middle-income workers stand to benefit significantly from his proposed tax plan.
Hundreds of miles away, however, a group of progressive activists gathered in Tampa earlier the same day to denounce the proposal as currently laid out, calling it a gross giveaway to the wealthy.
"Please note that in 2027 when all aspects of this Republican plan are phased in, four out of every five dollars in proposed tax cuts will flow to the top 1 percent," said Ione Townsend, chair of the Hillsborough County Democratic Executive Committee.
She called it an "egregious wealth transfer for those who least need it."
Though Townsend is clearly partisan, the Washington, D.C.-based Tax Policy Center is generally considered to be centrist and/or nonpartisan. That organization estimates the plan would cut taxes for the bottom 95 percent of earners by 1.2 percent, while the top 1 percent would get an 8.6 percent tax cut.
Townsend joined a group of progressive activists gathered at the Hillsborough Classroom Teachers' Association building in West Tampa to pick apart the proposed tax cut plan, an important agenda item for Trump and congressional Republicans who have yet to score any major achievements this year, despite being in complete control of the federal government since late January.
"Corporate profits are at near record highs. Corporate taxes are at record lows. Major corporations pay little to nothing in taxes due to loopholes," said Michelle Prieto, a member of the group Mi Familia Vota.
Prieto said if the tax plan under the president goes through, corporations will use their tax savings to "further pad the pockets of CEO's and rich stockholders."
"We need a compassionate budget that prioritizes real people and real public service programs that put American people first," said Chelsea Bunch, a steering committee member of Indivisible Action Tampa Bay. "And give not one penny more to corporations and billionaires who don't need it.  
Despite activist's concerns, exactly how much each taxpayer will be affected by the proposed tax is unknown, because the framework Trump and congressional Republicans in Congress released late month out left out vital details, such as exactly which tax deductions and credits would be eliminated.
Committees in both houses of Congress still need to agree on a budget resolution that specifies how much tax reform could cost.
Karen Clay is a disability activist serving on the board of the Florida Alliance for Assistive Services and Technology (FAAST). She says a review of the Trump tax cut plan makes it "obvious" where the budget cuts will come from — Medicare, Medicaid, education, food stamps, SSI and SSDI.
Clay fears what health care will soon look like, even with the Affordable Care Act still the law of the land. Going back to last spring, Florida Gov. Rick Scott has been advocating that he wants a block grant from Washington for the state's $26 billion Medicaid program.
"We are currently ranked 48th in our per capita spending. So if the amount from the federal government is capped, and there is no mechanism in place to help individuals after a natural disaster, an economic downturn or any type of job loss, how will individuals and families ever get back on their feet?" Clay asked.
All the advocates urged members of the public to contact their elected representatives in Washington, and tell them to oppose the tax proposal.