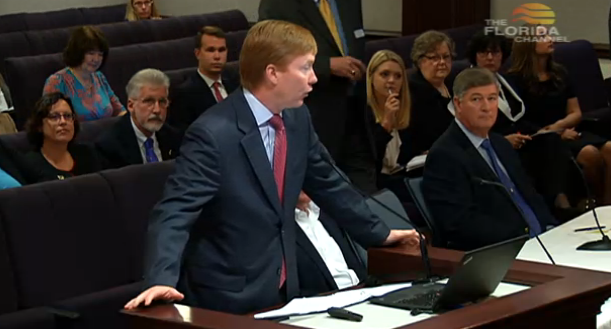 Telling them that their committee will be more important than they ever could have imagined but for all the wrong reasons, Adam Putnam offered a sobering assessment to the Senate Committee on Agriculture about the impact that Hurricane Irma left on the state's agriculture industry Thursday.
Florida suffered at least $2.5 billion in osses from the storm, the path of which "could not have been more lethal for Florida agriculture," Putnam said.
"When you think about the pride that we have in Florida about the fresh winter vegetables that are on people's Thanksgiving table, (they) won't be there because of Hurricane Irma," he added.
Florida's citrus industry got the worst of the storm, with preliminary estimates finding that Irma devastated the state's largest agricultural industry with nearly $761 million worth of damage. An estimated 70 percent loss of the state's orange trees.
On Wednesday, Putnam joined Governor Rick Scott in Washington D.C , where they met with most of the state's congressional delegation to request additional disaster relief. As part of the emergency supplemental funding, they want to have congress move that $2.5 billion need to the U.S. Dept. of Agriculture to design a program that would take into consideration people who had crop insurance and the level of losses, based on the seven hurricanes that swept through Florida in 2004-2005.
"There's a proven model out there that has worked in the past that we're asking Congress to fund," he said.
Boca Raton Democrat Kevin Radar said that a lot of Florida farmers were in Noninsured Crop Disaster Assistance Program (NAP), which means that they may not be compensated for as many as nine months from now. He asked Putnam, a former congressman, if there was anything that could be done to speed up that process?
"That's why we have to go get sort of a special category of disaster relief from USDA," Putnam responded, adding that the department previously had the flexibility to administer those programs internally, but after the last Farm Bill was passed that power now is up to Congress.
Putnam said he and Scott asked that Florida's needs be inserted in the current disaster relief bill from FEMA that the House will vote on Thursday and the Senate next week. He said the odds of that happening weren't great, however, meaning that it may not be until the next replenishment for FEMA may not come before Congress until Christmas.
"Specialty crop states like Florida are not adequately protected from risk management tools that the crop insurance was designed to provide," Putnam said, adding that it's been long time problem which has yet to be addressed.