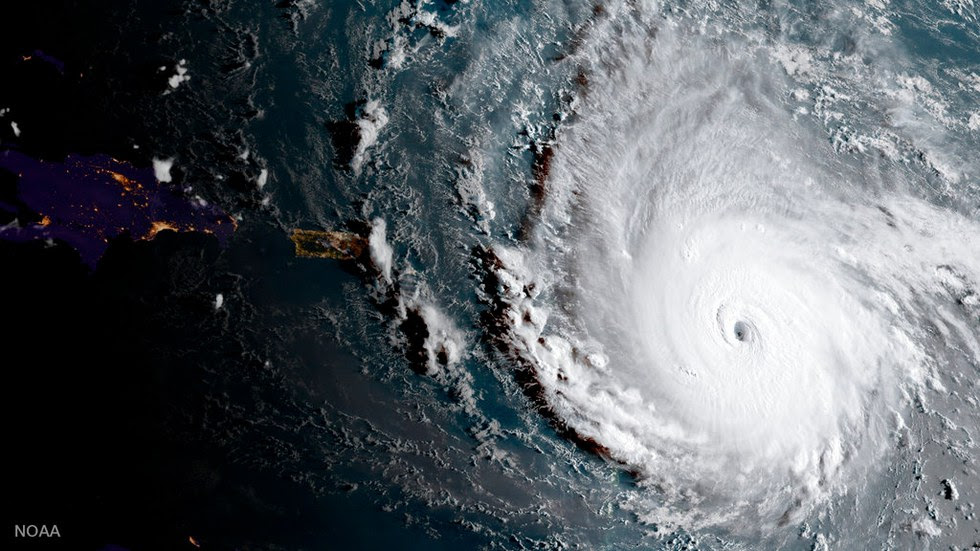 The U.S. Virgin Islands suffered almost unprecedented damage during Hurricane Irma and the recovery has been painstakingly slow.
I mention this because while Floridians have rightly focused great political and civic attention on hurricane relief efforts in Puerto Rico, we can't forget about the devastation that remains a mere 18-minute plane ride from San Juan on JetBlue. I know this because that's how long it took me and my family to fly there for my oldest son's wedding in July.
That was about six weeks before St. Thomas and next-door neighbor St. John were flattened by Irma. The Washington Post reported what was left behind was "perhaps the site of Irma's worst devastation on American soil."
The storm hit the Virgin Islands as a Category 5 hurricane with 185 mile-per-hour winds on Sept. 7 before moving onto Florida. With so much damage here, it was hard for Floridians to focus on what was happening to our friends and fellow U.S. citizens in the Caribbean, and then life goes on and human nature is to forget and get back into a normal routine.
Hurricane Maria gave the islands another gut punch before unleashing its fury on Puerto Rico. Because the damage in Puerto Rico was so widespread for that island, the misery to its next-door neighbor was crowded out of the conversation, especially when President Trump's feud with San Juan's mayor stole the headlines for days.

There is a web site called News of St. John that has managed to send out regular "hey, remember us" messages. Monday, it said, was the island's 41st day of a 100 percent power outage.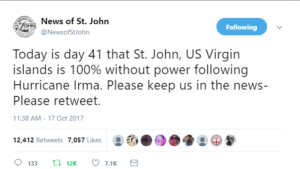 There is a video on the site of the devastation at beautiful Trunk Bay. Places where we ate and visited while there have been knocked to their knees.
Country singer Kenny Chesney has done remarkable work in trying to help there. He has a home on the island and during Irma he opened it for 17 people to ride out the storm. The home was destroyed, but everyone survived.
He immediately organized mercy flights with generators, cleanup gear, and equipment to help get people back on the internet. He deserves a medal for this, but he and his team of angels need much more help.
St. John is a place of incredible beauty, but geography is also its enemy. It's not easy to get to, which I think contributed to a relative lack of coverage about the situation. It's only about 4 miles long and most of the aid it receives has to come by boat. The narrow roads and mountainous terrain make relief efforts even more difficult.
We went nuts here in Florida when the power was out for a few days for most people after Irma. Imagine what the people in St. John and St. Thomas are going through.
These are our friends.
These are our neighbors.
These are Americans and we can't let the noise drown them out.