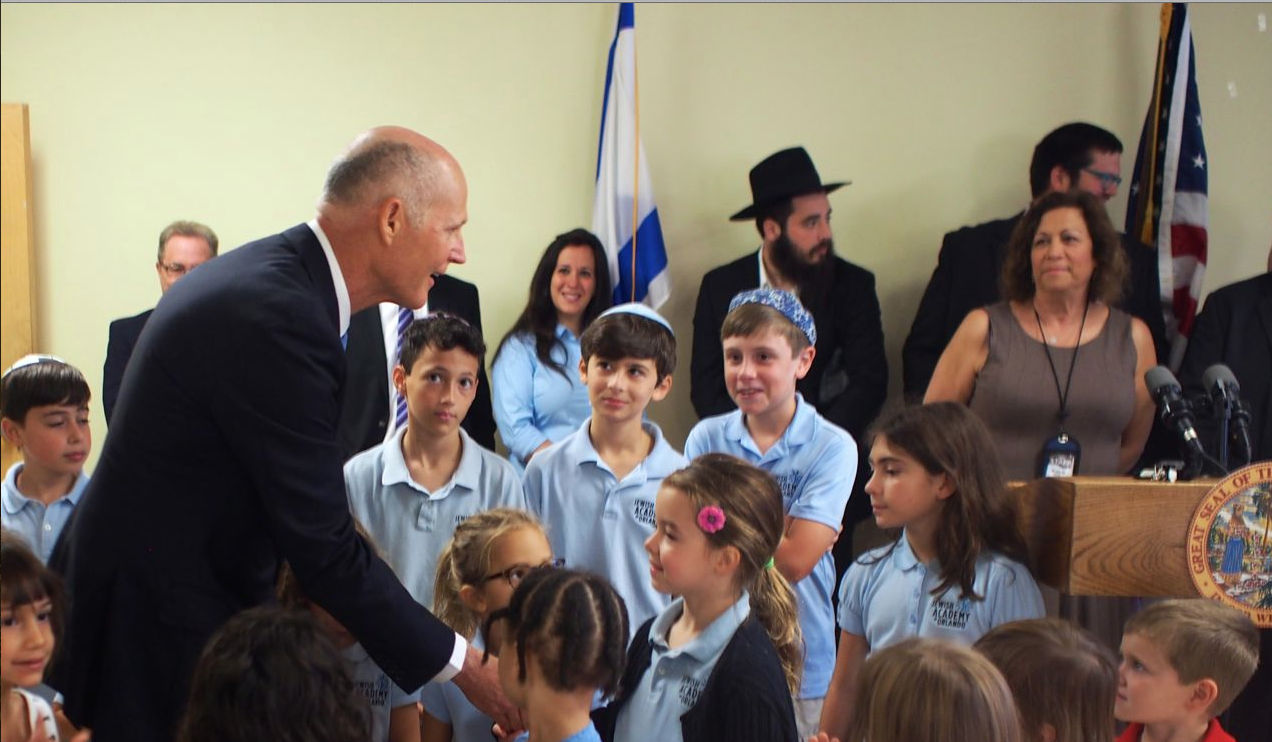 Immediately surrounded by 50 shades of cuteness but more broadly surrounded by deep worries about anti-Semitic violence and growing anti-Semitic sentiment, Gov. Rick Scott on Thursday pushed his proposal to include $1 million in his 2018 budget proposal to help Florida's Jewish community centers, schools and day care centers further secure against attacks.
Scott's visit to the Roth Family Jewish Community Center in Maitland Thursday, surrounded by 50 young children from the center's school and day care center, came on the morning of reputed neo-Nazi, white-supremacist Richard Spencer's planned speech in Gainesville 120 miles away, and the  pall of that afternoon event hung over the visit.
His visit also came in a year in which the Roth Family Center, as well as numerous other Jewish centers throughout Florida and nationally, were hit with multiple bomb threats, forcing the centers, the families, the communities, and the state to re-assess the prospects of violence, especially in an era where supremacists and discriminatory hatred appear to be on the rise.
This year's Florida budget included $654,000 to help Jewish centers shore up security.
For next year Scott said he is proposing an additional $1 million, a plan he first introduced earlier at Boca Raton. He was joined Wednesday by Orange County Mayor Teresa Jacobs and Maitland Mayor Dale McDonald.
"This state is a friend of Israel. I've had the opportunity to travel to Israel and you look what they go through over there, with the amount of security they have to do. Unfortunately, we're sort of having to do the same thing to make sure everybody in our state stays safe, especially all the young people," Scott said.
"As horrified as we were last year to hear about the threats to our Jewish centers and our Jewish communities, in our state we have zero tolerance for hatred, zero tolerance for anti-Semitism, we want everybody to have the chance to live their dream in this state, in our country," he said.
The Roth Family Jewish Center is an example of where last year's money helped. The center installed bullet-proof glass on classrooms, double-entrance entryways, high fences, and security cameras, and has hired armed security guards. Yet Keith Dvorchik, chief executive officer of the Jewish Community Center of Greater Orlando, said more is needed.