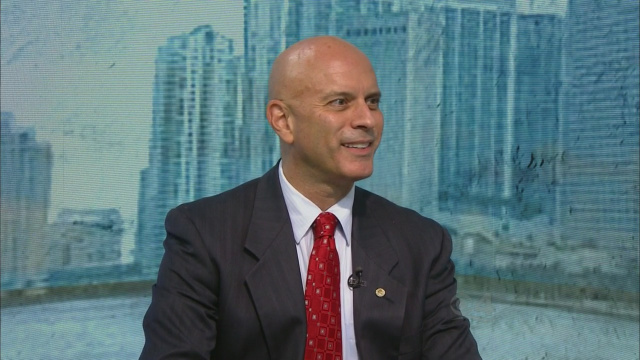 While the media focuses on Steve Bannon's intent to blow up the Republican Party, there also is a definite discord within the Democratic Party.
Last week in Las Vegas, Democratic National Committee Chair Tom Perez removed several party officials from central party committees who backed Minnesota Rep. Keith Ellison's chairmanship bid.
In February, Perez defeated Ellison as chair of the DNC in a race that some depicted as a continuation of the 2016 battle between supporters of Hillary Clinton and Bernie Sanders. Perez backed Clinton for the Democratic nomination for president last year; Ellison supported Sanders.
Bounced from the DNC executive committee were Ray Buckley, James Zogby and Barbra Casbar Siperstein; Buckley was also taken off the rules committee, on which he served as well. Alice Germond lost her at-large appointment.
Among those Perez named as replacements include Harold Ickes, a lobbyist for a nuclear energy company; Manny Ortiz, a lobbyist for Citigroup; Joanne Dowdell, a lobbyist for News Corporation, the parent company of Fox News; and Jaime Harrison, a former lobbyist for coal companies, big banks, and tobacco companies. (Tampa's Alan Clendenin, a supporter of Clinton last year, also was named by Perez to the executive committee.)
Tim Canova, the Nova Southeastern University law professor who lost a congressional challenge last year to former DNC Chair Debbie Wasserman Schultz and intends to run against her again in 2018, emailed a statement to supporters Monday. Canova said that with news of the DNC purge, he has registered to be a delegate to the Florida Democratic Party State Conference, taking place this weekend in Orlando.
"It's more important than ever for progressives to push back against the establishment status quo," Canova writes.
In a brief telephone conversation Monday, Canova said it "added insult to injury" that Perez also appointed former interim DNC chair and CNN commentator Donna Brazile as a DNC delegate and to the Rules and Bylaws Committee.
"It's really disappointing. There are folks who are speculating that this is intended to drive progressives out of the party, and it will be a smaller, weaker party if there's more of a 'DemExit.'" 
Susan Smith, the head of the Democratic Progressive Caucus of Florida, hadn't seen Canova's email, but she hopes the media and others don't depict the schism in the party as a battle between Bernie and Hillary, but as the grassroots versus Wall Street.
Smith specifically cited a New York Times op-ed published by Doug Schoen last week, entitled, "Why the Democrats Need Wall Street," as being "a little scary."
Schoen, a former pollster and adviser to President Bill Clinton, wrote: "If the party is going to have any chance of returning to its position of influence and appeal, Democrats need to work with Wall Street to push policies that create jobs, heal divisions and stimulate the American economy."
Florida Democrats are scheduled to meet this weekend for their annual state conference at Disney's Coronado Springs Resort. Canova hopes to start a conversation about what's going on within the party.
"I'm not fueling the 'DemExit,' they are," Canova says of the Perez/Wasserman Schultz wing of the party. "I'm fighting for the party to return to its New Deal roots."