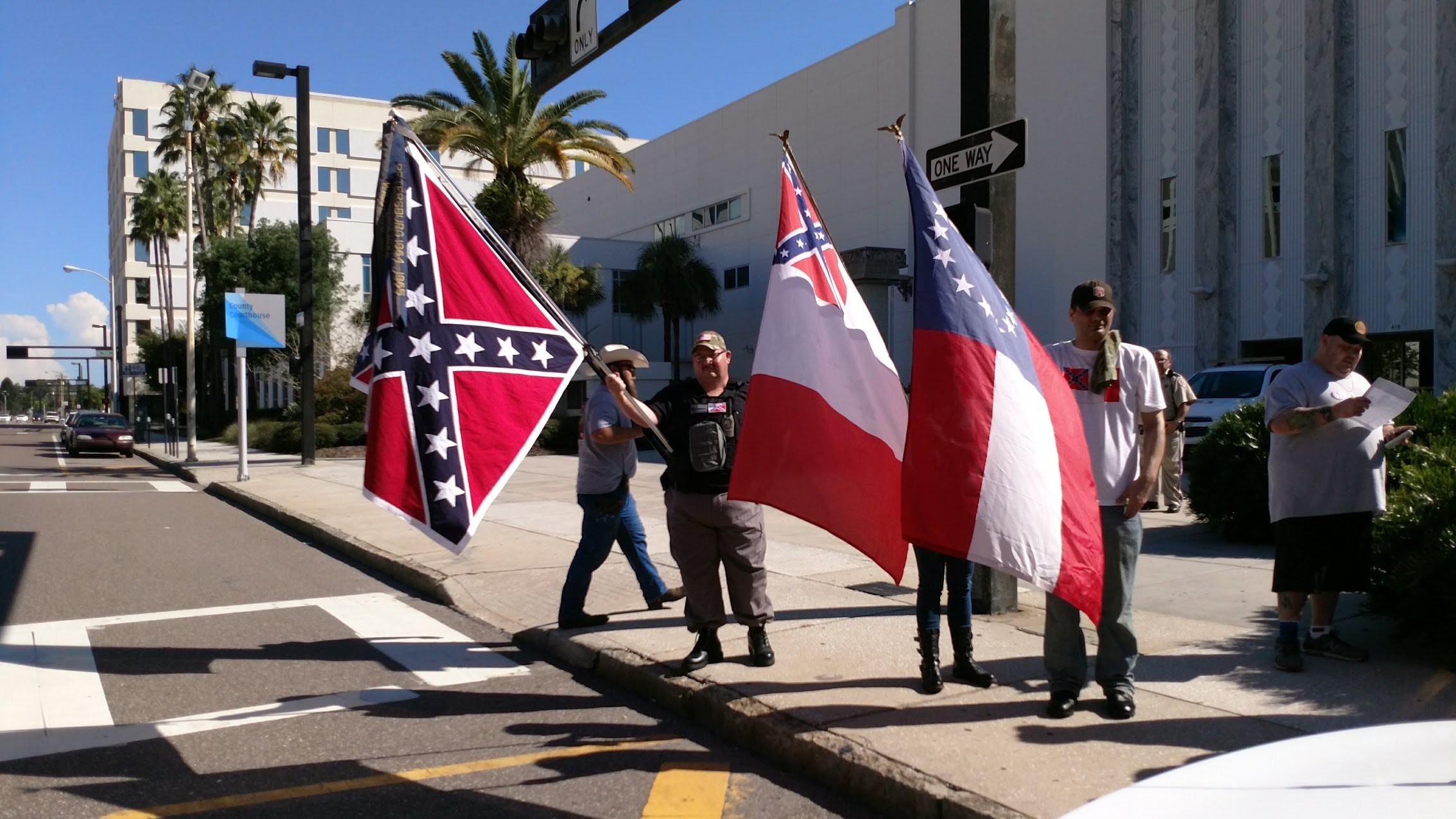 Two months after the group Save Southern Heritage Florida filed a defamation suit against two Hillsborough County Democratic Party activists, the activist group dropped the case, citing a recent court ruling that they contend made their case impossible to win.
Save Southern Heritage Florida spearheaded a campaign earlier this summer to persuade Hillsborough county commissioners to reject a proposal by Commissioner Les Miller to remove a controversial Confederate statue that stood in front of a county courthouse annex for more than a century.
As has been the case throughout the South, the issue became highly emotional and the rhetoric at times was toxic. After three separate votes and a private fundraising campaign, the statue was finally relocated to a Brandon cemetery last month.
After Hillsborough County Democratic Executive Committee Chair Ione Townsend and Organize Florida member Tim Heberlein separately called Save Southern Heritage a "white supremacist group," the group filed a lawsuit against them on Sept. 1, alleging that the comments were "were false and defamatory."
Justin Waters, attorney for Save Southern Heritage Florida, cited a ruling in a case in Tennessee last week that put the standards for defaming a public figure "so high that even Mother Teresa would have an impossible case to win if the Democratic Party used the same slurs against her."
That case involved a woman named Lisa Rung of Franklin County, Tennessee, who was originally charged with defaming a League of the South member by calling him a "white supremacist" in a Facebook post. The League of the South has been described by the Southern Poverty Law Center as a neo-Confederate hate group.
However, that decision was reversed last week by the Tennessee Court of Appeals' Middle Division. A lower court had originally ruled in favor of Robert Weidlich, a member of the League of the South.
Rung had posted a photo of Weidlich's vehicle which featured a sticker of the Confederate flag on her Facebook page, and referred to him and his wife as "white supremacist(s)."
"We were prepared to vigorously defend the lawsuit, but were very pleased that it's been dismissed, and so we move on," Townsend said.
"I'm so proud of the members, allies and community members that stood strong against bigotry and hatred," Heberlein said. "While the lawsuit has been withdrawn, it's a very small example of the daily struggle our communities deal with in a system of injustice and inequity rooted in white supremacy.
"The lawsuit was an attempt at intimidation from an organization seeking to preserve symbols of an unjust and antiquated system of oppression, one that this organization exists to rectify," he added. "We are proud of our members and staff for the manner in which they have led our diverse and forward-thinking community to speak out against institutionalized racism, both past and present."
Save Southern Heritage cited a statement that Townsend had written to the media at the Hillsborough Democrats' August meeting, where she referred to the group as  a "White Supremacist Group."
It came after party members were disturbed about an online dossier of personal information that was published on virtually every public speaker who called for the Confederate monument to be removed at a July BOCC meeting.
Townsend's statement had also called on the Hillsborough County Board of County Commissioners to rescind their appointment of David McCallister, a spokesman for the group, to the county's diversity board: "Someone who promotes racism and violence has no place on a council of the county."
The email contained statements that "were false and defamatory," the suit alleges.
The suit also said that the activist group Organize Florida had created two online petitions on their website that restated Townsend's allegations.
The website said that Save Southern Heritage was "threatening and intimidating community members" and "threatening them through social media, harassing phone calls and even at the meeting" and that SSH is a "[h]ateful and violent" group.
"They seem to be opposed to free speech in public spaces … unless it is their party-approved speech," said McCallister on Tuesday. "The Democrats and their militant wing (BLM, Anti-fa, Democratic Socialists) are holding the First Amendment hostage with hateful and hurtful lies against Southern Heritage and it is protected speech. As a result of recent court decisions, SSH is withdrawing the lawsuit."
Save Southern Heritage also filed a lawsuit against Hillsborough County earlier this summer in an attempt to stop the Confederate statue from being removed from the county courthouse annex. Though the statue has already been removed, their lawsuit continues.