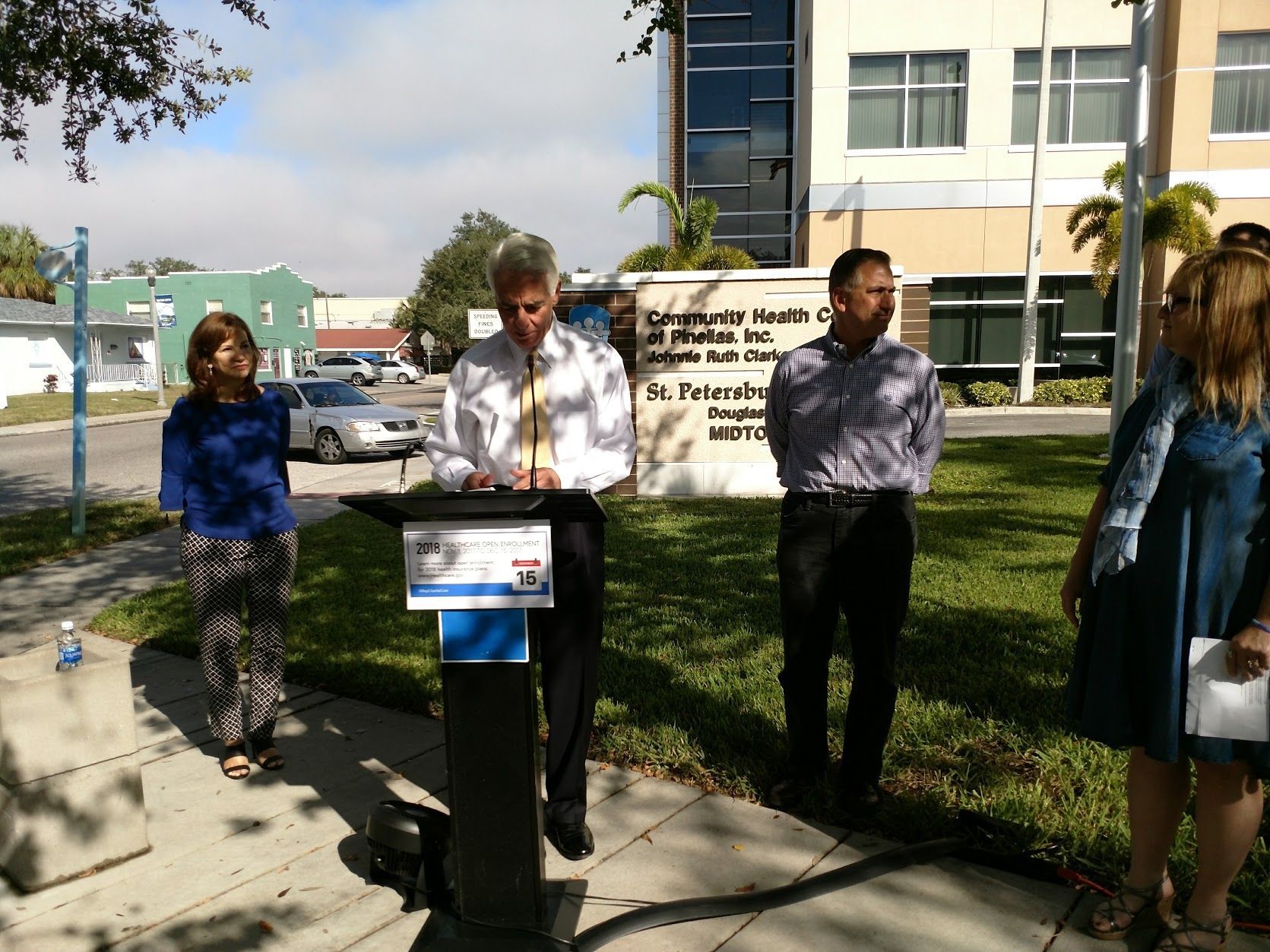 Facing a diminished marketing budget, officials responsible for getting people signed up for the Affordable Care Act in the Tampa Bay area received another boost from Congressman Charlie Crist.
"It's urgent that we get the word out,"  the St. Petersburg Democrat said at a news conference Monday morning in front of the Johnnie Ruth Clarke Community Health Center in South St. Pete.
As Crist (and others in attendance) reiterated, the time to sign up for the ACA this fall was cut in half, from 90 to 45 days, making every day count for health care officials hoping to get the word out.
In addition to a much more constrained time schedule, the Trump administration cut its advertising budget for the programs by 90 percent this year and eliminated 40 percent of federal grant money to enrollment assistance groups.
"We are spending this year re-educating people, making sure people know about the open enrollment period is coming up, but also reminding them that they need to review their plans," said Jodi Ray, program director for Florida Covering Kids & Families at USF.
As an example, Ray cited her work this past weekend with a client enrolled in a new plan that didn't include any of her local providers. After working with the woman, she selected a different plan that had all of her providers.
"People still want coverage," echoed Melanie Hall, executive director of the Family Healthcare Foundation.
Over 66,000 residents in Pinellas County signed up for the ACA last year, with more than 42,000 of those 66,000 receiving financial assistance. Hall said that even though health care premiums on the ACA have gone up across the board, so have the tax credits that can absorb those increases.
Such an enrollment period was never supposed to happen after Donald Trump was elected President a year ago this week. With a GOP Congress, the ACA (aka "Obamacare") was destined to become history once the Republicans came up with a plan to replace the often criticized health care program passed by Barack Obama and congressional Democrats seven years ago.
But twice the Republicans have struck out in attempting to repeal and replace the ACA, and Crist said he's fairly confident that the law will still be in place a year from now when the 2018 midterm congressional elections are held.
"The opposition tried to get rid of it twice already and failed so, so I think that it's in good shape," Crist said. He added that the law could be changed somewhat over the course of the next year, but he believes the foundation will stay in place.
"Make no mistake, there is a fight in Washington D.C. about the future of health care," said St. Petersburg Mayor Rick Kriseman.
The mayor, facing a reelection election tomorrow that is too close to call, used the opportunity to tout his Healthy St. Pete initiative, which has been led by Deputy Mayor Kanika Tomalin.
Last week, Tampa Democratic Rep. Kathy Castor held her own news conference with local health care officials touting the beginning of the enrollment period.
There currently is a bill in the Senate that has been proposed by Republican Lamar Alexander of Tennessee and Democrat Patty Murray of Washington state to restore subsidies, expand outreach efforts for the health insurance marketplaces, and give states more flexibility to implement their health care goals while continuing to protect Americans with pre-existing conditions.