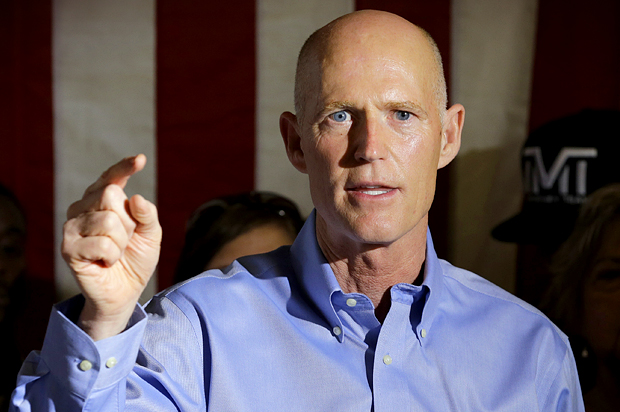 After hearing support from Gov. Rick Scott, the House Ways and Means Committee on Tuesday cleared a measure that would amend Florida's constitution to require a legislative supermajority in each chamber to create or increase a tax or fee.
The proposed language defines a supermajority as two-thirds of membership and would require 60 percent voter approval in 2018, should it pass this Session.
The bill (PCB WMC 18-010) is sponsored by Daytona Beach Republican Rep. Tom Leek.
Scott was the first to speak to lawmakers. He said that while cutting taxes, Florida has sustained a low unemployment rate, created jobs, reduced burdens and regulations, decreased state debt and increased general revenues.
"This Legislature has shown that you are against raising taxes by cutting hundreds of millions of tax dollars last year," Scott told lawmakers. "But we need to work together to ensure this commitment will continue."
He then asked for support on the proposal, and with future votes on the matter. This request comes a day after Scott unveiled a $180 million tax cut package.
"I think it's important that we don't raise taxes," Scott told reporters afterward. He said he spoke with businesses during his October trip to Chicago, and said "almost every business I talked to" is considering leaving due to harmful municipal and state taxes.
After the governor, other interested parties spoke to the committee.
Tim Nungesser, Florida's legislative director for the National Federation of Independent Business, supported the bill, saying that over 80 percent of the organization's small businesses members did too.
"That's largely due to the fact that when our members hit a recession and customers aren't coming through the door, they can't simply just raise prices on their customers because their customers won't come back," Nungesser explained.

Rich Templin, with AFL –CIO, spoke against the resolution. He cited the ALICE study by United Way, that showed 3.2 million households are struggling. Templin pointed to limited funding for social services as a root cause for that problem.
"Education, mental health, health care for children, emergency economic services—we rank at the bottom or near the bottom of the rest of the 50 states," Templin said.
Florida TaxWatch's Vice President of Research Kurt Wenner said his organization supports the resolution, but argued for a three-fifths supermajority, rather than two-thirds, saying it was a "non-draconian safeguard" to include.
Florida's Americans for Prosperity (AFP-FL) waived in support at the committee meeting but later released a statement commending House Speaker Richard Corcoran, Leek and Scott for their support.
"What better way to add to Florida's reputation as a great place to live and work than to give citizens peace of mind that a supermajority is needed in order to raise taxes," Chris Hudson, state director for AFP-FL, said.
Following public comments, Rep. Joe Geller, an Aventura Democrat, said taxes and government spending exist to make life better.
"That's why we have a highway system," Geller said. "We spent a lot of money on it, but it makes life better."
Rep. Joseph Abruzzo, a Boca Raton Democrat, said he was conflicted on the legislation and that it would be a "game-time decision," but ultimately voted against it.
Florida's constitution currently requires a three-fifths supermajority to increase the corporate income tax above 5 percent.
According to the National Conference of State Legislatures, 15 states currently have a supermajority vote requirement – ranging from two-thirds to three-fourths to three-fifths – for tax increases. The supermajority stipulation applies to all tax increases in 11 of those states.