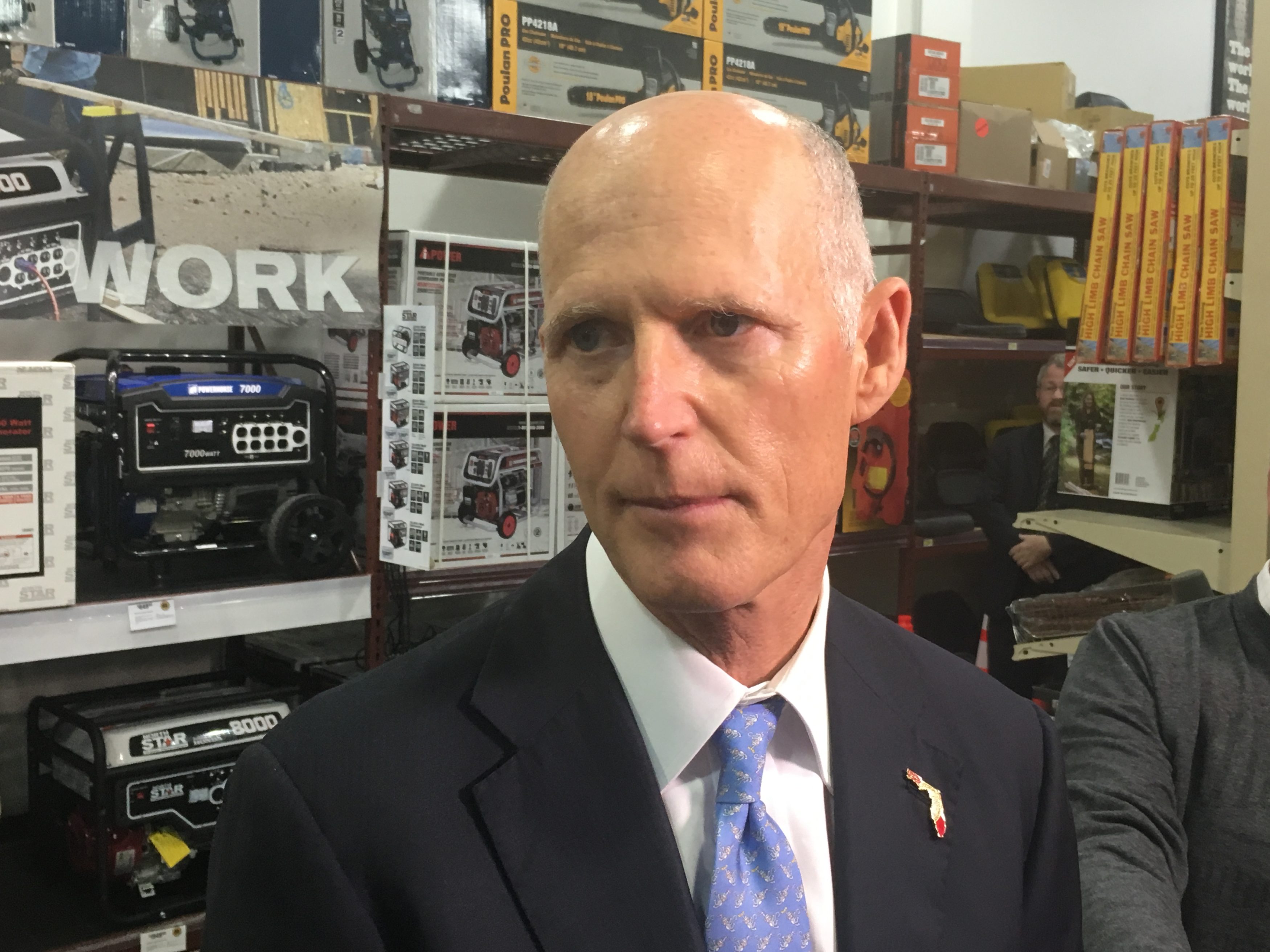 Florida Gov. Rick Scott unveiled his "last and final budget" in Jacksonville Tuesday, an $87.4 billion proposal devoted to "fighting for Florida's families."
To sum up: a rising tide lifts all boats.
Throughout Scott's remarks, there was a common theme: "historic investments" in area after area, a policy justified by an economy that is booming — on the macro level at least — as his eight years in Tallahassee near a close.
Some details had dropped already, of course, such as an ambitious (at least by recent standards) spate of environmental spending. The $1.7 billion of "historic investments" in the environment proposed is $220 million over the current year's levels.
The budget proposal has something for most constituencies: $50 million for state parks; $55 million for springs; $100 million for beaches; $355 million for Everglades restoration; $50 million for Florida Forever.
Scott also is proposing $180 million in tax cuts, including 10 day cuts in back-to-school sales taxes, disaster prep tax cuts for three separate weeks, and driver's license fees, as well as lowering the cost of traffic citations if the offender attends driving school
Scott mentioned these tax cuts in the press event.
Scott also noted that the budget has $5 billion in reserves.
"This budget is $87.4 billion, and includes tax cuts, historic investments for families, and over $5 billion in reserves," Scott said.
"We'll have historic investments in education, historic investments in transportation, historic investments in the environment, and historic investments in helping those with disabilities," Scott added. "On top of that, we're all going to reward our law enforcement officers."
The citrus industry is in line for $21 million in state support, and the staff of the beleaguered Department of Children and Families will receive 100 new workers, "to make sure our children and families are taken care of in this state."
Pay raises for correctional officers are also in the offing, Scott said, as well as for state law enforcement and fire fighters.
Scott also trumpeted his proposed increase for teacher supply grants, and $50 million to help law enforcement combat opioids.
The budget also includes $10.8 million more money for VPK, pushing the total to $408 million. And the highest per-pupil expenditure ($7,497 per student, which comes out to $21.4 billion total) for K-12 funding.
Much of that is familiar to those covering the Governor closely.
Some new announcements were made for the Jacksonville market also, including a "historic $10.8 billion for transportation, including significant funding for Jacksonville, including the deepening of JAXPORT."
Public safety funding will be fixed at $5.3 billion, with $1,4 billion earmarked for disaster preparation — a 257 percent increase over the current year for the Division of Emergency Management.
"This is a budget that's going to be good for Florida's families," Scott said.
Critics, of course, disagree.
The Florida Democratic Party decried the budget in a statement.
"Governor Scott's budgets have always reflected the same self-serving politics that have defined his career: slashing investment in our public schools, zeroing out funding for key environmental programs and cutting funding for veterans, healthcare and public safety – while giving huge handouts to his well-off and well-connected donors and friends," The FDP asserted.
"Today's budget is more of the same – and more importantly, under Scott, Florida has cut investment in growth, leaving middle-class families with fewer well-paying jobs and fewer economic opportunities. At every turn, Scott is proving he's only ever looking out for himself, and he can't run away from seven years of budgets that have left hardworking Floridians worse off than when he took office," the FDP added.
Tallahassee Mayor Andrew Gillum is running for Governor, and he likewise decried the proposed budget.
"As Governor Scott closes out his second term and prepares to run for Senate, he's desperately trying to cover up seven years of failed policies. No 11th hour budget proposal can cover up the facts that nearly half of our state's households report struggling to make ends meet and many of our rural counties have lost jobs since 2007. Budgets reflect our values, and for seven years we've seen just what the Governor's values are: cuts on top of cuts to programs that are critical for working families," Gillum said.
Gwen Graham, another Democrat running for Governor, was likewise less than thrilled.
"For almost 20 years the Republicans who control Tallahassee have worked to turn our public school system into an education industry by cutting budgets, siphoning money from public schools, and lining the pockets of their special interests donors," Graham said.
"Rick Scott can try to run from his record of education cuts, but the numbers don't lie. In his first year as governor, Scott cut more than $1 billion from Florida's schools and we still haven't recovered from those massive cuts. Adjusted for inflation, per-student funding would still be less under Rick Scott's new budget than it was when he took office," Graham added.