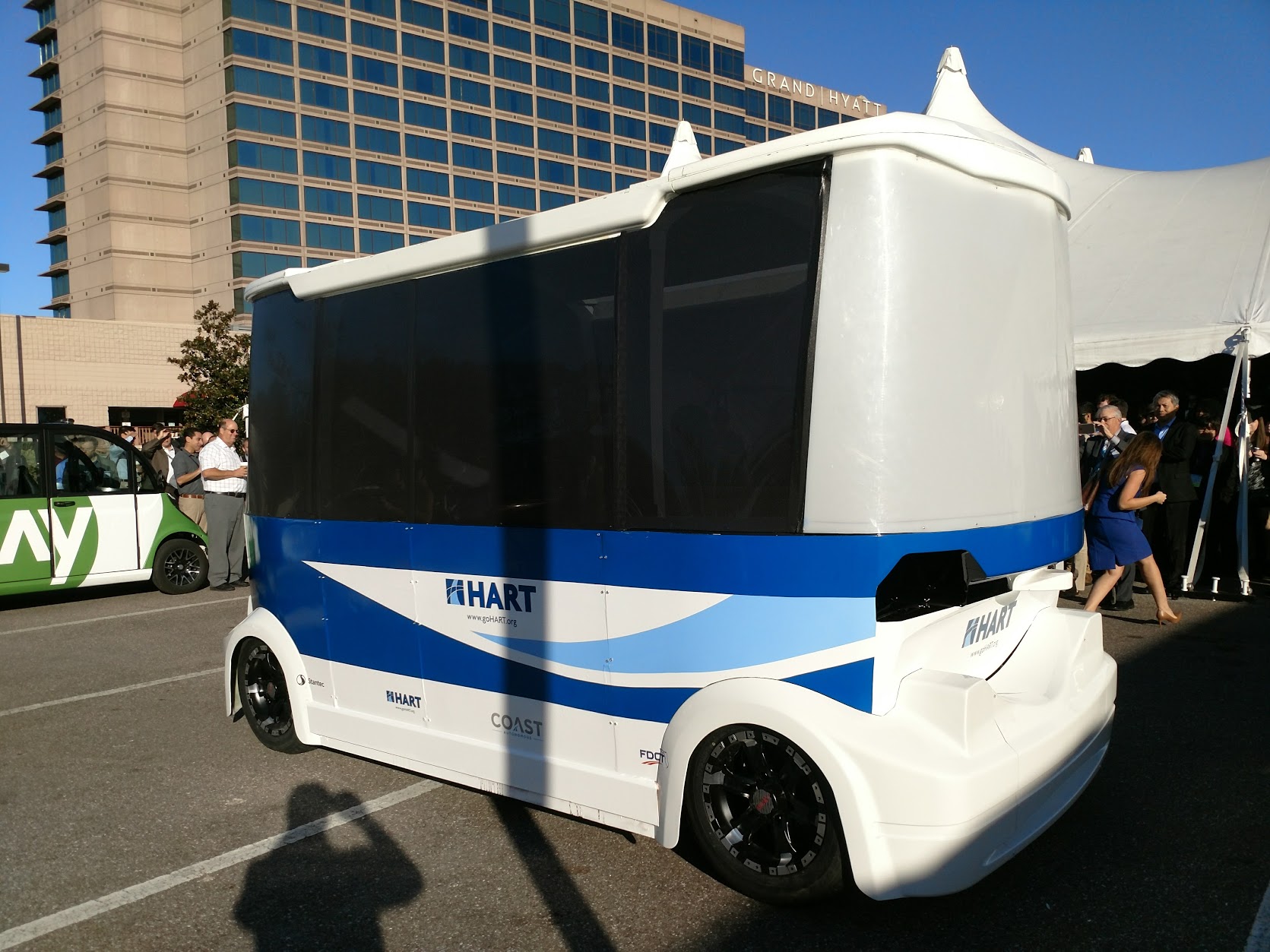 Katharine Eagan, as head of the Hillsborough Area Regional Transit (HART) Authority, is receiving praise for embracing new technologies during her three-year tenure at the Tampa Bay area's  most significant transit agency, despite a limited budget.
Now scheduled to depart the region next year for a similar job in Pittsburgh (with higher pay and more funding), the HART CEO seemed excited to unveil the agency's autonomous vehicle shuttle on Tuesday that will begin making trips in Tampa come next January.
Egan did so at the 2017 Florida Automated Vehicles Summit, taking place this week at the Grand Hyatt Tampa Bay Hotel near the Courtney Campbell Causeway.
"We have carved out that transit is not just for buses. Our buses are fabulous, but we need more tools," Egan said Tuesday morning inside a tent erected in the hotel's back parking lot. "And what better way to carve out our places here in Tampa than [being] in the front of this technology, shape how it delivers and make this investment," Eagan said.
The Florida Department of Transportation is paying for the shuttle (only for 2018 as of now) which is designed by the Canadien company Stantec. The shuttle's route will just be about a mile long, connecting the Marion Street Bus Center to the other side of downtown Tampa. It will be limited only to daytime use and will have only limited interactions with other drivers, since Marion Street is limited to other HART buses during daytime hours.
"Think about how difficult it is to train a vehicle to stop at a railroad crossing or a four-way stop. That's what we've got," Eagan said.
Other new technologies that HART has employed under Eagan's leadership includes their HyperLink program. That allows riders to book a ride through a smartphone app to and from bus stops in three designated areas and was designed to solve the "first mile/last mile" issue by picking people up from home or work and taking them directly to their nearest bus stop.
Earlier this year, HART introduced a partnership with the Tampa Innovation Alliance that added a small fleet of cutting-edge Tesla vehicles into the local market.
At the end of Tuesday's short ceremony, Eagan, state Sen. Jeff Brandes, and other HART officials officially unveiled the actual AV shuttle car that will start operations in late January, where it is expected to be available for service beginning when the NHL All-Star game takes place at the Amalie Arena.