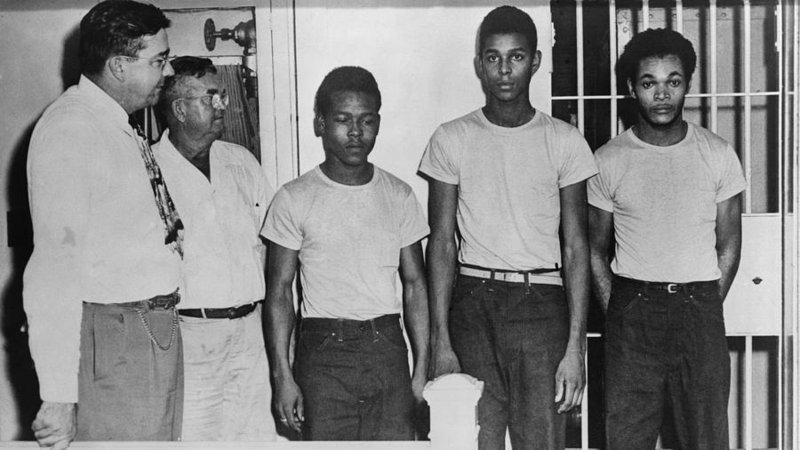 There is no pardon for the Groveland Four.
At least not yet, and possibly not in the foreseeable future, despite much celebration last spring that they deserved and should receive posthumous pardons.
The Groveland Four are the young, black men who were falsely accused of raping a white woman in rural Lake County in 1949. It was an infamous case that unraveled into a pile of racial hatred, apparent lies and reportedly manufactured evidence, all coming to light largely through the efforts of legendary NAACP attorney and future U.S. Supreme Court Justice Thurgood Marshall. But the truth began to emerge too late to save any of them from the fates suffered by so many black men in the Jim Crow era. Two were killed in custody, and the other two were wrongly [the record now shows] convicted and imprisoned.
Their story, largely unknown or forgotten even in Florida, was spread internationally by Gilbert King's best-selling book, Devil in the Grove, which won the 2013 Pulitzer Prize for General Nonfiction and awakened Florida's conscience about the matter.
Last spring, in a passionate flurry that rivaled any call anywhere for belated justice, the Florida Legislature approved a resolution apologizing to the families of Walter Irvin, Charles Greenlee, Sam Shepherd, and Ernest Thomas and urging full pardons for Irvin and Greenlee, the only two who lived long enough to be convicted and imprisoned.
The resolution declared the quartet, "were the victims of gross injustices and that their abhorrent treatment by the criminal justice system is a shameful chapter in this state's history."
"This is Florida's version of the Scotsboro Boys. This is our To Kill a Mockingbird," state Sen. Gary Farmer declared after the resolution's adoption. "We cannot change the hands of time. We cannot go back to this terrible event and undo it. But we can acknowledge our wrongs. And we can bring peace, and healing, and closure to the families who have suffered so long."
Yet seven months after the Florida Legislature passed CS/HCR 631 by votes of 117-0 in the Florida House of Representatives and 36-0 in the Florida Senate, the request it contained for pardons has vanished into bureaucracy.
And no one wants to talk about it.
Several communications by Florida Politics to the office of Gov. Rick Scott last week resulted in no response, except a referral to the Florida Commission on Offender Review, which declined to comment on Greenlee or Irvin. Neither Farmer nor state Rep. Bobby DuBose, the Broward County Democrats who sponsored the resolutions in the Senate and House respectively, responded to requests to talk about the pardons either.
"I'm not aware of anything going on," said former state Sen. Geraldine Thompson, the Orlando Democrat who first brought the Groveland Four to the Legislature's attention in 2016, in a resolution that failed that Session, shortly before she left the Senate herself.
Also not aware of anything going on is Josh Venkataraman, the young activist who carried the matter back to the Florida Legislature this year, and who, as it turned out, wound up being the one who actually filed the request for pardons.
"They [Farmer, DuBose and others including House Speaker Richard Corcoran] did an incredible job of making this happen, and really bringing the passion to it. I just don't know that they knew how to get this next step," said Venkataraman, who now lives and works in New York City. "I think the passion is still there. I just don't know if they have the answers. And, frankly, nobody does. As of this moment, the only thing I've been told is it's a waiting process."
Technically, it turned out, the Legislature demanding pardons was not the same thing as someone formally requesting pardons. That may have gone unrealized until weeks later. When he discovered there were no pardon requests on file from anyone, Venkataraman took it upon himself to write and file one in June.
At the suggestion of the office of Florida Agriculture Commissioner Adam Putnam, who as a member of the Florida Cabinet will have a final vote on the pardons, Venkataraman also wrote what is called a "Request for Review" application and submitted it to Scott's office. That's the legal document that could get the case expedited, if Scott pursues the request. Venkataraman also submitted that in June.
And that, apparently, was the last anyone on the outside has heard of the pardons requested for Greenlee and Irvin.
Kelly Corder, director of communications for the Florida Commission on Offender Review, said law mandates that any specific pardon request remain confidential. She could not discuss it.
"Investigations are processed in the order in which they are received by the Office of Executive Clemency, and maintained in chronological order based upon the original application date," Corder explained.
Think of the last scene in Raiders of the Lost Ark, when the crate is wheeled into a stadium-sized warehouse and shoved into its appointed spot.
"As of November 1, 2017, there were 22,376 pending clemency cases," Corder added.
The Florida Legislature didn't just call for their full pardons last spring. In CS/HCR 631, lawmakers unanimously urged the "Governor and Cabinet to expedite review of the cases" toward those pardons.
Corder noted that "The [Florida] Commission [of Offender Review] cannot consider an application out of order without direction from a member of the Clemency Board," which is the cabinet: Scott, Putnam, Attorney General Pam Bondi, and Chief Financial Officer Jimmy Patronis.
Venkataraman filed his request for review with Scott, and said he has not heard back. Scott's office did not respond to Florida Politics inquiry on whether he had accepted the request, or was considering it, or had any statement at all on the Groveland Four.
Irvin and Greenlee were released from prison in the 1960s. Irvin returned to Lake County in 1969 to attend a relative's funeral, but never showed up. Eventually he was found dead in his car. Greenlee died in 2012.