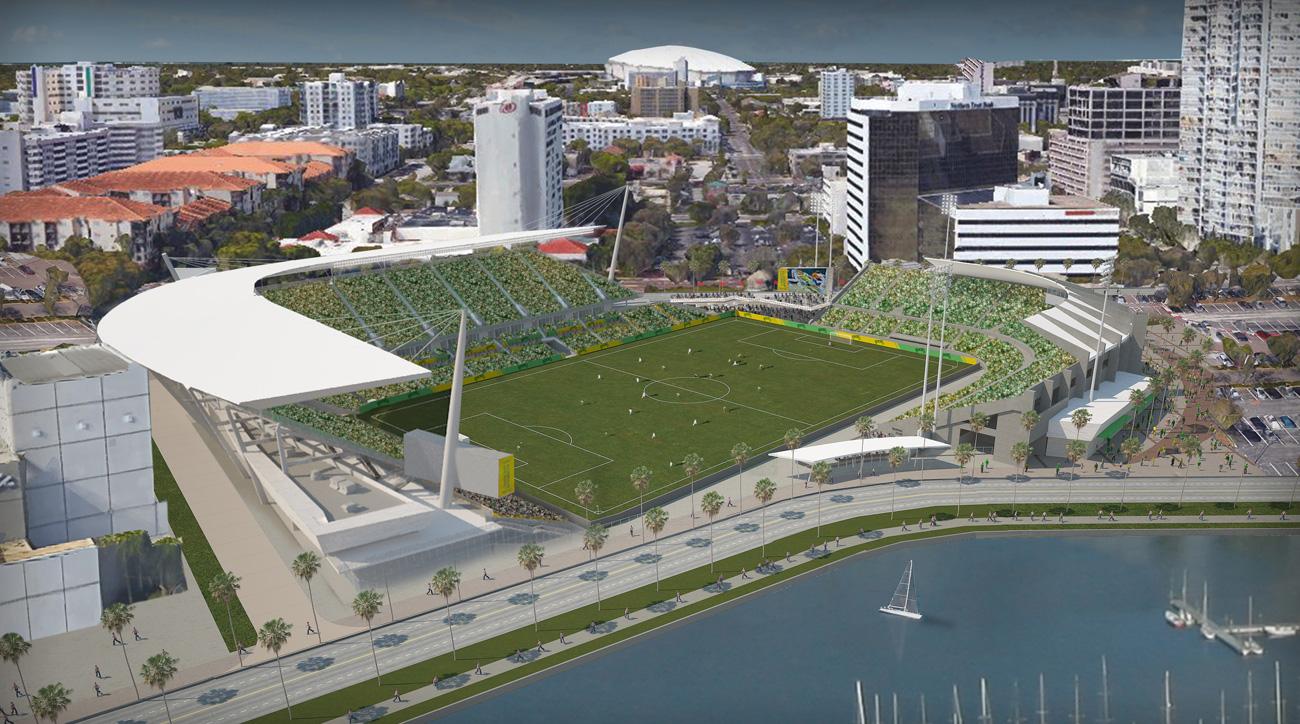 Multiple reports have surfaced showing the Tampa Bay Rowdies will be shut out in this round of MLS expansion.
Several factors are contributing to the Rowdies miss this time, when two new teams will be added. However, the Rowdies remain in contention for the next two teams, which will be announced in 2018.
According to the reports, this year's two selections will come from Sacramento, Cincinnati and Nashville. The announcement of two new MLS franchises should take place next month.
Sacramento an established front runner
The Sacramento Republic, a Rowdies' USL rival, has long been an established frontrunner in terms of MLS viability. Sitting in a top 20 TV market both in overall and Hispanic households, the club has been one of the few at the lower division level of North American soccer to consistently draw over 10,000 fans per game.
The ownership squabbles that threatened to derail the city's chances earlier this year have been resolved and now the California city sits as a clear option for MLS expansion.
Nashville has surged and is a "hot" city that MLS has logical interest in
Sometimes timing and fortune play a bigger role in this process than anything else.
Nashville is currently enjoying its day in the sun as an emerging center of culture and of soccer fandom. Supporter-owned Nashville FC was successful in the amateur ranks of American soccer, prompting USL, the co-second division in North America, to award the city a franchise.
But before that team has even kicked a ball in USL, the city could be awarded an MLS team.
This summer's US Men's National Team match against Panama in the CONCACAF Gold Cup drew over 40,000 fans and an International Champions Cup match between English giants Manchester City FC and Tottenham Hotspur FC drew over 60,000 fans.
Unfortunately for the Tampa Bay area, comparable attendances aren't on display. The US Men's team played a Gold Cup match days later in Tampa which drew only 25,000 fans and the International Champions Cup opted to hold games in Orlando and Miami instead of Tampa. (It should be noted the International Champions Cup is run by a marketing company owned by Miami Dolphins owner Stephen Ross — therefore all but guaranteeing Miami gets high-profile matches.)
The success of FC Cincinnati in attracting fans
The biggest success story in domestic soccer in recent years has been the interest generated by recent start-up FC Cincinnati (FCC).
The Rowdies got the best of FCC on the field this year, eliminating the Ohio-based second year club from the USL Cup Playoffs. However, FCC is averaging close to 20,000 fans a game, a remarkable number for a lower division team.
The Cincinnati market is not one MLS was particularly interested in prior to the team's marketing success. It would be one of the smallest in MLS and prior to the on-field start of this team in 2016, the market had very little history of success in the sport.
But FCC has surged to the front of the expansion line drawing crowds far bigger than anyone else in the lower divisions.
Questions about stadium plan
One former MLS general manager who had a new stadium built during his tenure told me earlier this past week that he felt the Rowdies stadium plan was "naive" and a "non-starter."
This former GM who spoke to me on the condition of anonymity praised Rowdies owner Bill Edwards for doing what he could with Al Lang Stadium but felt the ground would simply be too small (a capacity under 19,000) and that the configuration was not "soccer-specific" enough to thwart Tampa Bay's hopes.
The Rowdies are limited in what they can do in a congested downtown. But it is worth noting the vista provided of Tampa Bay from the stadium would perhaps represent the best TV images of a facility from the league.
St. Pete instead of Tampa
While MLS constantly talks about the need to find its teams playing in or close to downtown, some speculation has begun to surface that playing in a secondary city, which the Rowdies do and would continue to do in MLS, hurts the club's bid.
While on the surface this might be true, much of the Tampa Bay Area's media is housed in Pinellas. While St Petersburg is a longer drive than Tampa for many of the fans who'd flock to an MLS team, it is still in market.
Proximity to Orlando and Miami
Orlando has one of the most successful MLS clubs in terms of local interest. Miami remains a market that is being essentially gifted a team outside of the normal expansion process.
But geography didn't help the Rowdies bid. MLS' thinking probably should change on this as local rivalries and traveling fans are what make professional soccer around the globe much more like US college sports than North American pro sports.
A Tampa Bay-Orlando rivalry which is a holdover from the lower division days of Orlando City SC would instantly be one of the biggest MLS rivalries and a triangular "derby" including Miami also would be an instant hit.
Tampa Bay has missed out on this round of expansion but Rowdies Owner Bill Edwards remains committed to moving the team up to MLS. Considering the three solid bids described above likely represent three of the four new MLS expansion teams, the Rowdies will need to beat the rest of the competition.
Working in the Rowdies favor is a larger TV market, larger established fan base and deeper historical legacy than any of the other serious bids that could take the fourth spot.
So, not all is lost yet for Rowdies fans.