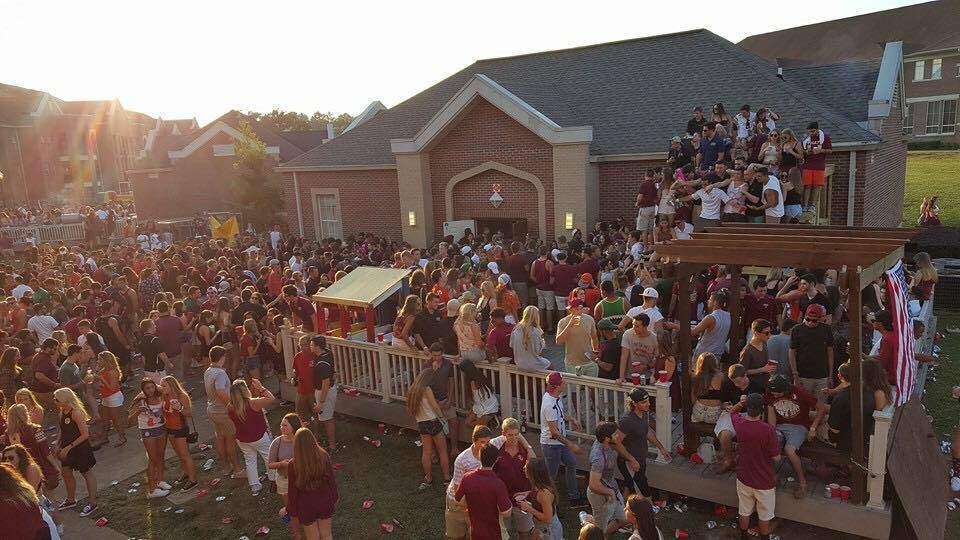 The indefinite ban on Greek activities at FSU, precipitated by the tragic death of a fraternity pledge, has two intertwined problems — pledges and excessive alcohol use.
Nearly all of the recent deaths around America that involved fraternities had two common themes — the first was they were pledges and second was the excessive use of alcohol, by those pledges.
Let's address the first issue: pledges.
Why is it that, for the most part, pledges are dying?
The simple answer is because pledges do things that a typical college student or initiated fraternity member would never do. In fact, pledges are asked, forced or challenged to do things a brother would never do to another brother.
Pledges in most fraternities are considered subservient and below brothers — second-class citizens, plebes.
That's why on Sunday mornings, pledges show up to clean the house. That's why, even after the invention of Uber, pledges provide non-drunk driving services to brothers at all hours of the day and night. That's why pledges are asked to do 5 or 10 consecutive shots of tequila, shotgun multiple beers, etc.
That's why pledges are required to spend 20 or more hours at the house under the auspices of getting to know the brotherhood or studying, when in fact they are doing tasks no brother would ask another brother to do — clean the house, do the laundry, go buy a case of beer because the fraternity cannot expend fraternity funds to purchase alcohol.
Here's what a national fraternity leader said about pledges in 1970:
"And, come to think of it, why should a bright young freshman (or sophomore, or junior) who has met the entrance requirements of his university, who has perhaps worked all summer to help finance his education, be expected to enjoy a role in which his fraternal status is second class?
"We expect a pledge to obey every rule (while actives don't); be respectful to the housemother (while actives frequently aren't); light cigarettes; carry matches; say "yes, sir; no, sir"; clean the toilets, and never say anything which offends anyone.
"In these negative ways, the pledge is 'proving' himself worthy of membership. Yet if we found a spineless person who would subject himself to such a status of semi-servitude anywhere else in society, we'd be disgusted with him.
"The problem, as I see it, is that we have been doing an excellent job of training men to be pledges … a role they will no longer have as soon as the training period is over."
Many of us experienced pledgeship and shrug our shoulders, but nowhere else in society does one man treat another man with such disdain and have it considered acceptable.
Please don't say military boot camp is comparable because becoming a brother in a fraternity is nowhere close to becoming a soldier willing to lay down his life for fellow Americans he will never meet.
Many fraternities were started in the aftermath of the Civil War and some at military academies, so the concept of a "plebe" or "pledge" was common. And when many of these fraternities were started, women and blacks couldn't vote so falling back on "tradition" and "heritage" is not a valid excuse for continuing an archaic and demeaning practice.
FSU has a chance to begin a process that places fraternities back on campus without the scar of pledgeship and provide a national model for success. And that process would involve dropping the artificial barrier between new members and initiated brothers.
Existing initiated brothers would still have 2 or 3 opportunities to deny new members brotherhood, but in all other respects new members would be treated as brothers — no new member would be asked to do something a brother would not be asked to do.
In this new scenario here are a few things that would change:
— New members would attend chapter meetings, although there could be initiated brother-only meetings.
— The pledgeship would last 4-6 weeks.
— Pledge work sessions would be replaced with chapter work sessions involving both brothers and pledges.
— Some would argue that pledge classes would lose "unity." And that is true and a laudable goal, since these artificial divisions create cliques within the fraternity — everyone should be a member of the whole, not a member of "my pledge class."
— Pledges are in no way would be subservient to active members, and discipline of pledges is handled within the same framework of laws and policies which govern all members.
— No pledge house hours.
— Pledges would have fraternity education meetings to learn about the history and how the chapter operates in new member weekly meetings.
A final thought from that 1970 fraternity leader:
"This will appeal to students who are interested in the fraternity experience but who are unwilling to subject themselves to the lengthy, immature and time-consuming activities which traditionally characterized fraternity pledgeship."
Five years from now, when everyone who was a traditional pledge is gone from FSU, this new system will not seem different. The time between now and then will be difficult since some pledges relish the idea of becoming brothers and inflicting upon new pledges that which was inflicted upon them but in time that will all go away.
The issue of excessive alcohol use can be dealt with in several ways, including but not limited to, requiring sworn law-enforcement officers replace private security companies at events where alcohol is present for fraternity tailgates, socials and formals.