The state's Senate President and House Speaker could get an indirect say over judicial appointments—including state Supreme Court justices—under legislation filed Monday.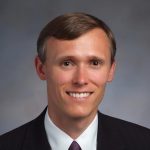 The bill (HB 753), filed by Pensacola state Rep. Frank White—also a 2018 GOP candidate for attorney general—would allow the top Senate and House leaders to appoint people to judicial nominating commissions (JNCs), the panels that recommend lawyers for judgeships.
White's bill also removes The Florida Bar from its role of recommending some JNC members, all of whom ultimately are selected by the governor.
Bar spokeswoman Francine Walker said the organization in general "opposes any changes to the current JNC process that would impair the independence of the commissions." A request for comment to White is pending.
JNCs help determine the makeup of the state's judiciary, and the GOP-controlled House long has complained about "judicial activism," even pushing a bill that died last Session that would have allowed lawmakers to override court decisions they don't like.
And Gov. Rick Scott has said he wants "judges (who) say what the law is, rather than what it should be."
Here's how it works now: When a judicial vacancy occurs that must be filled by appointment, a JNC "submit(s) three to six names of the most highly qualified applicants to the governor, who must make a final selection from the list," according to the Bar.
A judicial nominating commission has nine members. "Five members are appointed directly by the Governor, and the Bar sends nominations to the Governor to fill the remaining four spots," the Bar's website explains.
The governor must select from the Bar's recommendations, but state law allows for the governor to "reject all of the nominees recommended for a position and request that the (Bar) submit a new list."
That way, a governor can simply turn down the Bar until he gets the names he wants.
In January, Scott rejected all of the Bar's suggestions to fill vacancies in several of the state's JNCs, giving no reasons why. At the time, that made at least 90 of the Bar's recommendations for JNC openings that Scott turned down since taking office in 2011.
Nominees that Scott has rejected over the years include Vero Beach lawyer Erin Grall, now a Republican state representative, and nationally known civil-rights attorney Ben Crump of Tallahassee.
Moreover, Chief Justice Jorge Labarga and Justice Barbara Pariente were caught on a 'hot mic' talking about Supreme Court JNC members immediately after a Nov. 1 oral argument in a case over Gov. Rick Scott's judicial appointment power.
Labarga could be heard saying, "Izzy Reyes is on there, he'll listen to me," an apparent reference to Supreme Court JNC member Israel U. Reyes, founder of The Reyes Law Firm in Coral Gables and a former circuit judge. Reyes also is one of four members who was recommended to the nine-member commission by the Bar.
Under White's bill, the speaker and president would "each appoint two members to fill positions as they expire or are vacated, that previously were held by members nominated by the Board of Governors of the Florida Bar."
For example, "for selections to the Supreme Court Judicial Nominating Commission, the President of the Senate shall appoint the members for the first and third positions that become vacant and the Speaker of the House of Representatives shall appoint the members for the second and fourth positions."
When asked for comment, Scott spokeswoman Lauren Schenone said the governor "will review any legislation that makes it to his desk."