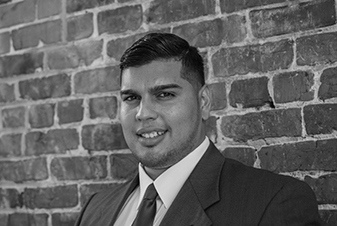 As Cesar Hernandez was finishing up his fifteen-month experience in the IE Brown Executive MBA program earlier this year, he sat down with advisers to discuss his future.
The 31-year-old Brooklyn native wanted to continue working in tech development and public affairs management, skills he has honed since graduating from USF as student body president, and then working as a legislative aide to former Tampa City Councilwoman Lisa Montelione before ultimately becoming the government affairs specialist for the Hillsborough Area Regional Transit Authority (HART).
The only problem was that most of the places to thrive in that environment are in places like Silicon Valley and the San Francisco Bay Area and other metropolia, like Pittsburgh, Boston New York City and Chicago.
Having worked to make himself a player in Tampa, Hernandez didn't want to leave the region, however. After consulting with his advisers, it was decided he should set up his own shop in the Tampa Bay area.
That's what led to the creation of Publicus, a civic innovation public affairs and strategy group.
"The way that I structured the firm is to support new concepts and ideas," says Hernandez.
The civic innovation projects he's focusing on are things like bringing autonomous ride-sharing, autonomous nautical vehicle systems and aero mobility systems to market.
The public strategy portion of the firm will work to help individuals who have already entered into the market and have new concepts like Roberto Torres, the owner of the Blind Tiger Café and Black and Denim Clothing.
"When we first started working with Robert he had a coffee shop, but now his brand is more like a millennial entrepreneur involved with economic development, so his branding is completely different, and the way that we help him with it is, straight public affairs strategy," he says, referring to recent articles on Torres that have appeared in Forbes, the Miami Herald and a segment on Bay News 9.
Hernandez already has the jargon down. He says part of Publicus' function for Torres and other clients is "enhancing the narrative."
"There's a lot of good people doing a lot of good work in Tampa, but nobody is showcasing them," he says.
Advisers at Brown were able to connect Hernandez with some investors for seed money, but the rest was up to him to raise the capital needed to create the startup.
He's not doing it alone.
Former Hillsborough County Commissioner Mark Sharpe is as an adviser with the group, while Jennifer Webb and Christian Leon are managing partners. Webb is the former director of community partnerships at USF's Office of Community Engagement and Partnerships (and is once again running for the House District 69 seat in the Legislature) while Leon runs Bitmotive, the Tampa-based IT group.
Ned Pope and Alexandra Esparza are some of the other partners in the group.
"The partners are responsible for their own clients," Hernandez explains.
Publicus' mission, he says, is to develop his firm to be able to "enhance and supplement" a new company or new concept or new "market disruption."
"We can do a community engagement component, a communications component and help them find some kind of funding and be able to navigate whatever local policy environment there may be," he says.
It's an ambitious goal, but Hernandez has never shied away from a challenge. Back when he served as student body president at USF in 2011, he once went on a 24-hour filibuster in an attempt to woo Barack Obama to speak at the North Tampa campus. The gambit didn't succeed, but it showed the aplomb that has him running his own public affairs group now.