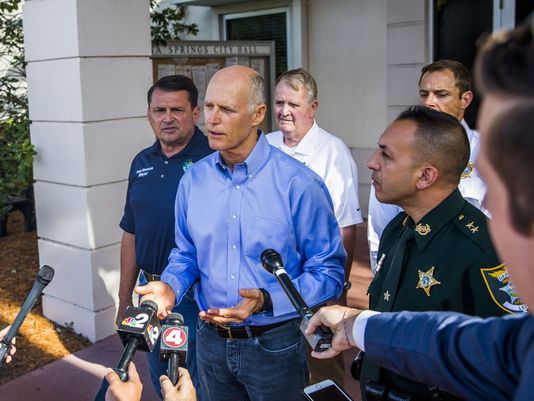 My eyebrows arched a bit when reading the Saint Leo University poll that showed Rick Scott with a 10-point lead over incumbent Democrat Bill Nelson in next year's election for the U.S. Senate.
That's not because I believe for a second that Scott will win by 10 points. As Democratic strategist Steve Schale tweeted, the last four major races in Florida – two gubernatorial, two presidential – were decided by no more than 1.1 percent.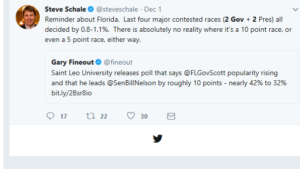 But Rick Scott has made a political career of confounding convention and beating the odds, something beating a three-term incumbent senator would complement.
We remember 2011, when a Quinnipiac poll showed Scott was the most-despised governor in the country after cutting thousands of state jobs, turning down federal money for high-speed rail between Tampa and Orlando, and taking a broadsword to public education funding.
His approval rating of 29 percent was a political pit of misery. He was despised by his own Republican Party because he vetoed many of the lawmakers' pet projects. Yet, he won re-election in 2014 and has kept a single-minded focus on creating jobs. It has worked.
In July, the Mercatus Center at George Mason University ranked Florida first for fiscal soundness in the United States. Our state was ranked 28th overall by a CNBC survey when Scott was elected in 2010, including 48th in economy.
Scott also was widely praised for how he handled preparations during the last two hurricane seasons, although the Miami Herald reported cleanup in Key West has gone slowly and some residents are still living in tents.
Scott will never bring thunderous oratory, either. As a public speaker, he remains stiff and wooden. His environmental record could become an issue as well. Under his administration, regulations to protect Florida's fragile lands have been shredded.
Even with all this, Floridians seem pleased on balance with the way Scott has done his job.
It's a cautionary tale for Democrats, for multiple reasons.
Nelson isn't the most charismatic candidate either. He was front and center with Republican counterpart Marco Rubio when Hurricane Irma was approaching this year, but a poll in October from the University of North Florida carried a serious warning for Nelson.
That survey showed an astonishing 49 percent of Floridians say they don't know how Nelson is doing as their senator. That led Michael Binder, faculty director of the Public Opinion Research Lab at UNF, to note: "When a three-term sitting U.S. senator has almost half of the sample unable to assess his job approval, you have a problem."
As always, our state will be a key player in next year's midterms and beyond. Democrats can't take for granted that Donald Trump's low approval numbers will stay that way.
They seemed to believe Scott couldn't possibly win election to the governor's mansion when he first ran. Then, surely voters wouldn't give him a second term.
How did that work out?
Scott might not really be ahead by 10 points, but by now Democrats should know better than to take any comfort in that.