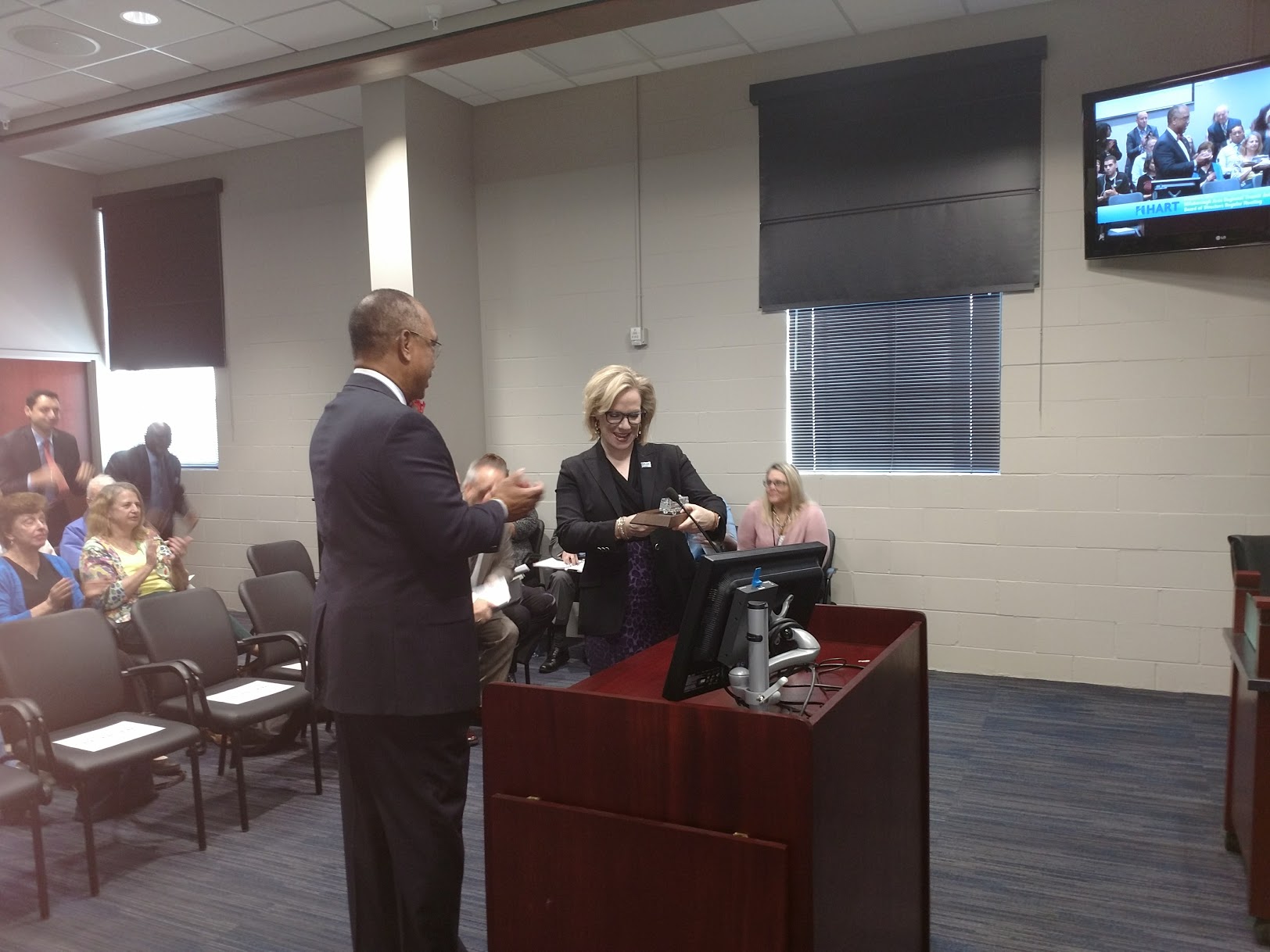 The Hillsborough Area Regional Transit Authority (HART) approved Monday the naming of Maryland-based Krauthamer and Associates to lead its search for a replacement for outgoing CEO Katharine Eagan.
Eagan will leave the agency next month after serving as HART's CEO since 2014. She's moving on to serve as CEO of Pittsburgh's transit agency, the Port Authority of Allegheny County, which has an annual budget four times the size of HART.
The selection of Krauthammer and Associates came after Hillsborough County Commissioner Sandy Murman suggested that the board might be open to hiring a consultant — and not an individual — to serve as the new CEO, saying it's been done by other big cities around the country.
Murman said HART would be moving from a traditional bus-focused agency to one that embraces all forms of transit, and that required a broad approach in thinking about the best way to succeed Eagan going into the next decade.
That prompted fellow County Commissioner and HART board member Stacy White to direct staff to prepare a Request for Proposal for firms applying to run the agency.
That suggestion received a fiery response from Tampa City Councilman Mike Suarez, who believes such an idea needed to be much more thoroughly vetted before giving the new hiring firm the power to select a consultant vs. a single candidate.
"What does that mean for our agency and what does that mean to the public?" he asked, adding that if the agency wanted to change the "traditional model" of hiring a CEO, they needed to have a much deeper conversation about the implications of such a decision.
Suarez dissent was backed up by several other board members.
"I find that committees are not the best servants for this position," said Temple Terrace City Councilwoman Cheri Donahue.
For board member John Melendez, the idea that the agency was looking at the possibility of hiring a consultant and not a single individual could chill the recruitment process. He said HART already had a challenge in finding an adequate replacement for the much-praised Eagan, and the notion that the board could go in a completely different direction could further limit its choices.
"The concept I think is something for discussion, but in the context of where we are right now, I wouldn't vote for the motion," he said, adding that an individual is "completely different" than an organization.
Murman wasn't giving up, though, saying that it was important that HART be open to the best solution for the future. If that means there was a promising candidate to go with a competing firm, "then we'll have that conversation when we get to it."
Suarez said Murman wasn't placating his concerns.
"We need to talk about us as a board making policy as to whether or not we actually want someone or an organization to run the agency," he said.
White then offered a motion that would instruct Krauthammer and Associates to accept applications from firms and to bring them to the HART board as if they were qualified individuals for the CEO position. It failed to get a second vote of support and died on the floor.
HART officials had originally listed seven different companies to choose from to lead the search to replace Eagan. Krauthammer's bid of $63,000 was more expensive than KL2 Connects in North Carolina $42,000 bid. Al Burns, the director of procurement and contracts for HART, said that while KL2 Connects was better on a pricing basis, Krauthammer had a technical superior score of over 50 points.
Eagan gave her own imprimatur of support, saying that Krauthammer had been involved in the recent hiring selections in Austin and Atlanta, and said that their price was lower than the $90,000 that the Port Authority of Allegheny County had spent in ultimately finding her to become that agency's new CEO.
The meeting was the first with the entire board together since the news broke that Eagan would leave HART for Pittsburgh, and she was given a trophy that unfortunately broke after it was handled by board chairman Les Miller as he presented it.
"Our loss is Pittsburgh's gain," he said.
"I think you've done wonders here with what you've had," added Suarez, referring to the agency's meek budget, which is lower than those of any other metro transit system in the country. "Now you're going to a system that has state funding. That's a great concept."
"We don't have a lot of powerful women CEO's in our community,"  Murman said, adding that she'll continue to be that in Pittsburgh.
"It's been, not just a pleasure, not an honor, but a defining point not just for my career but for me as a person to have this opportunity," Eagan told the board while at the dais.
The board also approved Chief Financial Officer Jeff Seward to become the interim agency head through June 2018. He'll now receive a 20 percent pay bump (from his current $150,000 salary to $180,000). Once a permanent successor is named, Seward will return to his job as CFO.