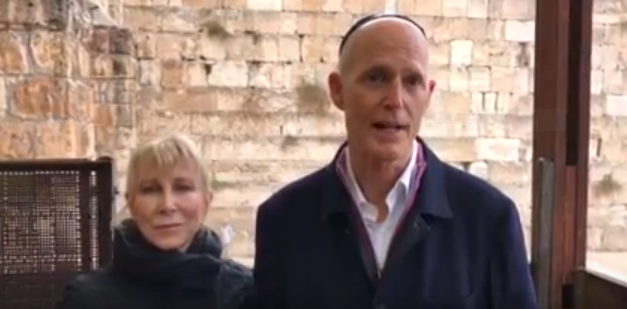 While the pundit class may gnash its teeth over President Donald Trump announcing a move of the U.S. Embassy in Israel to Jerusalem, Gov. Rick Scott stands with his "partner in the White House."
In a video released Wednesday, Scott made comments at the Western Wall.
"This is a great day," Scott said. "President Trump is going to declare that the capital of Israel will be Jerusalem, and commit to move the U.S. Embassy to Jerusalem. I stand with Israel. I stand with all the citizens of Israel. The state of Florida stands with all the citizens of Israel. This is an outstanding day."
Scott, currently on a trade mission to Israel, indicated support before leaving the state.
"As we prepare for this important trade mission, it is clear that our entire nation must also continue to strengthen this partnership with Israel. I strongly believe that the U.S. Embassy belongs in Jerusalem and I am hopeful that a decision will be made to finally move the embassy to the its rightful destination in Israel's capital city," Scott said in a press release.
Sen. Marco Rubio likewise backed the move.
"I commend President Trump for following U.S. law and recognizing Jerusalem as the eternal capital of the Jewish state of Israel. The Jerusalem Embassy Act of 1995, which Congress passed during the Clinton administration, requires the United States not only to recognize Jerusalem as the capital of Israel, but also to eventually move the American embassy to Jerusalem," Rubio said.
"Today's announcement is an important step in the right direction. Unequivocal recognition of Jerusalem as Israel's capital will be complete when the U.S. embassy is officially relocated there," Rubio added.
Some South Florida Democrats joined with Republican members of Florida's congressional delegation in also calling for the move. Democratic U.S. Rep. Ted Deutch of Boca Raton went so far as to issue a joint press release with Republican U.S. Rep. Illeana Ros-Lehtinen of Miami.
"The President's decision today is a recognition of existing U.S. law that Jerusalem is the capital of Israel and that the U.S. embassy should ultimately be located in the capital," Deutch and Ros-Lehtinen stated in their release. "There is no debate that the Jewish people have a deep-rooted religious, cultural and historic tie to Jerusalem, and today's decision reaffirms that connection. The fact is that Jerusalem – an ancient and holy city to all three monotheistic faiths – will remain the capital of the Jewish state in any iteration of a negotiated two-state solution. Today's decision does not preclude our shared goal of two states for two peoples to be negotiated between the parties themselves. Now is the time for urgent progress towards the President's stated objective of achieving a real and lasting peace."
Democratic U.S. Rep. Debbie Wasserman Schultz of Weston declared, "My longstanding view is that Jerusalem is and will remain the undivided capital of Israel, and it should remain a city accessible to people of all faiths. I strongly believe that we must continue to work toward a two state solution that achieves two states for two peoples. We must work toward a day where the entire world recognizes Jerusalem as the capital of Israel, and that can be achieved through final status negotiations. I remain as committed as ever to safeguarding Israel's future as a Jewish and democratic state, at peace with its neighbors, with Jerusalem as its undisputed capital."
Republican U.S. Rep. Matt Gaetz of Fort Walton Beach stated, "Our nation's embassy is currently in Tel Aviv, which is disrespectful, dismissive, and wrong. Moving the U.S. Embassy to Jerusalem will send the Palestinian Authority a message that their days of denying Israel's existence are over, and that they must become an honest partner in peace. I commend President Trump today for honoring our friend and ally Israel and moving the U.S. Embassy to Jerusalem — the eternal, undivided capital of Israel."