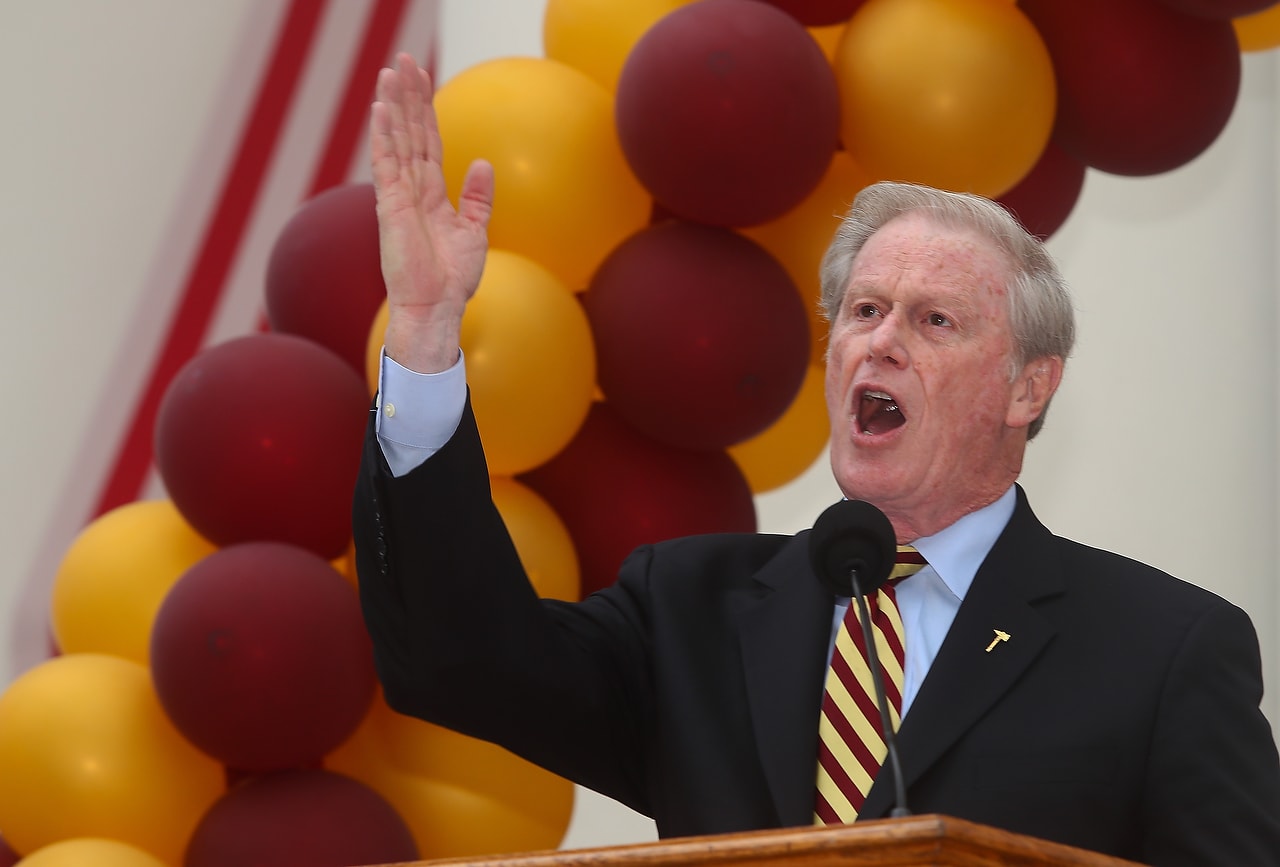 As John Thrasher begins his fourth year as president of Florida State University, he said he has changed.
In his annual "state of the university" address to the Faculty Senate on Wednesday, Thrasher likened his transformation to the students who were freshmen when he assumed the presidency in fall 2014 and who will graduate as seniors in the spring.
That's the nature of the university experience, he said.
"You can't help but grow and evolve and change," Thrasher said. "I've changed too, I promise you that. That's the transformative nature of what a university is about."
Thrasher's growth as the leader of FSU has been impacted by events on his Tallahassee campus and in the nation at large, ranging from an on-campus shooting during his first month in office to federal immigration policies.
In a little more than the past month, Thrasher, a former state House speaker, had to deal with the off-campus death of a fraternity member and an unexpected search for a new football coach after Jimbo Fisher bolted for Texas A&M University.
Thrasher said "one of the worst days" of his presidency was early last month when he learned of the death of Andrew Coffey, a 20-year-old student from Pompano Beach who died at an off-campus fraternity party.
Coffey's death, which is believed to be linked to alcohol, prompted Thrasher to suspend all Greek activity on the FSU campus while the administration, students, faculty, fraternities and sororities look for ways "to shift the campus culture."
"I believe we are on our way. And I believe we are making progress," Thrasher said, adding there will be some proposals "in the near future."
A more recent challenge was the abrupt departure of Fisher. But FSU officials quickly resolved that issue by hiring former Oregon coach Willie Taggart.

Taggart briefly appeared with Thrasher before the Faculty Senate, something that Fisher never did.
Taggart emphasized one of his top priorities would be the academic standing of his team, including making sure players attend class, earn degrees and get jobs.
Taggart, a native of Manatee County, joked that he never could get into FSU as a student or a football player.
"Now I get to run the football program. I found a way to get in here," he said.
National events have also guided Thrasher's presidency, including the debate over the Deferred Action for Childhood Arrivals program, which gives undocumented immigrants who came to the country as children the opportunity to work and study in the United States.
Thrasher strongly defended the so-called "Dreamers" program in his speech last year, and he told faculty members on Wednesday "that my position hasn't changed one iota."
Prompted by what Thrasher called "a display of racism and intimidation by white supremacists" in a protest over a Confederate statue in Virginia in August, he created an advisory panel at FSU to review official naming policies and recognitions on campus.
Thrasher, a former chairman of the Florida Republican Party, said some people "occasionally ask me why I weigh in on these kind of issues."
"I tell them the truth. It's not about politics for me," Thrasher said. "These matters affect real people, including members of our Florida State University family."
"I will continue to speak out against anyone or anything that attempts to divide us based on our differences, whether it's race, religion, ethnicity, national origin, sexual orientation or gender identity," he added.
Thrasher also used his annual address to highlight key achievements for FSU in the past year.
He said the "most tangible" sign of FSU's rise as an academic institution was moving to No. 33 on the annual U.S. News & World Report rankings of public universities. That represents an improvement of 10 spots over the past two years, the largest improvement among any of the top 50 schools, Thrasher said.
He said FSU is on its way to becoming a top-25 institution.
One key to improvement is the faculty, with Thrasher announcing the school plans to hire 125 new faculty members in addition to other hires that will occur as professors retire or move to other institutions.
"This is the single largest hiring initiative in our history, and it is one of the most important things we can do to increase our success," he said.
Thrasher also said FSU is doing well in its "Raise the Torch" fundraising drive, which has a goal of $1 billion. He said the campaign, which will announce its total next September, will end up with an amount "that will amaze you."
"I have no doubt that 2018 will again bring some challenges," Thrasher said, noting he didn't even talk about dealing with Hurricane Irma in September. "But we also will have more opportunities for even greater accomplishments."