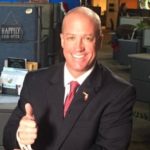 Seminole Mayor Leslie Waters is backing Nick DiCeglie in his bid for House District 66.
DiCiglie, who has been Pinellas County Republican Party Executive Committee chair since 2014, is seeking the seat of state Rep. Larry Ahern, a Seminole Republican term-limited in 2018. He is facing Berny Jacques in the GOP primary.
"Nick will bring to the Florida House of Representatives, great business and leadership skills," said Waters, a former Speaker Pro-Tempore of the Florida House. "I know he will be a serious and conscientious legislator, who will represent the interests of business, education and families of House District 66."
Waters is a Gulfport native who has lived in Seminole since 1979; she served in the House between 1998 to 2006, with her last term as Speaker Pro-Tempore. A graduate of Boca Ciega High School, Waters received her bachelor's and master's degrees from Florida State University. She is also founder of Leslie Waters Government Relations consulting firm, and works as an adjunct professor of political science.
"I'm honored to have the support of a leader like Mayor Leslie Waters," said DiCeglie. "She's had success in business and been a dedicated public servant to our community at both the state and local level for many years. Mayor Waters and I share the same conservative values and vision for the future of Pinellas county — I'm glad to have her on our team."
Since announcing his HD 66 campaign, DiCelgie — who has owned Solar Sanitation, a Clearwater-based trash removal and recycling company, since 2001 — raised more than $60,500 through Oct. 31, according to the Division of Elections website. He has nearly $58,000 in cash-on-hand. Jacques, his opponent, has been raising funds since March, and has collected just under $87,000 through Oct. 31, with $70,000 on hand.
In addition, Jacques — by way of "Protect Pinellas," his associated committee — raised $42,000 through Nov. 30, with a little more than $35,000 on hand. For the month of November, Jacques' campaign announced raising a total of $24,025, with $10,000 coming from Protect Pinellas and $14,025 raised in his campaign account.
DiCelgie moved to Florida in 1996, and is now living in Indian Rocks Beach with his wife Erica and their two children, Livia and Carlo. He is active in the community, serving two terms as chair of the Clearwater Regional Chamber of Commerce. He also served as a gubernatorial appointee on the Tampa Bay Regional Planning Council and as a member of the Indian Rocks Beach Planning and Zoning Board for six years. DeCelgie, named an Up & Comer by the Tampa Bay Business Journal in 2011, is also a member of the Pinellas County Economic Development Council.