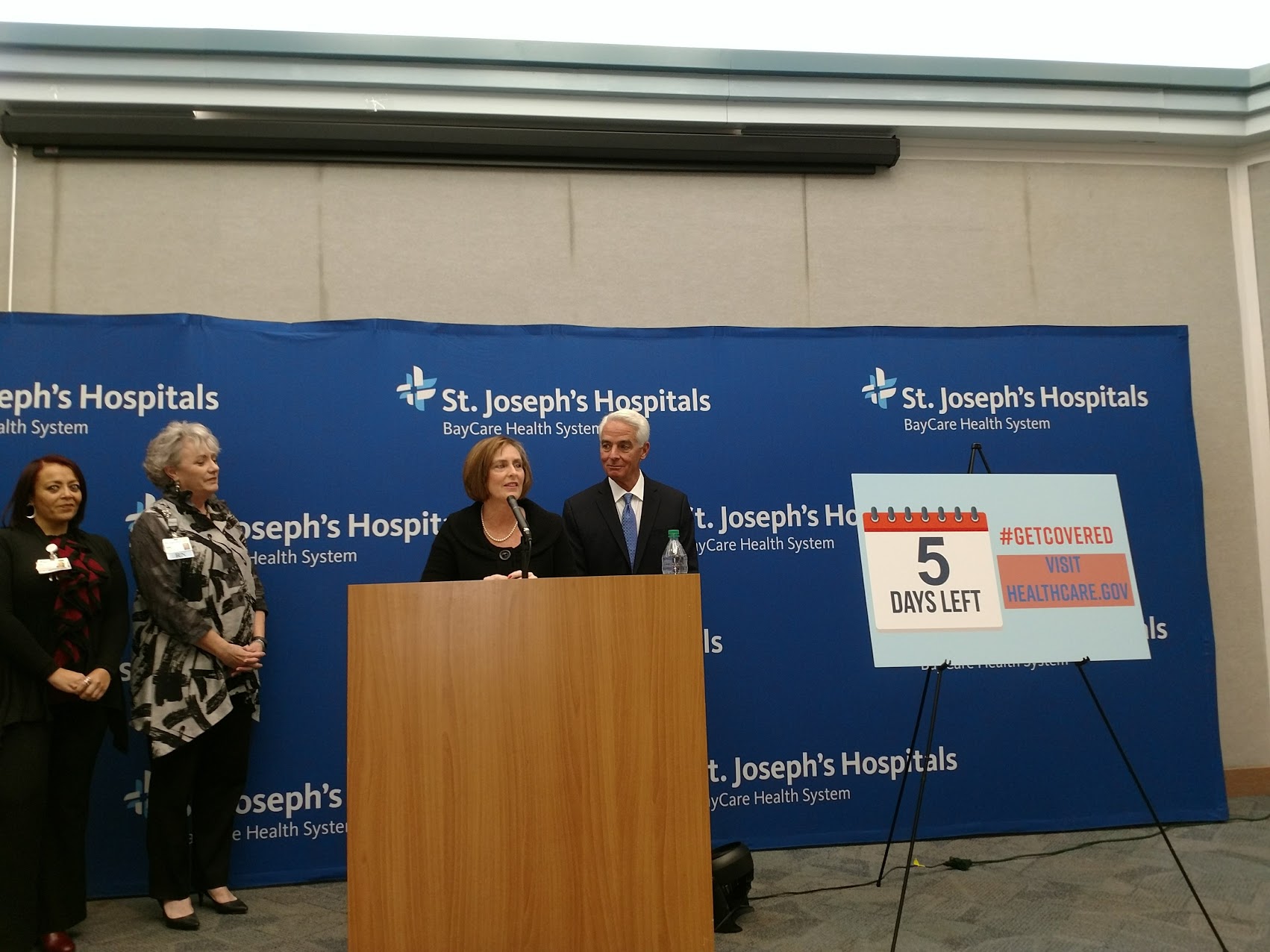 With just four days left before the 2018 Affordable Care Act sign-up deadline, the Tampa Bay area's two Democrats — Charlie Crist and Kathy Castor — met Monday at St. Joseph's Hospital in West Tampa to get the word out before they head back to Washington.
"Time is short," said Castor, repeating her frustration that the sign-up period for Obamacare this year was cut in half, from 12 weeks to six.
The administration also cut the advertising budget for Healthcare.gov by 90 percent, eliminated 40 percent of federal grant money to enrollment assistance groups and advised regional health officials to not participate in sign-up events sponsored by outside groups, all of which led to complaints by Democrats that the president was trying to "sabotage" the program.
Yet those moves were barely mentioned at Monday's press event, though Crist did call the reduced sign up period "a shame, and unfortunate." Instead, the lawmakers concentrated on the positive aspects of getting signed up to the ACA.
"Do not listen to the folks in Washington who say the ACA is dead. It's not true," said Castor.
Over 800,000 Floridians have signed up for the program since Nov. 1, again leading the nation in new enrollees.
Elsa Rodriguez has been signing up new enrollees to the ACA since it was inaugurated in the fall of 2013. She acknowledged that the ACA didn't roll out smooth when HealthCare.gov first went live that year, but says it's "come a long way" since.
More than a million Floridians have signed up to the ACA with past four years, but the controversy over the plan remains, with critics seizing on the fact that premiums continue to rise nearly every year.
Most consumers who signed up for coverage on the ACA exchange were protected from premium increases because the health law ensures that those who earn up to four times the federal poverty level — about $48,000 a year for an individual or $81,000 for a family of three — never pay more than 9.5 percent of their annual income for premiums.
In Florida, ACA exchange rates for 2018 coverage rose by 45 percent on average. Most people on the program do get subsidies, but those who don't have to eat those prodigious increases.
It's also saved some people's lives, like Kevin Lang. He signed up for the ACA this past January after being diagnosed with Stage 4 advanced prostate cancer, where he met with Rodriguez to inquire about coverage through the ACA. Three months later he was diagnosed with colon cancer. But he said on Monday that he never felt better, despite his grave prognosis.
Lang said he's only had employer-based insurance a few times in his life, and said he thought he was too poor to ever qualify for any insurance plan before he learned about the ACA.
"It's just incredible what you guys have done for us, so thank you. You guys have saved my family and given us life when we didn't think we had any," said Lang's daughter Jessica while looking over at Rodriguez.
While attempts to repeal and replace the Affordable Care Act failed in Congress this year, the program is still under threat from the recently passed GOP tax reform plan that is about to go through conference.
Both the House and Senate versions of the bill include a repeal of the individual mandate provision of the ACA, which calls for a tax on people who don't buy health coverage to help make up the cost of care for the uninsured.
Maine GOP Senator Susan Collins says that Senate Majority Leader Mitch McConnell has promised her that in exchange for her supporting the GOP version of the bill, he would allow a vote on two other health bills.
One would reinstate payments to insurers to cover discounts that the ACA requires those insurers to provide to their lowest-income enrollees for out-of-pocket costs, a provision that President Donald Trump ended in October. The bill that Collins supports would extend the payments for two years.
The other bill she supports (co-sponsored by Florida Democrat Bill Nelson) would provide temporary funding for reinsurance pools, which help insurers pay claims for the sickest — and most expensive — customers. Reinsurance would help bring down premium costs for everyone else.
Whether those two bills find their way into the final version that will go through a conference is yet to be determined.