Democratic gubernatorial candidate Gwen Graham, a former member of Congress herself, on Friday attacked U.S. Rep. Matt Gaetz for his campaign to get the FBI investigated and to halt the bureau's investigation of President Donald Trump, then challenged her Republican rivals to state their positions.
Graham, of Tallahassee, took to Twitter first, calling out, "Matt Gaetz, what are you so afraid of?"
Gaetz, a Fort Walton Beach Republican, has been one of the leaders in a Republican congressional effort to both get an investigation of how the FBI looked into Hillary Clinton allegations of misconduct last year, and to get Special Counsel Robert Mueller fired for what Gaetz and the other Republicans in the effort contend has been a partisan, biased "witch hunt" investigation of alleged connections between Trump, his election campaign team, his White House staff, and Russia.

"Calls to fire him undermine the fundamental rule of law," Graham tweeted. "The special counsel and DOJ must be allowed to investigate – even the president – without partisan interference."
Gaetz office did not immediately respond to an inquiry about Graham's tweets.
She then went after Florida Agriculture Commissioner Adam Putnam and House Speaker Richard Corcoran. The former is the leading Republican candidate in the governor's race, the latter a likely major candidate. That included a mash-up picture of Corcoran and Putnam standing with Gaetz, who stands behind a podium with a Trump campaign sign.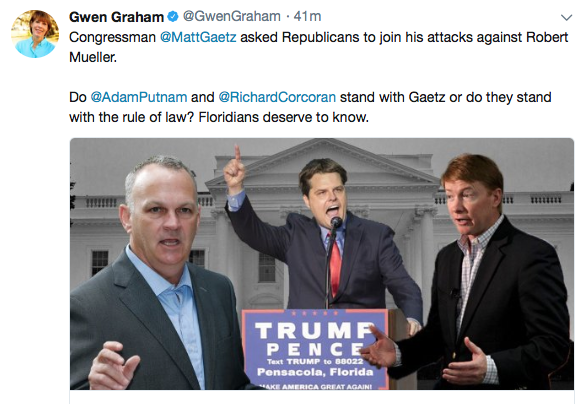 "Congressman @MattGaetz asked Republicans to join his attacks against Robert Mueller. Do @AdamPutnam and @RichardCorcoran stand with Gaetz or do they stand with the rule of law? Floridians deserve to know," Graham tweeted.
In a press release her campaign then put out, Graham also went after another potential major Republican gubernatorial candidate, U.S. Rep. Ron DeSantis of Ponte Vedra Beach. Both Gaetz and DeSantis flew with Trump to Pensacola last week and joined him at a campaign rally there which, in part, was aimed at supporting Roy Moore in the neighboring Alabama U.S. Senate race.
"Today Congressman Matt Gaetz called on his Republican colleagues to join him in a partisan campaign to fire Special Counsel Robert Mueller. Floridians deserve to know, do their leaders stand with Gaetz or with the rule of law?" Graham stated in the news release. "Adam Putnam and Richard Corcoran won't be able to hide from the president and his connections to Russia forever — they must answer whether or not they stand with Matt Gaetz against Robert Mueller."