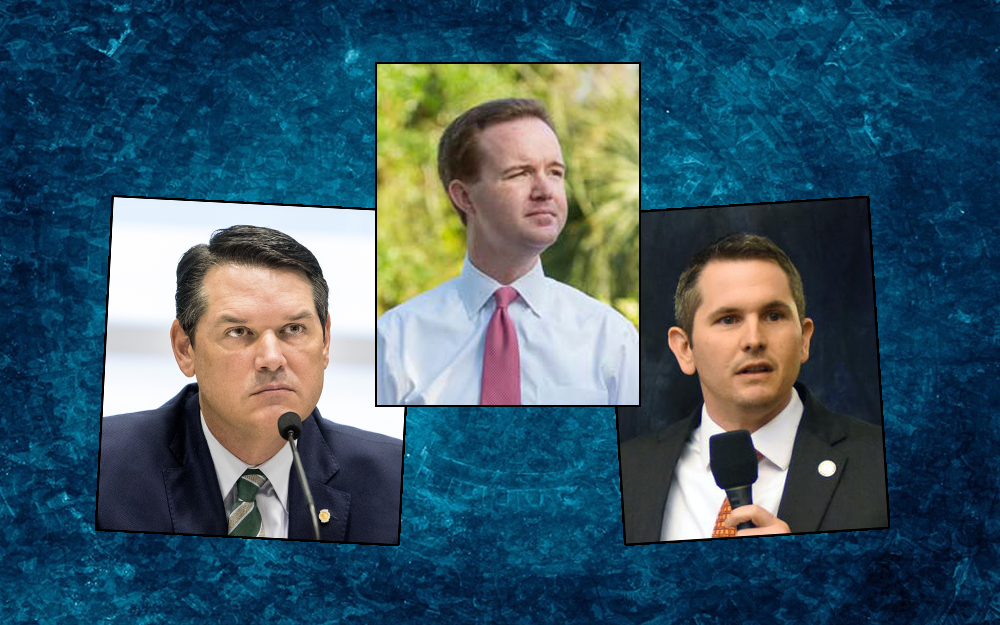 In 2016, Cord Byrd, Clay Yarborough and Jason Fischer overcame competitive GOP primaries to win nominations — despite powerful interests and strong candidates going against each of them in the process.
The general elections, in each of their districts, lacked drama: all three beat write-in candidates, garnering over 90 percent of the vote.
We asked the three Republicans to evaluate the working relationship of the Duval Delegation headed into the 2018 Legislative Session, their own personal priorities for the 60 days, as well as getting their thoughts on working with City Hall throughout the process this year.
All three of them believe that the delegation is in sync.
Byrd — a Republican whose district includes the Jacksonville beaches along with Nassau County — asserted that "the delegation works very well together and I consider us all friends. I cannot think of an issue where our priorities for improving the quality of life for our constituents do not align."
Yarborough, whose Southside Jacksonville district encompasses the areas he represented on the City Council, asserted that "we saw some good work the past year."
"Ali Korman Shelton with the Mayor's Office approached us with a couple ideas that I know we worked on," Yarborough said, noting his own work on getting pedestrian safety measures into the budget.
A bill to get new crosswalk countdown heads that Yarborough carried was vetoed last year; however, he intends to carry that again.
"We've had a lot of issues with pedestrians getting hit where local and state roads come together," Yarborough said. "The state has some skin in the game there and it needs to put some money in place to help with that."
"It's been a good working relationship and collaboration among the freshmen," Yarborough noted about the Duval Delegation being "on the same page with priorities."
"I think that will continue," Yarborough said.
Fischer, who represents Southside Jacksonville from San Marco south to Mandarin, likewise was optimistic.
"I think everyone is focused on and committed to helping Jacksonville and the Northeast Florida region. There are differences of opinion at times," Fischer said, "but when it comes to big picture stuff, I think we put aside our differences and focus on helping people."
The legislators also discussed, at some length, their priorities for 2018.
"One of my legislative priorities is hurricane relief and preparedness. Two hurricanes in two years impacted many families throughout the district," Byrd said, "and not just along the coast.  Many people are still waiting for relief. Cutting through the red tape to provide relief more quickly now and in the future is a priority. Coastal hardening to protect our natural resources is also a component of this effort."
Among the bills Byrd is carrying this Session: an ask for $2 million for coastal hardening in Jacksonville Beach.
"Working with the veterans in our community is also a priority. There is a lot of work that needs to be done for them and I know that the Mayor and Governor share my concerns that we can do more to ensure that Florida is the most veteran friendly state in the nation," Byrd added.
"I am also really excited about the economic growth and opportunity that North Florida is experiencing.  Keeping taxes and regulation to a minimum will help this effort," Byrd continued.
Fischer also spoke to the importance of "tax relief" for "citizens and businesses."
"If we can cut taxes again this year, we can keep our economy growing," Fischer noted.
"After we secure a tax cut, my next priority is to shift money from some areas I think are wasteful spending and push it into roads, bridges, and other vital infrastructure."
Yarborough noted a couple of priority bills he's carrying.
"One is a bipartisan effort that I'm doing with Rep. Nick Duran," Yarborough noted, a revamp of the cancer drug donation program to the prescription drug donation program.
"It allows drugs to be reused if they haven't been opened … or compromised," Yarborough said. "The current state law says we can do that with cancer drugs," but the revamp would allow for a "wider range" of people to be helped.
Yarborough is also carrying a bill that would allow law enforcement to use drones to investigate crime scenes after crimes have occurred, for evidence collection after an accident scene.
The three legislators also evaluated their working relationships with the office of Jacksonville Mayor Lenny Curry — which made a high-profile add at chief of staff in Brian Hughes.
Fischer — who employed Hughes as a political consultant during his 2016 campaign — was excited by the hire, and by his continuing relationship with the Curry administration.
"I have a great relationship with Mayor Curry and I think he is doing a phenomenal job. He's not just a constituent, he's a personal friend," Fischer said.
"The addition of Brian Hughes is a force multiplier for the city. If you want to build something that lasts," Fischer said, "hire Brian Hughes."
Yarborough likewise is optimistic, not anticipating any change in the ability to get local priorities through. He noted that Ali Korman Shelton — the city's intergovernmental affairs liaison — has been his point of contact, and he anticipates no change there.
Byrd likewise sees the status quo being maintained.
"I do not anticipate any changes in working with the Mayor's office. The City has always been responsive to my requests and ensuring that the Duval portion of District 11 is in the City's plan for growth and prosperity.  The budget this year was already going to be tough and was only made more challenging by Hurricane Irma. Everyone should be prepared for tough budget negotiations regardless of any changes in the Mayor's office.  In my conversations with fellow members of the delegation I know we are ready for the budget battle," Byrd said.