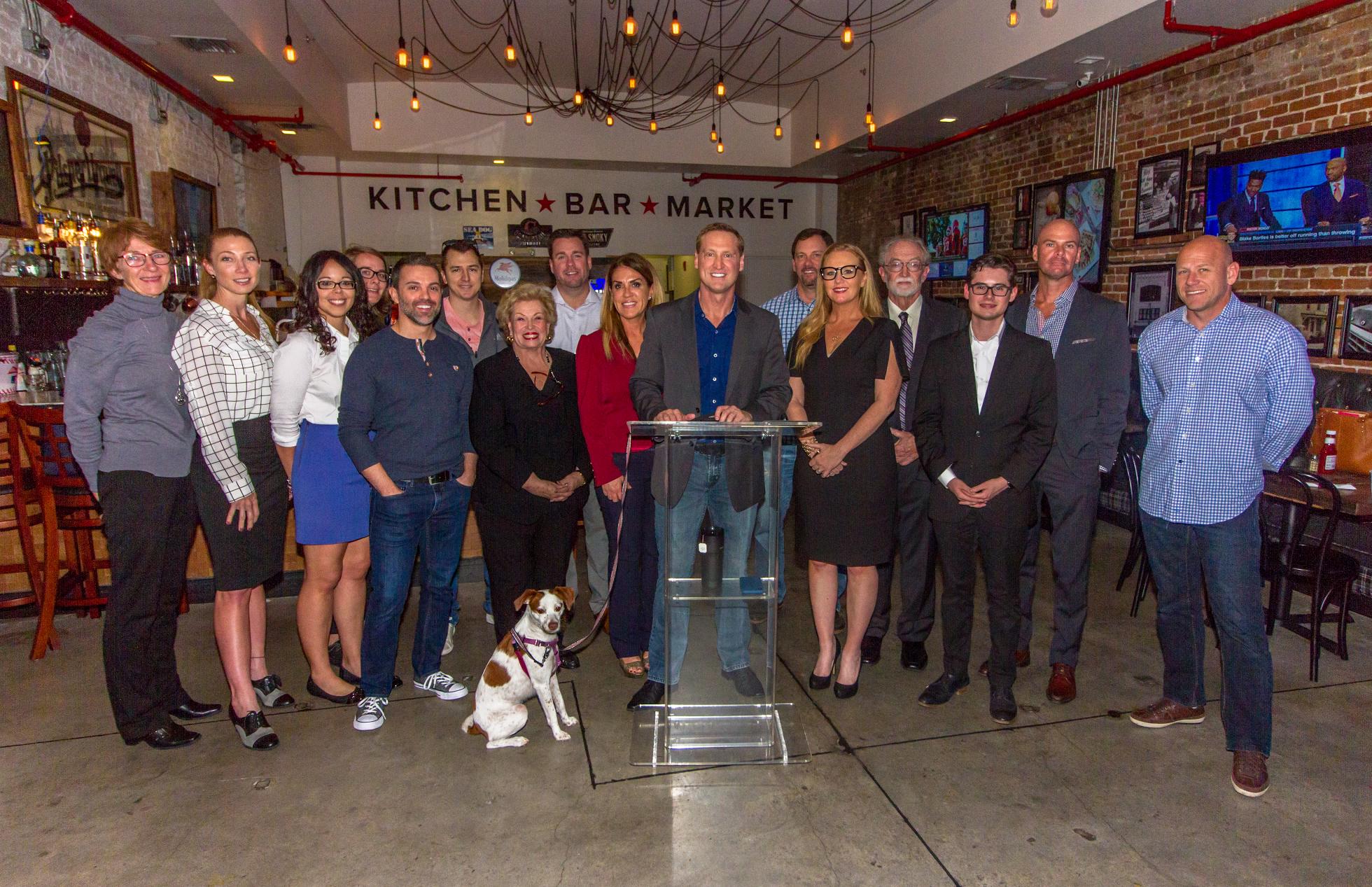 Saying he's proud to be the underdog in the race, Topher Morrison is running for Tampa mayor, becoming the second candidate to declare for the March 2019 elections.
Morrison made the announcement Monday at the 1895 Kitchen-Bar-Market on Franklin Street (the oldest building in downtown Tampa), speaking at a podium literally backed by friends and other small-business people.
The 48-year-old Tampa small-business owner acknowledged lacking the financial resources of some candidates who will enter the race but hopes to get the financial support of the small business community in Tampa to fuel his run.
"I want to ride on the shoulders of every small business owner in the Tampa area, " he said. "I'm not going to get the big funding dollars. I'm not as fortunate as David A Straz Jr. … that I can just bankroll and buy the election."
Straz is another Tampa businessman possessing no political experience who is flirting with entering the mayoral contest. He said last month he will decide sometime in the coming months.
A native of Spokane, Washington, Morrison fell in love with the people of Tampa while on a three-day vacation in 2000; he moved to the Cigar City three weeks later.
Morrison said there are three main issues to fix in the city: transportation, the city's lack of a "brand identity" and improving relations between Tampa and Hillsborough County.
On transportation, Morrison thinks he can create a plan that allows Tampa — and not Hillsborough County — to direct its own future, a stance not usually taken by local lawmakers (one reason being that state law only permits counties, and not cities, to place tax referendums on the ballot).
While Morrison supports a multimodal approach to transit, he also showed his idiosyncratic approach by calling for an app from the city — created by the tech community — to encourage carpooling from Tampa to St. Petersburg.
"Why can't the city of Tampa create an app that allows us to carpool and generate revenue for the city and also those individuals?" he asked. "Just because it's hard doesn't mean that it's not possible."
Morrison believes that in solving problems, the private sector can work more efficiently than bureaucratic government. He said small-business men like himself "eat the impossible for breakfast every day," which doesn't happen in bureaucracies.
"If you start asking how much things cost and why it won't work, well that's a surefire way to get it stopped. Too many people focus on the how. You need to focus on the who first."
The city can't have a "timid" mayor who only pushes for things that he (or she) knows they can get passed, Morrison added.
"We need a brave mayor, one who's willing to go for the impossible," he said. "And I don't think that the impossible can be done by bureaucracy and career politicians."
That said, Morrison was quick to compliment Bob Buckhorn, who still has more than a year to go before being term-limited from office.
"I'm a fan of Bob," he said. "I think he's done an exceptional job for our city and I hope I can continue his legacy and his vision and carry that forward."
Asked if there was any policy that he took issue with the current mayor, Morrison said that he only wished Buckhorn had been more enthusiastic about the Cross-Bay Ferry pilot project that ran last fall and winter from Tampa to St. Pete. It was a project Morrison said he loved.
Tampa invested $350,000 into the project, and Buckhorn's decision not to repeat that subsidy this year was a factor in the public-private partnership opting not to continue the pilot project forward.
Morrison provoked some controversy on his own Facebook page last month, when he posted a comment the Saturday before Christmas about three dozen homeless people in Gaslight Park "making it completely inaccessible to functioning, taxpaying citizens whose money goes to politicians that make the park so beautiful, but do nothing to keep it beautiful by offering better solutions to the homeless."
Morrison, who lives at the Element in downtown and whose business is just blocks away, says he sees and interacts with many of the same homeless people on a daily basis. He was "confused" why there was so much focus on giving food and clothes to the homeless, but not actually giving them housing.
"Right now, I think what we're doing is making it far too easy for the homeless to be homeless. You give them all the food they want. You give them all the clothes they want, what incentive do they have to work? It makes it very easy to make them homeless," he said.
Morrison also believes the city of Orlando did a great job with their "housing first" approach.
As a professional speaker for over 30 years, Morrison is the founder of the Tampa-based firm, Key Person of Influence, USA. KPI-USA is a business accelerator and personal branding program. He is also a best-selling author of multiple business books.
Compared to former Police Chief Jane Castor and current council members Mike Suarez and Harry Cohen (all of whom are contemplating entering the mayoral race), Morrison is a relative unknown in Tampa politics. It is something that he says he's fully aware of, which explains his relatively early entry into the contest.
Morrison's fresh approach to politics has trickled down to his staff; he hired former Tampa Hillsborough Film Commissioner Dale Gordon to serve as campaign manager. It's a job that Gordon never held before, though she has plenty of experience working with lawmakers in her previous career.
Unlike Straz, Morrison didn't vote for Donald Trump in 2016. But at the conclusion of the news conference, he gave his own thoughts on what people might have been looking for when the Republican nominee won the Electoral College, and what has occurred since then.
"I think we were looking for leadership that embraced politically incorrectness, and people got political inappropriateness," Morrison said. "I want to be politically appropriate, but I don't want to be politically correct."
Morrison is the second candidate to file for office, though it's questionable how credible is the candidacy of Michael Anthony Hazard. He's a Brandon citizen who announced his candidacy last spring, yet has yet to raise a single dollar in the race.