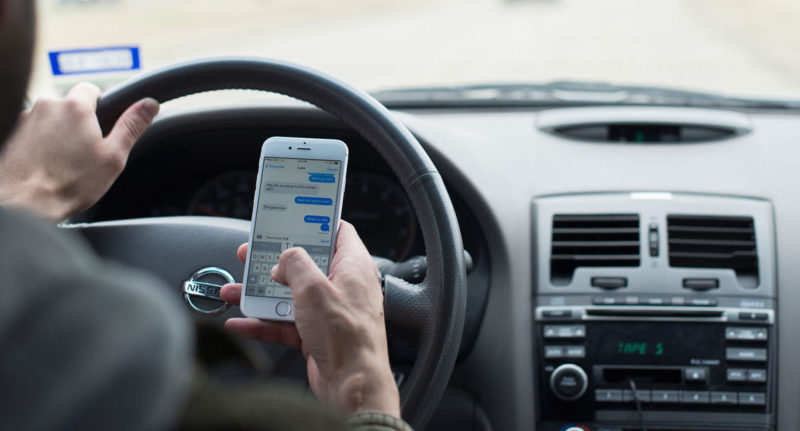 Florida police may finally be able to pull over and ticket drivers caught texting while driving—without first seeing another infraction—under a bill advanced by a Senate committee Tuesday.
But first, several black lawmakers registered concerns over how the bill could lead to potential police abuses.
Sponsored by Gainesville Republican Keith Perry, the bill (SB 90) was cleared by the Senate Appropriations Subcommittee on Transportation, Tourism & Economic Development.
Currently, Florida is one of only four states that do not list texting as a primary moving violation, which can trigger a traffic stop. Previous attempts to make texting a primary violation have stalled in the Legislature, but this year the bill has support from House Speaker Richard Corcoran.
Senators on the committee approved an amendment by Fort Lauderdale Democrat Perry Thurston that would require law enforcement to track data of who is being stopped for driving while texting.
That prompted Jacksonville Democrat Audrey Gibson to offer another amendment requiring Florida motorists to drive only with hands-free cellphones. The committee voted down that change. Fifteen states have such laws.
"I'm just so over watching young people getting stopped. I'm so over us taking a risk that things will escalate when we can avoid that," Gibson said.
Perry said he didn't disagree with Gibson but doesn't believe that provision could make it through the Legislature.
West Palm Beach Democrat Bobby Powell described how he has seen firsthand black motorists pulled over for something "suspicious," escalating into a much more serious issue.
Powell says to this day he feels uncomfortable when a police officer follows him, despite the fact he now serves in the Florida Legislature.
Thurston ultimately supported the bill but said the committee—and the public—need to know how difficult it was for him to back it.
Distracted driving is a serious problem, he said, but "if you're just concerned about that, you're not in a community where there are other concerns."
Panama City Republican George Gainer, clearly moved by his Democratic colleagues, said he realized that passage of the proposal could create other problems.
It was the responsibility of the Senate to address the issue of unfair targeting of specific motorists, he added: "I hate to hear some of those reports, and I hate to feel like some of our lawmakers in our state are going through these feelings."
In closing, Perry cited stark statistics about the dangers of distracted driving. Quoting information from the National Safety Council, he noted cellphone use while driving leads to 1.6 million crashes annually; nearly 330,000 accidents occur each year due to texting while driving; distracted driving causes one out of four car accidents in the U.S.
"The emphasis on this bill is not to pull people over," Perry said. "It's not designed to give people tickets to raise money. It's designed to change behavior."
Samantha Sexton of the Personal Insurance Federation of Florida (PIFF), a member of the FL DNT TXT N DRV Coalition behind the proposal, praised the bill's passage in a statement Tuesday:
"PIFF members commend the Florida Senate for aggressively working to reduce the number of distracted drivers on Florida roads. Texting and driving is a dangerous practice that puts everyone on our roads at risk.
"Texting and driving is not worth the danger it poses, and we hope Florida drivers will respond well to this new policy – as they did in 2009 with the seatbelt law – when law enforcement gains the ability to issue a citation for this practice as a primary offense."
A companion measure in the House (HB 33), sponsored by Tampa Republican Jackie Toledo and Delray Beach Democrat Emily Slosberg, is advancing in the Legislature's other chamber.