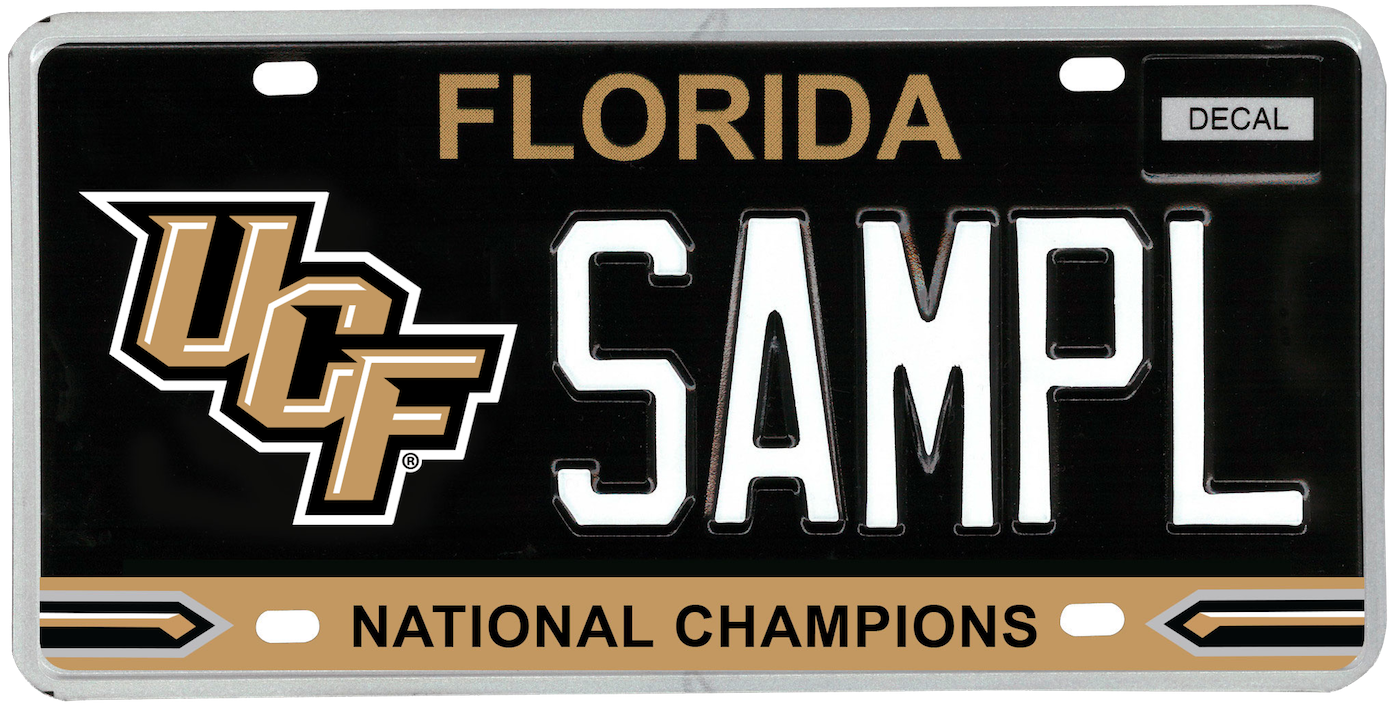 Specialty license plates supporting Orlando City Soccer and declaring the University of Central Florida Knights as the National Champions got approvals Tuesday from the Florida House Transportation and Infrastructure Subcommittee.
The soccer plate was approved under House Bill 1263, seeking specialty plates for what sponsor state Rep. Mike Miller of Winter Park noted was the only major-league professional sports franchise in the state that fans can't yet tout on their license plates. The subcommittee had no issues with the proposal and voted the bill through by an 11-0 vote.
The UCF National Champions declaration is merely a revision to the existing UCF specialty plate, and it comes in a broader specialty license plate reform bill, House Bill 1359, that provided all sorts of ramifications. Though there were concerns raised about the fact that UCF didn't actually win a national championship and the plate therefore, in the words of state Rep. Matt Willhite, is "misrepresenting the actual, true outcome nationwide," that bill was passed overwhelmingly, 12-1, with the one nay vote having nothing to do with UCF.
The result is both of the plates' designations proceeding to the next stops.
The license late reform bill, HB 1359, offered by state Rep. James Grant, the Tampa Republican, does a number of things, including setting a maximum of 125 specialty plates for Florida, creating a "relegation" system to discontinue the lowest-sales specialty plates in favor of newly-approved plates, and adds several new plates to the mix, including one for Bronze Star winners, and one for his alma mater, Auburn University in Alabama.
Grant made the Auburn proposal last year, only to see it stripped out of the bill at its last stop, and offered the same justification this year: that the university is an important choice for many Florida students, and that proceeds from the $50 fee would be used by the Tampa Bay-area alumni club to provide scholarships to Florida students.
The Auburn provision brought the only no vote, from subcommittee chairman state Rep. Brad Drake, the Republican from Eucheeanna.
"I have a lot of [University of] Alabama people in my district," Drake said, referring to Auburn's rival.
There was little concern about the UCF plate revision, even from Willhite, who prefaced his remarks by declaring that "we all agree that the University of Central Florida should be and in our mind is recognized as a national champion" for its 13-0 season. Willhite wondered, however, if the UCF administration might have a problem with a commemorative license plate that could be seen as a misrepresentation. Grant assured him UCF was behind the plate.
Miller provided the justification for the Orlando City Soccer license late, noting proceeds from the $25 fee go to the Florida Sports Foundation, which uses the money to work with youth in Orlando around the stadium.
"It's the only major-league sport franchise in the state of Florida without a license plate," Miller said. "As Rep. [Bob] Cortes [an Altamonte Springs Republican] might have been there in attendance as well, 62,000 people came to our inaugural game a few years ago. And after that we actually had a privately-funded stadium built in Orlando to house Orlando City soccer, and they have a regular sell-out attendance of over 20,000. "