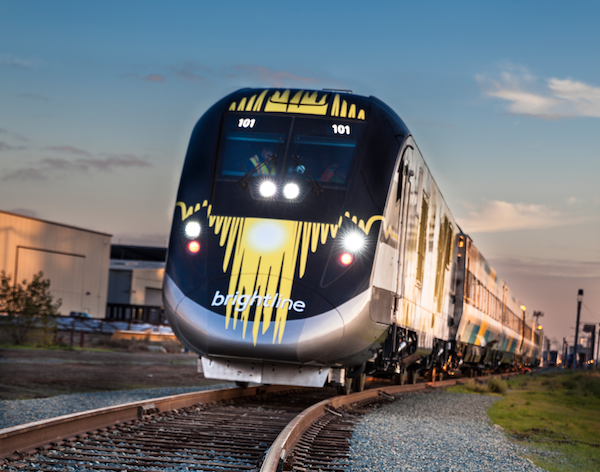 Brightline, the high-speed passenger train now running between Fort Lauderdale and West Palm Beach, could have to spend about $349 million on safety improvements.
That's after lawmakers and others, upset over the railway's dangers, leveraged recent train-related deaths to push for more safety measures. 
Republicans Sen. Debbie Mayfield of Melbourne and Rep. Erin Grall of Vero Beach held a press conference Tuesday to express sympathy for those who died and to further stress the need for Brightline to comply with federal train regulations at the expense of the company—and not taxpayers.
The train has been involved in four fatal accidents in which pedestrians or bicyclists were killed. Three accidents occurred during Brightline's promotional runs, one of which was ruled a suicide.
The fourth, involving a pedestrian who attempted to cross the tracks, occurred last Wednesday in Boynton Beach.
Mayfield and Grall are sponsoring bills in their chambers (SB 572 and HB 525) that would, among other things, require Brightline to install "sealed corridors" at each crossing.
Lawmakers and Martin County engineer Terry Rauth agreed on Tuesday each crossing would run close to $1 million and there were 349 crossings in the region, resulting in the $349 million estimate.
It's unknown whether each crossing will need to receive the updates, but those at the conference Tuesday seemed comfortable throwing around the nine-figure estimate.
Rauth also discussed the need for Brightline to install vehicle detection technology that would slow a train down if there was a large object — such as a vehicle, boat or trailer — along the train's route. She said trains like Brightline weigh less than freight trains and could be derailed by such objects.
The legislation would not require Brightline trains to slow down in towns, Mayfield said. She told Florida Politics that she did not know precisely what speed the trains travel through populated areas, but that it's typically twice as fast as the freight trains that travel between 30-40 mph.
That alone, Mayfield said, is cause for concern because citizens and tourists that populate the area may be unaware of the train's speed.
"There's a huge difference," Mayfield said. "The passenger rail is going twice the speed that the freight train is going — the timing for that will be different."
Mayfield said that problem should be addressed by Brightline separately through public awareness initiatives. She acknowledged Brightline already is working to alert the public about the dangers of high-speed rail.
"I do believe that (Brightline is) wanting to do the right thing," Mayfield said. "They're no more happy about this than we are."
The Palm Beach Post reported on some of Brightline's public awareness initiatives. Among them: safety signs warning "more and faster trains."
SB 572 will be workshopped Tuesday afternoon in Senate Community Affairs.