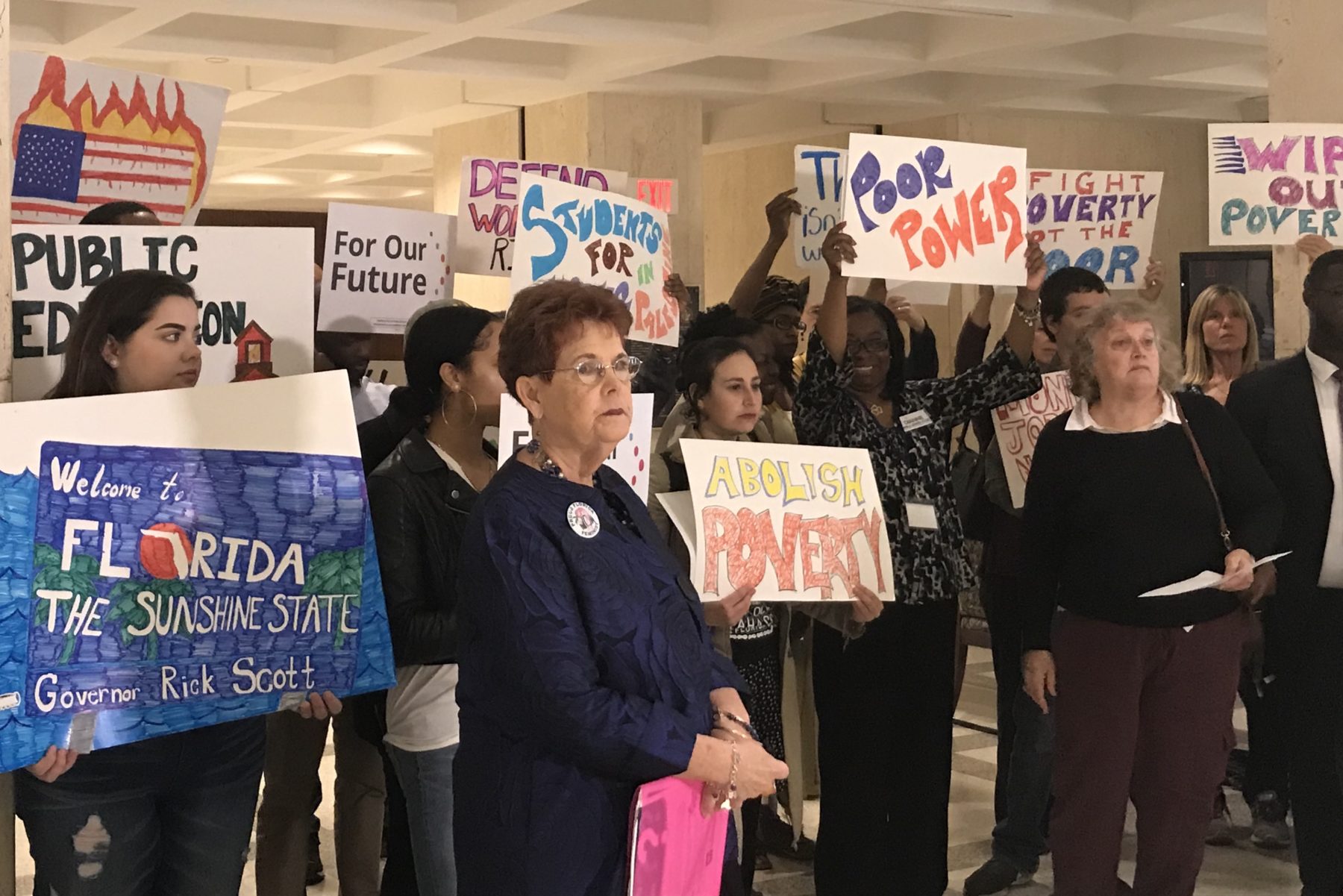 State-based activists are breathing new life into a campaign originally organized by Martin Luther King, Jr.
The Poor People's Campaign took to the fourth-floor of Florida's Capitol on Monday to "serve notice to state and local legislative leaders that their failure to address systemic racism, poverty, the war economy, ecological devastation and America's distorted national morality will be met this spring with six weeks of direct action and nonviolent civil disobedience," according to the campaign.
King first started the campaign a little more than 50 years ago but was assassinated a few months afterward.
The campaign said branches in 30-plus states and Washington, D.C., also began mobilizing this week.
The lineup of speakers on Monday varied. The organizational makeup of the group included representatives from For Our Future Florida, Florida Latina Advocacy Network, Florida People's Advocacy Center, St. Paul AME Church in St. Augustine, FSU NAACP, FAMU NAACP, FAMU Nupes, Florida People's Advocacy Center, Florida NOW, FSU Students for Justice in Palestine, Unitarian Universalist Church.
Much of the dialogue centered on state poverty. One speaker referenced the Asset Limited, Income Constrained, Employed — or ALICE — report by United Way. ALICE is used to describe individuals and households that are above the poverty level but not earning enough to afford basic household needs, according to United Way.
The United Way report found, among other things, that the number of ALICE households in Florida have steadily increased in recent history.
Rep. Carlos Guillermo Smith, an Orlando Democrat, hosted the campaign at the Capitol. Speaking on behalf of the group, Smith discussed legislation in the state House and Senate that would ask Congress to progressively reform tax structures and spend heavily on public programs, among other things.
The legislative initiatives (HM 1329 and SM 1658) were respectively filed by Rep. Smith and Fort Lauderdale Democratic Sen. Gary Farmer. SM 1658 will be heard by the Senate Committee on Commerce and Tourism on Tuesday.
While discussing the same legislation, National Organization for Women lobbyist Barbara DeVane said it "might fall on deaf ears," but asked members of the crowd to attend the committee hearing to make "a lot of lightning and thunder for the concept of reducing income inequality."
Smith, while listing what he believes to be the causes of poverty and income inequality, said state legislatures are weakening unions.
"Legislatures are trying to chip away at our unions, and that isn't fair," Smith said.
The Orlando Democrat's union bit could be interpreted as criticism of a bill moving through the Florida Legislature this year that's drawing criticism for its union-busting characteristics.
HB 25, sponsored by Longwood Republican Scott Plakon, passed Smith's chamber in January. If signed into law, the bill would require unions to report to the state annually how many employees are eligible for representation by the union and then how many of which pay dues. Should dues-paying membership dip below 50 percent, then the state would decertify the union.
The Senate companion (SB 1036) has yet to be heard in committee.