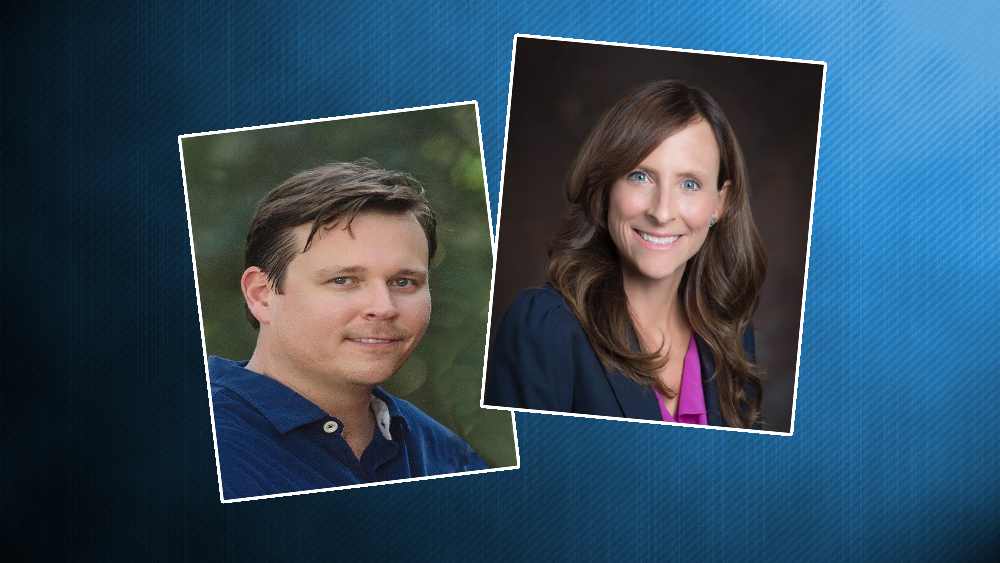 Sanctuary cities have become another flashpoint in the heated political battle otherwise known as the House District 72 special election.
In this latest salvo, Republican James Buchanan says Democrat Margaret Good has been less than straightforward in her opinion about the issue.
Pressed on where she stood on the issue during a candidates forum Monday night in Siesta Key, Good said she opposed legislation that has already been passed in the Florida House that would penalize cities and counties if they don't cooperate with federal immigration authorities.
Good also noted mailers sent against her on the issue played on "fear."
That answer didn't satisfy Buchanan, who is fighting to win the northern Sarasota County seat. In a statement Tuesday, the Sarasota Republican said he enjoyed participating in the forum but "once again, my opponent has refused to answer … whether or not she supports banning sanctuary cities here in Florida."
"As a public servant, we must be accountable and honest to those we represent," Buchanan charged. "Unfortunately, my opponent has been deceitful in her response to the voters of Sarasota."
Buchanan campaign manager Nick Catroppo went further to criticize Good, a 41-year-old Siesta Key attorney who has out-fundraised Buchanann.
"As a community, we deserve better than a politician that lies," Catroppo said Tuesday. "For Good to play politics with the safety and security of our community, she should be disqualified from representing us in Tallahassee. It's very simple; do you or don't you support Sanctuary Cities?"
Good responded by insisting that she's been clear on the issue of sanctuary city since day one.
"(I)f you commit a crime in Florida you will be punished — whether you are here legally or illegally. We must uphold the law and I support local and federal law enforcement who do just that," Good said.
"James Buchanan continues to attack me on Sanctuary Cities as a scare tactic to garner votes. He does not want to talk about the issues that matter most to Sarasota families because he knows that he would not work for us, the voters of Sarasota," she continued. "He would for the corporate special interests, polluters like Big Sugar, and the insiders who are funding his campaign.
"James' priorities are clear: he'll side with Donald Trump's agenda instead of working for us. He will make health care more expensive for working families, turn our public schools over to for-profit corporations, and increase our dependence on fossil fuels like oil and coal."
Good concluded: "I know the importance of affordable, high-quality health care, the need to invest in our public schools, and how vital protecting our environment is to our economy and future generations. It's time for James to put down Donald Trump's campaign playbook of fear and division and start listening to the people of Sarasota."
During the first week of the Legislative Session last month, the GOP-controlled House passed a bill aimed at sanctuary cities — for the third consecutive year. Two times previously, the bill died in the Senate, and a companion bill (SB 308) wasn't filed until last week by Fernandina Beach Republican Aaron Bean.
The Judiciary Committee tabled Bean's bill.
House Speaker Richard Corcoran is strongly pushing the bill, as his political action committee aired a controversial television ad that echoed the death of Kate Steinle in San Francisco in 2015. The gunman was an undocumented immigrant who had been deported several times before returning to the U.S. He was acquitted on charges related to the shooting last fall, but was later sentenced to time served on gun-related charges.
Corcoran recently sent a letter to the Department of Homeland Security investigate Tallahassee Mayor Andrew Gillum and St. Petersburg Mayor Rick Kriseman for their city's sanctuary-city policies.
Gillum and Corcoran have agreed to debate the issue next week.
Critics contend there are no such sanctuary cities (or counties) in Florida, saying conservative lawmakers are politically exploiting the issue.
Buchanan, Good and Libertarian Alison Foxall are on the ballot, where early voting began last weekend. Election Day is Tuesday, Feb. 13.