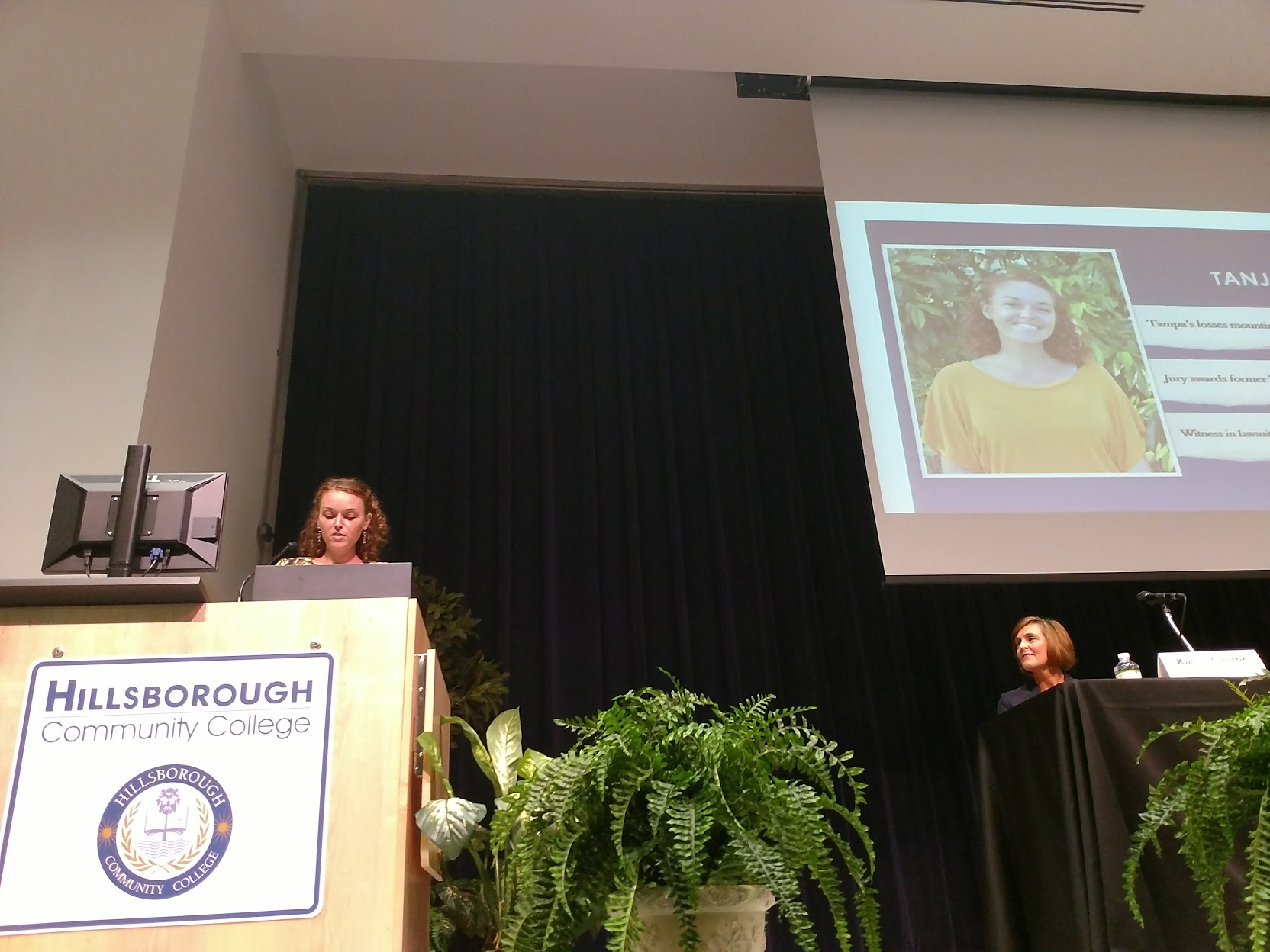 Until Tuesday, only those in a courtroom heard former firefighter Tanja Vidovic detail the sexual harassment and discrimination she suffered inside the Tampa Fire Rescue Department.
It was her testimony in federal court last fall that resulted in a successful lawsuit, which she won in December.
Now it was the public's turn to hear Vidovic speak about her life and career and how things went so wrong during her tenure at the department.
Vidovic gave a riveting and disturbing 22-minute account of her seven and half year career with Tampa Fire Rescue, which culminated in her firing in 2016 — one day after she filed a lawsuit against the city.
In December, a seven-person federal jury sided with Vidovic against Tampa, awarding her $245,000, saying the city discriminated because she was pregnant and retaliated when she complained.
In Vidovic's account, no one — not the (male-dominated) hierarchy at Tampa Fire Rescue nor many of her colleagues — come out looking very well.
Particular villains in the tale include the Equal Employment Opportunity Commission (EEOC), unions, Tampa Mayor Bob Buckhorn and most prominently, the city's human resources department.
Among the instances of discrimination that Vidovic told the jury, as well as the audience gathered Tuesday morning for a workshop on sexual harassment at the Student Center on Hillsborough Community College Dale Mabry campus (convened by Rep. Kathy Castor):
— Receiving inappropriate text messages from her department captains requesting sex with her. After she complained to human resources, she was banished to a busier station "as punishment."
— Her personnel captain told her, after learning she was pregnant, that she should have said no and "just keep her legs closed" next time.
— Vidovic was often locked out of a coed bathroom and was written up if she entered when a man was already in there.
— She was subjected to a "fit-for-duty" test — wearing gear while pregnant. It was a test Vidovic said nobody had ever heard of, neither man nor woman.
— When Vidovic did file a complaint, superiors refused to take her grievances up the chain of command.
— She was labeled as failing an annual evaluation due to her pregnancy.
When Vidovic emailed Tampa's human resources department for help on harassment claims, the department actually forwarded her emails back to the Fire Department, which she claimed resulted in further harassment.
HR told Vidovic that, in fact, she wasn't being harassed, and did nothing to help her. A meeting with her captain about harassment claims resulted in a downgrade in her evaluation forms for complaining.
She then went to Tampa Fire Rescue's Fire Chief Tom Forward, also to no avail.
Next was an unproductive meeting with Buckhorn.
"I requested five times to meet with the Mayor of Tampa … once in person," she told the audience. "He just laughed at me and said no. (He) looked down at his phone and started texting."
Vidovic said harassment didn't just occur on a daily basis, but often multiple times in a day. She felt like the department wanted to fire her, but she believed she was a good employee, albeit one who was also pregnant and complaining about harassment.
Feeling pressured, Vidovic noted how some of her male colleagues were doing notorious things, like "DUI's, solicitation of prostitutes, strippers at the stations being in photo shoots, throwing knives at other employees, insurance fraud."
"But all these men kept their jobs," she said.
Vidovic was refused help from the local firefighters union as well as the International Association of Fire Fighters. Once she learned that the EEOC offered mediation, she was excited, thinking that would solve her continuing problems in the department.
She then decided to file a complaint with that federal agency. After waiting for a response, she received a letter months later saying that if she wanted, she could sue the city.
Vidovic said she wanted mediation, and that pursuing a lawsuit was never her initial intention. But once the EEOC and Dept. of Justice notified the city about her filing a complaint, she says it ignited an uproar in the department and put a bigger target on her back.
On March 23, 2016, she filed a lawsuit against the city of Tampa. A day later, Tampa Fire Rescue fired her,  just two years before she qualified for a pension.
Vidovic had two kids at home with her husband; a third child was on the way.
After seven years of paying union dues, Vidovic believed she had union support. She was wrong.
"I was abandoned by them, and now faced to go to court on my own and pay my expenses out of pocket."
It took more than a year and a half before she got her day in court last fall, where (after several weeks) a jury ruled in her favor.
But Vidovic didn't sound triumphant in recounting the details of the past several years.
"Not only did I lose my job, my pension, my career, my friends at the city of Tampa, my reputation," she said. "I also lost fee charges and court expenses which are close to $30,000."
It's not over. Far from it. The city of Tampa has filed for U.S. District Judge Elizabeth Kovachevich to declare a mistrial. "The city of Tampa has deep pockets and they know I have to continue to pay my attorney because the union refused to arbitrate for me," she says.
As a firefighter, Vidovic was making $55,000 annually. She is now working part-time, making just $11.24 an hour at a local park. As far as she knows, none of the men who allegedly harassed her on the job have suffered any consequences.
Vidovic claims that the same captain who propositioned her for sex via text has done it with a current female member of the department.
After that woman complained, she was given a three-day suspension, and ultimately quit.
Vidovic has also heard from other female firefighters claiming harassment, but don't dare come forward, seeing what she has experienced.
"They saw that I lost my pension. And nobody wants that. Nobody can afford that. Especially these days."
Following Vidovic on stage at the forum was an official with the Greater Tampa Chamber of Commerce, then by Evangeline Hawthorne with the Tampa EEOC office — the same agency Vidovic said was not there for her.
Hawthorne began her presentation by commending the former firefighter for her courage and bravery.
"When you do file a complaint with us, as you can tell from her story, it's long, often arduous process, but certainly it's worthwhile," Hawthorne said, looking over at Vidovic. She respectfully disagreed with Vidovic's take that the "harassers won."
"The fact that you're standing here with your testimony, I don't think that's true at all. I think you were victorious," Hawthorne said, adding that she is an inspiration for others experiencing similar circumstances.
This week, the Tampa Bay Times reported that Tampa's legal costs in the continuing fight in court against Vidovic could ultimately reach more than $3 million.