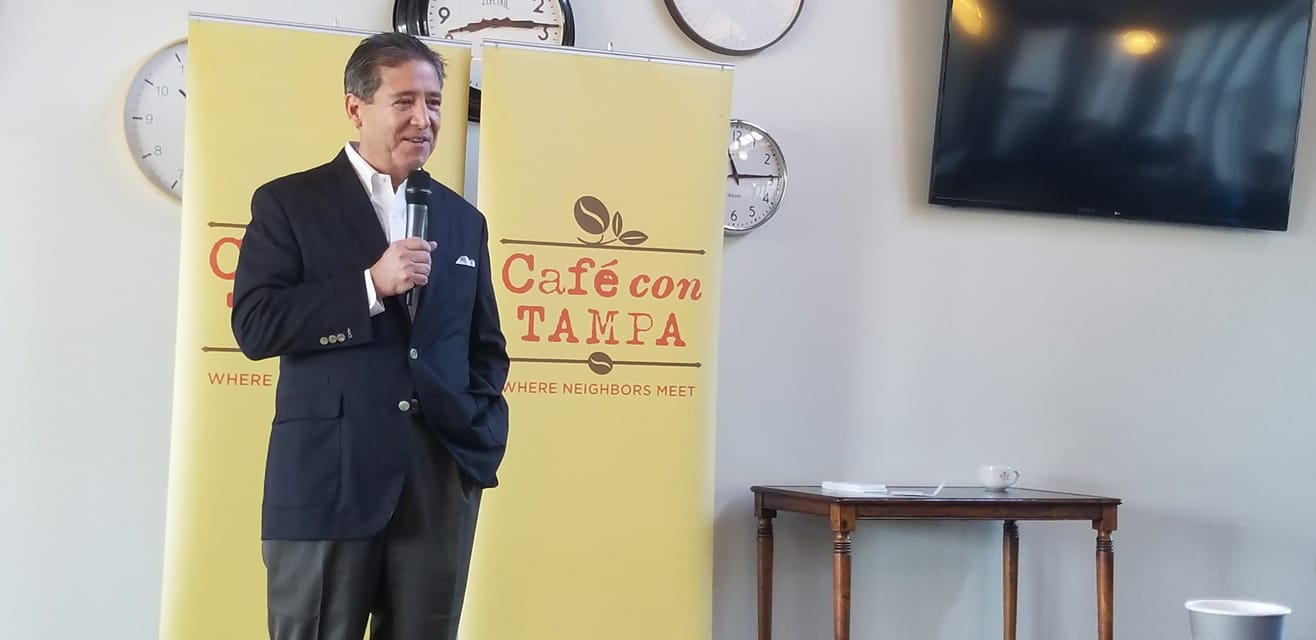 There are a lot of issues in the Tampa Bay area, but it's almost universally accepted that lack of transportation options is the dominant one for 2018.
A 41-mile Bus Rapid Transit plan running from Wesley Chapel to St. Petersburg was introduced to the public last month to decidedly mixed reviews.
Meanwhile, Tampa Bay Republicans in Tallahassee are pushing to get a guaranteed $25 million a year for transportation beginning in 2021, but only for alternative transit projects, not light rail.
On Friday, Gary Sasso pitched a pilot project for light rail in Tampa — without taxpayer funding — to an audience at the weekly Cafe Con Tampa meeting at the Oxford Exchange.
Sasso is president and CEO of the national law firm Carlton Fields. He also chaired the board of the Tampa Bay Partnership in 2010 when it took a leading role advocating for the passage of Moving Hillsborough Forward, the one-cent transit tax in Hillsborough County designed to fund a light-rail system. For several years after, Sasso led the Partnership's Transportation Task Force.
Sasso's advocacy for a light-rail system in Hillsborough County has always been based on making and keeping the Tampa Bay area competitive from an economic perspective, and not just with the Charlottes, Austins and other communities that Tampa business leaders always compare them to, but now also with Miami and Orlando.
Four separate transit tax referendums have gone before the voters in the Bay Area since 2010; all four went down in decisive defeats. Sasso believes political leaders need to accept that for a variety of reasons, voters in Bay area counties aren't going to turn around and approve them anytime soon.
"We've asked the voters to exercise vision and make business decisions about what's best for transportation in the Bay area, and that's not fair," he said. "Voters aren't equipped to do that. They shouldn't be asked to do that."
The political and business establishment in recent years have emphasized that the governments in the Tampa Bay area need to embrace regionalism, and frequently speak about how parochialism is a thing of the past, and good riddance. But that's become the problem when it comes to trying to find transit and transportation solutions, Sasso said.
"We've got to stop trying to approach this with these gargantuan projects that can be funded only with these countywide referendums," he added.
Critics contend light-rail is too expensive and has now become a dated form of public transportation, notions with which Sasso vehemently disagrees. Transportation and infrastructure are expensive, he said, mentioning how the Florida Department of Transportation spent $1 billion to expand I-275, and the Tampa Bay Next project (formerly TBX) is estimated to cost between $3 to $9 billion. There was also the proposed baseball stadium for the Tampa Bay Rays, which could cost anywhere between $750 million to $1 billion.
Looking at it from a business-oriented prism, Sasso embraces light-rail because it would bring transit-oriented development to the community.
"It's about redeveloping already impacted areas," he said. "It's about telling developers where they can safely put a stake in the ground and invest. It's about bringing capital, investors, talent into this region. Creating energy, having a transformational impact. "
He cites the gas tax, as well development rights, private-public projects (aka "P-3's) and tax increment financing districts as alternative sources of transit funding instead of going to the taxpayers.
In the audience were Tom Rask and Sharon Calvert, two anti-tax activists who over the past decade have been prominent in advocating against transit tax proposals in the region. Rask said that it appeared to him that political leaders failed to heed the lessons learned in a post-mortem report written about Moving Hillsborough's failure, such as people not trusting local government. Sasso agreed.
Sasso also touched on All Aboard Florida, the country's first private high-speed rail service that began offering service in December from West Palm Beach to Fort Lauderdale, with Miami and ultimately Orlando expansions planned.
"We're this little backwater operation here on the west coast," he lamented, saying that there will be no expansion of that train to the Tampa Bay area until rail system that connects from Tampa to Pinellas County.
"There are economic consequences of this. It's about attracting business. It's about attracting investment," Sasso said.
The last attempt at a transit tax in the Tampa Bay area, Go Hillsborough, never made it to the ballot in 2016, having been rejected on a 4-3 vote by the Hillsborough County Board of Commissioners. There are no plans underway to bring a similar measure to the polls to any Bay area county at the moment.