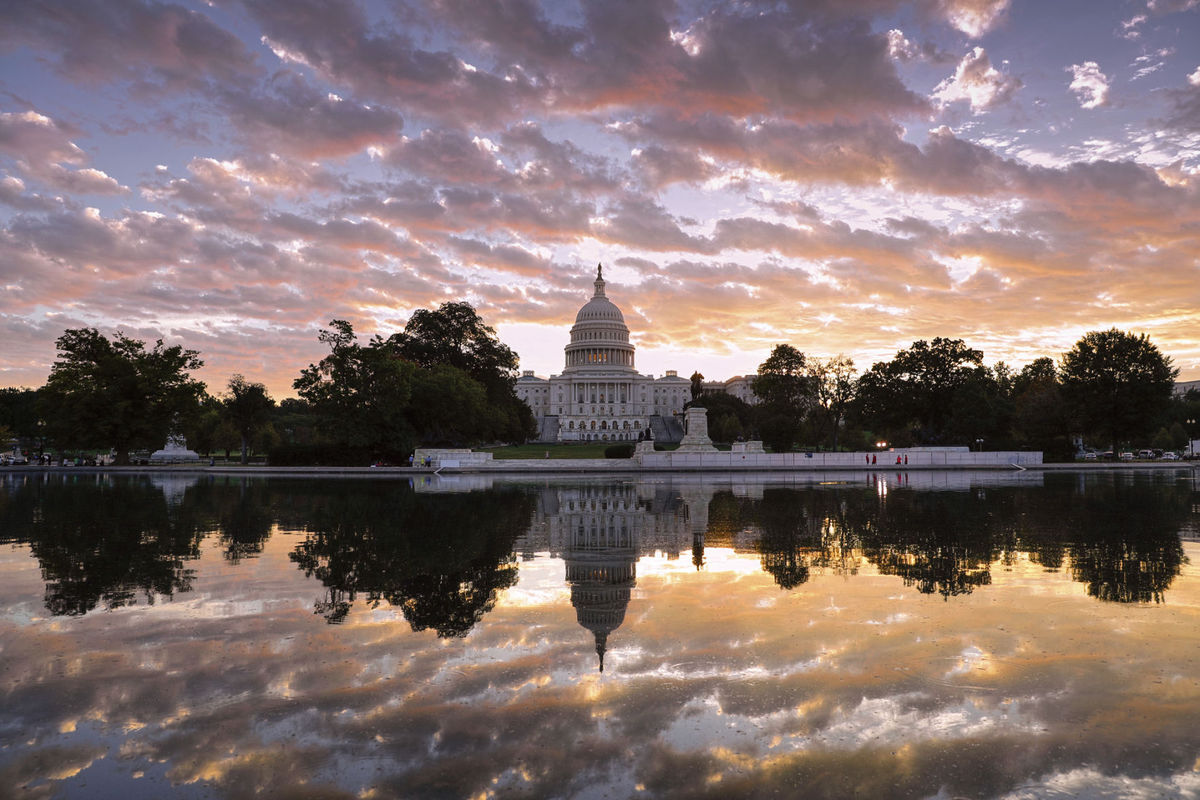 For one night, Trump trades tweets for stand up comedy
While Twitter is President Donald Trump's communication tool of choice, he used the podium to zing friends, opponents, and himself on Saturday night. Judging by the content of his comments at Saturday night's Gridiron Club dinner, we could use more of these.
Trump mingled with what he calls the "fake news" media to help roast some of the guests while poking fun at himself. Organizers did their part by leaving a card at each place setting labeled "fake menu."
Trump maintained a tradition that goes back to 1885, where every president has attended at least one of the dinners. His predecessor, Barack Obama, participated in three.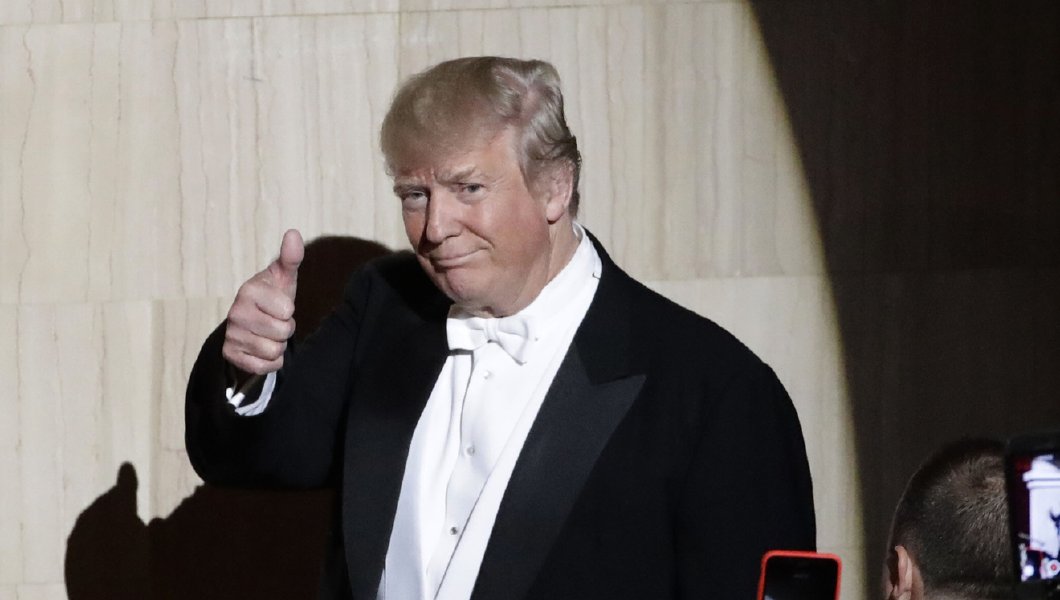 For at least a day those who oppose a sitting president can laugh at some of the barbs he throws at himself. Obama's supporters and opponents admired his ability to deliver jokes at his own expense.
Saturday night's event was a timeout from daily coverage of issues like North Korea, the Russia investigation, and the security clearance policies of the Trump administration. The face of the latter question belongs to Trump son-in-law and adviser Jared Kushner, whose White House security level was recently downgraded.
"You know, we were late tonight because Jared could not get through security," Trump joked.
Whether it came from good taste, good sense, or both, the ongoing back-and-forth on gun control — by far the issue most on the minds of Americans — was not included in the banter.
The president had a joke involving Attorney General Jeff Sessions, whom Trump has seemingly not forgiven for turning over the Russia investigation to Deputy Attorney General Rod Rosenstein and subsequently to special counsel Robert Mueller.
"Attorney General Sessions is with us tonight," Trump said. "You know, it's weird. I offered him a ride over — and he recused himself," Trump deadpanned.
Trump's back-and-forth food fight with North Korea's Kim Jong-Un has left a portion of the U.S. population and media with an uneasy feeling. On Saturday, he used this issue as the only one to mix humor with a serious policy component.
"I won't rule out direct talks with Kim Jong-Un — I just won't," Trump said. As far as the risk of dealing with a madman is concerned, that's his problem, not mine."
The president concluded his remarks on the issue by changing tone, saying "maybe positive things are happening now," referring to a reported willingness of the North Koreans to talk.
"I hope that's true."
The Gridiron Club is made up of members of the media, who raise funds for scholarships geared toward journalism students. While the Sunday shows returned to the divisiveness, people took a break to laugh while helping others on Saturday, if only for a while.
Nelson speaks on White House gun meeting snub
During last week's meeting with Trump at the White House on guns and school safety, five members of the Florida delegation were seated around the table offering their views. Republicans John Rutherford of Jacksonville and Brian Mast of Palm City were there.
So were Democrats Stephanie Murphy of Winter Park and Ted Deutch of Boca Raton. Republican Sen. Marco Rubio was seated at Trump's right, but Democratic Sen. Bill Nelson was not invited.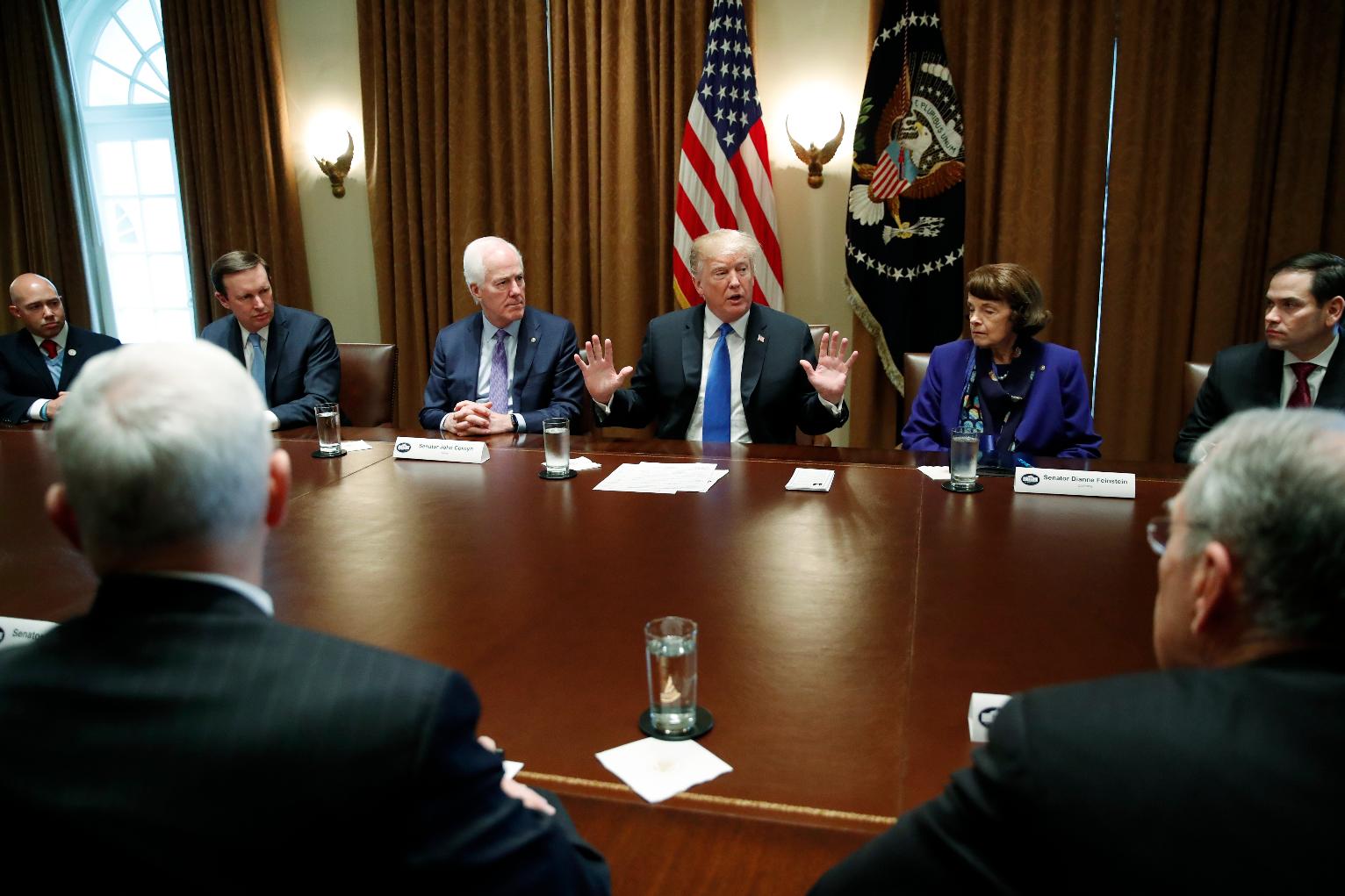 Nelson seemed to take it personally. During an appearance on MSNBC's Morning Joe program, Nelson said it "was counterproductive that they would want to exclude me" in the effort to seek bipartisan reform.
The three-term Senator seemed to dismiss anything Trump offered in the way of gun control saying the president was unreliable. He accused the president of making promises, then backtracking.
Nelson also spoke of the partisan nature of the gun issue.
"It's symptomatic of what's happening in our society today, where everybody is retreating to polls, they're getting very self-interested, highly partisan, highly-ideological rigid, and we're seeing that play into this question about what do we do in the aftermath of these massacres," Nelson said.
Rubio backs Parkland father's call to fix school security first
The debate following the shootings that left 17 people dead at Marjory Stoneman Douglas High School is solidifying into two camps. On one side is Republican Rubio and most the GOP members of the delegation, who advocate fixing school safety issues first, then take up gun control.
On the other side is Nelson and delegation Democrats, who are calling for a ban on the AR-15 and other weapons described as assault rifles. Last week, Palm City Republican Mast joined the call for banning the AR-15 on a temporary basis.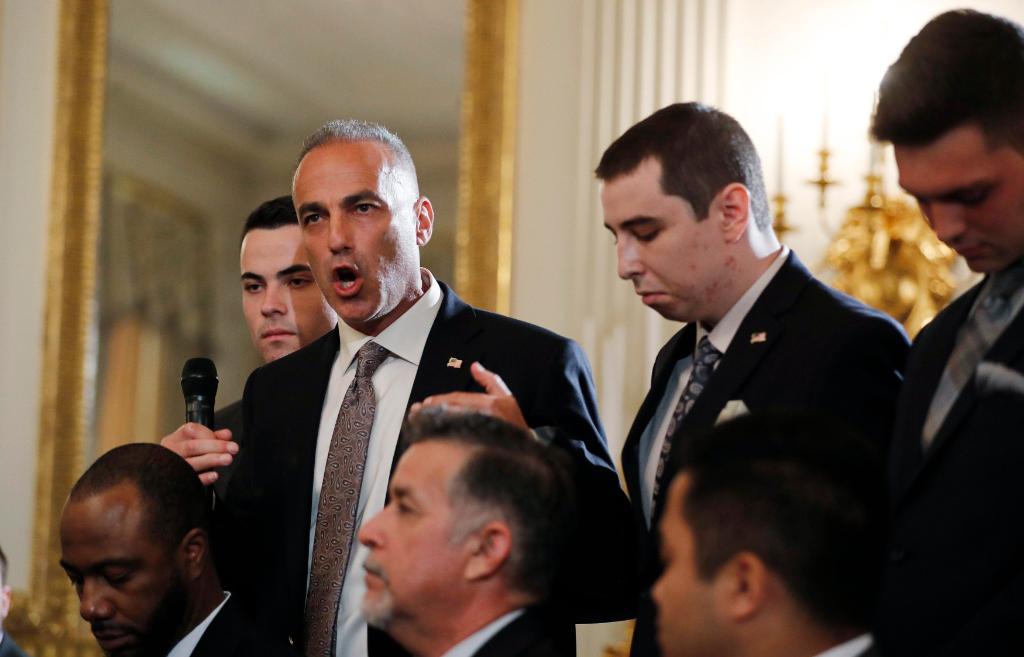 Rubio reacted to an appearance by Andrew Pollack on the CBS Sunday program Face the Nation. Pollack, who lost his daughter, Meadow, is one of the leading voices for establishing school security first.
"The work of Andrew Pollack & his family in memory of his daughter Meadow is having a real impact," Rubio tweeted. "He is 100% correct that step one should be school safety and preventing another #Parkland. Then we can focus on the broader gun debate, but let's get this done first."
Perhaps Rubio is a bit more optimistic about step two. During his CBS appearance, Pollack offered the opinion that changing gun laws "is not achievable."
Nelson, Rubio team up with colleagues on stopping illegal gun purchases
Florida's senators, along with colleagues from 6 other states have filed a bill designed to assist states in enforcing existing law against individuals illegally attempting to purchase firearms. The NICS Denial Notification Act requires federal authorities to alert state law enforcement within 24 hours when individuals "lie and try" to buy firearms.
Federal officials are notified when individuals who are legally prohibited from purchasing a firearm (such as convicted felons, fugitives, and domestic abusers) try to buy a gun but fail a National Instant Criminal Background Check System (NICS) background check. These attempted purchases often violate federal and state laws, but the federal government rarely prosecutes any of these individuals.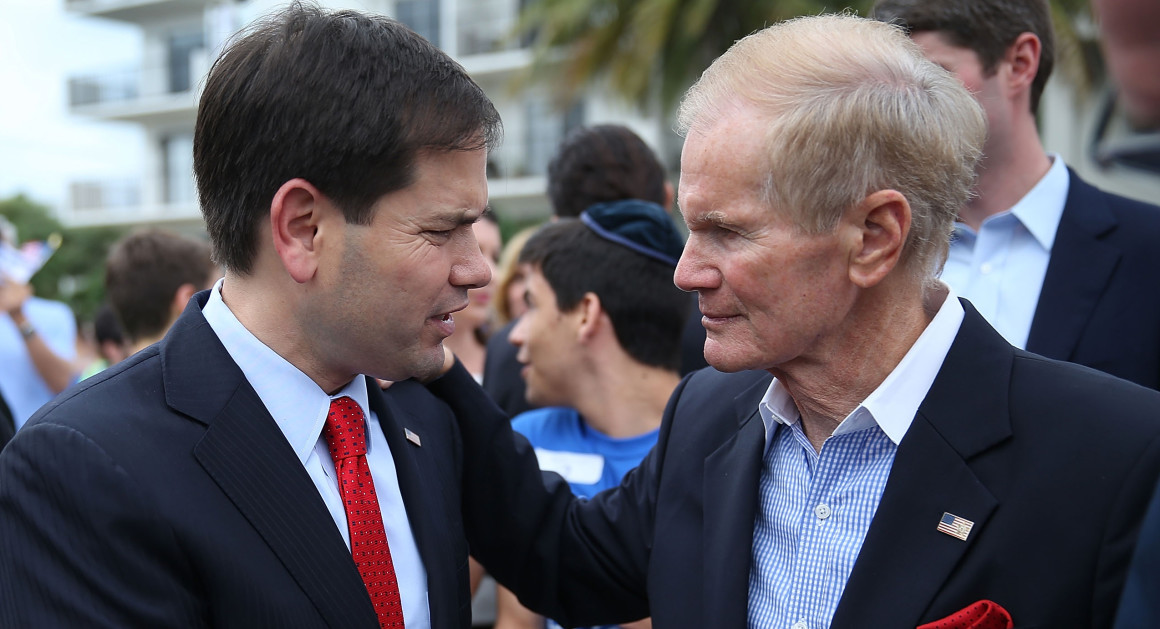 "The NICS Denial Notification Act would not only require federal authorities to flag background check denials for state-level authorities, [but] it would also hold these federal officials accountable," Rubio said in a joint news release. "This would be a strong step forward in preventing future tragedies."
"Efforts to reduce gun violence are only as good as the systems in place to prevent prohibited individuals from obtaining guns," said Nelson. "This bill is just another common-sense way to further those efforts to keep our communities safe from gun violence. I hope we can continue this conversation and continue to work together on comprehensive gun reform."
In the 13 states that run their own background checks using the FBI's NICS system, state authorities are aware when prohibited persons fail background checks and can have state law enforcement investigate these cases. Florida is one of those states.
Joining Nelson and Rubio in filing the bill was Delaware Democrat Chris Coons and Pennsylvania Republican Pat Toomey. Also co-sponsoring the bill is Illinois Democrat Tammy Duckworth, Texas Republican John Cornyn, Missouri Democrat Claire McCaskill, and South Carolina Republican Lindsey Graham.
Those endorsing the legislation include the Fraternal Order of Police; Major Cities Chiefs Police Association; Federal Law Enforcement Officers Association; National District Attorneys Association; National Domestic Violence Hotline; National Coalition Against Domestic Violence and Everytown for Gun Safety.
UN Ambassador joins South Florida Republicans in Miami
The U.S. Ambassador to the United Nations, Nikki Haley, visited Florida International University in Miami on Friday for a panel discussion with Republican Rubio and the area's three Republican members of Congress. All were effusive in their praise for Haley and the Trump administration foreign policy.
"All of us are just so blessed that we have an administration that understands who our allies are, who our friends are and who our enemies are, and how each should be treated," said Rep. Carlos Curbelo of Kendall.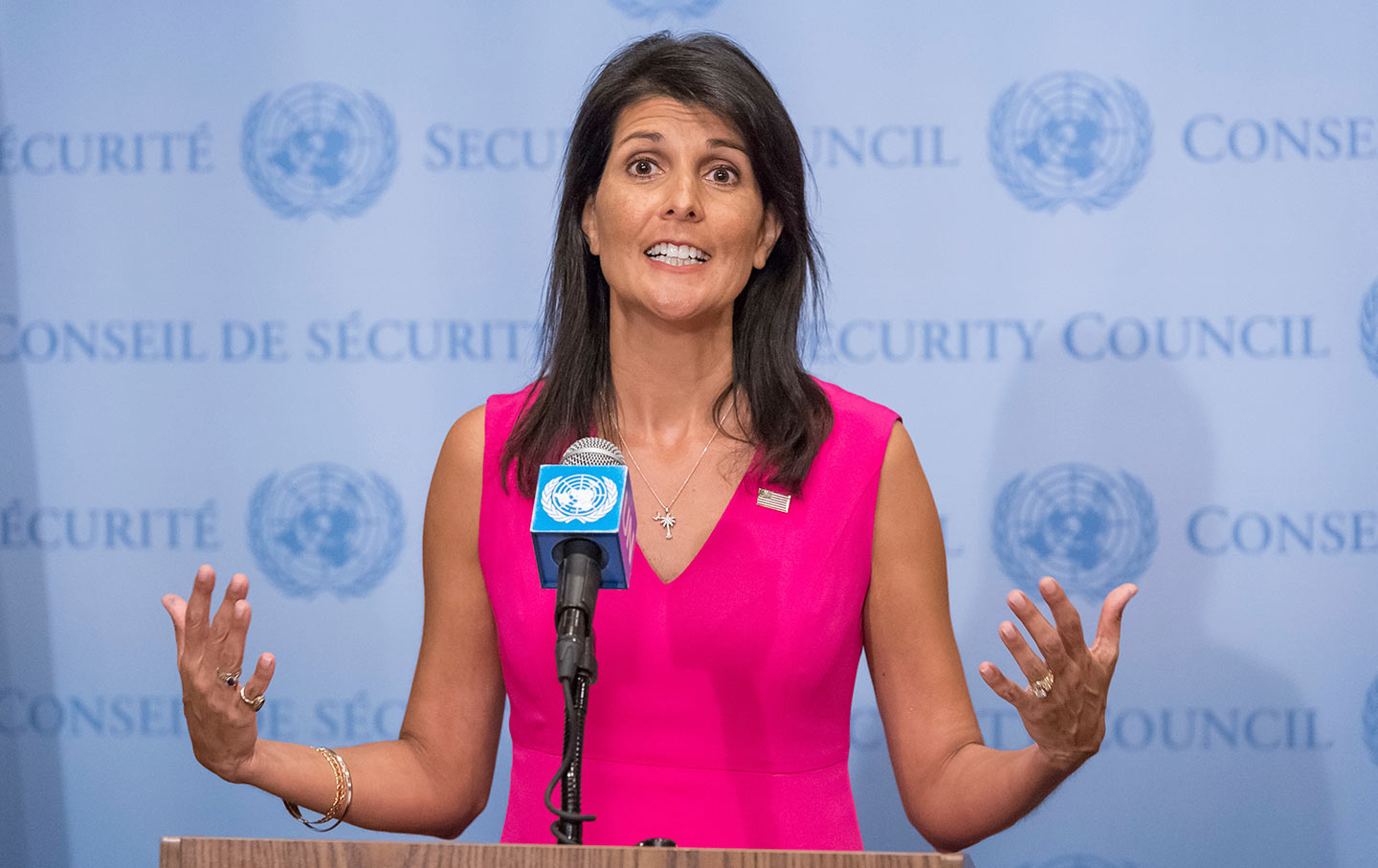 The panel, also consisting of local community leaders and FIU President Mark Rosenberg, discussed Cuba, foreign aid, and related issues. Rubio stressed the importance of assisting U.S. allies.
"First of all, it's like one-percent of our budget, people think it's like 40 percent, and it's not charity," Rubio said. "it's an investment in national security."
"A lot of folks say the Cold War's over, the Cold War's over in a lot of places, but for the people of Cuba, it's the same, exact same murderous regime," said Miami Republican Mario Diaz-Balart.
Haley predicted the coming year would bring the U.S. closer to their Latin American neighbors.
"I just came back from a trip to Honduras and Guatemala," she said. "This is the year of the Americas, and so we're gonna see the United States put a lot of emphasis on our relationship with those countries, how we can strengthen them."
Retiring GOP Representative Ileana Ros-Lehtinen tweeted several photos from the event.
Gaetz refiles Schiff's 2013 FISA bill
In 2013, Democratic Rep. Adam Schiff of California submitted a bill calling for the appointment authority of Foreign Intelligence Surveillance Act (FISA) judges be changed from the Chief Justice of the Supreme Court to the President. Five years later, Republican Congressman Matt Gaetz of Fort Walton Beach thinks that was such a good idea, he filed the same bill.
Gaetz talked about the legislation on the House floor. Watch the video by clicking the image below.
In addition to switching appointments to the President, FISA judges would be subject to Senate confirmation. Gaetz claims the Presidential Appointment of FISA Judges Act would increase transparency and improve Congressional oversight over the court.
The FISA Court has featured prominently in the news recently with the dueling memos between California Republican Devin Nunes and Schiff.
The Schiff bill did not get very far under a GOP Congress, but Gaetz, with ample sarcasm, is giving Schiff another chance. In fact, he is asking Schiff to co-sponsor his bill.
"I am reaching out to you in the spirit of comity, in the hopes you will co-sponsor this bill," Gaetz said in a letter to Schiff. "Its merits have not diminished since 2013, oversight of FISA is even more necessary today."
Lawson files bill to help land-grant HBCUs
The first-term Democrat from Tallahassee is sponsoring a bill that would bring funding for facility improvements at land-grant Historically Black Colleges and Universities (HBCU). Lawson introduced the HBCU Parity Act of 2018 last week to address a need for maintenance support.
A total of 19 universities from around the country would be involved. Lawson's alma mater, Florida A&M, is the only university in Florida that would be affected.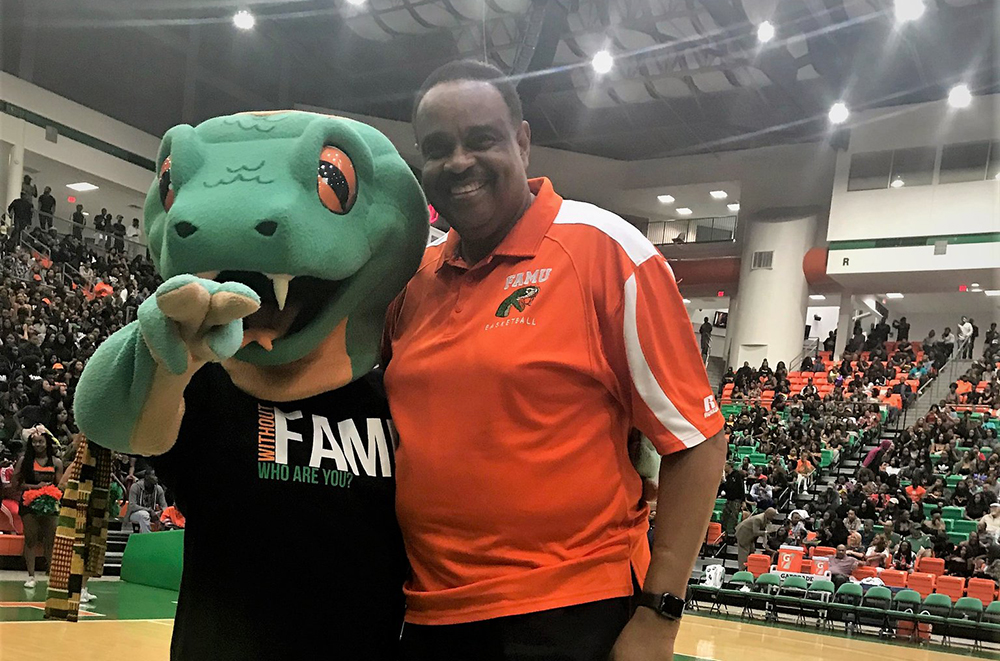 "I am pleased to introduce the HBCU Parity Act of 2018 that will provide much-needed resources to our land-grant institutions," said Lawson in a news release. "Having state-of-the-art facilities will allow HBCUs to be more competitive in their recruitment efforts, which in turn, will offer a stronger and more diverse cohort of individuals in the nation's agricultural industry."
Lawson has attracted 14 co-sponsors to his bill. Among them are Florida Democrats Frederica Wilson of Miami Gardens, Alcee Hastings of Delray Beach, and Charlie Crist of St. Petersburg.
Crist hoping Trump will push gun legislation
The first-term Democrat from St. Petersburg is optimistic "common sense" gun legislation will finally pass in Washington. He is not quite as confident it will come soon.
"I don't really understand why common sense ideas can't be brought forward, or even discussed on the floor," the Pinellas congressman said while visiting with Pinellas County School Board Chair Rene Flowers, law enforcement officials, administrators and students at Gibbs High School in South St. Petersburg on Monday.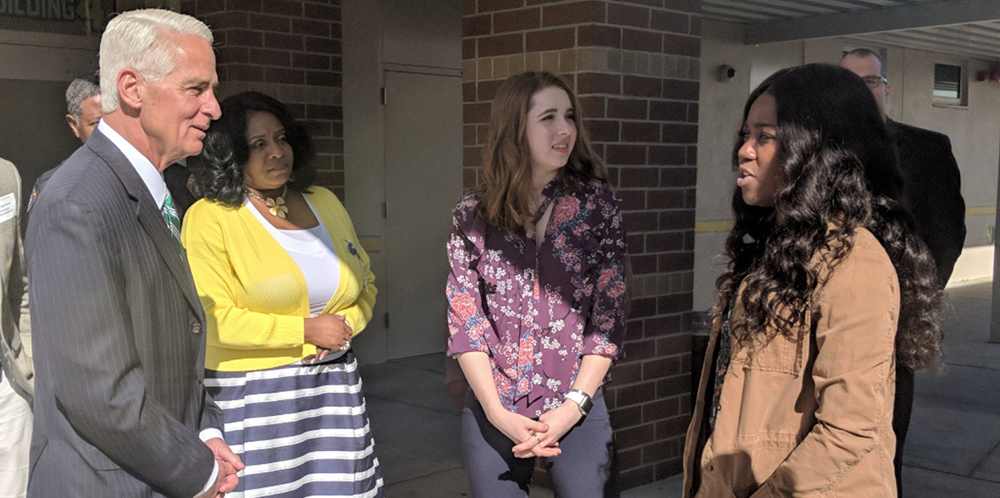 "I do think these things will change, and I do think new ideas will be brought forward, I just don't know if it's going to be now," Crist added. "If the President weighs in more, I think we'll have a better shot at that, so I hope that happens."
Trump first shocked both sides of the gun control debate during his one-hour meeting with a bipartisan group of House and Senate members at the White House last week. He spoke of expanded background checks, raising age limits for gun purchases and keeping guns out of the hands of the mentally ill.
Soon after, Trump met with the NRA and seemed to soften some of his previous statements.
Students weighed in with questions and comments, including the issue of arming teachers. Crist and the students weighing in oppose the idea.
T. Rooney claims Hicks was 'set up'
Last week's resignation of White House Communications Director Hope Hicks briefly took some of the spotlight away from the raging debate over gun control. The announcement came one day after her appearance before the House Intelligence Committee, where Hicks admitted that she told "white lies" on behalf of Trump.
The circumstance that led to Hicks making that admission did not sit well with Okeechobee Republican Rooney. According to Rooney, Hicks was "set up" with a "bull …. question."
"The whole line of questioning was a trap," Rooney said. "They sent her down a rabbit hole that she could not get out of. And it was completely unfair."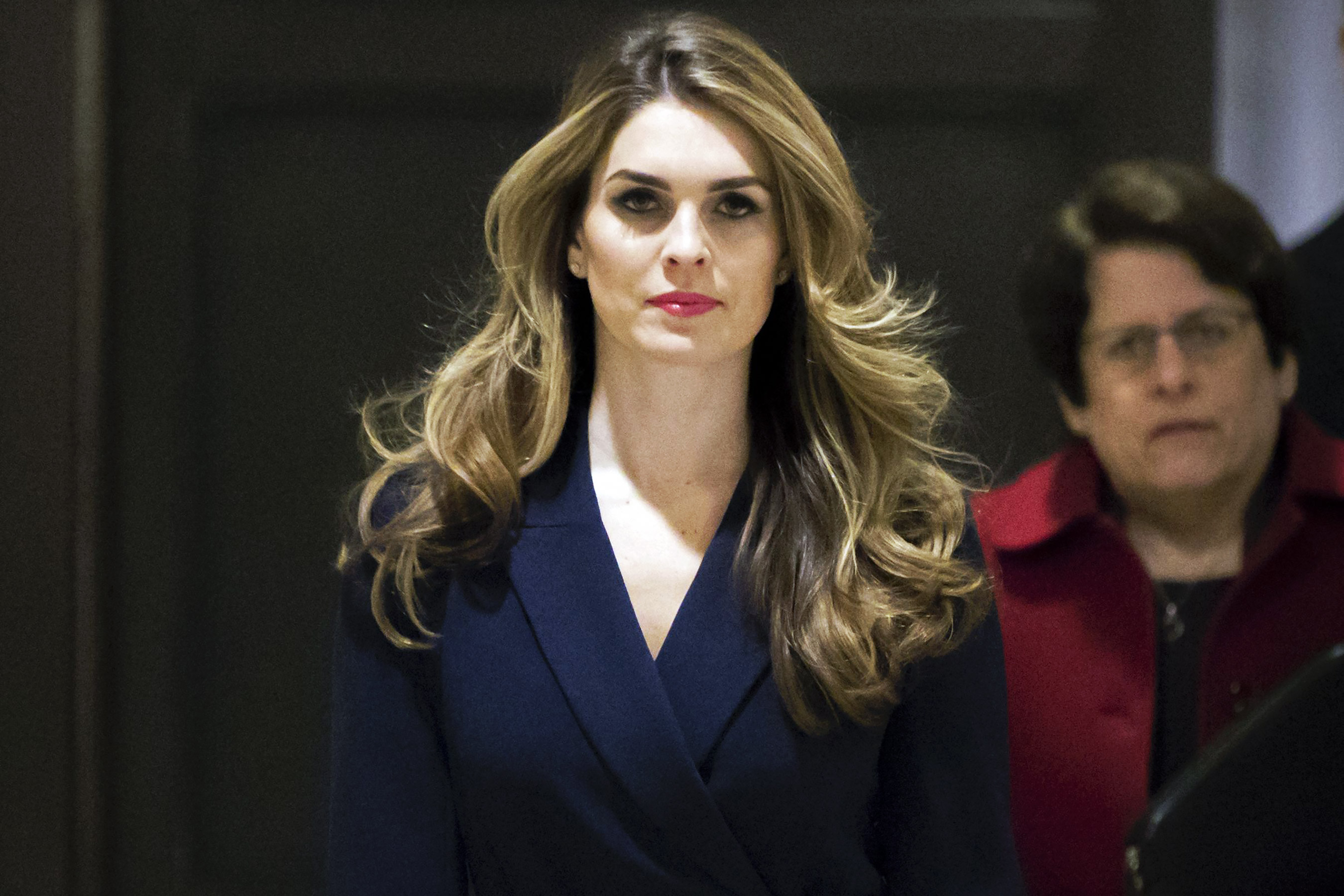 Democratic Rep. Eric Swalwell from California drew Rooney's ire by asking Hicks if her boss (Trump) ever asked her to lie for him. She eventually responded with the news-making admission.
"If your response to the question, 'Have you ever been asked by your boss to lie for him?' is to take two timeouts, we already know the answer to the question," Swalwell said.
Rooney was unconvinced.
"I think the fair representation is that it was a setup: Use an extremely gratuitously broad question to make her look bad and ignore the rest of the nine hours that we were down there," Rooney said.
Viewpoint: Florida flyers don't need higher airport fees
Air travelers who made resolutions to travel more in 2018 may not be in for a happy new year. That's because Congress is considering an 89 percent increase in the Passenger Facility Charge (PFC), one of the many taxes and fees airline passengers pay every time they fly. If approved, travelers flying out of Florida will pay up to $318.4 million more in air traveler fees this coming year alone.
The PFC or Airport Tax is one of 14 different fees tacked on to the cost of every plane ticket we buy.  The current law allows airports to charge up to $4.50. The measure introduced by Sen. Susan Collins would raise that to $8.50 on the first leg of each flight. That may not sound like a lot, but a family of four purchasing round-trip tickets could pay up to $104 in Airport Taxes alone.
Passengers are asking why?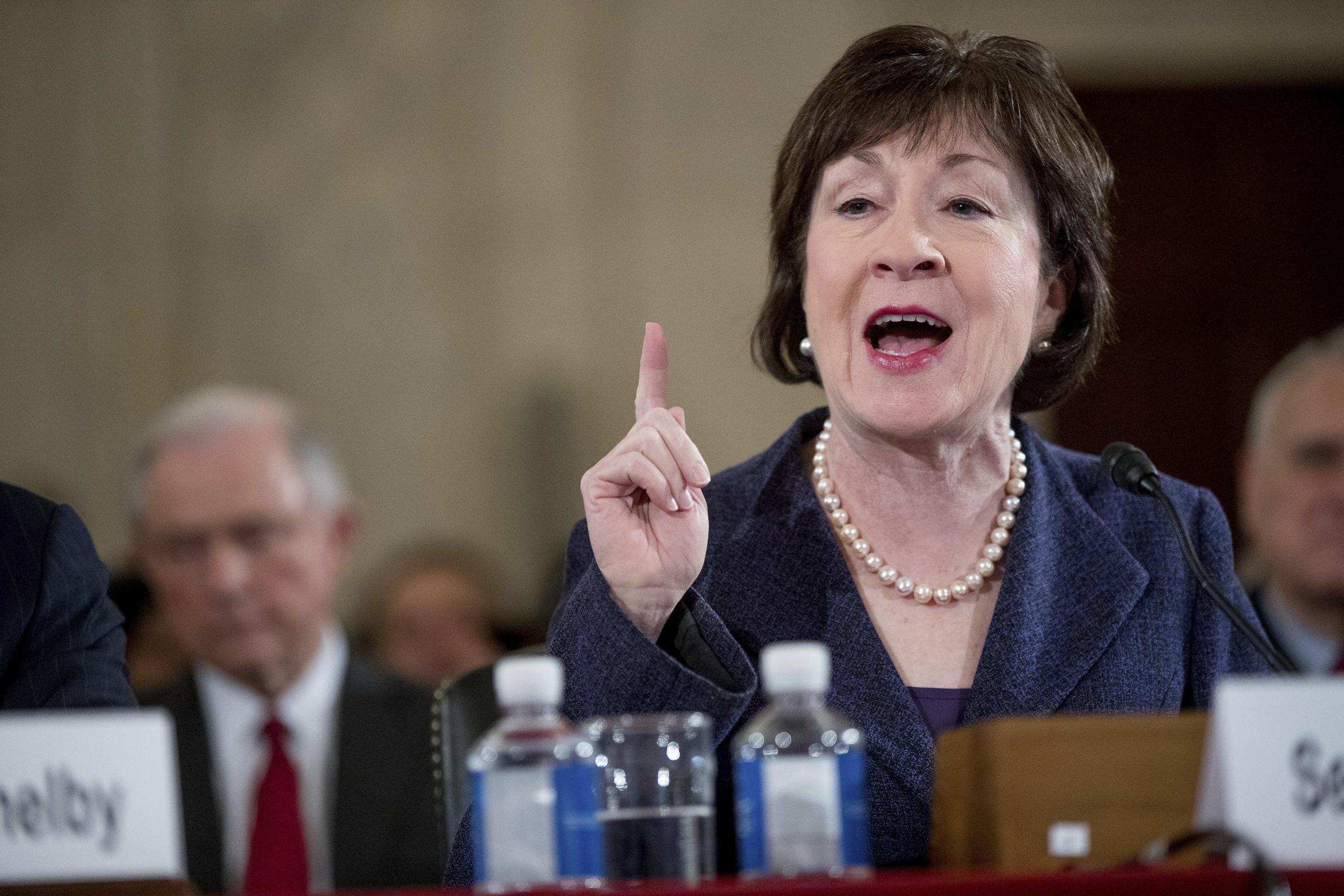 In 2016, America's airports took in $3.2 billion in PFC revenue, the highest level in the history of the program. That's on top of the $6 billion in federal funding which is just sitting in the FAA's trust fund. That's money waiting to be used, that US airports can utilize. The argument that the airports need the money when they are currently sitting on $14.2 billion of unrestricted cash and investments on hand is nothing if not absurd.
When pressed by a Congressional committee to name an airport infrastructure improvement project that had gone unfunded due to lack of current PFC revenues, the head of the airport trade group was unable to name a single one.
It also belies a more fundamental question — Why should travelers pay for the total cost of running an airport when the municipalities and businesses that stand to benefit the most pay nothing? If the airports really need more money, it should come from surrounding airport businesses and the municipalities rather than from passengers. We are tapped out.
The reason, of course, is politics. Some in Congress and local Chambers of Commerce figure that they can get away with a sneaky tax increase by pawning it off as part of the fare airline travelers pay without having to anger their constituents.
It's a bad deal for the millions of passengers who already pay more than their fair share in taxes. In addition to the Airport Tax, travelers pay a premium for parking, taxi and ride-sharing surcharges, and expensive airport food.
Meanwhile, Congress — who claims to be looking out for the little guy — just passed a massive tax cut that excluded private jet owners from paying an excise tax when they fly. Relative to what the normal commercial passenger pays flying coach, private jet owners — who happen to be among the biggest campaign contributors — pay pennies on the dollar.  Now, after a giveaway to the wealthiest among us, Congress is proposing to raise airport taxes on the little guy. Sad.
The good news is that airfares are down, more people are flying than ever before, and business is beginning to boom. Now is not the time to curb this growth by nearly doubling a tax that will make flying more expensive for our nation's nearly 800 million yearly airline passengers.
Raising the PFC is nothing more than a greedy and easy way for airports to raise more revenue without asking their own municipalities for more funding. If Congress truly wants to ease the tax burden on the middle-class, their first New Year's resolution should be to scrap the proposed Airport Tax increase.
Charlie Leocha is the chairman and co-founder of the consumer advocacy group Travelers United.
Trump always greeted by well-wishers on visits to Mar-a-Lago
Though Trump supporters are not the subject of many media stories, there is a vocal group of them in the Palm Beach area. Every time he pays a visit to his Mar-a-Lago mansion, he has a welcoming committee waiting for him.
Some will stand in the rain just to get a glimpse of him, if that is what it takes. Some of the more star-struck among the group are beside themselves if he responds.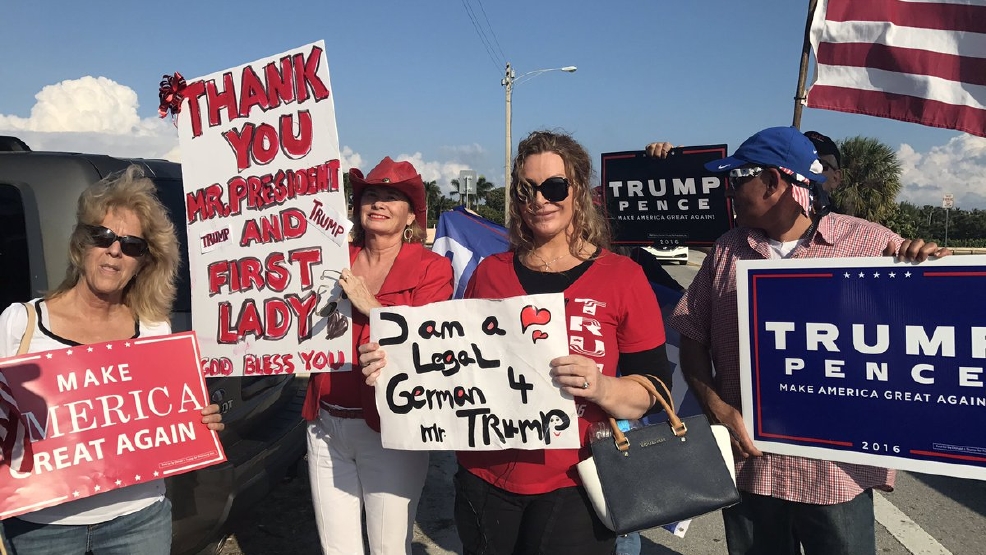 "I thought I was going to faint," Portia Dumond told The Washington Post after Trump waved at her. Dumond is a first-time Trump greeter who was almost in tears Saturday afternoon after Trump's car slowed down and he smiled through his window as he headed to Palm Beach International Airport.
With this about Trump, there are always the protesters. On this day they lined the other side of the street carrying signs of "Corruption" and "Impeach."
But on this day and whenever he visits South Florida, Trump was obviously glad to have to see some friendly faces.
On this date in the headlines
March 6, 1993 — Despite reports the Naval Aviation Depot in Pensacola was on a list for closure, Democratic Sen. Bob Graham said he was assured no such list exists. But, "the truth is, Florida is a major military state … and it's unrealistic to think Florida would be immune from the process, Graham said."
[NOTE: Later that year the Base Realignment and Closure Commission (BRAC) closed three Aviation Depots, including the one in Pensacola]
March 6, 2001 — After complaining of chest pains, Vice President Dick Cheney was taken to the hospital where doctors performed angioplasty surgery three months after his fourth heart attack. Cheney was expected to be released "in a day or two" from George Washington University Hospital.
March 6, 2013 — Former Gov. Jeb Bush has released a new book on immigration policy which suggests undocumented immigrants should be legalized, but not given a path to citizenship. The puts him "slightly to the right" of first-term GOP Sen. Rubio, who, along with 7 other Senators (Gang of 8), have called for a path to citizenship.