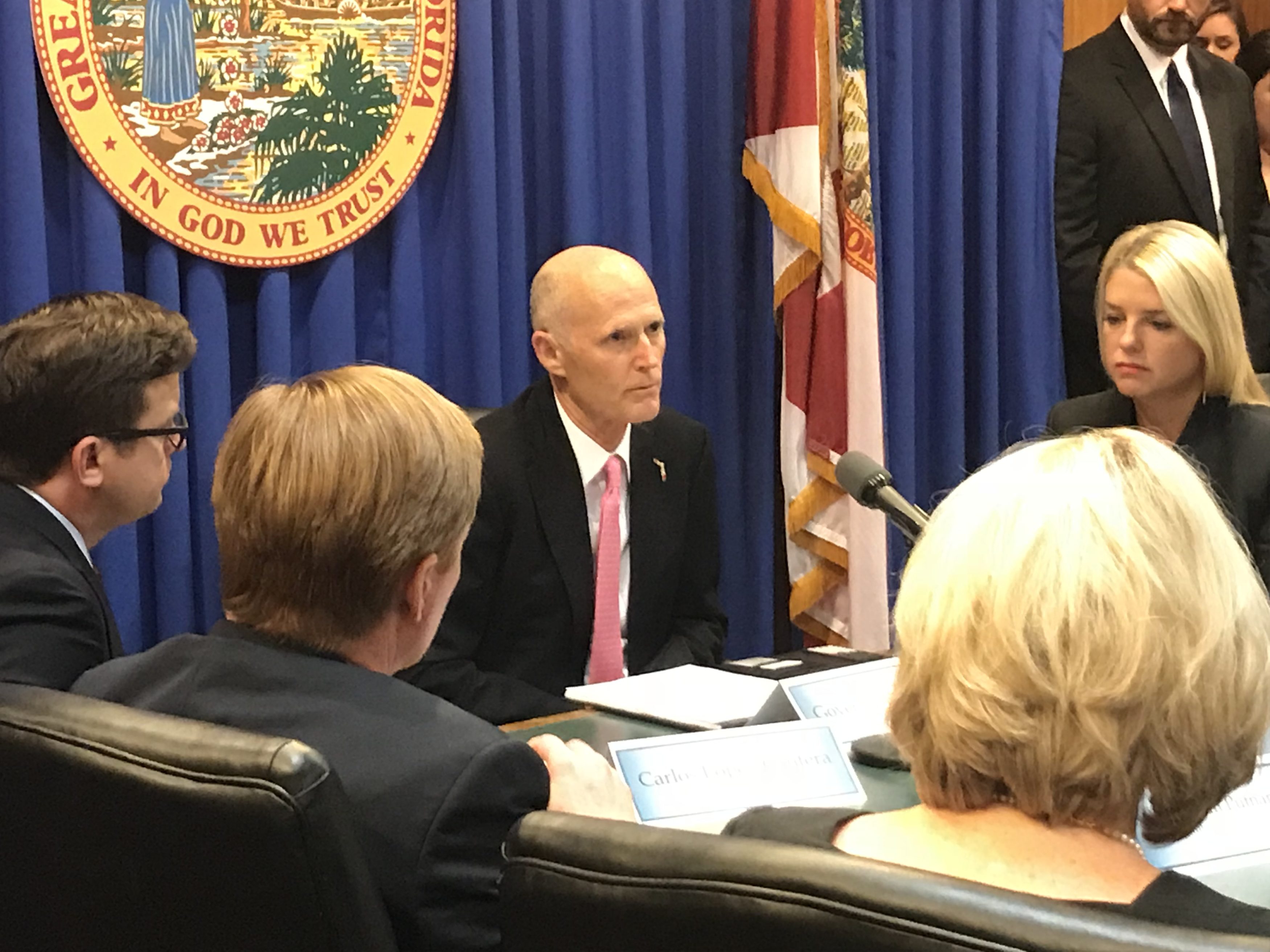 With just two weeks left in Session, Gov. Rick Scott will deliver to legislators a proposal on Friday that is expected to address a series of issues identified in the wake of the massacre at Marjory Stoneman Douglas High School in Parkland.
The announcement came after Scott held a public roundtable discussion, where he was debriefed on conclusions reached by law enforcement leaders, school administrators, teachers, mental health experts, and state agency heads who had met earlier on Tuesday to discuss school safety improvements and keeping guns away from individuals struggling with mental illness.
The specifics of the proposal are not known, but two priorities are clear: keeping guns away from the mentally ill and enhancing school safety.
"We need to significantly increase the funding for school safety," Scott told reporters in recapping the meeting. "We need to significantly increase the funding for mental health."
Omitted from the debriefing was discussion of an assault weapons ban, something favored by the students of Marjory Stoneman Douglas and state Democrats.
But when asked if he'd consider stricter gun control measures, such as longer waiting periods for assault weapons or looking at regulations governing assault weapons, Scott said it wasn't out of question.
"I'm going to look at everything," Scott said. "Everything for me is on the table."
Scott said he will continue to seek feedback leading up to his release of the proposal Friday. He has made it clear that there could be major changes to laws navigating the Baker Act and how the Department of Children and Families, law enforcement members and school districts work together with students who are mentally ill. Nikolas Cruz, the accused Parkland mass shooter, was investigated by DCF after cutting his arms on Snapchat and declaring his intent to purchase a gun.
Scott expressed concern that mental illness is not reflected on gun background checks, and for how someone who may have just been Baker Acted can purchase a gun with ease.
"How do they have the right to walk out and an hour later be able to buy a gun?" Scott told reporters. "If somebody has been Baker Acted because they are at risk of harming another person, then they shouldn't be getting a gun right away."
He acknowledged a challenge lies ahead to not disrupt the due process rights of gun owners, but said he's confident there is a way keep those subject to harming others from being armed.
Pinellas County Sheriff Bob Gualtieri spoke in depth about what he called the "Baker Act loophole." He said because a person's mental health record is not detectable in gun background checks, it makes the process a "criminal background check," and nothing more.
"You could be Baker Acted 15 times in the last month, have 15 law enforcement contacts for domestic-related issues, tell a cop last night 'I'm going to kill my wife,' get Baker Acted, you're out this morning and this afternoon you're buying a gun at a gun store in the state of Florida," Gualtieri said. "And there's nothing we can do about it."
It was acknowledged that some law enforcement officers simply sieze weapons from someone who seems dangerous or mentally ill, but that it's not codified by law.
On the subject of enhanced school safety, there was talk of providing more school resource officers and preventing any gaps in their coverage of the school. Briefly, Polk County Sheriff Grady Judd discussed a "Sentinel" program in which a select group of faculty at schools is trained to protect students during shootings.
"The schools are the only place where we gather children in a large group with no protection," Judd said. He said this attracts active shooters who do not want to meet resistance. The Sentinel program would train volunteers who've cleared background checks through a process more rigorous than what's required for law enforcement officers, Judd said.
Ideas for more active shooter drills at schools, along with single-point entries and metal detectors also were floated during the debriefing.
Still, the only concrete promise is that whatever is unveiled on Friday will be a focal point for the next two weeks.
Saying he'll be meeting with legislators, Scott indicated he'll act with ambition and urgency to ensure the contents of his proposal make it through the cumbersome legislative process.
"We have two weeks to go in this Legislative Session," Scott said. "I want to make something happen."